Giving your dog a bath can be challenge enough. Especially if he isn't a fan of getting wet, as some dogs are. Some others, like Huskies, don't want to get out from the bathtub ever.
But the true challenge can really be after you give your dog a bath. You can't have your dog running around with wet hair. And a hair dryer made for humans is really no option either.
Dryers made for humans run at a much higher temperature than the dog's sensitive skin can tolerate. Using a human hair dryer can end up scalding a dog's skin, and even lead to other skin issues.
So what do you do? Simple. Invest in a dog hair dryer that is designed specifically for their skin, which dries their hair without drying their skin out. Our top recommendations for dog hair dryers are listed below:
Preview
Best Choice
Great Value
Title
Gravitis 2800W Stepless Speed Dog Cat Pet Grooming Hair Dryer
Voilamart 2800W Pet Grooming Hair Dryer
Voilamart 2800W Pet Grooming Hair Dryer (updated version in pink)
Best Choice
Preview
Title
Gravitis 2800W Stepless Speed Dog Cat Pet Grooming Hair Dryer
Preview
Title
Voilamart 2800W Pet Grooming Hair Dryer
Great Value
Preview
Title
Voilamart 2800W Pet Grooming Hair Dryer (updated version in pink)
Dog Hair Dryers – Our Top Choices
Dog Grooming Dryer
The Gravitas Stepless pet grooming hair dryer is the perfect example of a hair dryer for pets that makes your work easier without compromising on their health.
The Gravitas hair dryer is a sleek, stylish hair dryer that would not be out of place in a fancy salon. But the impression that it creates in design, it only reinforces with performance.
The Gravitas hair dryer is one of the more powerful dog hair dryers that I worked with. It has a rather powerful motor at 2800W, but the noise output is still remarkably low. You wouldn't expect something this strong to be so relatively noise-free, but there you go.
The hair dryer has a 2.5M hose, with an option for four interchangeable nozzles. This lets you decide which nozzle fits your work best, depending on your dog and your ease of use. Additionally, the hair dryer comes with three different noise-eliminating covers. There is also a noise assimilation sponge. The sum of these measures makes it possible for the Gravitas hair dryer to function quieter than 78DB.
For UK users, it is doubly ideal because of the power requirements. It uses 230V at standard voltage in UK homes. That means? Simply plug in and you're ready to get to work. It's like having a professional salon set up at home!
There's a whole variety of different settings you can use, depending on your dog/dogs. The hair dryer has adjustable airflow speeds, between 25M/S and 65M/S. So if you want to blast your towel-dried pooch with hot air, or simply fluff his fur up, all the options are in your hand. The temperatures can be adjusted between 30-55*C.
The nozzle ends are also conveniently in comb shape, so you can effectively comb your dog's hair while drying it. If that's not salon style, what is?
This is actually one of the reasons the Gravitas hair dryer would be well suited for a salon as well. It worked through multiple dogs with no visible strain on the motor, and the performance didn't let up at any point.
The hair dryer has a blow force that's at least 3 times stronger that other hair dryers in this class in the market, at 540g. Plus the design provides 10% more airflow than other commonly available single stage hair dryers.
The experience really just speaks for itself. It takes water off dog and cat hair noticeably quickly. And the different speeds and settings make it easy to do professional levels of doggy hair styling, even if you're using it at home.
There are two stage speeds, two gear temperatures, and high speed settings that can keep working at full speed for extended periods of time. So, every time my dogs had fun in a paddling pool, I didn't have to spend any time chasing behind the doggy squad with towels. One good session with the hair dryer and they were ready to head back inside, no carpet damage additional.
Another feature your pets will appreciate is the soft start. So even with dogs (or cats) who hear the whine and run for their life, this is a very tolerable hair dryer.
And: don't find yourself surprised when you find yourself reaching for it even when your dog or pet doesn't need it. It multitasks beautifully as a hair dryer for many domestic items!
And if you want to clean it? Simply clean the removable filter and use it again!
Pros
Great performance and powerful motor
Adjustable air flow and temperatures
Easy to clean/replace air filter
Relatively quiet
Cons
Not as portable as some other options
Dog Dryer Blaster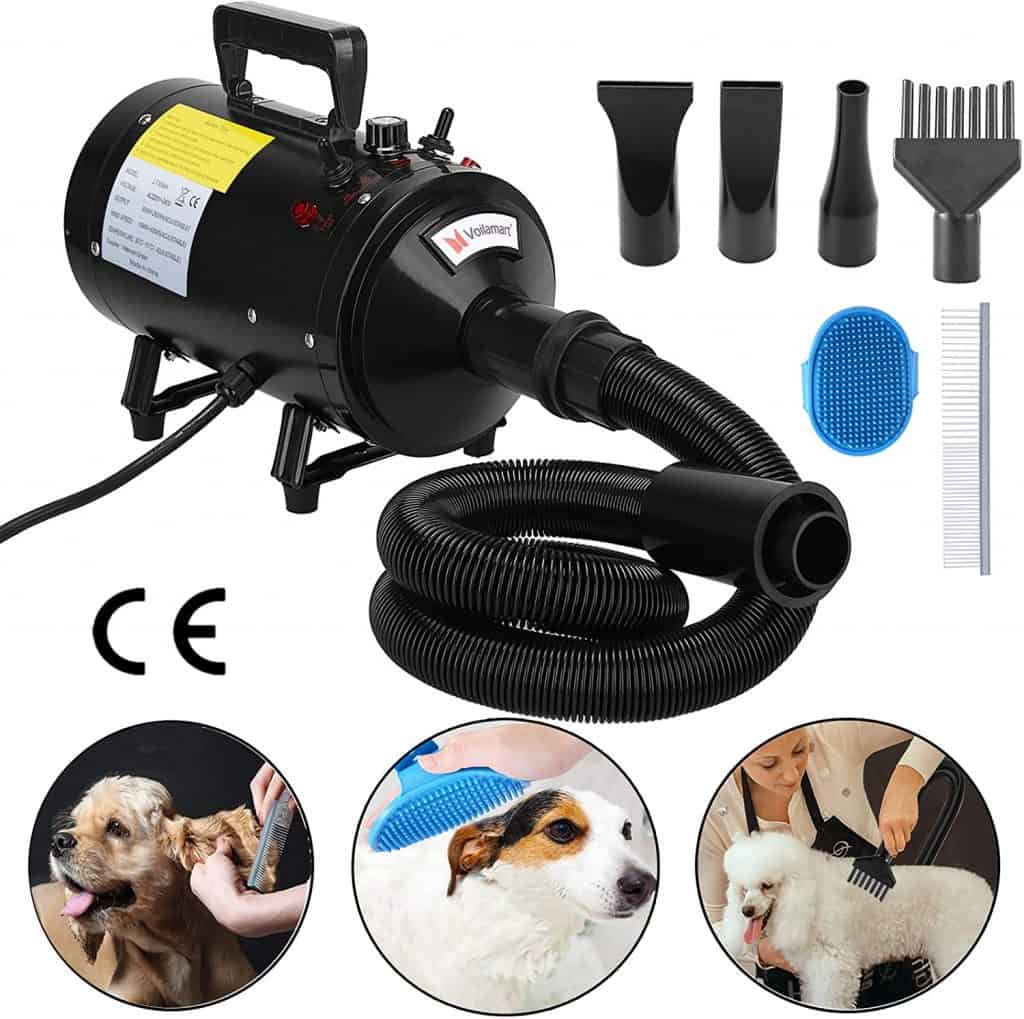 Hot on the heels of the Gravitas hair dryer is the Voilamart hair dryer for dogs (and naturally also for other pets). The latest version has hit the market, with the choice for four different nozzles and two attachable bath comb lengths.
Not only does it come with a healthy warranty, but the paperwork backs up a powerful motor that promises well over 800 hours of nonstop working time.
If that sounds heavy duty, that's because it is. The motor is constructed to provide a reliable and long lasting service life. This is definitely one hair dryer you can buy for your dog and forget about replacing.
Th Voilamart hair dryer provides a variable wind speed, with a variety of choosable wind speeds (between 15m/s – 62m/s), which are ideal for dogs of any size. The variable wind speed lets you narrow down the air flow when working with smaller or very anxious dogs, and can be widened for larger, fluffier dogs.
The hair dryer has a two-gear temperature option, so we can always choose either 30*C or 70*C, using easy to use knobs. The best part is that I didn't have to compromise on grip comfort for changing the temperature between gears. So whether it's giving the fur squad a bath on winter, or summer, and no matter which tailed baby's turn it was – The whole aftermath of the bath time adventure became so much lesser complicated!
As mentioned, the Voilamart hair dryer comes with a choice of four nozzles that you can switch between. So you can always find just the right nozzle for your current activity, and get a strong, efficient wind flow that will dry your dog's hair out with no issues.
One of the ends also designed to be longer and pointier than commercially available hair dryers. This diffuses the air in such a way that heat gets trapped under the hair and circulates the moisture very quickly. This makes it ideal for areas with heavy fur.
The other long and narrow option, is a type you can use to reach sensitive areas and dry sensitive areas without aggravating the skin there. So, when you're working on the tummy, on the neck, or any part your dog is a little touchy about, this is the option you should attach.
The comb option has longish teeth attached, which helps you dry the hair as you comb it. It's the perfect little toy for pets who have long hair, whether dogs or cats.
While not completely noiseless, the hair dryer still has a more than reasonable sound output. The design utilizes noise-volatilization holes, designed to distribute the air output over the defined area, with minimum unnecessary scorching or build up. This means that you can work in a lower sound, as low as 77 DB. There's an encompassing sponge inside, which absorbs a very large bite of the dirt that would otherwise accumulate in such an appliance.
Plus, it has an easy little handle on the shelf. So, whether you are at work or taking your dog grooming supplies over to a friend for helping out, you simply pick it up and take it with you!
The entire thing is a convenient and rubberized package. Easy wipe, easy clean up, and easy on-the-way-home!
Pros
Different nozzles and attachments included
Variable speeds – with low speed (ideal for more anxious dogs)
Easy to clean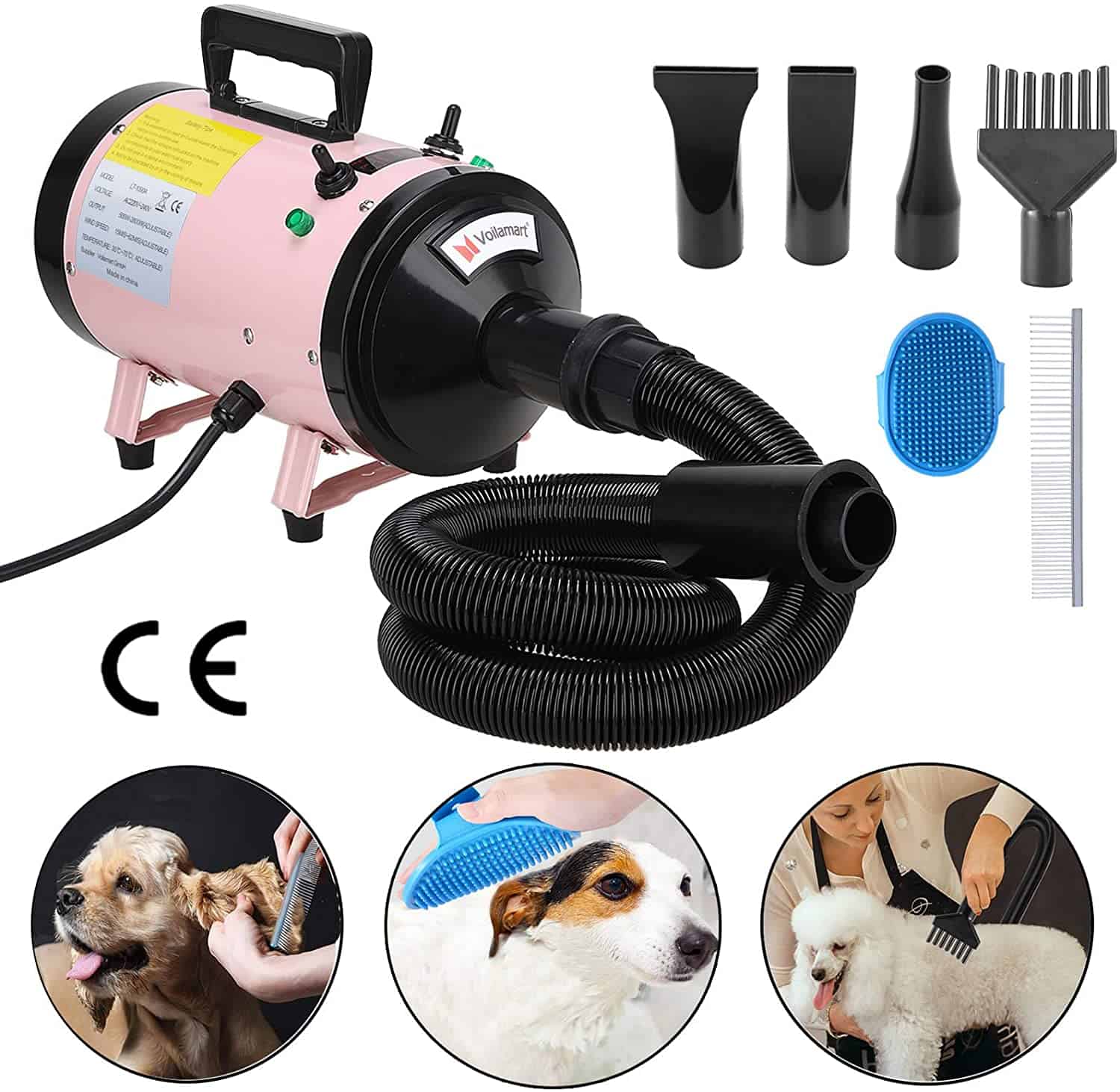 Another champion from the Voilamart dog grooming line, this Voilamart hair dryer has a slightly different set of specifications. The new and upgraded version comes with extended set of attachments. In this case, that means that this superb Voliamart hair dryer gives you four different nozzles to change between and two different combs.
The variations included with the hair dryer include a long and pointy nozzle, that is suitable for areas of fur that are thick or matted. It traps the heat generated in the hair and under it, drying the water off your dog's fur very quickly, without resorting to extremely high temperatures, that could damage his skin.
There is also a long and narrow nozzle, that produces a mild and gentle air stream, ideal for sensitive patches like your dog's tummy or soft throat area. The other two attachments are a squat, flat nozzle that produces the strongest air blow, ideal for a dog right out of the tub. It gets most of the water off your dog's fur right away. And when not, there is the comb nozzle, that allows you to style as you dry. Talk about being a multitasker!
It's not just the attachments, though. The hair dryer itself has a sleek, stylish design that has apparently been revamped to be as ergonomic as possible. I have to say, that it seems to live up to the claim, too. The bottom of the hair dryer has a set of stands that prevent the hair dryer from skidding. The temperature control switches are also conveniently located on the top of the cylindrical hair dryer. The tube has an openable snap and an elastic tube, as well as a lining that locks heat in and provides an efficient heat delivery system.
And although all that is a mouthful already, there's more. This hair dryer also gives you a reassurance of over 800 hours' worth of non-stop functioning.
The hair dryer gives you the option of two stage settings: 500W and 2800W. There are also two stage speeds (25m/s or 50 m/s), which you can change according to part and intensity required, as well as temperature controls between 35*C or 75*C. The knobs for all these functions are made conveniently right in front.
That means? No matter what the season or time of day, your dog can take a bath and get dry with no worries – only a little help from you. And it doesn't have to wake the entire neighbourhood either. The special design formulated for noise assimilation puts noise volatilization holes in the hair dryer, so that neither your dogs, nor your ears, nor your neighbours' need suffer. It produces a sound under 77DB, and has extra padding through a sponge, which helps assimilate the dirt in the hose.
And if that wasn't enough, this model comes with additional bath comb for your dog. Because just because you're bathing him at home, doesn't mean that he shouldn't have a salon experience. Although to be fair, with this doggy hair dryer, you could have a salon too!
Pros
Different power settings (low power option)
Variety of different attachments
Relatively quiet
Nice temperature control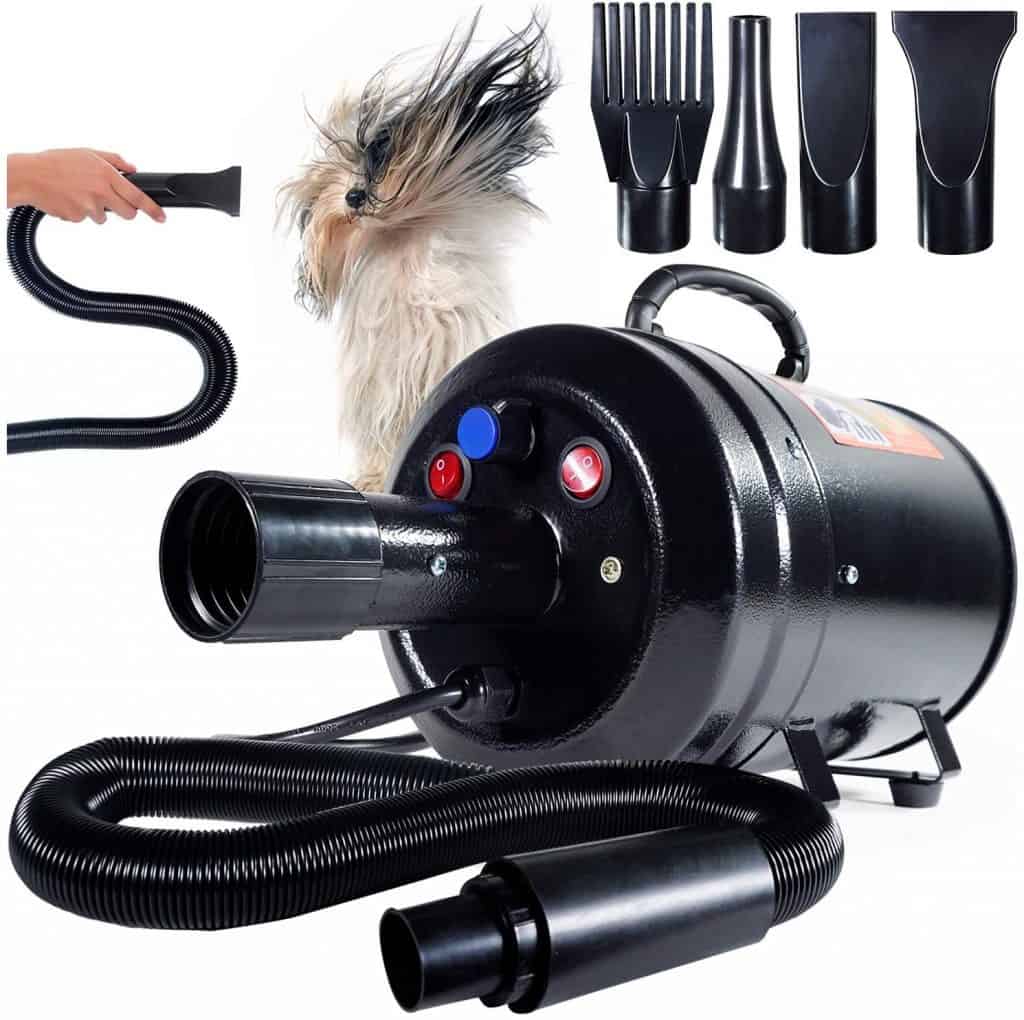 A much more basic model from Pet Control HQ, the adjustable hair dryer is still worth some consideration. Although the frills were heavily minimised in this model, I still found that it had redeeming factors.
Designed to be as time efficient as possible, the Pet control HQ Hair dryer produces a very, very strong and powerful air stream, which means that your pet gets dried at least 5 times faster than any other hair dryer can do it.
It has a 2.9-3.2m3/min, which you can adjust between hot or cold air flow, depending on what you're going for. The air flow stays more than 10% more efficient than most commercial models available in the markets.
And, additional to its super single stage drying, it also strips your freshly bathed dog's fur of water, without drying his skin out. Not only is that more efficient, it's also more comfortable for your dog, because it saves you both time.
The airflow speeds allow both hot and cold air flow. This hair dryer is basically a professional level hair dryer which is tailored for pets. Because of its small size, it can fit in your car or your carry bag easily.
And the noise and disturbance- cancelling properties are ideal for sensitive pets. However, the price puts a damper on its superior performance, because so many other and stronger dog hair dryers are available in the market for much lesser money.
Also, the size can be a little problematic for people who want larger hair dryers, because the nozzle quality means that it starts showing mild changes with frequent use.
Pros
Powerful
Nice noise cancellation
Allows both hot and cold air flow
Quite portable
Cons
Nozzle quality not quite as durable as alternatives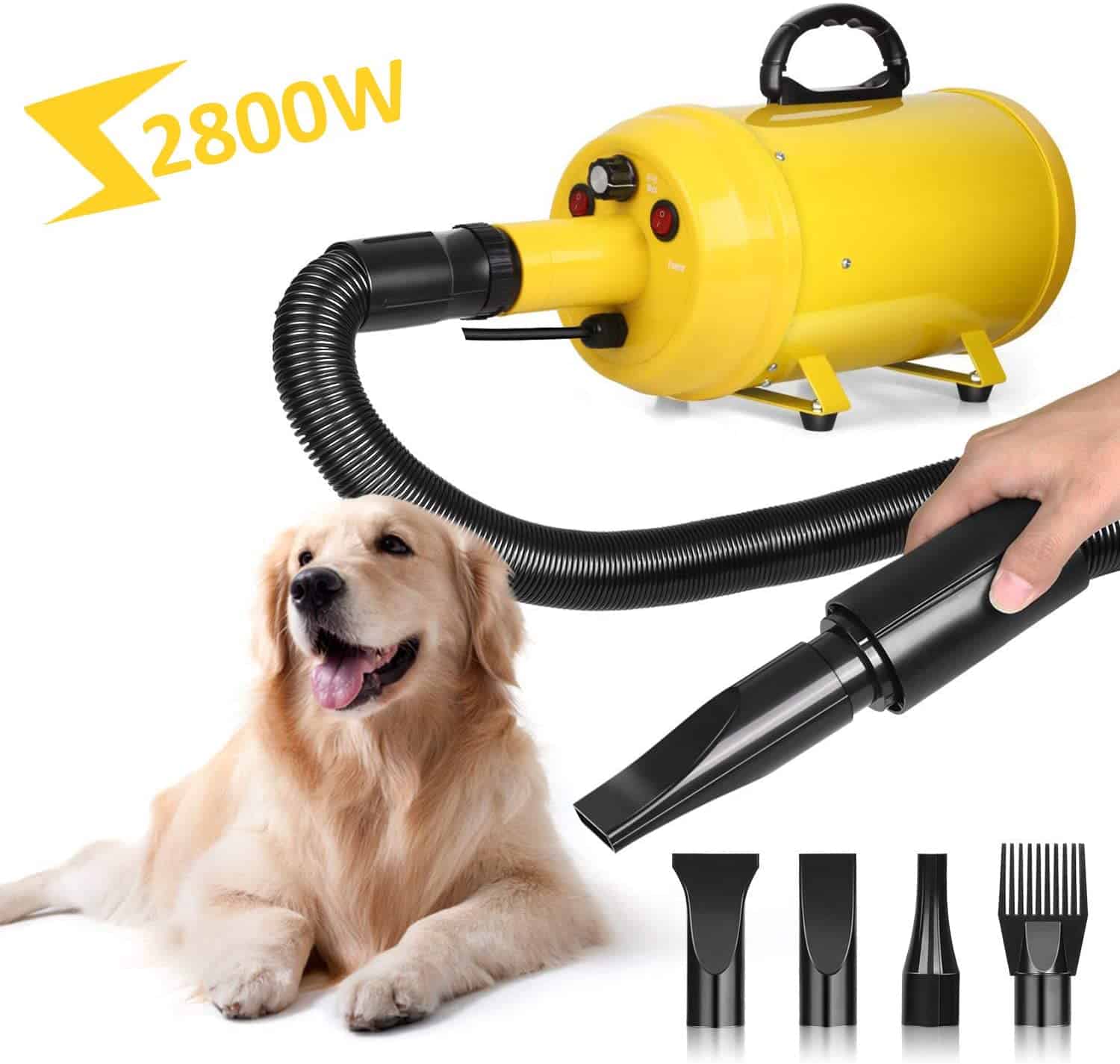 Last but not the least, the Amzdeal hair dryer is a happy little hair dryer for happy pets.
Holding its own with a strong 2800W motor and professional output capacity, the hair dryer has stepless speed from 30m/s to 68m/s as well as adjustable temperature from 30℃/85℉ to 60℃/140℉. This makes it impossibly convenient for quick use and stowaway, as well as smaller chores like washing your bike – after the dogs are squeaky clean, of course.
It also comes with four different styling nozzles, allowing more flexibility of use depending on what and who you're drying. Although the heat settings make it comfortable, the noise the motor produces is a hefty drone to have to listen to. And because the top has no attached handle, handing the lid can be too tricky for you.
But if your dog can be a little patient, and you can bypass the design hiccups, this is a hair dryer you should look at for your dog.
Pros
Cheap and cheerful
Comes with different nozzles
Powerful motor
Cons
More noisy than alternatives
Related Posts –