One of the most obvious signs of a healthy dog is a full, shiny, healthy coat. And that doesn't necessarily mean only that it is clean. Dog skin and hair have very different qualities from that of human skin and hair.
Dogs who are bathed and groomed using human shampoos, may have clean fur, but end up developing problems like itchiness, dandruff, irritation, and increased susceptibility to infections.
The reason for this is that dogs' skin has a different pH level from that of humans. Also, they need shampoos that can help take care of lice and parasites, as well as not contain the foaming chemicals found in human shampoos.
But at the same time, they do need to bathed. The solution? Find the best dog shampoo for you!
Preview
Best Choice
Great All-Rounder
Title
Cooper and Grace Dog Shampoo
Johnson's Vet Manuka Honey 2-In-1 Shampoo
The Healthy Dog Co - 6 in 1 All Natural Dog Shampoo
Best Choice
Preview
Title
Cooper and Grace Dog Shampoo
Preview
Title
Johnson's Vet Manuka Honey 2-In-1 Shampoo
Great All-Rounder
Preview
Title
The Healthy Dog Co - 6 in 1 All Natural Dog Shampoo
Best Dog Shampoos – Our Top 5
Medicated Dog Shampoo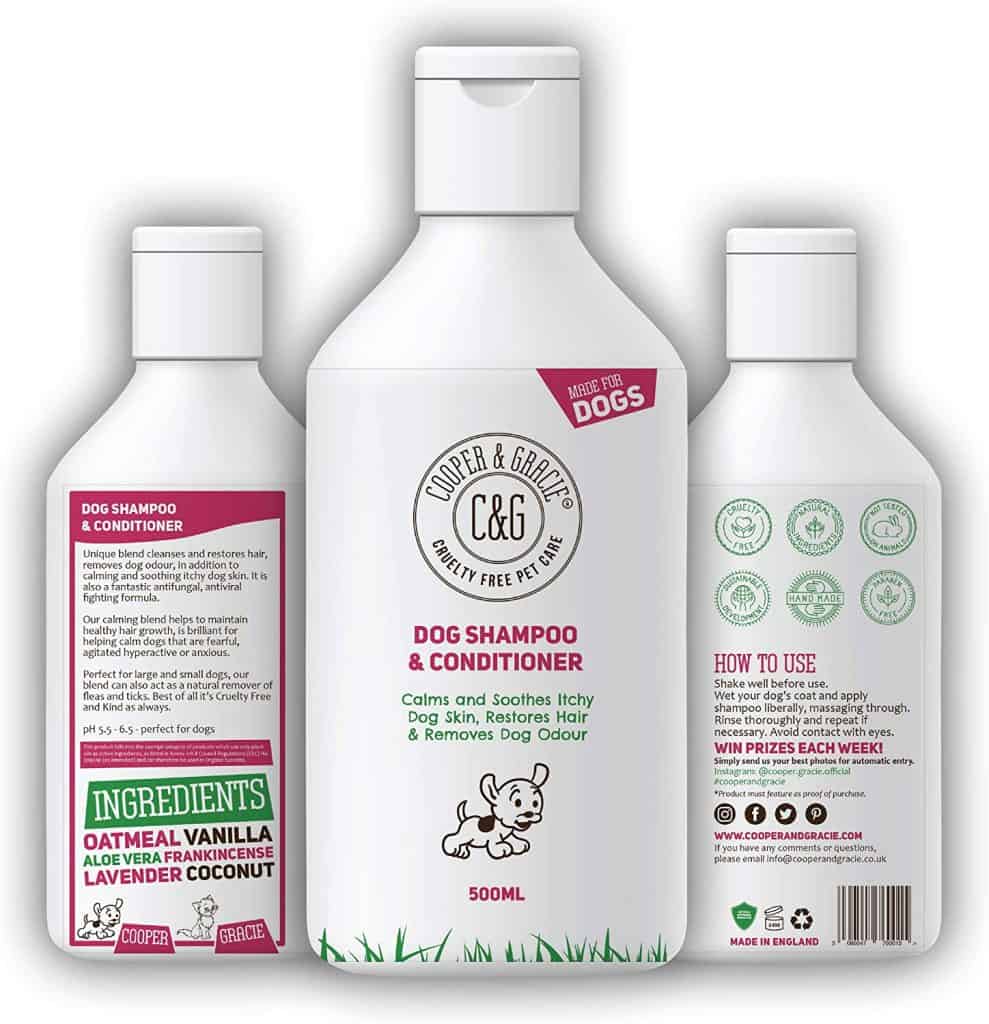 Dogs who have been suffering from skin and coat issues often need to be bathed with a specially formulated, mild dog shampoo. Even human shampoos labeled as 'mild' or designed for babies, are too harsh for dogs, simply because they are not tailored for them.
Medicated dog shampoos come to the rescue here. Shampoos like Cooper And Gracie's Cruelty Free Pet Care Dog Shampoo are made for this express purpose, for 'smelly dogs and itchy, sensitive skin'.
This gentle, hypoallergenic formulation is easily the best medicated dog shampoo to be found in the market right now. The handmade shampoo contains puppy-safe essential oils, and is balanced perfectly to suit the pH of dog skin. It's paraben-free, which makes it ideal for sensitive and itchy skin protection.
This is one of the reasons Cooper And Gracie's Dog Shampoo is recommended by professional dog groomers. The gentle compounds ensure thorough cleaning without causing any irritation on the surface of the dog's skin. Instead, it's antibacterial, antifungal, removes odours, and works into the skin very easily with application.
It's made from the highest quality all-natural blends of essential oils. And, the entire process is emphatically cruelty-free. It also contains added Vitamin E, which enriches the shampoo and promotes the health of the surface of the skin, as well as the fur roots. The shampoo does not lather up as much as human shampoos do, but that is because it contains no harsh foaming detergent compounds.
It provides extra nutrition to the skin cells and better immunity, as well as speeds up the repair process. Vitamin E also helps moisturize dry areas of skin, especially over cracked or damaged patches.
The result is a dog with a superbly shiny coat, and provides relief from itching, and allows dogs with irritated skin to start healing. Basically, a dog who can stop being bothered by constant itching and focus on the all-important business of being a happy dog!
Pros
Hypoallergenic
Ideal for sensitive and itchy skin
Added extras like vitamin E to help moisturise
Effective and quickly effective
Best Dog Shampoo For Sensitive Skin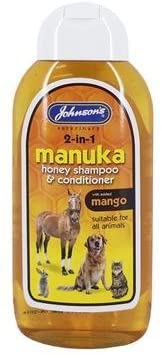 Sometimes, it becomes hard to use dog shampoos when your dog is extra sensitive to the formulation or the ingredients. It's not uncommon for dogs, who have been bathed with human shampoos or soap, to develop overly sensitive skin.
In situations like these, using a dog shampoo for sensitive skin is the best solution. Shampoos like Johnson's Vet Manuka Honey 2-in-1 shampoo are formulated with dogs with sensitive skin in focus. It provides gentle cleansing for their skin, with soothing ingredients that wash and condition their coat, leaving it soft and glossy, and leaves their fur easy to comb through.
Tangle free fur serves more than a cosmetic function for dogs for sensitive skin. No tangles also means fewer entrapments of dirt and bacteria, and fewer sources of irritation for his skin.
Johnson's Vet Manuka Honey shampoo also has a deodorizing effect on the skin and coat, with leaves the dog calmed and relaxed till well after his scrub session. The antibacterial qualities also help fight and prevent infections.
For dogs who have developed skin problems because of insect bites, flea infestations, tick bites,thyroid issues, allergies, or excessive dry skin, this is very beneficial. And it has a mild fragrance, which doesn't overpower or annoy dogs.
Despite its mild formulation, it has a deep cleansing action. This makes it a rather ideal choice for dog owners who have terriers, schnauzers, or breeds prone to greasy fur and/or oily skin. It also works for short haired dogs as well as for long haired ones. Short haired dogs are actually prone to faster build ups of grease.
Pros
Ideal for sensitive skin
Mild formulation
Antibacterial
Deep cleansing
Natural Dog Shampoos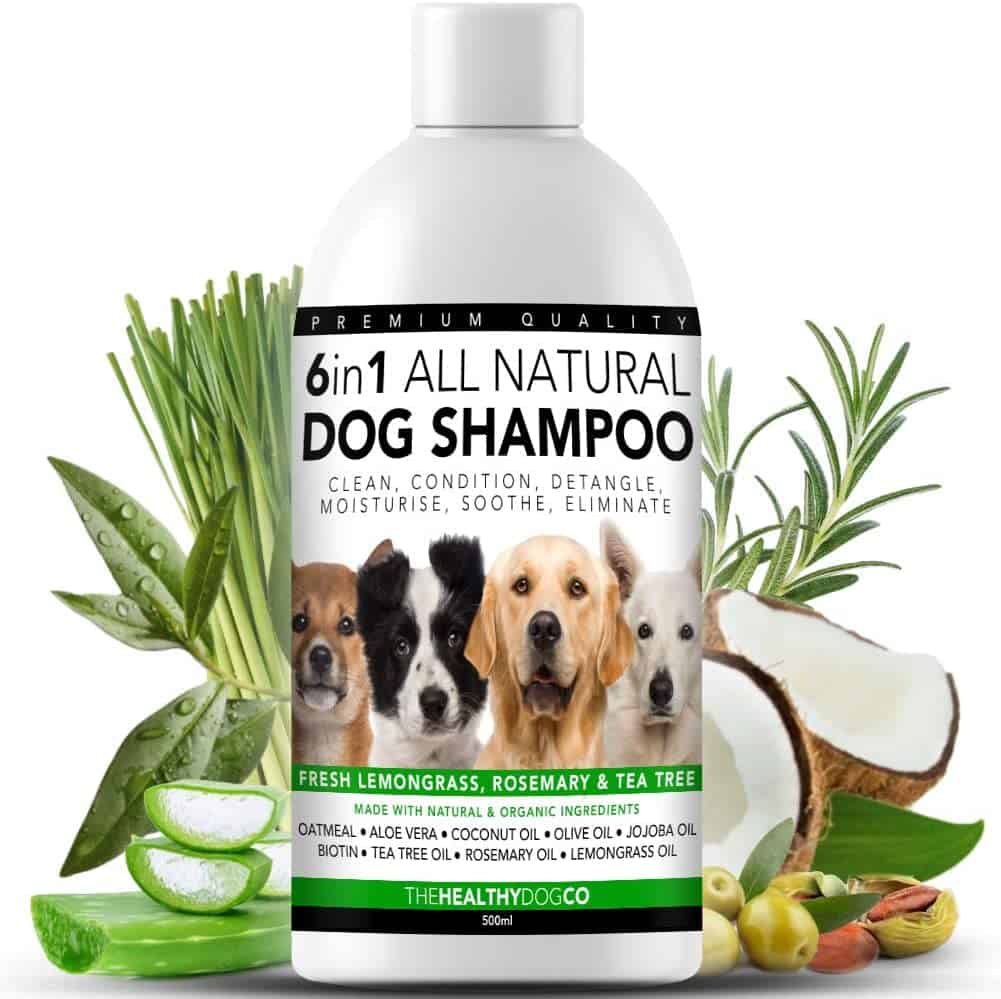 Some owners prefer to use only all-natural sourced shampoos for their dogs, and with good reason. Natural dog shampoos are a good alternative to chemical based shampoos, which often can end up being very harsh, because of their detergent bases.
If you're looking for an alternative like this too, the Healthy Dog Co.'s 6 in 1 all natural dog shampoo with Fresh Lemongrass, Rosemary, and Tea Tree Oil is your best bet.
Despite its natural base, the shampoo does not compromise on cleansing ability. It's a powerful mix with a safe, nontoxic base, in an organic formulation using only natural products.
The Healthy Dog Co. shampoo leaves your dog with tangle-free, moisturized, conditioned hair. Plus your dog will be itch-free and germ-free, because of the antibacterial properties.
Not to mention, it has a pleasant and mild fragrance, that both dogs and owners like. It smells of lemongrass, rosemary, and tea tree, which are only because of the constituent essential oils and not added synthetic compounds. The essential oils also moisturize the skin and help fight itchiness.
And because of the ingredients, it's also safer to use. It's a tear-free and soapless formulation, which produces a light lather and rinses out very easily. It also does not irritate skin or conjunctival or mucus membranes.
This makes it perfect for puppies who are still being trained to get bathed regularly, since it creates no fuss. But it's also great for adult dogs who have had bad experiences with commercial dog shampoos.
At the same time, it does not compromise on thorough cleaning. And, it also deep conditions, with added Jojoba Oil and Coconut Oil. All without any synthetic added parabens, sulfates, and artificial fragrances.
Pros
Tear free and soapless
Completely natural ingredients
Effective for cleansing and cleaning
Dog Shampoo for Itchy Skin


For some dogs, even mild formulations or even natural formulations may not be ideal. In these cases, it's best to choose a dog shampoo for itchy skin.
Itchy skin is dogs can be the result of many acute or chronic causes. It's not easy to cover all of them individually, when choosing your dog's shampoo. But the process is made much easier when you choose a special formulation like the amusingly named Life's An Itch Soothing shampoo from PetCo.
This watermelon scented shampoo is the perfect combination of efficient and mild. It's ideal for pups who have been in an itchy frenzy recently. Whether the reason is a fungal infection or insect bites, or just dry skin aggravated in winter months, the shampoo works just as well.
The shampoo contains oatmeal and aloe vera, which work together to soothe inflamed skin. Added tea tree oil works on the hair roots as well as the hair follicles. Your dog's coat also benefits from added wheat protein, vitamins, and chamomile, which provide added protein, microminerals, and antioxidants.
An added benefit is that the formulations are nontoxic and safe, so it's not a problem if they lick or swallow it. There are no petroleum derivatives and the shampoo is pH balanced to suit dogs perfectly.
Not to mention, the fragrance will keep your dog calm and relaxed through and after the bath. It's also antiallergic, non-irritating, antifungal, antibacterial, and deodorizing. If you're looking to find a good shampoo for your itchy dog, this is definitely the one for you.
Pros
Good value
Nice smell
Anti-bacterial, antiallergic, antifungal etc.
Calming for your dog
Added vitamins and minerals to ease and soothe hair and skin
Oatmeal Dog Shampoo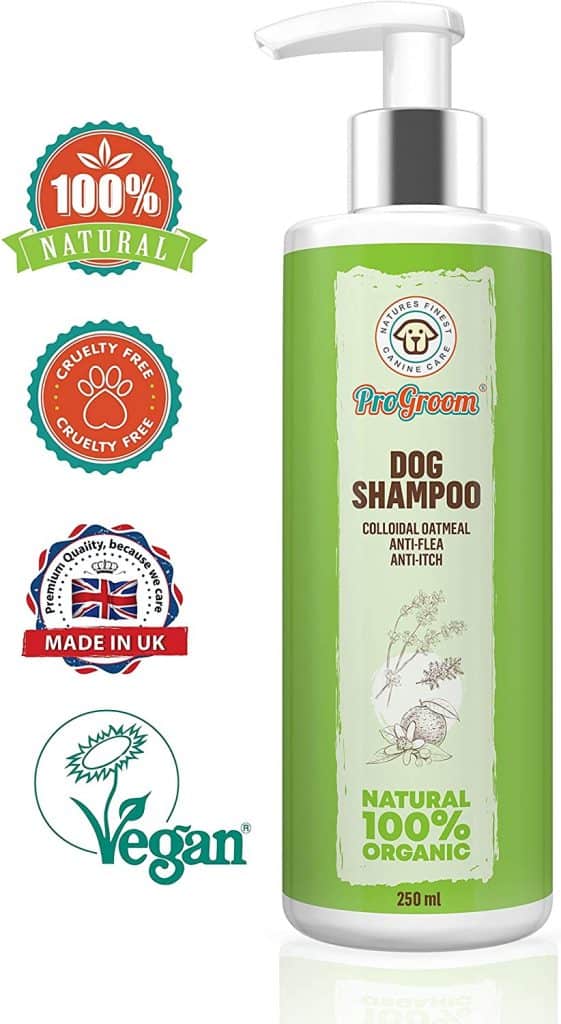 While oatmeal may seem like an unusual thing to want in a shampoo, the reality is quite the opposite. Oatmeal in shampoos helps moisturize and soothe inflamed skin. It's particularly helpful for dogs with allergies, hot spots, and/or a history of flea or tick problems.
But using oatmeal shampoos doesn't automatically put you in the clear. That's why it's a good idea to use an oatmeal dog shampoo that comes with added ingredients that work in combination with it. Such as the ProGroom Natural Oatmeal Dog Shampoo, for example.
The ProGroom Natural Oatmeal Dog Shampoo combines the gentle action of oatmeal with additional moisturizing ingredients, to give the softest wash imaginable.
The special thing about the ProGroom shampoo is that instead of plain oatmeal, it uses a patented derivative called colloidal oatmeal. It has increased water and oil binding capacities.
It activates a protein called HIF1-a, which increases skin repair, healing, and regeneration in dogs' skin. It's a special formulation from a team of internationally renowned aromatherapy experts.
For dog owners whose dogs suffer from itchy, dry, flaky skin, irritable or hot spots, allergies, dandruff, or an overall dull or smelly coat because of skin and hair erosions over time, the ProGroom shampoo can come much as a lifesaver.
The ingredients also include natural essential oils, pro-vitamin B5, aloe vera, essential fatty acids, and added antioxidants. They promote circulation and protein uptake by skin and hair. Added aloe vera and fatty acids also make the hair fuller, thicker, softer, and more lustrous.
Additionally, the pH friendly complex helps the skin maintain its normal range, and provides more nourishment to the follicles as well as the underlying skin. As a result, your dog's skin gets restored to a healthy balance that can self sustain and defend itself against infections and irritation. Not to mention, their is also glossy and tangle free.
The special mix of ingredients makes it a positive experience for dogs each time that they get bathed. Your dog is clean, free of all unpleasant smells without any overpowering synthetic scents in the mix, and pesky tangles.
As an added bonus, because of the organic and natural ingredients, it's perfectly safe for puppies, too. It preserves the natural skin oils in dogs while simultaneously removing grime. It also has an anti-parasite effect, because of the neel oil it contains. It also works against ticks and lice, helping remove them as well as protect against them… and the list goes on and on!
If you're looking for an all natural oatmeal shampoo for your dog that cleanses despite having no added chemicals, synthetic fragrances, alcohol, or petroleum byproducts, the ProGroom dog shampoo should be your first choice.
Pros
Brilliant formulation for healing etc.
Added vitamins for both hair and skin
Works well against lice & ticks
All natural
Related Posts –