Whether you dog has just had a bath or is just back from a long rainy walk with you, you are going to need a dog towel to quickly and easily resolve your wet dog problem.
Luckily there a good selection of dog towels on the market which are the prefect problem to dry up your dog as fast as possible.
Now we will have a look at the 5 best dog towels. We will also talk about some additional things you should consider when you are buying a towel for your dog that you might not have thought of before!
Preview
Best Choice
High Quality
Title
Winthome Dog Drying Towel
The Super Absorbent Microfiber Dog Towel
Adjustable Strap Hood Zellar Microfiber Towel
Best Choice
Preview
Title
Winthome Dog Drying Towel
Preview
Title
The Super Absorbent Microfiber Dog Towel
High Quality
Preview
Title
Adjustable Strap Hood Zellar Microfiber Towel
Dog Towels UK – Our Top 5
Super Absorbent Dog Towel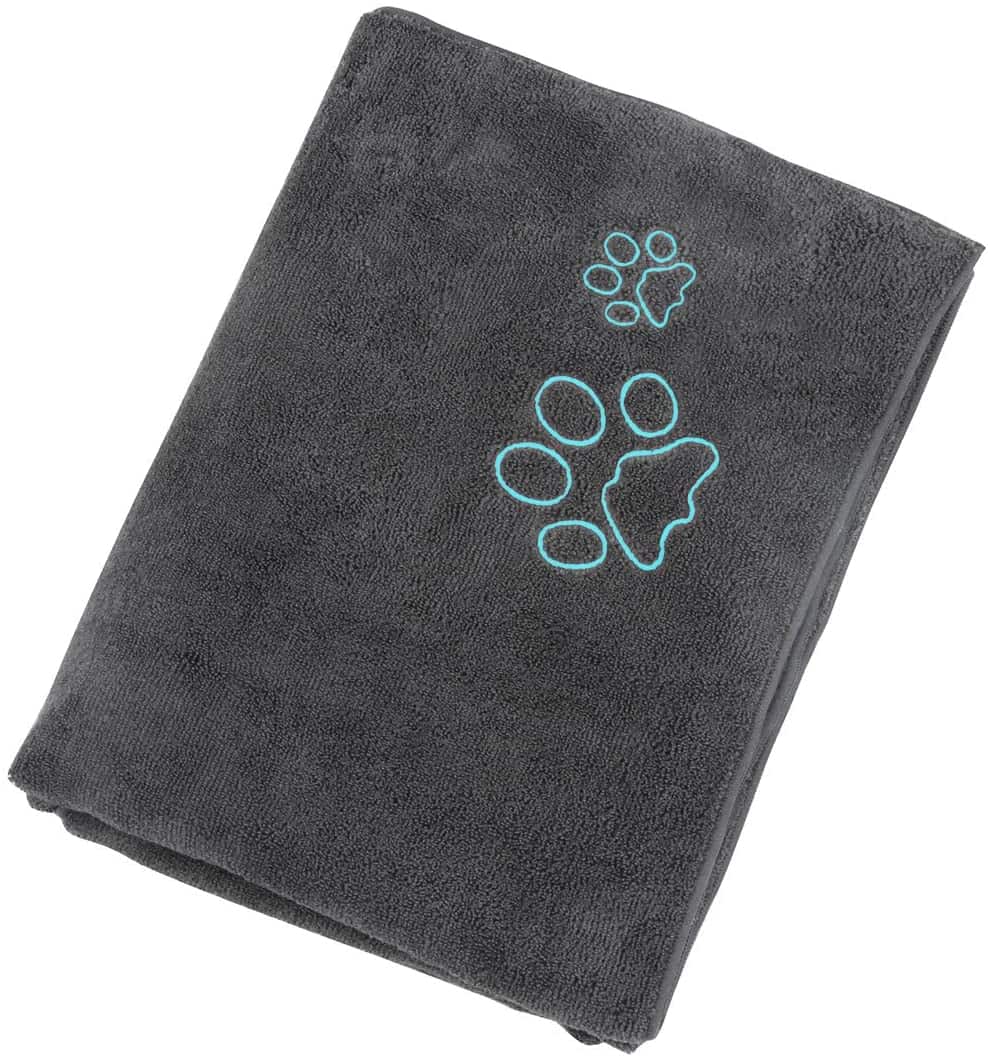 The towel is made of microfiber that's super absorbent which makes it dry quicker. The towel is practical as it offers a quick drying solution. Your dog doesn't have to stay wet for long as the towel absorbs water fast.
The towel has two side pockets that make it easy to use. It's convenient and has a nice handling when drying off your dog. The side pockets provide a nice grip over the towel. The size also accommodates most dog sizes. It is 127x77cm which is practical for most dogs.
The towel is also light considering its size. It is not overly large which makes it easy to use. The material of the towel holds up well after several uses. It does not come off after using and washing multiple times. It also has nice paw prints on it making it quite the appropriate for your beloved dog.
The towel is affordable, and you get value for your money. It really performs well and should be durable in the long run.
Pros
Light (microfibre)
Dries fast
Good size
Nice dog logo
Microfiber Dog Towel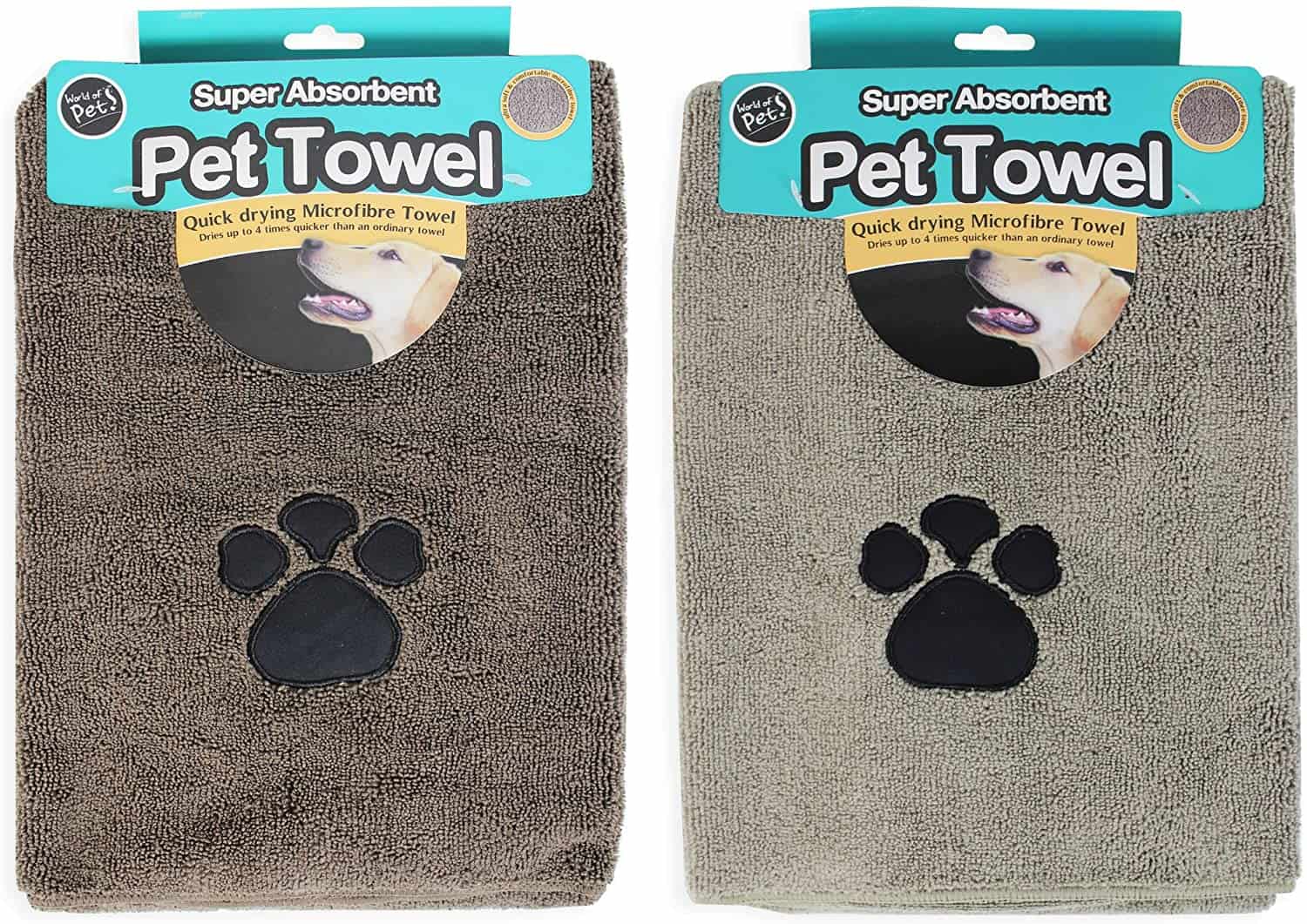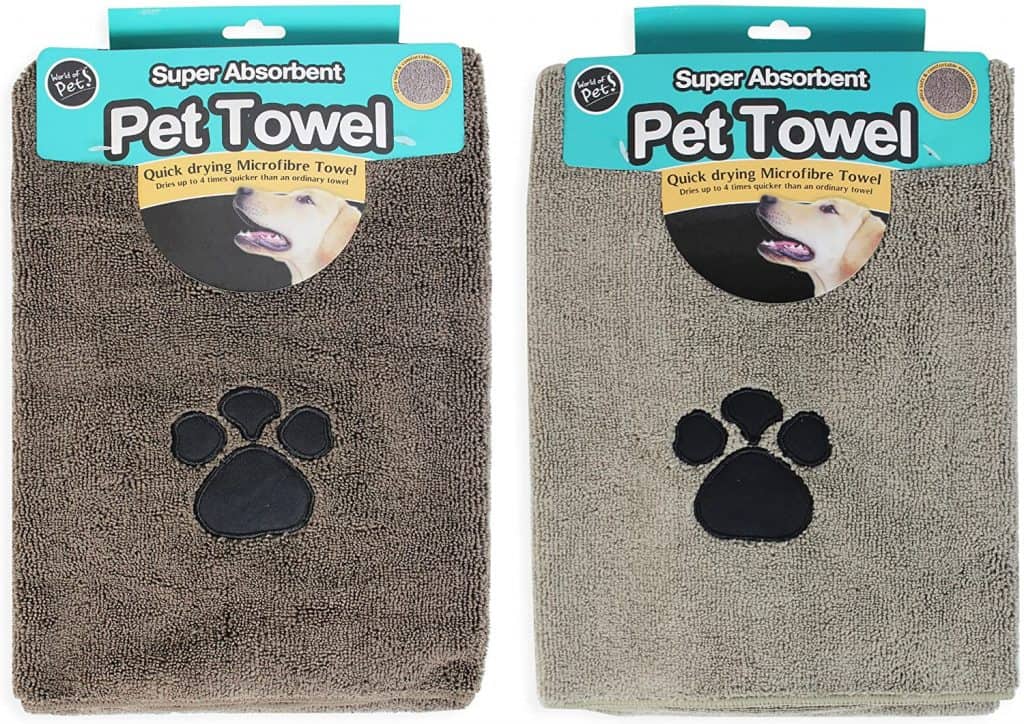 The superabsorbent microfiber dog towels are great towels. They absorb way better than ordinary towels and can soak up a lot of water quickly. They come in brown or dark beige colour.
The towels can also be used on any breed of dogs you like. The towel has a nice feel and is durable. They come in twos and usually, the first towel absorbs most of the water after a bath. The towel is light and easy to wipe through the dog's fur.
They dry quickly after a wash and this is very convenient as you don't have to wait long for them to dry up. The towel is lightweight and could be a good choice for trips or be beach etc without making your backpack overly heavy.
Though they are very thin, you could easily underestimate the towels efficiency. On the contrary, they perform well compared to normal towels. On a final note cleaning this towel is easy as it is machine washable.
Pros
Thin
Durable
Dries well
Lightweight
Best Dog Drying Coat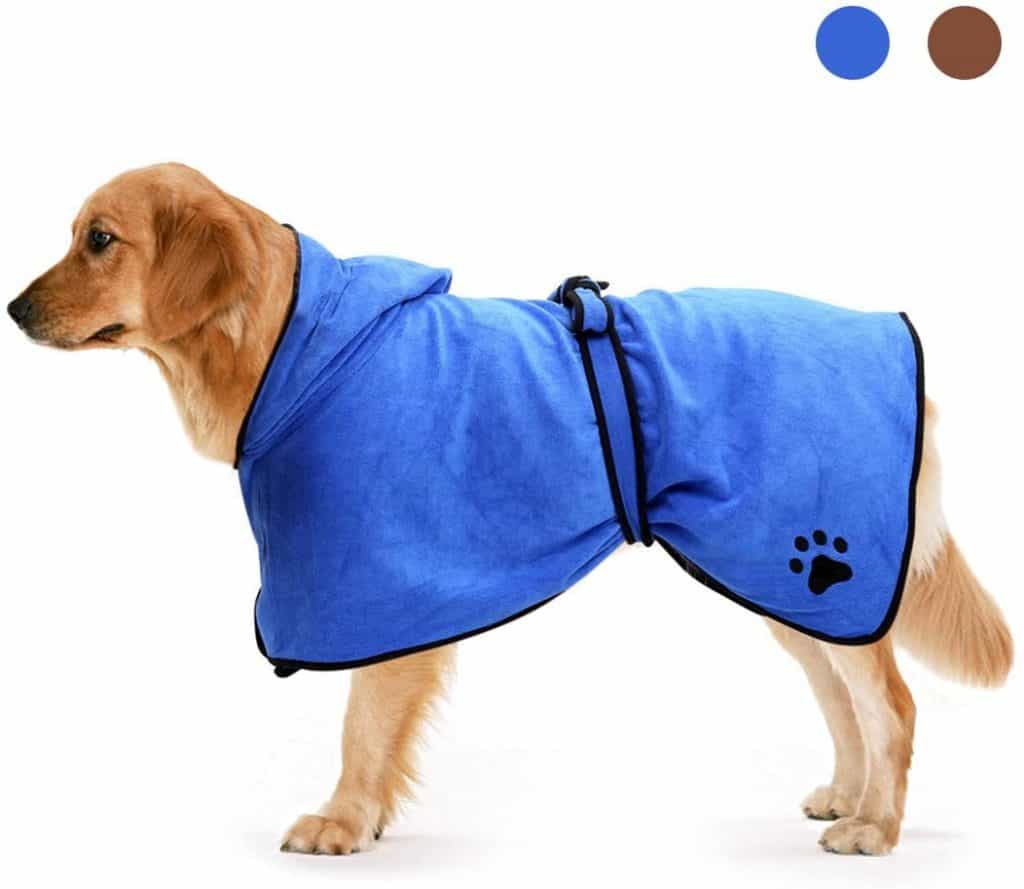 The adjustable hood towel is one of a kind. Its unique features make it stand out from all other towels. It's sort of like a dog robe. Instead of just drying the dog once with a towel, you can leave it on with the Zellar towel.
It ensures your dog is completely dry and provides warmth to your dog as well. Your dog will enjoy bath time even more with this towel. It comes in all sizes that most certainly will work for almost all dog breeds.
Made of 400g microfiber, it absorbs a lot of water fast. It also saves on drying time as you can just leave your dog with the towel. The towel will allow your dog to dry itself gradually over some time.
The towel keeps your dog warm and cosy on cold days as well. This is a bonus as the towel can be used as a blanket on the cold days. The towel comes with an adjustable belt that ensures it is well secured on your dog's body.
It is machine and hand washable making it convenient to clean. The towel comes with an 18-month warranty that ensures you get great value for money. Compared to the other dog towels, it is less work and very convenient to dry your dog with.
The towel has beautiful dog paws prints close to its edges that make it appealing especially to your doggie. This also helps you sort out your towels. With the paw prints, one can easily tell the "owner" of the towel.
This towel takes the stress out of drying your dog because it can basically dry your dog without the need for actively drying them yourself – a neat trick if you ask me!
Pros
Ideal for self drying
Stays on well
2 in 1 (robe & towel)
Dog Drying Onesie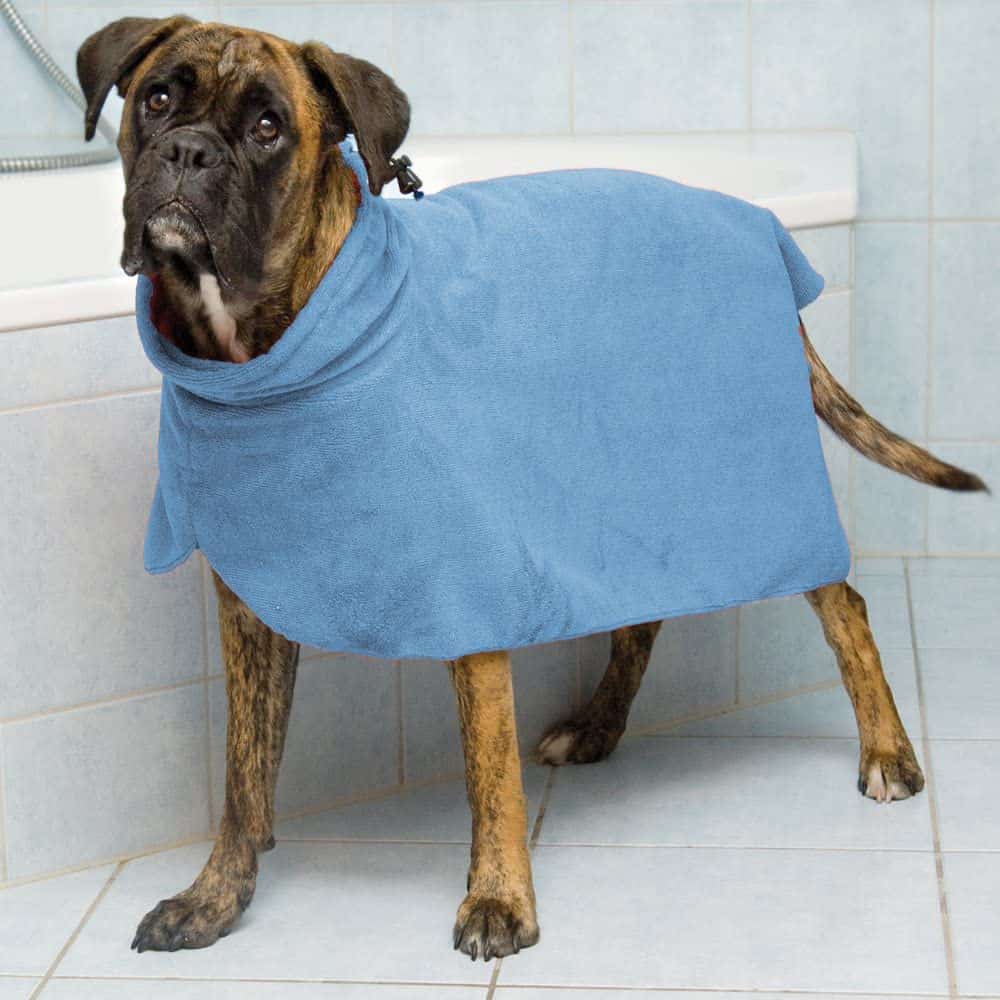 The Trixie bath towel is an ideal towel for dogs. Unlike, the hood towel it covers also the neck area of the dog. Compared to other towels, it covers 90% of your dog's body. The towel is made from microfiber that absorbs a lot of moisture.
The towel's collar is adjustable making it possible to adjust the towel to your dog size. You no longer have to worry about your dog feeling cold after a shower. You can wrap your dog with the towel and let it dry off.
You can also shield your dog from the rain when outside. The towel's design enables you to secure it around your dog's body. You don't have to worry about the towel falling off when your dog is walking or running which is nice.
The towel comes in all sizes, from small to extra-large. Depending on your dog size, you can choose the right towel size for them. The towel is also affordable, however; the price varies with the towel size.
It is machine washable making it easy to clean and maintain. The outer part is made of synthetic material. This protects against water from penetrating through. In case of rain, it protects your dog from getting wet with this feature.
The towel weighs 150 grams making its super light. The towel is very efficient and can dry your dog in about 15 minutes. It is worth noting there is one button to secure the towel on the dog's groin area. Although the towel could use another button on the chest area to help secure the towel better around the dog's body.
Pros
Absorbs water effectively
Very lightweight
Dries fast
Machine washable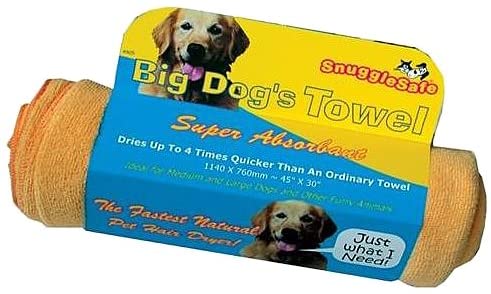 Just as the name suggests, the towel is made of soft material making it ideal to snuggle. The towel weighs around 300 grams. This towel is heavier compared to other towels.
The towel is suitable for use in any environment. It is also durable and efficient. It is made of a combination of polyester and polyamide. This makes it very absorbent for water and any moisture.
The towel can also be used on other pets too. This makes it versatile in use. Unlike other dogs' towels that are exclusively designed for dogs, the towel can be used on other pets. The towel is quite large making it easy to dry your dog with.
Its large size also makes it efficient in drying as it can absorb a lot of water content when drying. The towel comes in two categories, standard and large. The large size is ideal for larger dog breeds. Its dimensions are 140 x 76 cm while the standard is 92cm x 46cm.
The towel is cheaper compared to most dog towels in the market. If you are running on a tight budget, this could just be the right towel for you. The towel performs to a solid standard giving you value for your money.
With this towel, you have options when it comes to cleaning. It is both machine and hand wash compatible.
Unfortunately, the towels I personally used came with a strong engine oil smell. It's not clear what the smell is for but it's annoying to say the least. Washing it didn't completely remove it either it still had a lingering oil smell.
Pros
Soft
Thicker
Cheap
Very absorbent
Cons
Oil smell when received (washed out after 2 washes)
Dog Towels for Dogs – Conclusion / Buying Advice
It is important to get the right towel for your dog. There are a few features you should consider when searching for a towel for your dog.
First being the towel should be made of high-quality absorbent material. This will ensure your bath sessions are effective as you will be able to dry your dog well. You'll also be able to dry your dog with one towel. You will save a lot of time with a highly absorbent towel.
The towel should also be made of light material. This is vital for three reasons. One is cleaning, easier to use and finally packing for a trip.
Light towels are easier to clean as their material is not as thick. This makes it easy to clean in a machine or hand wash as well. The towels also are easier to use because of how lightweight they are.
A light towel is also less likely to hold bacteria as it is easy to clean. With a light towel, the washing and drying time is a lot less as it dries faster than heavier towels.
You should also ensure your towel is made of microfiber material. Microfiber is super light and absorbs more water content compared to cotton. This material is also durable and does not wear off after multiple uses. Unlike cotton made towels, microfiber towels do not come off when drying your dog.
Look out for the grams per square meter. You will want a towel with a high density. This will ensure your towel absorbs much more water content. When selecting a dog towel go for one that is 650 GSM or more. Your dog will dry quickly and won't have to brave the cold for too long after a shower.
Related Posts –