It's one of the most commonly seen comedy movie scenarios: man and dog are out on a walk, dog sees a squirrel, and drags the man off across a lawn or two, woofing his head off as they go. Not unfunny in movies – but thoroughly undignified in real life. Not to mention that it translates into some very real life bruises and bumps as well.
But that's half to be expected from trying to convince a dog who isn't leash trained that a loop around his neck should automatically make him obey your every direction. Dogs need to be leash trained in order for it to be safe for them to be taken out on one. And pet owners need to be 'trained', too. This is to avoid miscommunication, because your dog is going to learn to look to you for instruction. But once basic training is out of the way, you're ready to explore your neighbourhood at your leisure!
This is where flexibility come into the picture. If you've equipped your dog with one of the best retractable dog leads available, you can leave him or her free to roam in a decent radius around your regular path, without having to tramp two yards behind him everywhere.
Plus, retractable dog leads let you control pooches who tend to veer off towards traffic or freeze on the sidewalk, deer-in-headlights style. Also don't forget you need a good collar along with your retractable lead I personally love canny collars and recommend you check them out. Anyway here are the best choices for you to ensure your dog enjoys some freedom (- just enough of it!)
Preview
Best Choice
Great Value
Title
Flexi Giant Retractable Lead
Peteast Retractable Dog Leash
Pecute Retractable Dog Lead
Best Choice
Preview
Title
Flexi Giant Retractable Lead
Preview
Title
Peteast Retractable Dog Leash
Great Value
Preview
Title
Pecute Retractable Dog Lead
Best Retractable Dog Lead – Top 5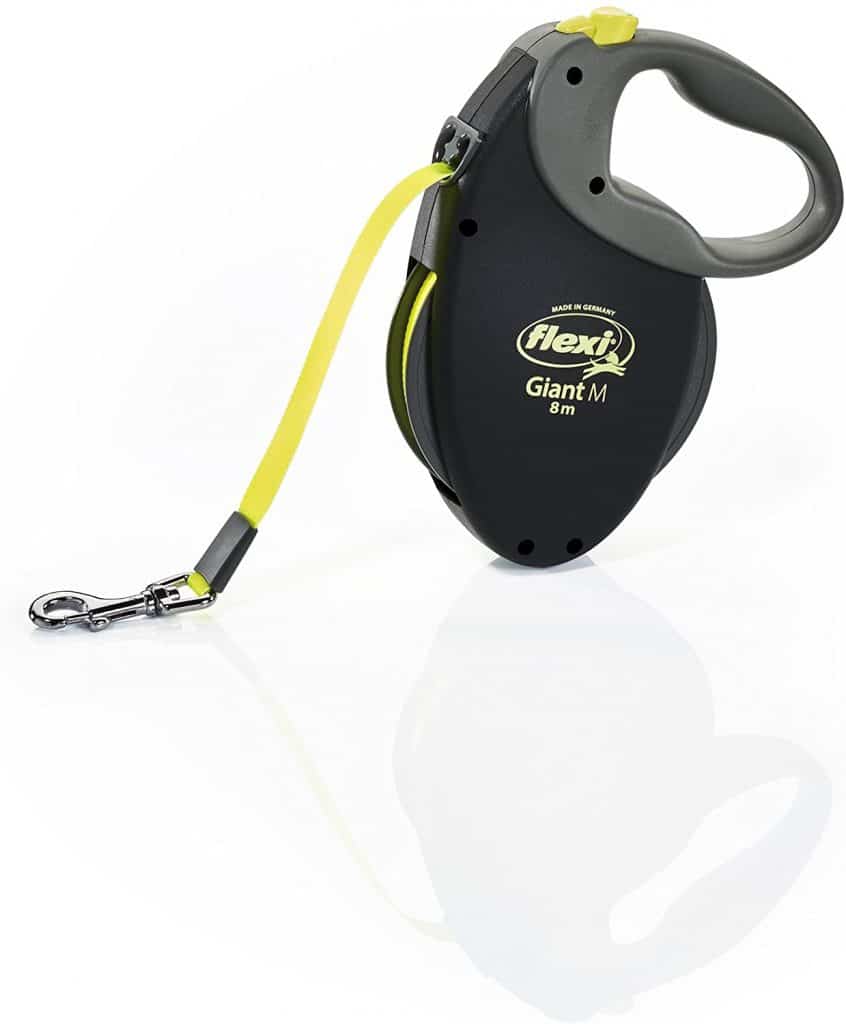 A giant leash for big dogs, with massive popularity- we have plenty of synonyms for this behemoth. At 8 metres long, the Flexi Giant retractable lead will allow your dog to sniff every available scent-message in a comfortable roaming radius around you, without needing to incessantly tug you along as he goes.
The Flexi Giant lead is suitable for dogs up to 25 kg in weight. It comes with a nice, soft-gripped handle that is perfect for one handed use. It has a very effective brake- no playing tug of war with this lead on your dog. The lead itself is a solid 1 cm wide and thick, and does not slip, rather releases and retracts very smoothly. Not to mention, it's a very clearly visible neon colour, too.
The lead clip is also very sturdy, like the leash itself, and very easy to use. It's a good choice for any dog as long as your dog isn't much heavier than 25 kg and/or a constant puller. It's also very cheap, when you take the quality into consideration, and extremely durable. It doesn't get stuck while reeling or fray. And even if it gets dirty, you can simply pull it out to the maximum extent, rinse it with water, and it's back to as good as new- till your dog decides to do his next swamp creature imitation!
Pros
8m of lead
Doesn't slip
Very cheap
Easily visible
Cons
If you have a big dog over 25kg you may want to consider another option.
Retractable Dog Lead Heavy Duty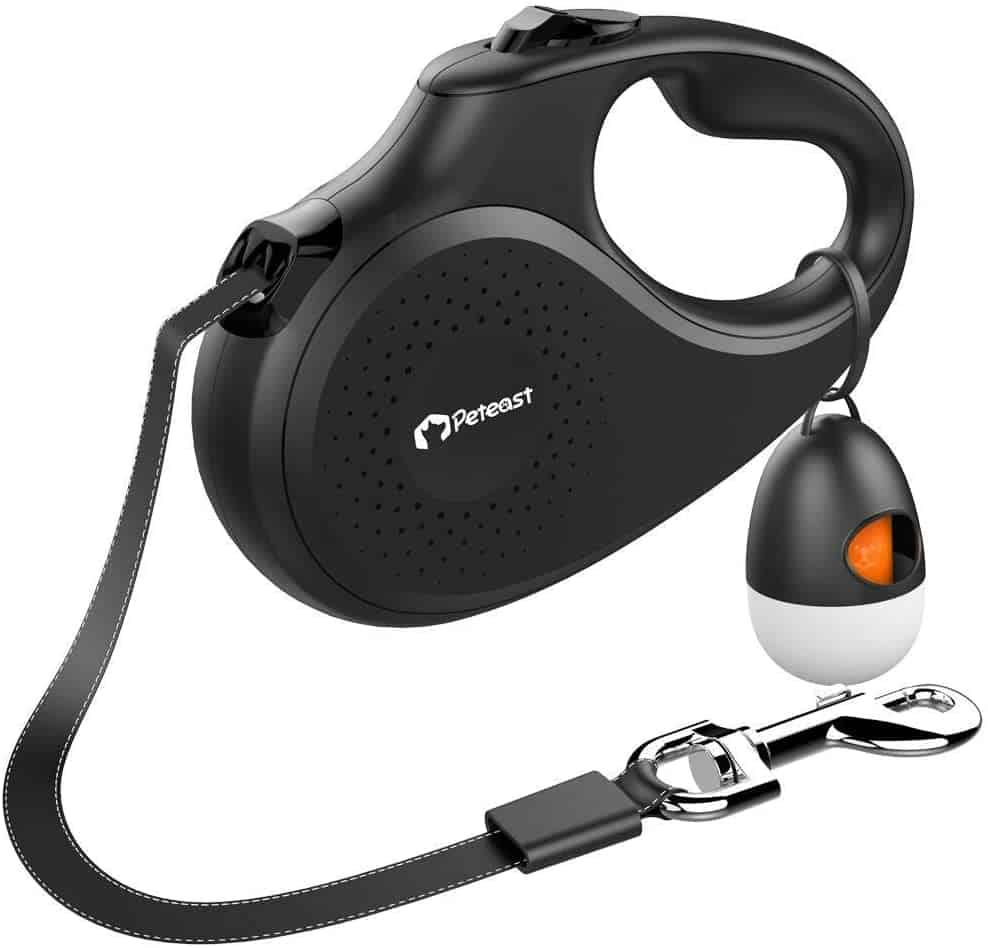 The Peteast Retractable Dog Leash is a heavy duty contender on this list. Reeling out to a length of almost 5 metres in total, this lead is made with a patent locking system that makes it perfect for medium sized dogs up to 25 kg in weight (or heavier too, if they're more sedate). The lead itself can stand a pull of up to 125 kg, as its made of ABS material.
The USP of the Peteast retractable leash is its braking system, that lets you push one button and brake the leash immediately. And, given how the grip is designed, all you need to do is extend and push down with your thumb to stop the lead reel whenever you need to. (The corner row house's roses don't need to be chewed all the way through, after all!) The set also has a complimentary roll of plastic baggies packed in a egg-shaped cone, in case there are any unexpected sidewalk emergencies to clean up quickly.
The handle of the leash has an ergonomically designed comfortable rubber grip, and allows the lead to extend fully in a complete circular range of motion. Plus, there's reflective stitching, that makes sure that you and your pooch are visible even on foggy mornings or at night. If you're looking for a handy and durable retractable dog lead, this could be a great choice for you!
Pros
5m in length
Reflective stitching
Real comfortable and ergonomic grip
Effective brake system
Best Extendable Dog Lead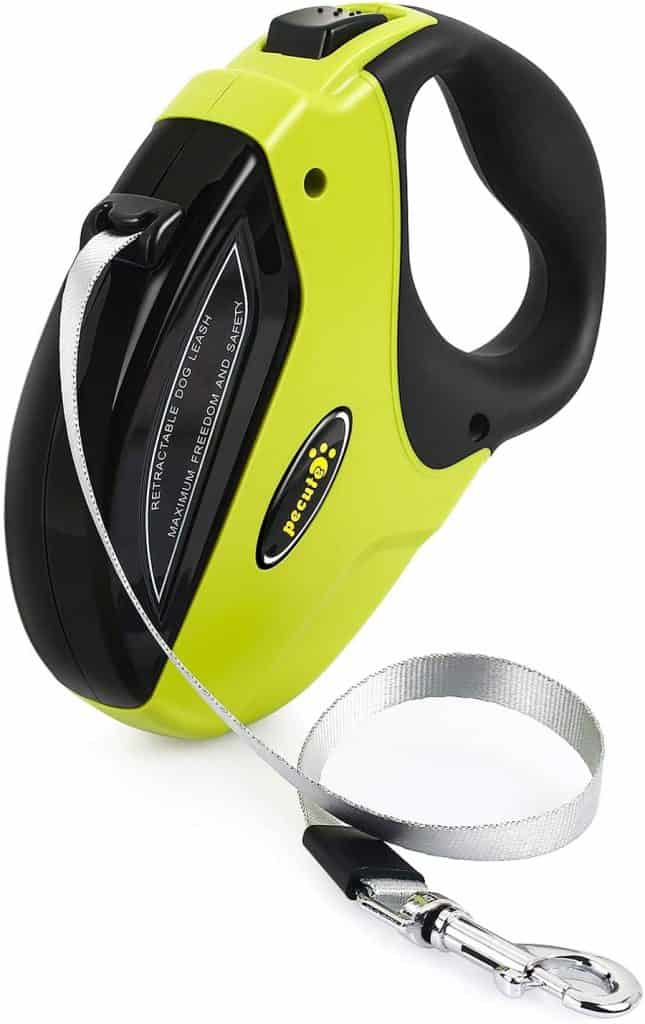 The Pecute retractable dog lead is much like its name- cute, and for cute but big dogs! Stretching out to a generous five-ish metres in length, the Pecute retractable dog lead is made from a powerful high strength nylon cord. It allows you to comfortably control dogs up to 55kg in weight, without any fear of tangling or slipping of the lead.
The Pecute lead also comes with a push button braking system, which allows you to instantly stop the reeling out cord, for when your pet suddenly decides to make a left turn and cross the street, for example. An added bonus, you can retract the leash to the desired length immediately as well.
The anti-slip handle is really the icing on the cake, too. It fits the hand snugly like a glove, is corrosion resistant, and has strong chrome hooks inside. Plus- odourless and non-irritant! This is the retractable lead your dog wants you to buy!
Pros
Can handle dogs in weight up to 55kg
Easy to use braking
Comfortable handle that won't slip even in the wet
Another variant from Flexi Number 1, the Flexi New Comfort lead is also an impressive 8 metres long, with small differences. This lighter weighted model comes with a short stroke braking system and soft components, with reflective gear available on the small and medium sizes.
The Flexi New Comfort lead also comes with an extendable LED lighting system from the medium size upwards. It's suitable for small to medium dogs up to 20 kg in weight, and offers extremely good handling with a comfortable no-slip grip to the handle. There's hooks for attachable poop-bag containers as well, if you choose that customization to order.
Compares to the Giant model though, the leash is significantly less durable. Also, the pattern makes it very easy to get rope burns, should your dog suddenly launch himself around you. Although very reasonable for the price, this lead is a good option if your dog is on the smaller side, and you don't expect to put this one through the grinder.
Pros
Great for smaller sized dogs
Easy to use and handle
Cons
Not strong enough for bigger dogs
A slightly pricier model, the COLJOY dog lead is a sturdy nylon material that extends a full 5 metres. The material is specifically a feature, because the lead promises to have undergone strict tension testing, affording good control of dogs up to 50 kg in weight. Additionally, it comes with a strong, wide clamp as well.
Equipped with a comfy rubber grip handle, this lead's system has a one button for all scheme. The same button can be used for releasing, braking, and retracting, depending on how its manoeuvred. Admittedly this makes it confusing, but also simplifies the working, once you've gotten the knack of it.
Another problem is the relative lack of strength of the spring system. If your dog is in the habit of tugging his lead a lot, it could snap the internal spring system very quickly, ruining an otherwise excellent lead. Also, the grip is a little too for anyone with small or medium sized hands to hold comfortably. Especially if your dog is young or easily excitable. Then, both pooch and owner are at risk of being jolted badly. However, if you have a larger dog who is quick to obey, this is the leash for you(him!).
Cons
Spring system lacks strength and seems poor quality
Grip little to small especially if you have big hands
Related Posts –
Best Dog Leads – All Dog Leads
How to Use a Training Lead for Your Dog