If you are looking for a quality dog harness that really stops your dog from pulling there is no doubt that a Halti should be on your radar.
Here we have used a selection of different Halti harnesses and we have rounded up our top 3 choices and why they are the best options out there right now. Let's get into it now!
Preview
Best Choice
Good Value
Title
Halti Front Control Harness
Halti Headcollar (Padded)
Best Choice
Preview
Title
Halti Front Control Harness
Preview
Good Value
Preview
Title
Halti Headcollar (Padded)
Halti Harness Reviews – Our Top 3 Choices
This harness is great for dogs who need a light and non-sweaty option, such as golden retrievers who have lots of fur. It is made out of nylon, which is a strong and high-quality material.
The harness also comes with a safety clip on the front that attaches to the collar for extra support. This means that your dog will not feel any looseness, especially when they are doing exactly what they should be – walking at your side. The lead attaches at the chest and the back, allowing for dual steering and extra control.
The Halti Front Control Harness also comes in multiple sizes, ranging from small dog breeds (small size) to large dogs breeds (extra large size). Make sure to get the right size for your dog, as this harness uses a front control system, where it stops pulling by controlling the dog from the head and shoulders.
It's probably best if you get the Halti Lead in addition to the Halti Front Control Harness, because the lead allows for you to attach one end to the front and one end to the top of your dog. This allows for maximum control on your walks.
Customers rave about how well this works for their dogs, with lots of dog owners talking about how this worked within one minute of walking around with their dogs. Owners also love that you can control the dog from both the chest and the back of the neck, allowing for the dog to have movement while the owner is still in complete control.
Customers also love how uncomplicated this is compared to other harnesses. The chest piece makes it easy for the owner to see how to put this on their dog(s) and can make it so that the harness gets on quicker than other styles of non-pull leads or harnesses.
All of the other Halti Harness Reviews are just as positive, but this Halti Front Control Harness might be the best fit for you if you find yourself struggling to control your dog in addition to the dog always pulling you for the walk instead of the other way around.
Pros
Ideal lightweight harness
Simple and effective
Strong and high quality material
Keep great control of your dog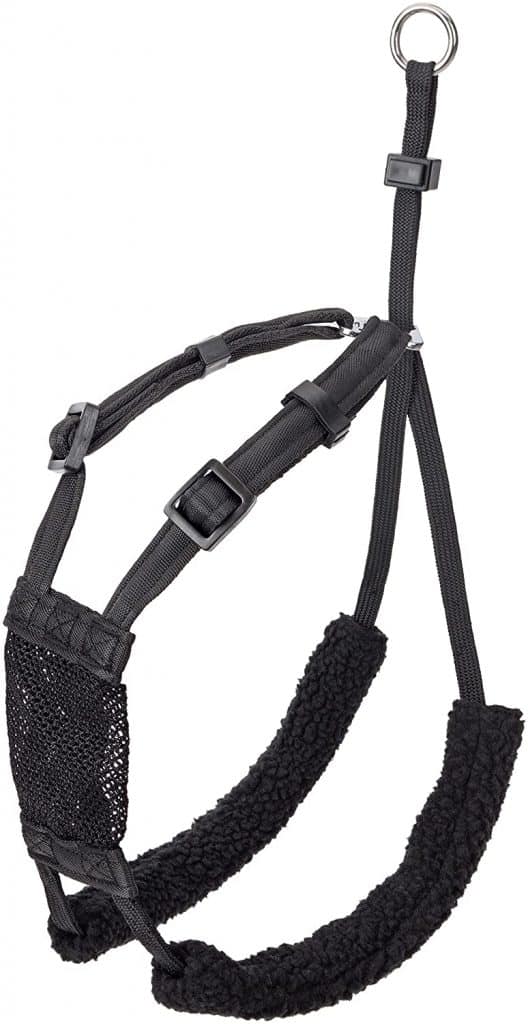 We decided to include this harness due to it's versatile "squeeze and lift" theory. This harness works with the pulling dog by applying pressure and lifting at the chest when the dog pulls. The dog will eventually realize what's happening and relax on the lead.
The harness itself is simple to the eye and to the user (both dog and owner). The harness comes with simple instructions, and you can find tutorials on both the Amazon page and YouTube for how to put the Spore Non-Pull Harness on your pup.
This is another harness that you can allow your dog to run free while wearing because of its wearability and easy material. The Sporn Non-Pull Harness can be hard to get on your dog when they are excited, but eventually the dog will understand that they need to calm down to go on a walk (and get the harness on) which can benefit you before the walks as well!
When picking out a lead for this harness, be sure to pick one that works with the style of activity you are going out to do. There isn't a specific requirement of lead for this non-pull harness like there was for the last one, so feel free to pick what works for you.
If you're running, you obviously don't want to be tripping over all the extra lead, so you'd want a shorter one. If you're walking, however, and want your dog to be able to explore, trying a longer lead might be better for you.
The general consensus amongst users on this harness were also positive, with customers raving about the lead versatility as well as the simplicity to put on and take off. They all mention that the dog struggled with it at first, but eventually got used to the feeling of the harness and associated it with the positive experiences they have while walking.
Dog owners also talked about how great the Spore Non-pull Harness was for their dogs that had a problem with keeping their head down while walking, or constantly sniffing everything so they couldn't get anywhere. The Spore Harness makes it so that the dogs can't be constantly sniffing, as the chest piece is lifting their chest up.
Pros
Comfortable for both dog and owner
Well distributed weight
Available in 3 different sizes
Keeps dogs under control well
Cons
Little more difficult to put on than other alternatives
This is the last product for our Halti Harness Reviews. We chose this due to its diversity from the first two products. This is a head collar, meaning that it goes around your dog's head under the ears and then over the snout.
If you're looking for a collar that can help your dog with the ultimate control on walks, and doesn't hurt your dog when you put over it their snout, the Halti Headcollar is a great choice. That's why it made our top 3. We can't get enough of the quality of this product!
The comfortable material that goes around the dog's snout is padded, so you don't have to worry about your dog feeling uncomfortable with having fabric restricting them. The straps that go around the back of the dog's head are adjustable, allowing you to create the perfect fit for your pup while still having complete control over the lead.
This lead also clips to the dog's neck collar, allowing for maximum safety when taking your dog for walks. The lead itself is connected to the front of the harness, which allows you to control the dog head-first, avoiding pulling.
If you are wanting maximum efficiency with this, make sure to pick up a Halti Lead that you can manage with two hands. This lead allows you to have ultimate control over the dog's movements, while the dog won't know that you do!
Other users of this product also talk about it's easy to use design, as well as how quick it helped their dog learn to not pull. Many people buy this with puppies so they are immediately trained to not pull and are less likely to show walking difficulties in their future adult lives.
Pros
Comfortable material
Cheap and good value
Teaches dog to not pull quickly
Cons
Does not offer as much control as a full body harness
An Overview of Halti Harnesses
Why Halti Harnesses?
Harnesses are a great option for owners who don't know how to get their dog to stop pulling on a lead. They are also great for owners who want an extra precaution for their really strong dogs just in case they get spooked or see a squirrel to chase.
When we were confronted with this problem, we did some research to find the best no-pull harnesses in the UK.
The Halti Harnesses we tried out were plentiful, but the three we specifically decided to include in our round up are the Halti Front Control Harness, Sporn Non-Pull Harness, and the Halti Headcollar.
What is the Halti Harness?
The Halti Harness is a thick harness that goes around your dog's chest or their head, and can be used for all breeds of dogs and all ages. It is comfortable enough to be worn on and off the lead, and eventually your dog won't even know it's there!
All of the Halti Harnesses come with adjustable straps, so even if your dog is a few inches different than the size descriptions on the website or in the description, they will still fit in the Halti Harness. In addition, the Sporn Non-Pull Harness has a front chest piece which has a pocket for potty bags so that you don't need to add any accessories to your lead or harness.
Related Posts –