Depending on the breed of dog you have, dogs need to walk around 10-20 miles every single day.
If you have a large breed of dog, like myself, you know how active they are – and how much they tug on their leads when they get excited!
It's no laughing matter when you get back home feeling like your arms are going to fall off. It's not just important for yourself, but also our dogs – I bet it's no fun for them either when we tug on their leads when they need to stop or slow down.
With this list I'd like to show you some of the best dog leads you can get in the UK to help with this problem and offer quality and practicality that you expect with a dog lead.
Preview
Best Choice
Great Value
Best Choice
Preview
Preview
Great Value
Preview
Best Dog Leads – Our Top 5
The EzyDog Dog Lead is our number one pick because of its shock absorbing quality.
You have two options when it comes to the length; 25 inches or 48 inches, and it comes in a wide range of different colours.
This dog lead is excellent for dogs of all breeds and ages. However, I must mention that if you're anything like me – of a small build (around 5 feet tall) with a large dog such as a Rottweiler, this is the ideal dog lead.
My Rottweiler and German Shepherd used to make me look quite ridiculous when I'd walk them, because if one of them would spot a squirrel they would nearly sweep me off of my feet, but thanks to this product this is no longer an issue.
The EzyDog lead has a highly sprung bungee system located at the center of the lead, which cushions and eases pressure for both myself and my dogs.
It has a D-ring which allows me to attach a waste bag dispenser or other accessories.
The 48 inches long lead also has an extra handle near the collar, called 'traffic control'. This is especially useful when my dog and I stop and wait to cross the street. While crossing the street, I'll hold him from this handle for extra control if needed.
Leads by EzyDog are compatible with any harness or collar, not only ones by their brand.
This dog lead is a blend of super soft, double density nylon which makes it incredibly strong and also comfortable to hold.
To finish it off, it has a reflective trim to improve visibility and nighttime safety, and additional soft waterproof neoprene to ensure that it's both long-lasting and a pleasure to hold.
The EzyDog lead may very well be one of the best dog leads in the UK, as it is meticulously designed, known not only for being durable but it is also stylish and extremely good quality.
Pros
Shock Absorbent
Reflective / High Vis
Durable
Strong
Nice Material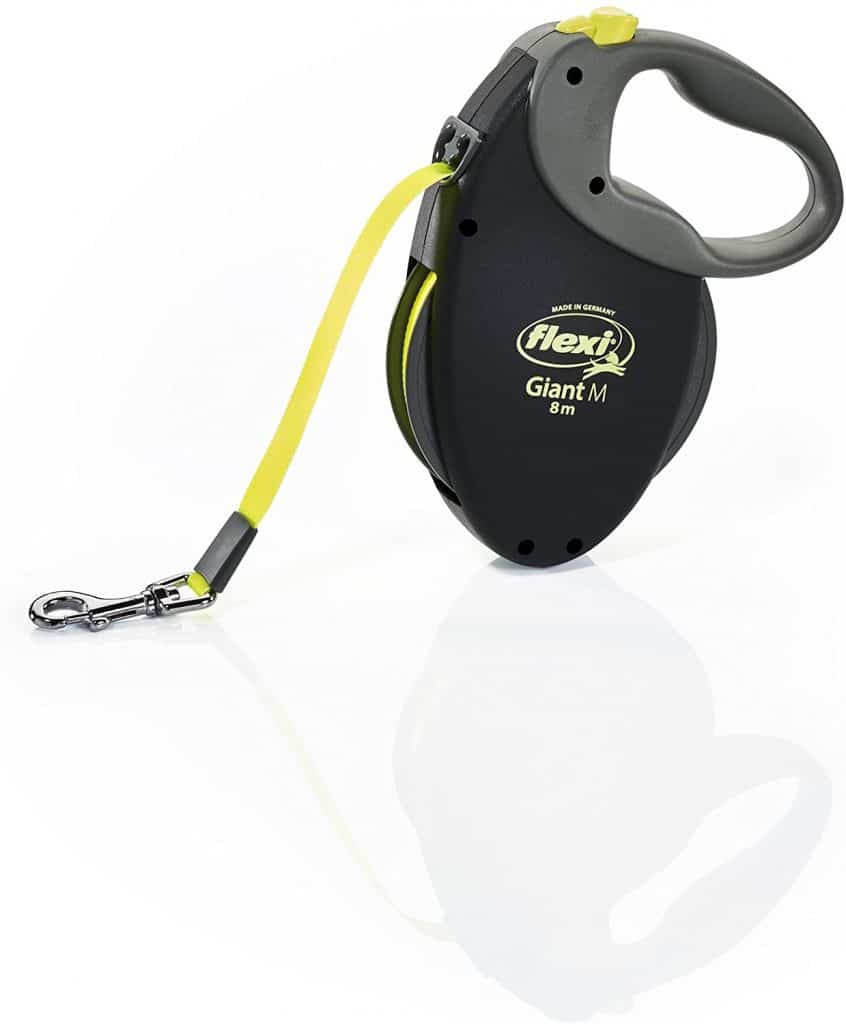 The Flexi Giant Dog Lead is especially good for larger dogs, weighing approximately up to 50kg.
If you're looking for a dog lead that can offer much more than you'd think, Flexi is the brand for you.
With bigger dogs we usually prefer to walk them in large open spaces, and the bigger the dog the stronger and more active they tend to be, and this lead is perfect for this.
This retractable dog lead comes in 8m or 10m, allowing us to let our dogs roam about more and get more exercise.
The handle has a plastic casing in a stylish grey colour, and it has a soft grip so that it won't hurt your hand.
The lead itself is a bright neon yellow colour, which is helpful for more visibility. It's made of thick nylon rope with plastic casing so that it doesn't fray easily and lasts longer. It also has a smooth release and recoil.
Flexi Giant Dog Lead includes a safety collar, which should be used in addition to your dog's usual collar. This is designed to prevent snap back, if your dog's collar breaks, or just in case the lead disconnects somehow.
The one-hand brake is very easy to use, comes with a soft-grip and non-slip handle, giving you full control of your dog on those long walks. For other retractable dog leads check out my article – best retractable dog leads.
Pros
Retractable
Bright neon – good vis
Works well for larger dogs
Soft Grip
Cons
Not good if you want your dog on a tight leash (retracting)
The Sweetie Bungee Dog Lead has a shock absorbing bungee section that stretches when pulled by either you or your dog. It stretches from 26 to 38 inches, so your dog isn't restricted too much either.
I love this because even when I need to signal to my dog to slow down or stop, rather than a sudden pull or jolt my dog only feels the gentle tug – and of course my arms no longer feel like they're going to rip off!
The handles are padded with neoprene, making them easier to grip, much more comfortable, and most importantly no rope burn. The lead also has reflective stitching, so it's great for walks after dark.
The large metal clip on this Sweetie Bungee Dog Lead is very strong, so no matter how hard your dog pulls it won't snap. It clips on nice and tight to any collar or harness, and rotates 360 degrees so that the lead won't get tangled and your dog has more freedom.
This dog lead, like our first product, also has an extra handle close to the collar for 'traffic control', and a D-ring for accessories such as treats or a torch for walks at night.
Sweetie Bungee Dog Lead offers a lifetime guarantee, so if their lead has any issues or defects you can get it replaced.
Pros
Shock absorbing bungee section that can stretch and offer more comfort when your dog is pulling
Really comfortable grip and with no rope burn
Reflective stitching for high vis
Lifetime guarantee
The Flexi Comfort Retractable Dog Lead has an eye-catching two-toned design, available in four colours: bright pink, green, blue or grey. There are three options for length: 3m, 5m or 8m.
Of course, this can be used on larger dogs because the tape lead is very resistant, but there is no reason not to use it on smaller breeds or puppies.
The ergonomically shaped and lightweight handle can be adjusted in size so that it fits perfectly no matter how big or small your hands are, and soft components ensure that it feels comfortable whilst maintaining a good hold on it.
The adjustable handle comes in handy the most when those winter gloves come out, and you feel you need that little bit of extra space to have the perfect grip.
It has a Short-Stop Braking system which is reliable and responds quickly, it's also very easy to use with one hand. The permanent stop function allows you to keep your dog at the length you want to.
Flexi products are hand crafted in Germany, and for over 40 years they have proven to be one of the most durable brands.
This dog lead can be upgraded with optional LED lighting system, which attaches on the side and can work as a flashlight or just for nighttime visibility.
You can also purchase the Multi Box, which attaches at the bottom of the handle and is great for conveniently storing waste bags, treats, or you can even keep your keys in there if you and your dog are going for a run.
My only issue with this product is that the tape lead did not seem to be resistant enough for my extremely large and powerful Rottweiler.
Pros
Different colours available
Permanent stop function (retractable lead)
High quality and hand crafted
Can be upgraded to include lights, multi-box (storing waste bags)
Cons
Doesn't feel strong enough for bigger and more powerful dogs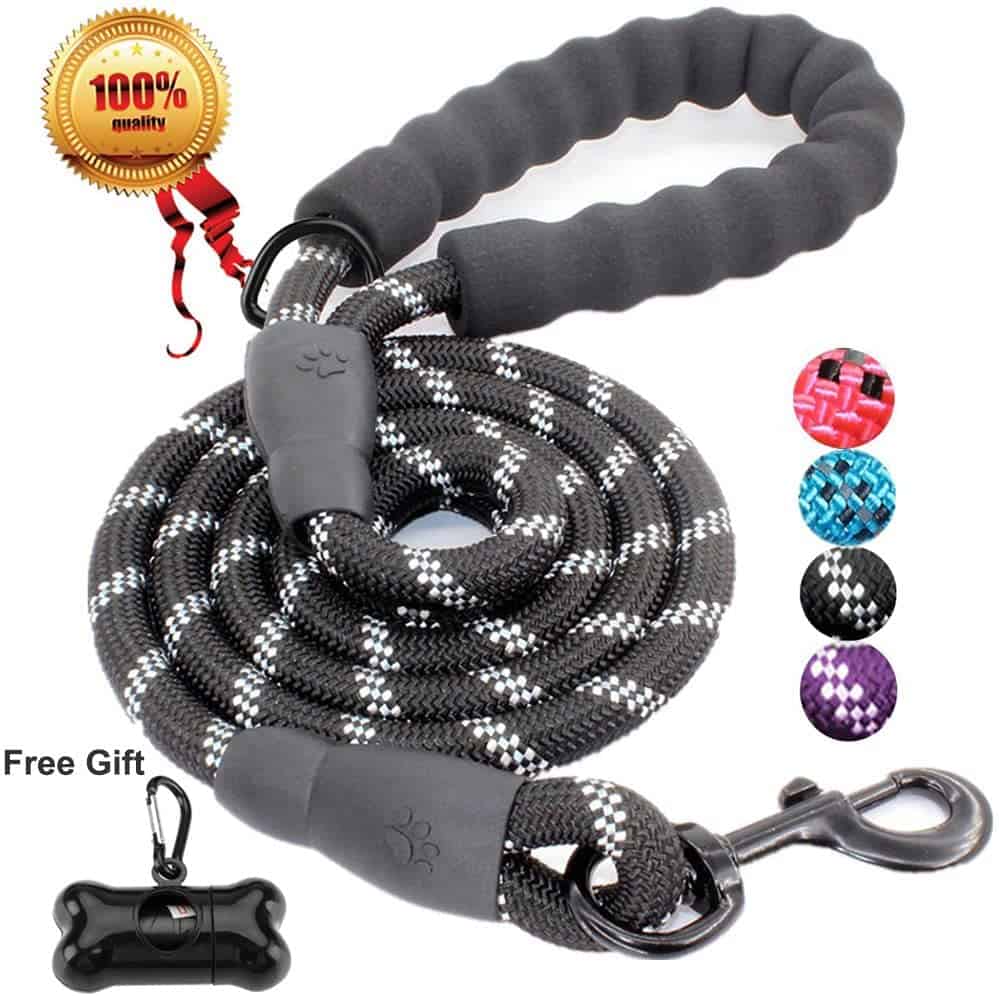 This dog lead by JBYAMUK is very strong and durable, extremely comfortable to hold, tangle-free, and great value for your money.
It comes in black, green, purple, pink and blue and you can even order a pack of 2 if you have two dogs.
It's 5ft long, the perfect length to maintain balance between control and freedom.
Made from high quality climbing nylon ropes and a unique high-density anti-bite braid layer design in the middle of the rope. It is extraordinarily strong and light, ideal for dogs of all sizes.
Even if the rope on the inside breaks somehow, the seam definitely won't because JBYAMUK use professional sewing machines to make these dog leads with double stitching.
The metal clips are heavy-duty zinc alloy clips, tested to withstand an impact of 400 pounds, so even the strongest of dogs will be safe and secure. They also rotate 360 degrees, so the lead won't get tangled at any point and it also provides more freedom for your dog.
The handle is exceedingly comfortable and sturdy because it has EVA foam padding and protects your hand from rope burn.
This dog lead uses wide double reflector threads so that both you and your dog are safe and highly visible when it gets dark.
If you purchase this dog lead you will also receive a cute little waste bag dispenser, which you can attach to the D-ring on the lead.
Unfortunately, if you have a very small dog it may be a little bit too bulky for them. It also seems that some of the clips can be faulty and either seize and won't open, or they are too easy to open and come loose.
Pros
Great value for money
High vis
Included waste bag dispenser
Handle has foam padding to prevent rope burn
Cons
Quite a bulky lead (not ideal for smaller dogs)
Clips quality seems questionable
Related Posts –