Pretty much anyone who uses the Internet has heard stories of pets who got separated from their families and then found their way back to them many years later. A black Labrador called Abby, for example, lost her way when her family was on vacation and found them at their new home a full TEN years later. But stories like these are few and far between, with most lost pets ending up on the streets, having to fend for themselves, or in forest or picnic areas where they follow their noses down trails and then don't find their way back. The majority of these pets are never found. But in either case- a lost pet is a pet in grave danger.
With the advent of GPS technology and how simple it is to put trackers in dogs and cats these days, it has truly become so much easier to retrieve pets who've slipped out of doors left open, or run away- or, heaven forbid, been dognapped. In fact, these pets carry an added layer of security and can be let to run loose a lot more easily than those who have to be constantly monitored and kept on a leash or halter. All the more so if your dog runs over a wide-open area, such as a farm, or goes hiking, trekking, etc. with you.
So, if your dog or cat isn't tagged yet, you should give it serious consideration, indeed. Here are the best dog trackers UK markets have right now, which will be the best fit for you!
Preview
Best Choice
Lightweight option
Title
Tractivex GPS Tracker for Dogs
Pawfit GPS Pet Tracker & Activity Monitor
Weenect Dogs - The GPS tracker for Dogs
Best Choice
Preview
Title
Tractivex GPS Tracker for Dogs
Preview
Title
Pawfit GPS Pet Tracker & Activity Monitor
Lightweight option
Preview
Title
Weenect Dogs - The GPS tracker for Dogs
Best Dog Trackers in the UK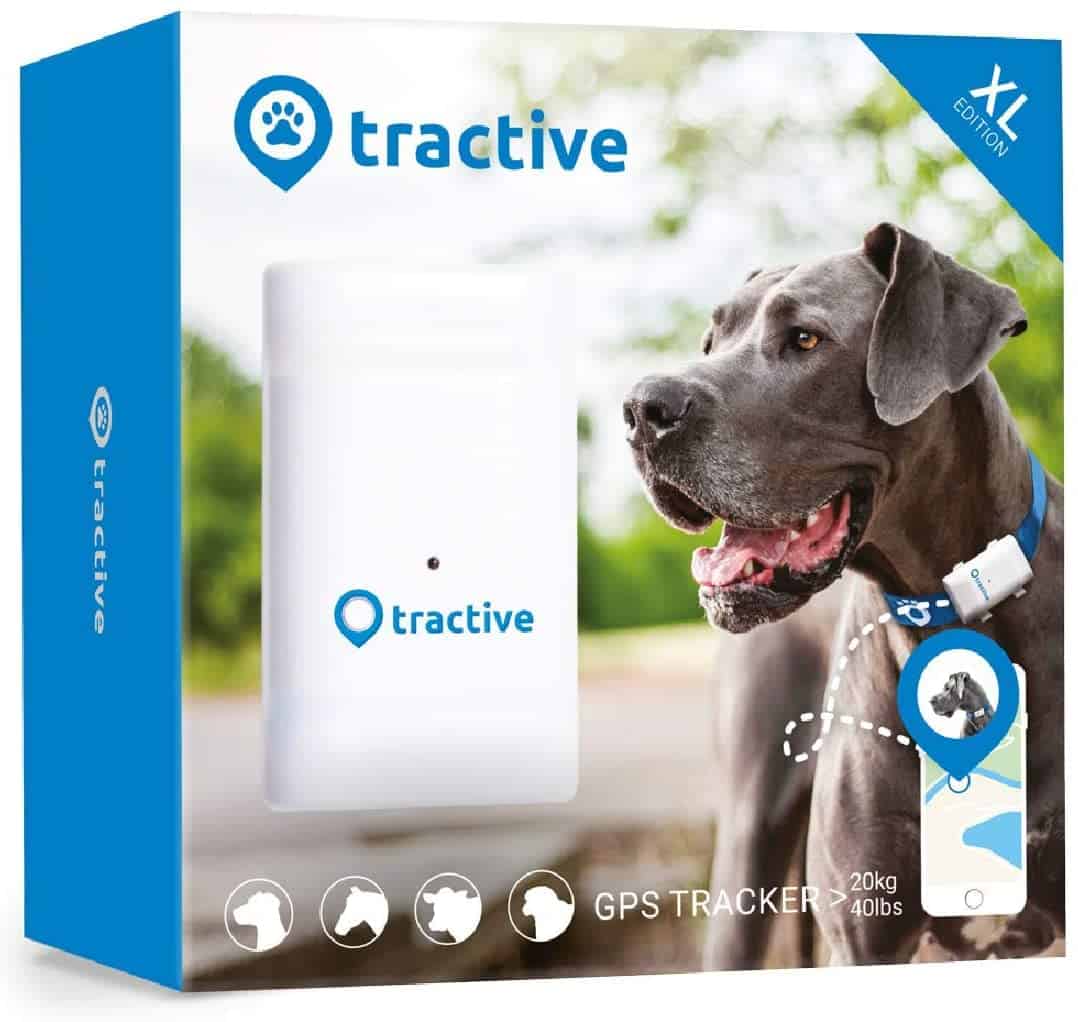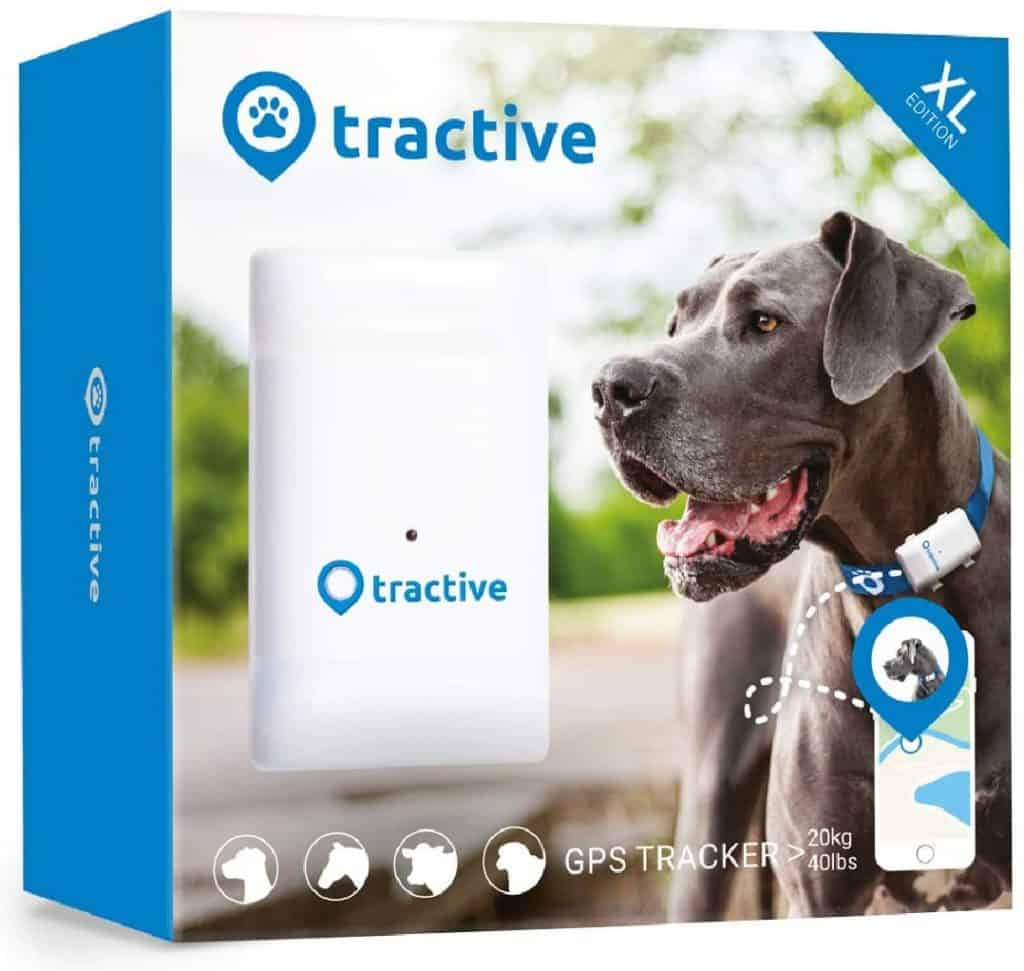 This lightweight & waterproof GPS pet tracker attaches easily to any medium to large sized dog's collar or harness, without causing any sort of strain or pull on their necks. The Tractive GPS XL tracker weighs in at 141g, measuring 2.9 x 4.9 x 8cm with its strap. It attaches with no fuss whatsoever with any pet collar and offers live-tracking. Live tracking means that you can pin point your pet's location anywhere at any time, in actual time. And the range is simply massive- over 150 countries are included. Unlike any Bluetooth collar or range restrictive collar, the Tractive tracker has no range restriction whatsoever. Your dog's position can be monitored on an easy interface app on your phone or on your laptop, with no fuss entailed. The tracker itself has a battery life of 6 weeks and – best of all – does not even need to be replaced, but simply recharged.
The Tractive GPS XL tracker can also be used to establish a virtual fence of sorts for your dog, with a certain distance that you can demarcate. If and when your dog leaves this circle, you will get a notification that he is outside this range you have fixed. It's basically like having a SIM card fixed to your dog's collar, with a very, very low cost subscription fee that lets you pinpoint your dog's location anytime, anywhere. And, since the whole unit is waterproof, there is no danger of it no longer working because of water damage either.
If you have an active dog and lead an active lifestyle, this is the best dog tracker for you.
Pros
Easy to attach
Rechargeable battery
Long battery life
Waterproof
Dog GPS Tracker UK – Top Choice
The Pawfit monitor is a dog tracker with loads and loads of extra features for a full catalogue of your dog's every statistic. Not limited to just tracking your dog's location, this tracker keeps note of active hours, rest hours, calories burned and distance covered by your dog, calculated off your pet's age, size, weight, breed, and also calculates movement like a little doggy pedometer. All the data is even stored on the device for a full 7 days, during which you can transfer it to your system, or just monitor it for a general overview of your dog's movement.
Apart from recording the statistics, though, there are so many other features the Pawfit GPS pet tracker comes with to help pinpoint your dog's location. In the event your dog goes missing, you have a text-to-speech option that lets anyone pressing the power button hear an out loud broadcast of your pet's ID number, using which they can bring your pet back to you. It is not just about distance though. There's also an alert that notifies you if your pet's immediate environment temperature is suddenly high or low, or irregular for any reason. Also, if someone removes the tracker and/or your dog crosses the safety zones you have marked for him, you immediately get an alert. You can receive alerts directly on your phone, too, if you are running iOS 9.0 or later and Android 5.0 or later. You can use it to set up to 10 safety zones and manage up to 4 pets at a time.
The entire device is as doggy-indestructible as it gets. The unit is waterproof (IP65), both rain and splash-proof, plus the outer shell is anti-drop and anti-bite, so your dog can't chew his way through it even if he's so inclined. The unit comes fitted with a 700 mAh battery that lasts 4-6 days while in use, and 7-10 days easily on standby mode. When it hits low power mode, the battery needs a simple recharge, not to be replaced. The unit is 30g in weight and can be attached easily to any collar or harness that measures 1.25 inches. This makes it comfortable for any dog weighing above 3.5 kg, so is also very safe for cats. The tracker itself can be located with a SIM card commercially available in the UK anywhere, under special deals that offer hassle free network and wide coverage for your pet. If you are looking for a lightweight tracker that keeps a keen eye on your pet, this is definitely the tracker you should consider.
Pros
Waterproof
Battery lasts 4-6 days while in use
Comfortable
Lightweight
GPS Pet Tracker UK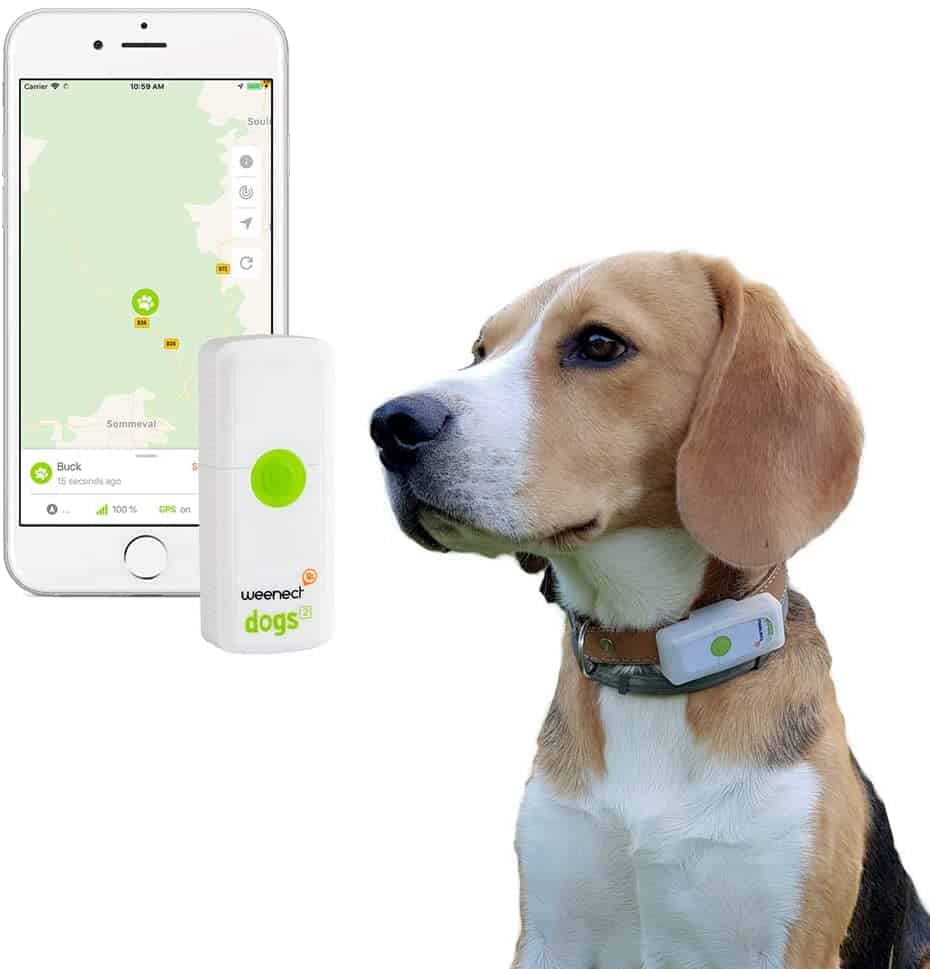 If you're looking for a way to train your dog and keep a track of his activity, the Weenect dog tracker is one that you should definitely take a look at. It comes with a massive range – essentially no range limitation because it sends a continuous signal: one signal every minute for when your pet is moving, and once every five minutes for when your pet is standing still. But that is only the locating. Every time you ping your pet to come back home, it plays a beeping sound that it also plays when your pet gets his food. This makes your pet associate the beeping sound with food and trains him to run home on the beep command.
The unit comes fitted with a SIM card that provides the GPS pinpoint for your pet's tracker and runs on a simple subscription plan with 2G service for the tracker signal. The tracker itself uses the SIM card to send the signal and runs on a battery that lasts 2-4 days comfortably while in use. When low on battery, the Weenect tracker can be recharged up to full strength easily in 2 hours. The whole thing weighs under 2.7g and clips easily to your dog's collar, so it is no issue even for small dogs. If you are looking for a lightweight, no-frills collar for your dog that will help you call him home too, the Weenect tracker is the right option for you.
Pros
Recharged in 2 hours
Very lightweight
Easily clips to dogs collar
Cons
Below average battery life (2-4 days)
A little different from the other trackers on our list, the Ubeequee pet tracker is a real time tracker that gives you a live tracking GPS signal. You can use it to keep an eye on your pet as well as create a virtual fence to keep your dog in a specific area and get a notification immediately if he leaves it.
The signal is sent through a SIM card. The entire unit is waterproof and lightweight, and clips on to your pet's collar safely and easily. It causes no fuss for your pets too since it only weighs 36g. Plus, the tracker has no range limitation either, and runs efficiently through European countries.
The tracker keeps a full history of your pet's movements which can be very useful. Plus, there is a long list of additional features such as a comparatively long working time, reduced power consumption, and can continuously work for about 10 days.
The battery is a hefty 400 mAh and recharges with ease. Overall, it is easy to recommend this tracker and it is available at a reasonable price point.
Pros
Waterproof
No range limitation
Long lasting battery
Easily recharged battery
Good value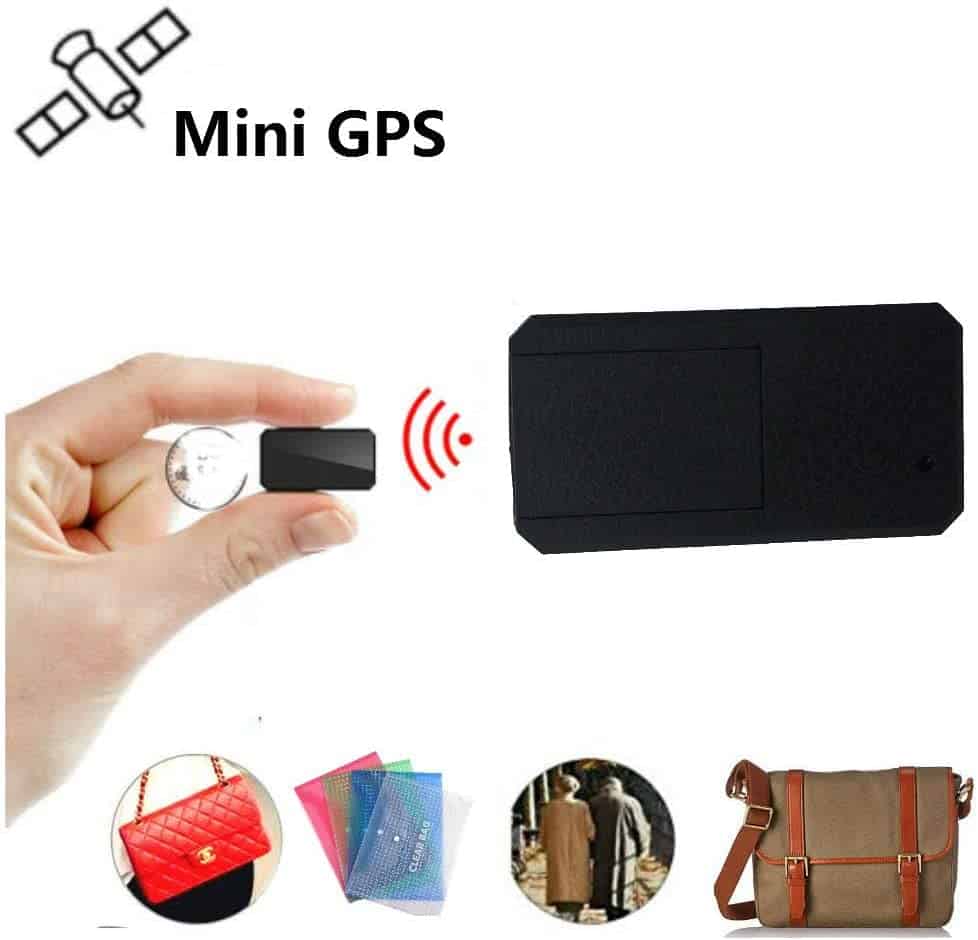 The Winnes GPS tracker is tiny, measuring at just 47 x 24 x 18 mm and weighing 50 grams, making it extremely lightweight and portable. A magnetic trip is provided so that it can be attached to metal, although connecting it to your dog's collar is not ideal as you will have to find a way that works best. This is because this tracker is not only made for dogs, but people too.
With both GPS and LBS, it has a tracking accuracy of up to 10-15 metres is provided, however when indoors it doesn't pick up a GPS signal but rather switches to LBS which isn't as accurate.
You can use your mobile or a laptop to check the location via the web platform, app, or an SMS. It's possible to create a 'safe zone' where you will receive an alert if your dog goes out of the said zone. Besides real-time positioning, you also get a track record history list which can be useful – it is always good to see where your dog has been.
Although this option is on the pricier side, a SIM card is needed that can work on a 2G network but it does come with a rechargeable lithium-ion battery.
Rechargeable lithium-ion batteries tend to be very good but, for some reason, the battery with this tracker can be a bit spotty. Perhaps it is due to the size, but at times it only lasts an hour after charging until full.
This tracker is splash proof and will survive a couple of drops, but cannot be submerged in water.
Pros
Lightweight and compact
Splash proof
Receive alerts when dog exits the safe zone
Real-time positioning
Cons
Doesn't work indoors
Battery does not always last long at all
Isn't made specifically for dogs; can be tough to fit to collar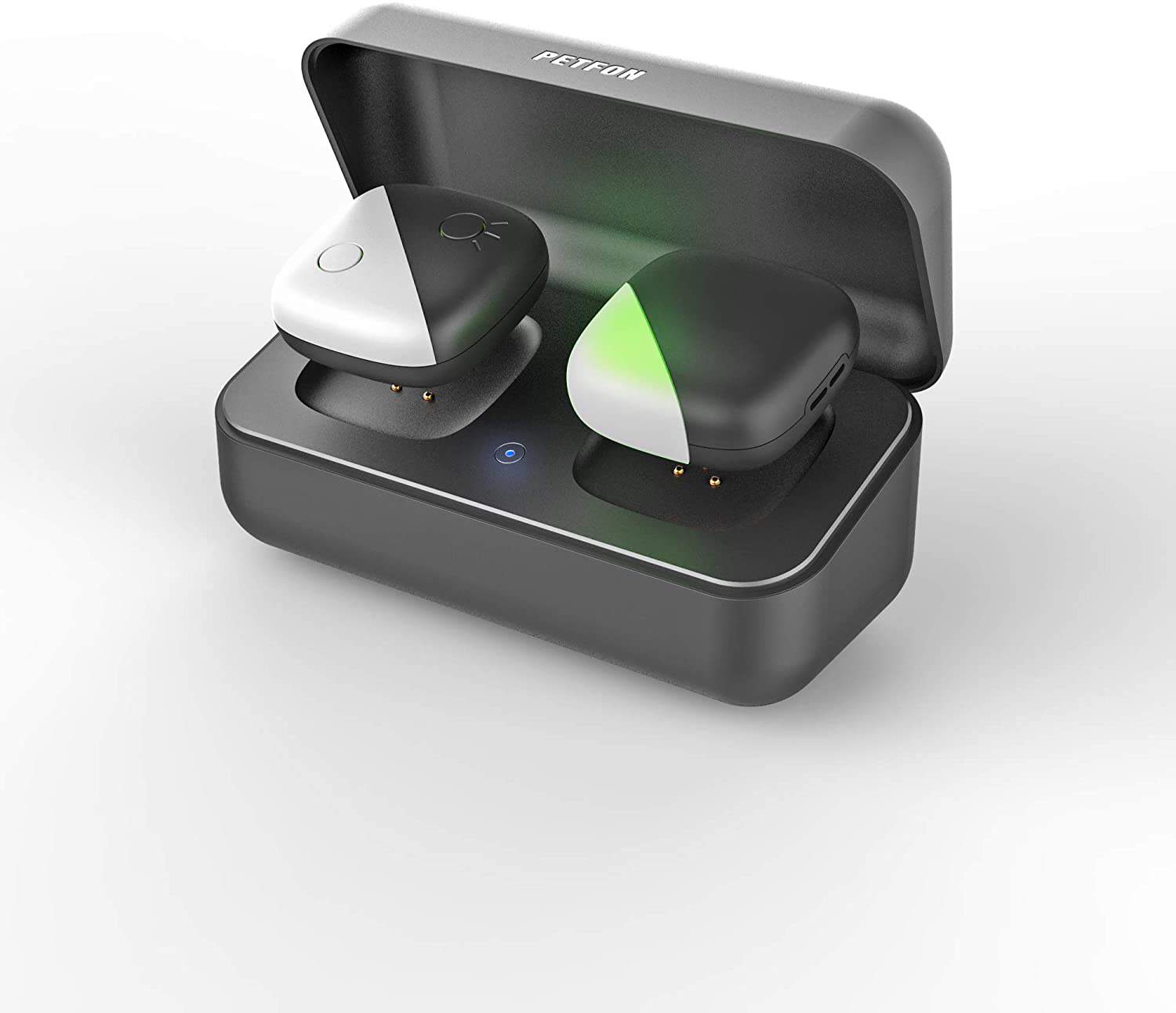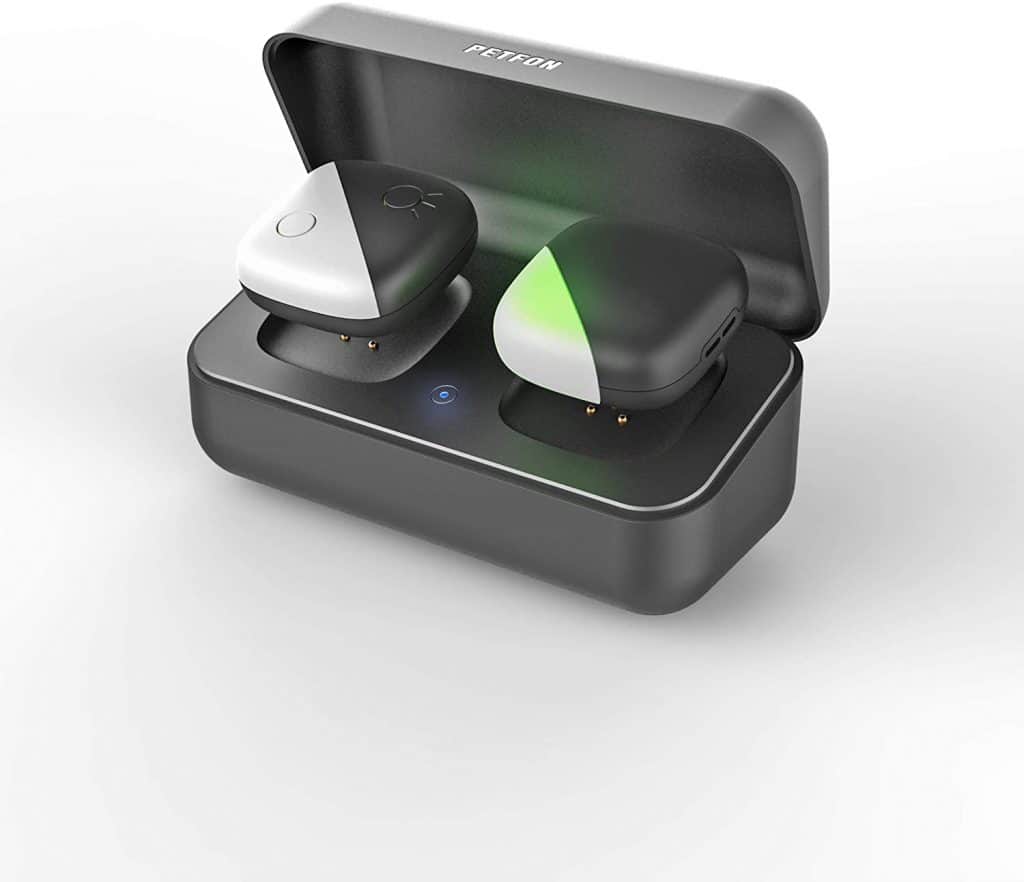 The PETFON dog tracking device comes with two modules; one control terminal which is carried by the owner and the tracker that goes on your pet's collar. They combine GPS, Wi-Fi, Bluetooth, and other long distance wireless technology for an accurate real-time position.
It's small (42 x 42 x 18mm), lightweight (27.6 grams), durable, and rainproof.
Although this one is definitely expensive, it is completely worth the cost and does not require any sort of subscription. Nor does it require a SIM card.
With the mobile app, you can track your dog's live location and view their activity such as resting and walking time, paw steps, and distance – it has a range of 0.65 miles in urban, dense areas and 3.5 miles in an open environment.
There are so many features to this tracker; a common one being that you can outline a safe area and get notified if your dog leaves that zone. What's more, it has 11 colourful lights which you can activate so that you can easily locate your dog in dim light or at night. Plus, you can record voice commands to communicate with your dog remotely with a speaker that can emit up to 70 decibels of sound.
It comes with a compact travel charging box making it ideal for off the grid use and lasts up to 8-16 hours. It is specifically designed for outdoor use, like when you take your dog for long walks off the leash or go hiking or trekking with them, as it is not as accurate when used indoors.
You can never lose your pet with this tracker, as the radar pinpoints the direction as well as distance, providing you a guide to find them. It easily attaches to your dog's collar and is comfortable for them to wear.
Pros
No subscription fees
Emits up to 70 decibels
Lights up
Compact charging station
Small & lightweight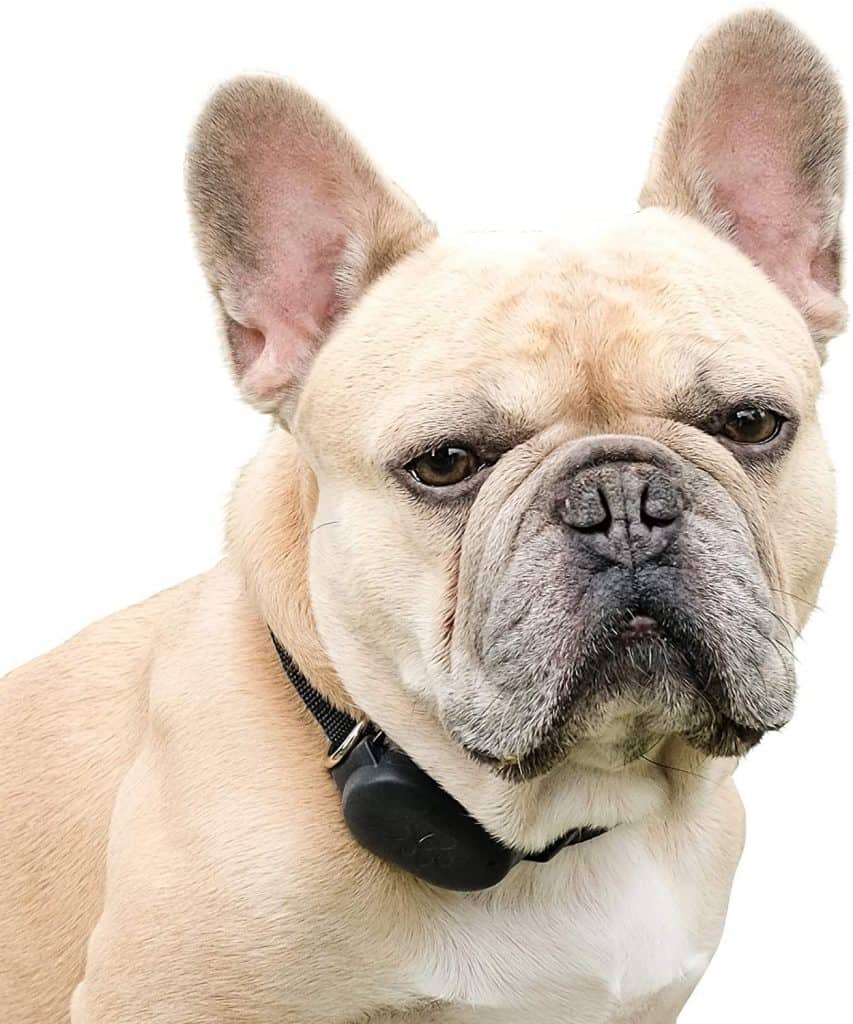 Here we have another product by UBEEQUEE. This tracker has a sleek design, only weighs 23 grams and measures at 33 x 50 x 15mm. It is splash proof but not waterproof, so it shouldn't be submerged in water, and has unlimited range when tracking.
The live tracking has a 5-15m location accuracy and you can also view the history via the app which is compatible with iPhones, iPads, and Android phones. The app is ad-free and also shareable so that you can share your dog's data with friends and family. Up to 3 months of location history can be stored at a time.
A SIM card is required and this tracker works with all networks. Through the app, you can manage settings, check the battery life, create a virtual fence, and more.
As always, you receive an alert if your dog goes out of the safe zone that you outlined. You can opt to receive location updates every minute, 10 minutes, or every hour. Depending on which setting you choose this will affect the battery life. It can last up to 3-4 days unless you choose to receive alerts every 10 minutes which causes the tracker's battery life to only last 2 days and if you have chosen the every minute notification option it can only last 4-5 hours. Charging time only takes 2 hours with the included USB cable, which is very fast – just be careful not to leave the tracker charging for any longer as this can damage the battery.
It has relatively low price subscriptions and provides a free trial for one week. If you pay monthly, this costs 4.49 pounds, £3.99 for six months, £3.49 for a year, and just £2.99 for a two year subscription. There's no contract, so you can easily cancel at any time.
A secure rubber collar attachment is included so that you can attach the tracker to your dog's collar with ease, plus it is lightweight and close fitting making it dangle free and more comfortable for your dog – they won't even notice that it's there!
Pros
Low cost subscriptions
Battery life can last up to 3-4 days
Only takes 2 hours to fully charge
Easy to attach
The SNAWEN GPS tracker weighs about 170 grams and has measurements of 34.5 x 65 x 15.5 mm. The app is compatible with IOS version 6.0 and above or Android system version 2.3 and above and provides a real-time location. With GPS, the accuracy of the location is 5-20 metres and 50-200 metres accuracy with Wi-Fi.
It has multi-mode positioning (Wi-Fi, GPS, BDS, LBS) for the best tracking and supports 2G frequency but not 3G or higher.
With a 400mAh battery capacity that only takes 2-3 hours to charge, the battery life can last for as long as 5-7 days. That is, if receiving updates every hour. You can also opt to receive alerts every 30 minutes or every minute, which result in the battery lasting 3-5 days or 2-3 days respectively.
Aside from locating your pet anywhere, at any time, you can also set up a virtual fence through the app and get a notification whenever your dog leaves that safe zone. Up to three months of your dog's location history can be stored on the application, and you can also check the battery status there – it even notifies you when the battery is lower than 20%, reminding you to charge it. Moreover, you can even use the tracker to speak to your dog, so if your dog happens to be intelligent and obedient you could even get them to return home with the sound of your voice.
With a waterproof level of IP67, you don't have to worry even if your dog goes for a swim with this tracker. It is also rain proof and dust proof so ensure long-lasting durability. Its protective durable case also contributes to its longevity, and it can even work in temperatures as low as –20 and as high as 70 degrees.
Pros
Waterproof
Battery life can last as long as 5-7 days
Low battery alert
Speak to your dog
Cons
Doesn't support 3G or higher (only 2G)
The UKCOCO Bluetooth tracker comes in the colours bright green, white, or black and is very cheap.
You can use an app, which is compatible on both IOS and Android, to check your pet's location. It has a maximum distance of only 25 metres though. By pressing the call button, the tracker emits a sound to help you find your pet. If your dog has run out of hearing distance though, it may be quite tricky to find them.
It is lightweight, convenient, has low power consumption, and is very compact with measurements of just 31 x 11 x 52mm (L x W x H).
It uses one AAA battery to work, and one is included upon arrival so that you can start using it right away.
Pros
Compact
Cheap
Low power consumption
Cons
No GPS, Bluetooth only
Not useful for long distance
Although this product by PitPat is not a GPS tracker it's still very useful for activity tracking – it is essential to do so in order to ensure that our dogs are healthy and therefore happy. Pet obesity is a huge problem, and this is the ultimate tracker to manage your dog's weight.
It is very small, measuring at 34 x 32 x 15mm (L x W x H) and weighs just 16 grams. With a simple app – which is compatible on both IOS and Android – you can keep track of your dog's exercise, rest, distance, and calories. The app even provides personal breed-specific recommendations and you can set and track goals to earn achievements.
It is durable, lightweight, comfortable, and waterproof. It has a rating of IP67, so it can be submerged into 1 metre of water for a short period of time, but it can't handle anything more than that.
With a Velcro-like fastening, it easily clips onto any collar and can be removed without any fuss, and it curves inwards at the corners for comfort.
This monitor can store up to a week's worth of activity before it begins to overwrite. The only annoying thing is that you need to press the button at the centre of it to manually sync the data to your phone every time.
Moreover, it comes with a replaceable battery that should last for over a year.
Pros
IP67 waterproof rating
Small & comfortable
racks exercise, rest, distance, & calories
Cons
No GPS
Manual sync required
Related Posts –
Best Dog Training Collars – Buyers Guide