Dog training collars can be extremely useful, especially when they are automatic. Some dogs simply bark too much, at everything and anything, and it can be necessary to reduce this.
Training collars are not only great because they are anti-bark, but they can help stop other unwanted behaviour such as aggression, eating things they shouldn't, and calming down in general.
That's why I have put together a list of ten of the best dog training collars in the UK, some of which have remotes and that have different levels of vibrating and/or beeping sounds.
Quick Top 3
Table could not be displayed.
Best Dog Training Collars – Top 10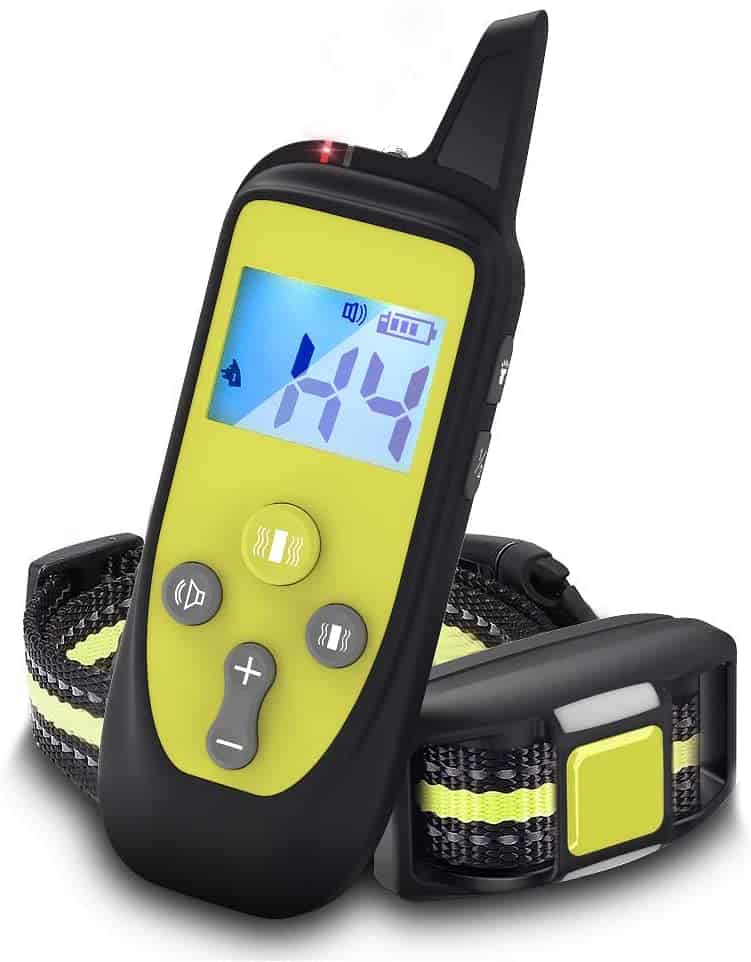 The Wizco training collar has an exceptional range of a thousand metres and the remote control is lighter and more portable than its previous version, making it optimal for outdoor training use.
It's completely humane and compliant with all UK and EU laws with its 16 levels of regular or intensive vibrations and 8 different beeping tones, causing no harm but are just strong or loud enough to get your dog's attention.
It's recommended that you try out the beep mode first and only move on to the vibration modes if your dog fails to respond.
The controls on the remote can all be operated in one hand, and the buttons are so simple that you could easily manoeuvre without looking down at it with ease. There is a security locking button too to prevent any misuse of operation.
The easily adjustable nylon collar (12 inch – 25 inch) can fit the majority of dog breeds that weigh between 9lbs and 120lbs and has green LED indicating lights so that it's easy to recognize whether it's working or not and to locate your dog in low light conditions more easily. It's also got a water resistance level of IP67, so you don't need to worry about its condition when it rains.
It has USB rechargeable batteries and it only takes 3 hours to fully charge both the collar and remote together.
As well as the collar, remote, and charger, you also get an easy-to-follow instruction guide and dog training guide included, which is great for anybody who is new to using a collar to train a dog.
Pros
Fits most dogs weighing 9lbs to 120lbs
Green LED indicating lights
IP67 water resistance rating
Easy to use remote control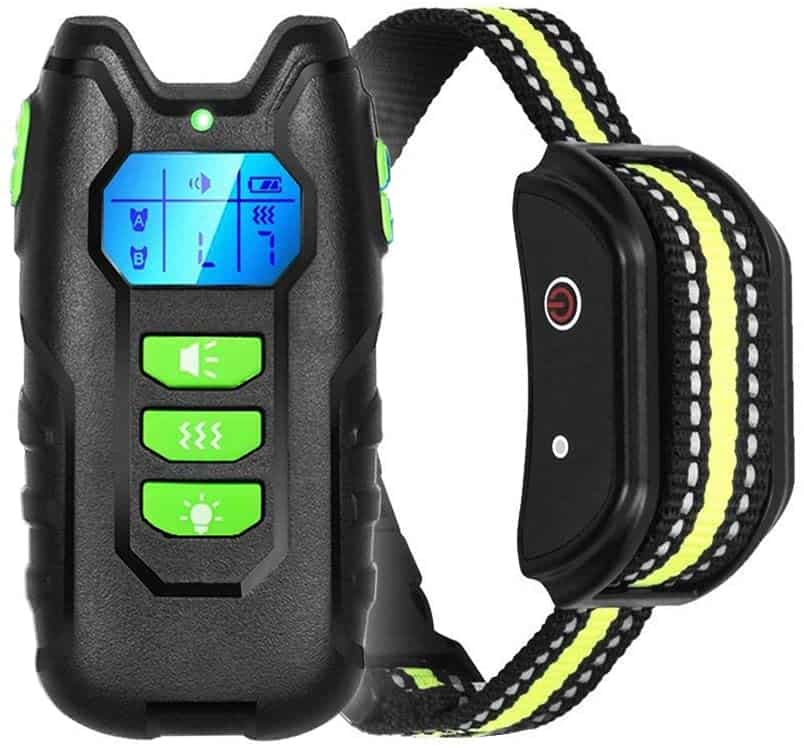 This training collar by HXWEB is great for teaching a dog basic obedience commands and solving uncontrollable behaviour problems.
There are three different settings; a standard tone, vibration (with 1-8 levels), and light mode. It is rechargeable, you can charge both devices simultaneously in a short amount of time, and fully charges within just an hour, providing up to 14 days of standby time.
With an IPX3 waterproof case, the weather can't limit you and rain won't cause any harm whatsoever.
The remote has a range of up to 1000ft and consists of three simple buttons (one for tone, vibration, and light), a channel/lock button, an up/down side button for tone and vibration, an LED indicator, and an LCD display screen.
As for the collar, it has a bright yellow stripe that aids you to spot your dog instantly at a short distance in low light conditions and is made of tough, durable nylon. It only weighs 60 grams so it doesn't bother your dog and is just as comfortable as any other collar your dog might usually wear.
It can actually fit practically any size of dog from small, medium, to large because any extra part of the collar can just be cut off for the perfect fit around your dog's neck.
Pros
Three modes (tone, vibration, light)
Can fit most dogs no matter the size
Easy to use remote
Light, comfortable, and durable collar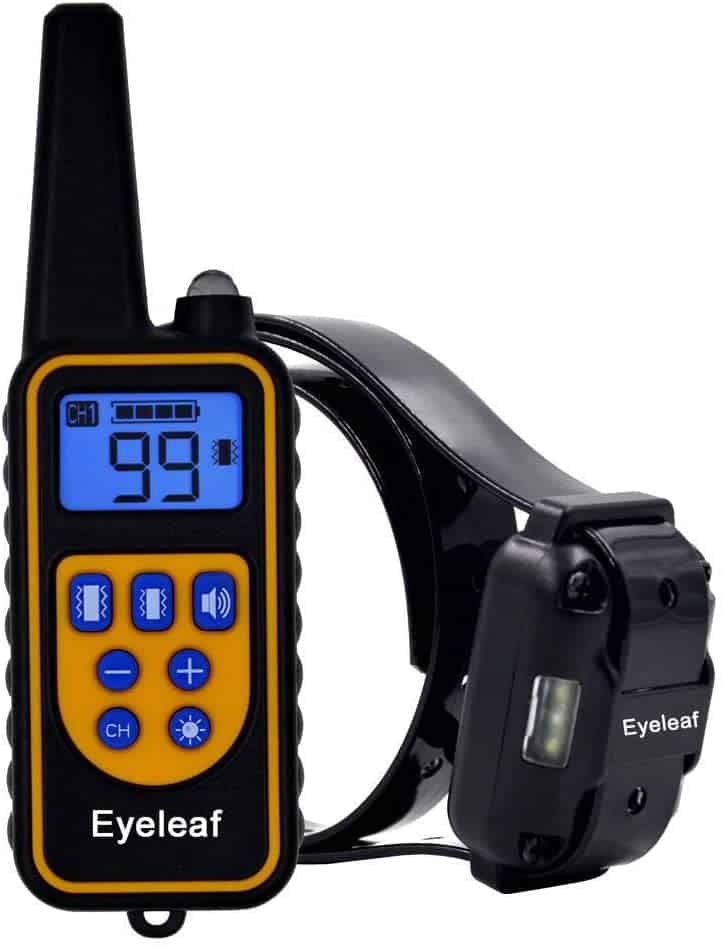 The Eyeleaf dog collar has an incredibly long lasting battery life thanks to the fact that it automatically goes into standby mode after 5 minutes, saving as much power as possible. The few times that it does need to be recharged, it doesn't take long to do that either.
With a range of 450 metres, you can easily use it to train your dog outdoors, at a park for example.
There are three modes to it; vibration, strong vibration, light, or sound. It has three channels, three buttons that are for vibration and sound modes, a channel button, up and down buttons, and a light button. It is waterproof enough that you don't need to worry about it malfunctioning or breaking when it rains.
The adjustable collar can be shortened so that it can fit all dogs (5.9 inches – 24.4 inches), as you can easily cut off the excess of the collar for a better fit.
With regards to the modes, always start at the lowest level and work your way up. Dogs don't understand it and it may cause them to become frightened and even run off, keep an eye on their head movement and always give rewards to provide positive reinforcement.
To use them, turn on the remote controller by pressing any button on it, and press the power button to turn on the receiver (you'll hear one beep sound as an indication, two beep sounds means it's off). To enter pairing mode, press the power button for 5 seconds; you'll hear a beep and the LED indicator will light up. Keep them close to each other for at least 10 seconds to finish off the pairing.
One remote controller can control three collars, so it's great if you have more than one dog!
Pros
One remote can control three collars
Adjustable collar
Three modes
The LumoLeaf Dog Training Collar is safe and effective for training your dog and you can tailor the stimulations to your dog's progress and cooperation. You can select from an audible tone mode, 100 levels of Dual vibration, or normal vibration mode.
This will help achieve different types of training, for example teaching your dog to do tricks such as sitting, rolling over, etc., if you are training your dog for hunting and tracking, or if you just need to reduce the amount your dog barks.
LumoLeaf's is one of the best remote dog control collars because it is waterproof, adjustable, rechargeable, and easy to use.
If you send too many stimulations 'Protection Mode' will be activated, which won't allow any more signals for a few moments.
The remote can reach up to a range of 500 feet with steady 433 MHz signals, which are ideal for indoor training at home or outdoor training in your garden or a dog park.
The flat web collar is adjustable (from 8 inches to 21 inches) so that it can fit most dog breeds that weigh from 4kg to 54kg, and the rubber probe cover ensures comfort for our dogs.
Sleek ergonomic molding of the remote, as well as anti-stick and touch-distinguishing buttons, lets you comfortably operate and shift between buttons with one hand and even without looking.
If you have two dogs, you can purchase an extra collar and train both dogs at the same time with dual channels using one remote.
It has an IPX7 waterproof rating, so you don't need to remove the collar if it rains or if your dog likes to get wet.
You can simultaneously recharge the collar and the remote with the included USB cable, which can be used in any USB wall adapter, computer USB port, or car USB port. Rapid charging and a long-lasting battery mean that this dog training collar is always ready to be used at any given time.
A dog training guide also comes with the package, for those who are new to training their dogs, they can take a look at the easy-to-follow instructions.
Personally, I mainly use this product to correct my dog's behaviour because he eats anything he finds when we go on walks. He dislikes the vibration, and stops immediately and is no longer eating everything from the ground when we go out.
Pros
Rechargeable
Adjustable
Rainproof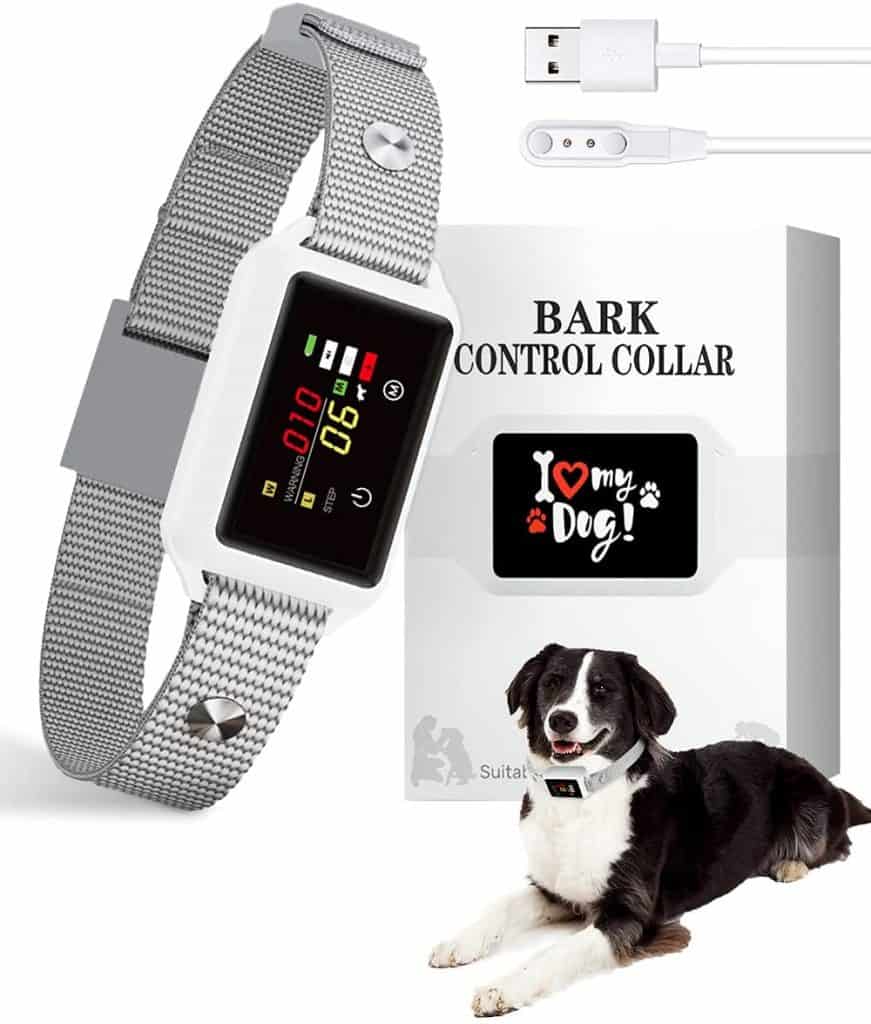 This one by SiBei is a smart, stylish white collar that has dimensions of 11 x 8 x 6.4cm and only weighs 180 grams so that it doesn't annoy your dog when wearing it.
It has the latest smart dog bark identification chip with a double trigger AI system, which can affect a dog's barking more accurately with a safer and more effective filter to prevent any false triggering. There's even a warning record that displays on the screen so that you and the collar can learn the dog's day to day barking situations and predict more intuitively.
With its advanced dual motor vibration and sound technology no shock, liquid, spray, or anything else that could potentially harm your dog is not necessary.
Via USB it can fully charge within an hour and work continuously for 18 days or 150 days on standby.
The magnetic charging port makes sure water can't run into the device and cause any damage, so dogs can still wear it when swimming, bathing, or on rainy days. Although the waterproof rating is only IP69, so I wouldn't recommend any more than 20 minutes of swimming.
The smart touch screen is easy to use, with only two main buttons. It can support both fixed mode (choose a level from 1 to 6) and loop mode depending on you and your dog's needs, you can adjust and fix the warning levels. The loop/cycle mode is auto progressive from 1-6 as per the barking situation. It is recommended to use the loop mode for the first couple of times to test your dog's reaction.
The collar is 24 inches in total but you can cut it down to any size so that it can fit your dog, no matter if they're small, medium, or large.
The only possible downsides to this one are that it does not have a remote and the small screen is not always easy to select and, based on my own experience and other reviews combined, it seems that the microphone can be too sensitive at times and not be very accurate at detecting when my dog barks.
Pros
Fixed mode or cycle mode
Can fit any dog
IP69 waterproof rating
No shock, liquid, or spray
Cons
No remote
Microphone can be too sensitive at times
There are four training modes to the Wolfwill dog collar: Beep, Vibration, Light, and Automation. The intensity of all modes can be adjusted from levels zero to seven. With each level, the intensity increases slightly.
Automatic standby and memory function make it easy for you, you don't need to pair the collar and remote again, just switch on and continue to use.
This Anti-Bark Training Collar by Wolfwill is completely safe and humane, no electric shock or spray are used.
The remote control and collar have a large range, as it can reach up to 2400 feet which makes it perfect for outdoor training in an open space.
Unwanted behaviour from your dog such as barking, biting, eating things they shouldn't like garbage, jumping too much on other people, and so on, can all be corrected with the use of this control collar.
Energy saving and waterproof – there's a built in 300mAh rechargeable battery and the collar receiver has IP65 waterproof rating. So, you don't have to worry about rainy days. It can fully recharge within two hours and last up to ten days.
To extend the lifespan of the batteries, turn the collar off when not in use.
The collar is adjustable to fit dog breeds, from 6kg to 45kg, and neck size from 7.5 inches to 27 inches.
Don't leave the collar on your dog for more than 12 hours a day, and reposition the collar to check that the receiver is facing the front.
If you have two dogs, it's possible to purchase two collars and train them with the same remote.
There is a protected state, after five times of working consecutively, to protect your dog, and after entering this state the collar won't work no matter how much your dog barks. You have to wait a few minutes, or press the Automation button to activate.
This product helped to calm my dog down and stop him from barking at absolutely everything.
Instructions aren't completely clear, so you have to fiddle around with the remote a bit to get what you want. Also, when you set the collar to automatic mode it beeps and makes my dog falsely think that he did something wrong.
Pros
Long range of 2400 feet
Adjustable collar
Automatic or Remote control
Cons
Doesn't work on every dog
Instructions aren't written well
Slow transmission from remote to receiver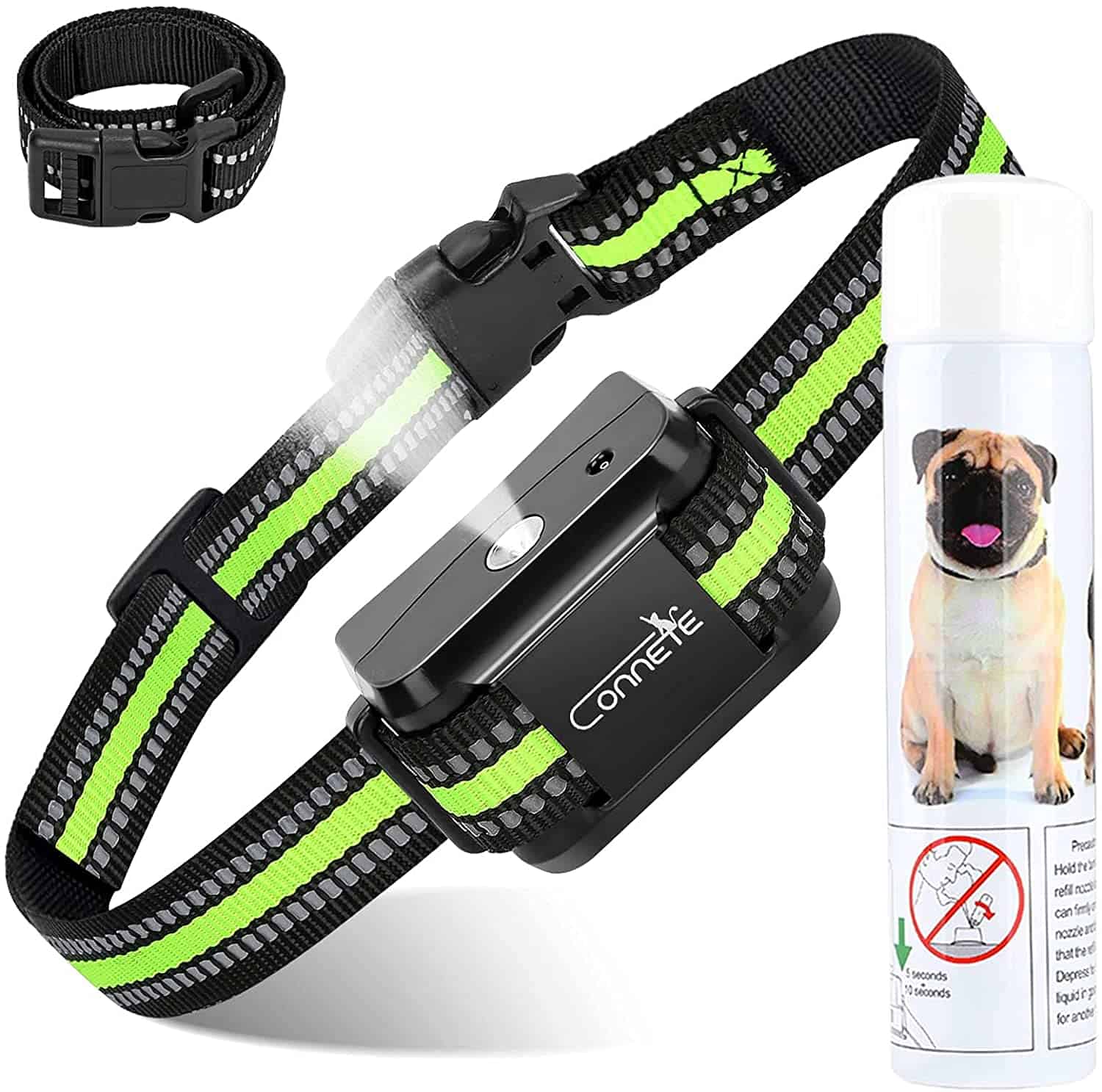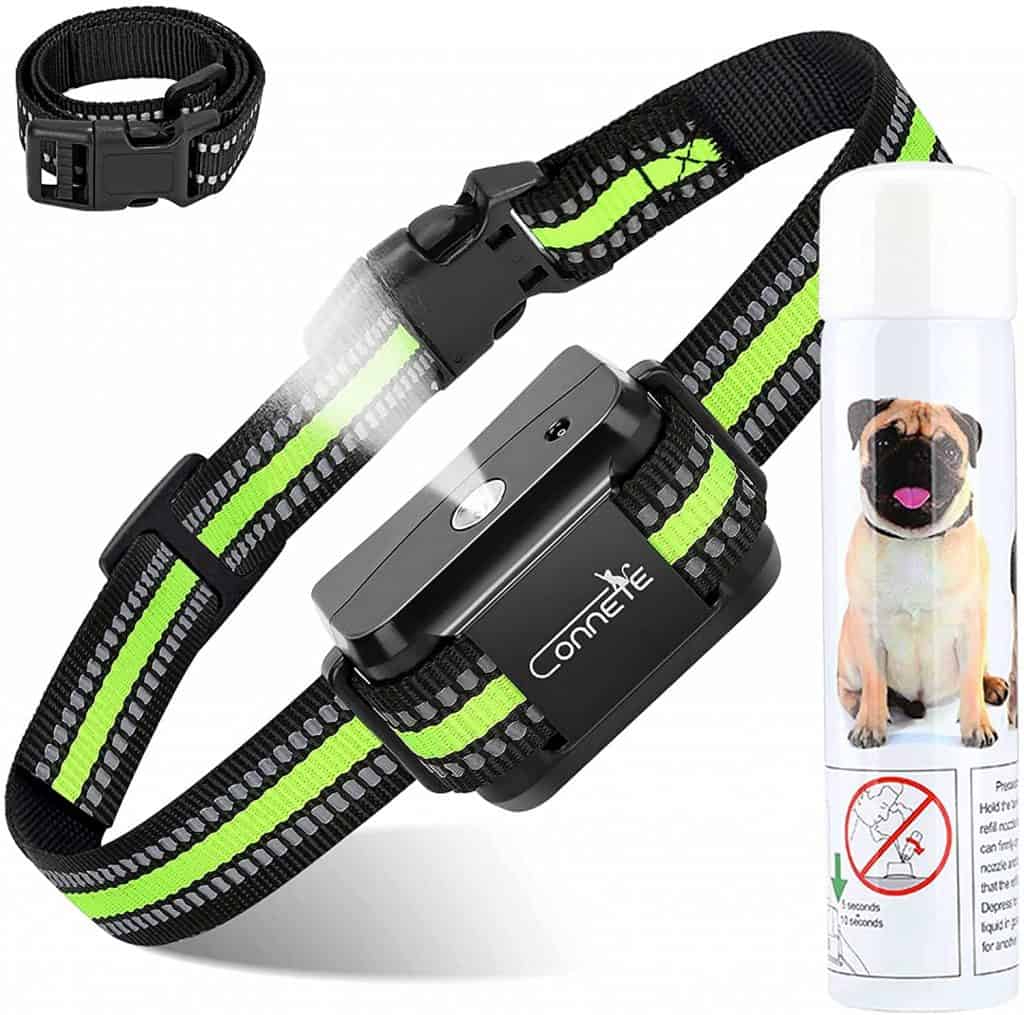 This citronella spray collar by Connete comes in the colours black or white. It is a bit pricey, but it is refillable and rechargeable so it should last for a very long time.
The strap is adjustable (3-21 inches) so that it can fit any dog breed within the sizes of 8 – 120lbs. The collar weighs less than 300 grams, since it's barely noticeable for a dog they find it comfortable.
It automatically releases harmless citronella spray to stop your dog from barking. It is only triggered when a dog barks at least twice within a span of ten seconds, making it even more humane than it already is especially when compared to electric shock collars.
There is a 2-level sensitivity and volume for the spray so that you can adjust it depending on your needs. You can adjust these settings with the buttons on the device itself. There are also some small LED lights with the buttons. Those are used to indicate a number of things, including when the power is low (red light flashes once every 5 seconds), which is good since it's much harder to tell with ones that don't have a remote. When fully charged, a green LED light comes on and it flashes red while it's charging so that you can always tell right away if the charger is no longer working.
It has a built-in Li-ion Polymer battery which charges rapidly as it only takes 1.5 to 2.5 hours for ten days of regular use.
The waterproof design makes it safe to use in the rain, but it is not advised for bathing or swimming as it shouldn't be completely submerged in water.
Pros
Refillable
Rechargeable
Automatic
Adjustable strap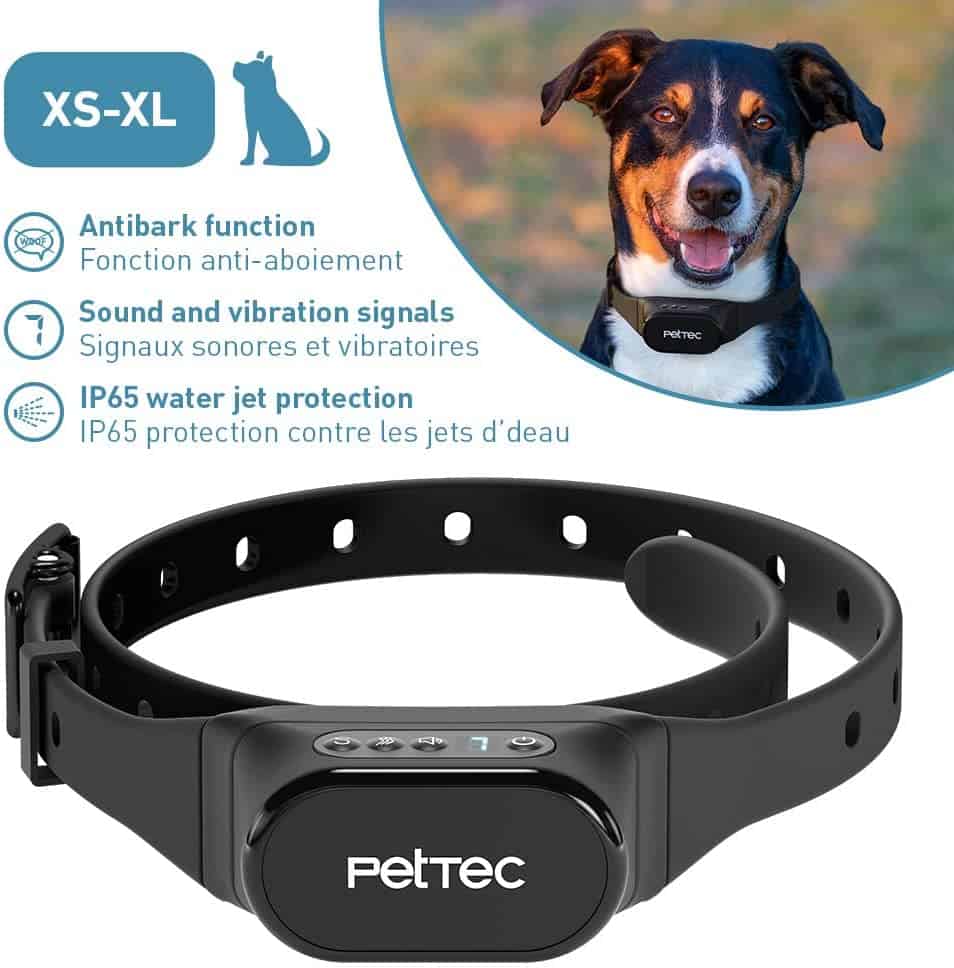 The PetTec anti-bark automatic training collar only uses vibration and sound, not electric shock or anything inhumane.
The circumference of this collar is 20 – 67cm, the barking deterrent device itself has dimensions of 7.6cm x 3.6cm x 3.4cm (L x W x H), and only weighs 115g making it perfect even for the smaller breeds of dog.
There are 7 different intensities and volumes so that you can effectively train and stop any misbehaviour from your dog.
Always start at the lowest setting as your dog won't be used to it at all so it will be effective; otherwise, you could startle your dog and cement a negative connotation with the collar. Only turn up the level's intensity once your dog has become used to the sensation to the point where he or he no longer reacts.
Personally, I never needed to go beyond level 4 with my dog.
What's great is that you don't have to use both sound and vibration, you can turn one off them by setting the level at 0 for it and just use one without the other.
The battery is rechargeable with a USB cable, and it only takes an hour to fully charge providing 14 days of regular use. The LED display shows the current battery level at any given time.
It does have an IP65 water resistant rating so rain shouldn't be a problem, but I wouldn't keep it on for bathing, swimming, etc.
Pros
7 Levels
Rechargeable
Use both modes together or just one
Long battery life
The WWVVPET comes with a can of citronella spray, as well as a remote controller, the collar itself, a USB cable, a lanyard, and a user manual.
It's safe, effective, and humane. Not to mention automatic; when it senses a bark it releases a short burst of the citronella to stop the dog.
There are two training modes with 2 levels – spray and beep. The remote has a range of up to 500ft. When turning it on, don't press any buttons within a minute of doing so, otherwise, it enters automatic mode.
With a built-in rechargeable lithium-ion battery that fully charges after just 2-3 hours, you get 3-7 days of use out of that. To be more specific, it lasts up to 3 days on automatic mode and 7 days on remote control mode. The remote itself can last up to 10 days standby time.
It has a low level rainproof design, IPX5 to be exact, so rainy weather or grass exposure is fine but it shouldn't be soaked in water, meaning take it off when playing with water, swimming, bathing, etc.
When the battery is low, a red light on the collar flashes red so at least it does have an indicator.
The nylon collar can fit any dog that is over 8lbs and older than six months, with its adjustable 8-27 inches long strap. For comfort, you can simply cut off any excess so that it fits your dog's neck better.
To refill, set the device down on a flat surface with the refill port turned upwards. Hold the spray can upright, firmly press the nozzle down into the refill point until you feel a sinking motion and hold it for 15 seconds before releasing.
Pros
Adjustable 8-27 inches
Can last 3-7 days after fully charging
2 modes
Remote control & automatic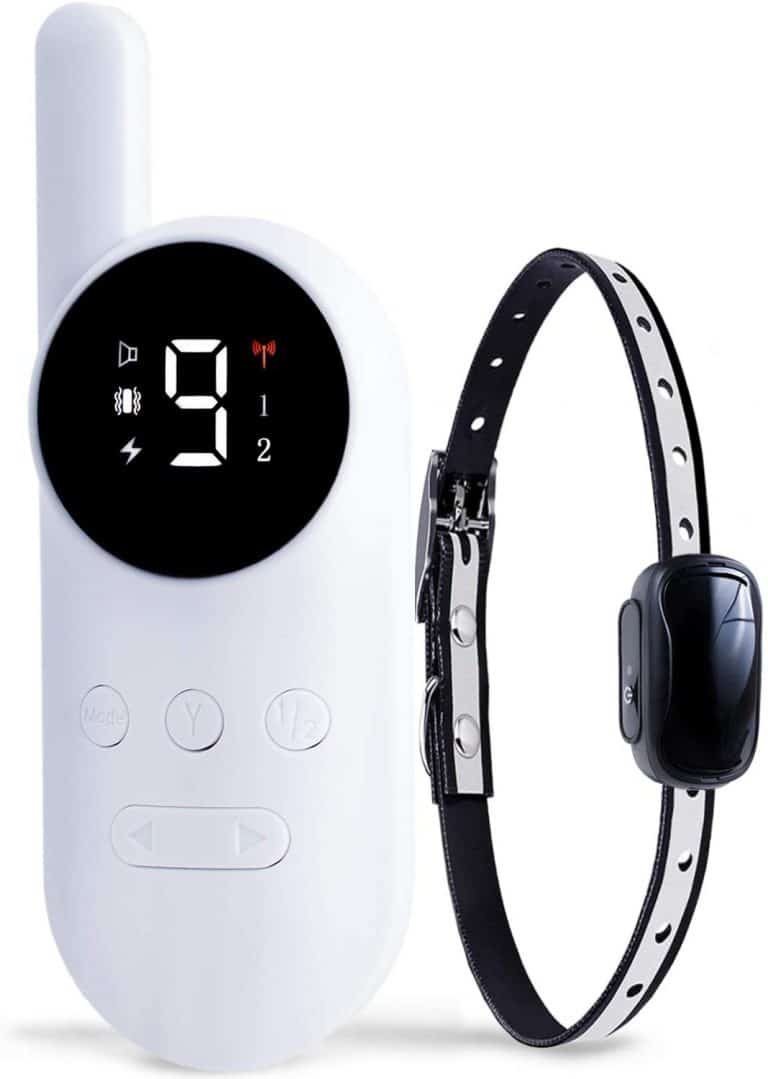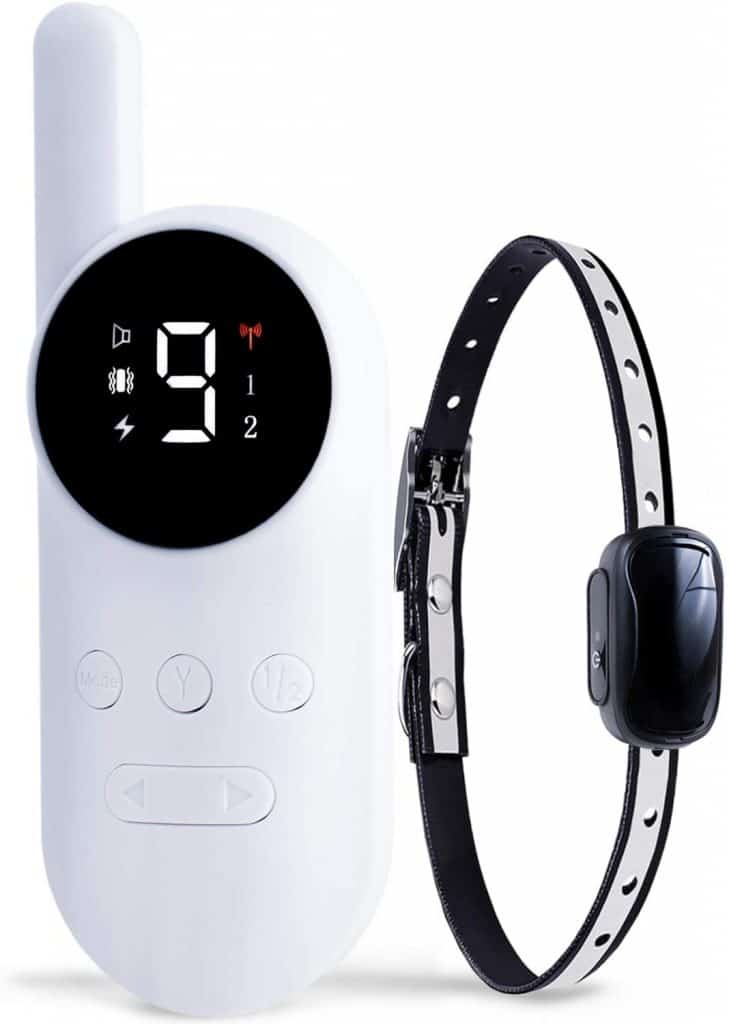 The GoodBoy mini training collar is lightweight and safe for small dogs while still being functional and effective. Even 2.5kg dogs can wear it without feeling weighed down. Although, due to its size, it may not be as effective with dogs that weigh over 7kg.
The design, for both the collar and remote, is sleek, simple, and modern. The remote doesn't have an excess amount of buttons or settings and is straight forward, and the collar has a velvety matte finish that feels great to the touch. Your dog may even find this more comfortable than the collar he usually wears.
A large display with clear symbols makes it easy to see the selected mode, switch between training modes, and adjust the levels as necessary. There's only one intensity level for sound but nine for vibration mode.
The remote has a range of up to 1000ft, so it's great for outdoor training and activities. Plus, both the remote and receiver are weatherproof, so some rain won't do any harm.
One remote control can control up to two collars, connecting to a second one within the press of just one button making this the ideal choice for anyone who wants to train 2 dogs simultaneously.
With the latest lithium battery technology, a better battery life is provided. So much so, that it can last for at least a week with a single charge and manage up to 16 hours of continuous use. What also helps is that it has a battery saving standby mode that activates itself after five minutes of inactivity.
Each correction must be at least 8 seconds apart, as a safety measure with your dog in mind.
As well as the collar, remote, and charger you also get a detailed dog training guide included. A step-by-step, explaining how to use the GoodBoy remote collar in a safe and efficient manner. The booklet teaches 15 important commands, offers some insight on how to understand a dog's body language, and the best methods for stubborn dogs.
Pros
Ideal for small dogs
Up to 1000ft range with remote
Great battery life
Simple and straight-forward design
Cons
Not as effective on big dogs over 7kg
Related Posts –