If your dog is anything like mine, everything I own is a chew toy. The slippers? Yes. The rug? Yes. The Type C charger that I forgot to put in a drawer? In two pieces now. And if nothing else is in tooth's reach, my toes? (Are also fair game, apparently).
Which really just goes to emphasize- dogs need chew toys that will last them. Younger pups need them while their teething, to help massage their gums and to keep them occupied. The latter also aplies to older but high energy dogs who need a distraction.
And some dogs are stress chewers. Sure, it's fun to gift them a stuffed bear on their birthday that will get promptly eviscerated before the cake's even cut. But for the most part they need toys that will last. So whether you have a Collie with a fondness for remotes, or a Terrier who steals pen caps, if you want to buy toys that will survive the night and the bite, this list of indestructible dog toys is a good place to start.
Preview
Best Choice
Durable Option
Title
West Paw Design Zogoflex Hurley Dog Toy
Nylabone Dura Bacon Chew, X-Large
Best Choice
Preview
Title
West Paw Design Zogoflex Hurley Dog Toy
Preview
Durable Option
Preview
Title
Nylabone Dura Bacon Chew, X-Large
Indestructible Dog Toys – Our Top 5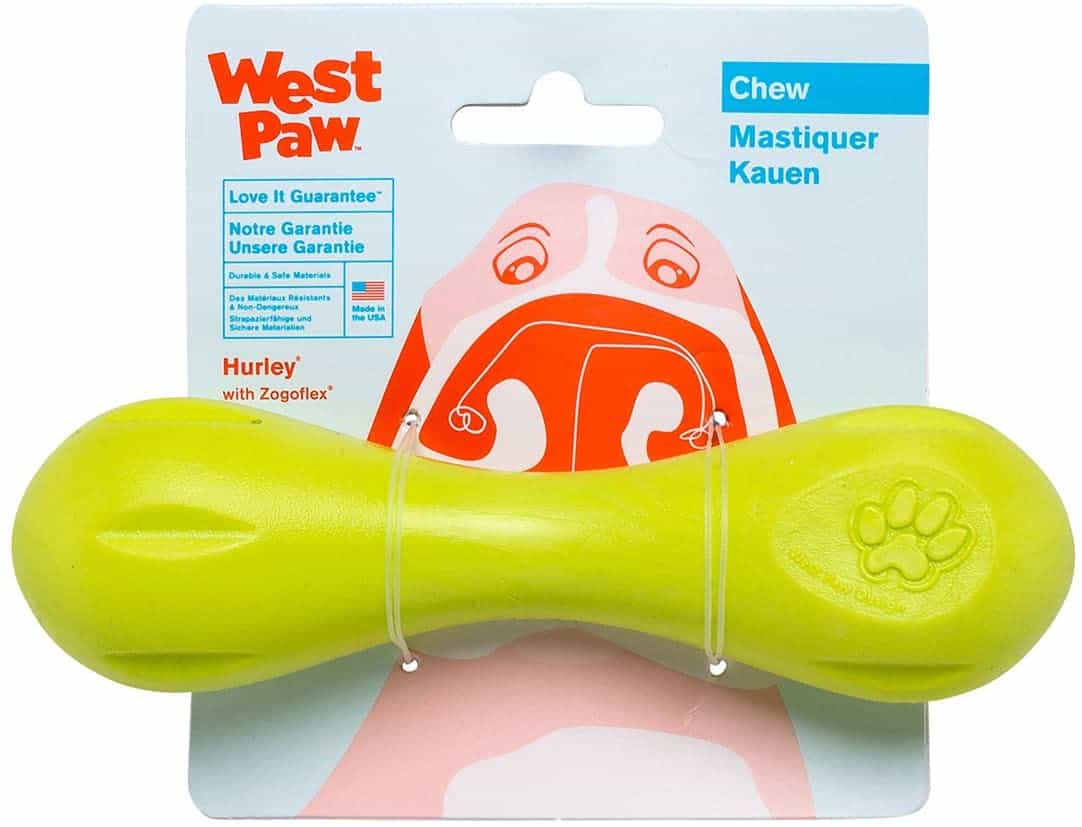 This toy is one of the most tough dog toys for aggressive chewers. Shaped like a very recognizable cartoon bone, the West Paw Design Zogoflex dog toy is a pliable, indestructible ball and bone in one. Made from solid non-toxic plastic, the 'bone' is dishwasher safe and very pooch-friendly. It's lightweight enough to be carried everywhere by your happy dog, floats in water- so its very convenient for playing in the pool, and is easy to handle enough to be used as a nice tool for playing 'fetch' as well.
It comes in three sizes and in three vibrant colors, so you can find a nice fit for your dog, depending on his needs. It's dishwasher safe, so you can clean it without a fuss, and cleans without much effort otherwise, too. It's also recyclable, for when your dog (finally!) manages to chew his way through this thick bone toy. In fact it's so sturdy that the chew toy comes with a one-time replacement guarantee, for dogs who manage to chew through it. The West Paw design Zogoflex Hurley dog toy is easily one of the longest lasting dog toys you can buy for your dog, whether he's a boredom chewer, or a teething pupper!
Pros
Long lasting
Easily washed (dishwasher friendly)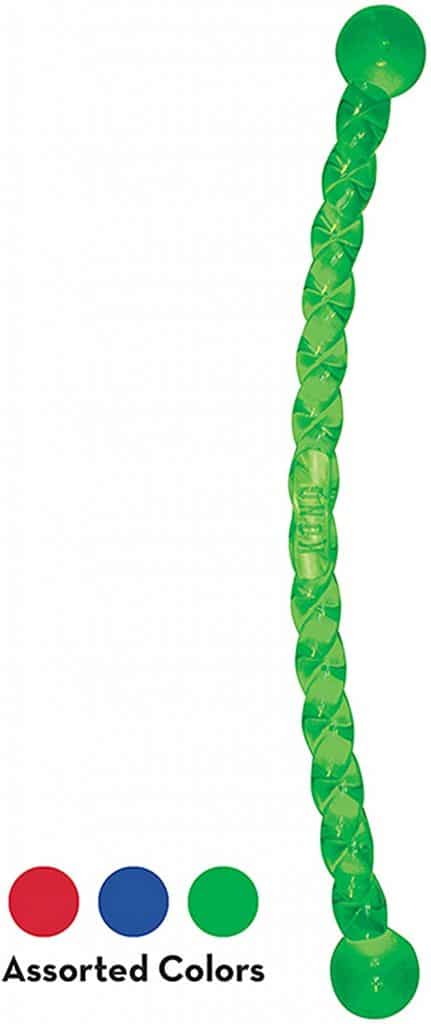 The Kong Safestix are one of the most recognizably shaped chew toys. Practically every pet owner has bought their pups these twisty rope toys at some point. They are made from strong, durable plastic with tough synthetic fibres on the inside, and constructed of two ropes twisted together for a nice, teethable surface for your dog.
The shape also allows them to be very flexible and bendable. Not to mention, the light material floats quite well too, so this is a handy chew toy for a water baby pooch. The grooves in the rope make it a very engaging chewing experience for adult dogs too, not just for puppies, who are gumming away while their teeth grow in. The Kong Safestix come in three bright colours that are sure to get and keep your dog's undivided attention for a long time!
Pros
Flexible material that is also durable
3 included in pack
Nice colours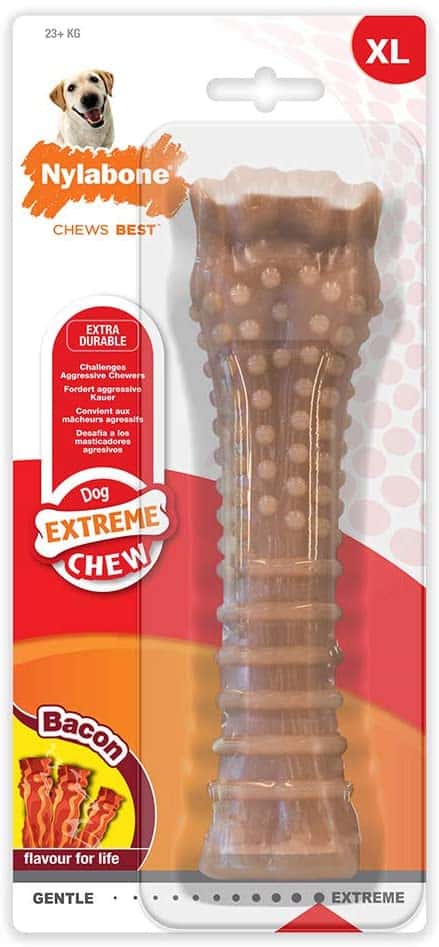 A little different from its predecessors, the Nylabone is a chew toy that has an added, bacon-flavoured incentive for its users. This 'bone' is made from nylon and covered in small ridges and nubs, that help clean your dog's teeth the whole while that he's chomping away on it. The bone has small bristles that aid the brushing action of the bone's surface. It comes in multiple sizes and is suitable for puppies as well as adult dogs who need some engaging toys.
A small issue with the Nylabone, though, is that it requires a little monitoring as well. Over time, small pieces of the bone surface may come off or become too sharp for the dogs to chew on without hurting themselves. The pointed edges can scrape the dogs' sensitive gums, if jagged margins are present. Other than that, if you have the right size for your dog, you and he are good to go!
Pros
Helps clean dogs teeth
Durable
Cons
Little parts of the toy may be more prone to breaking off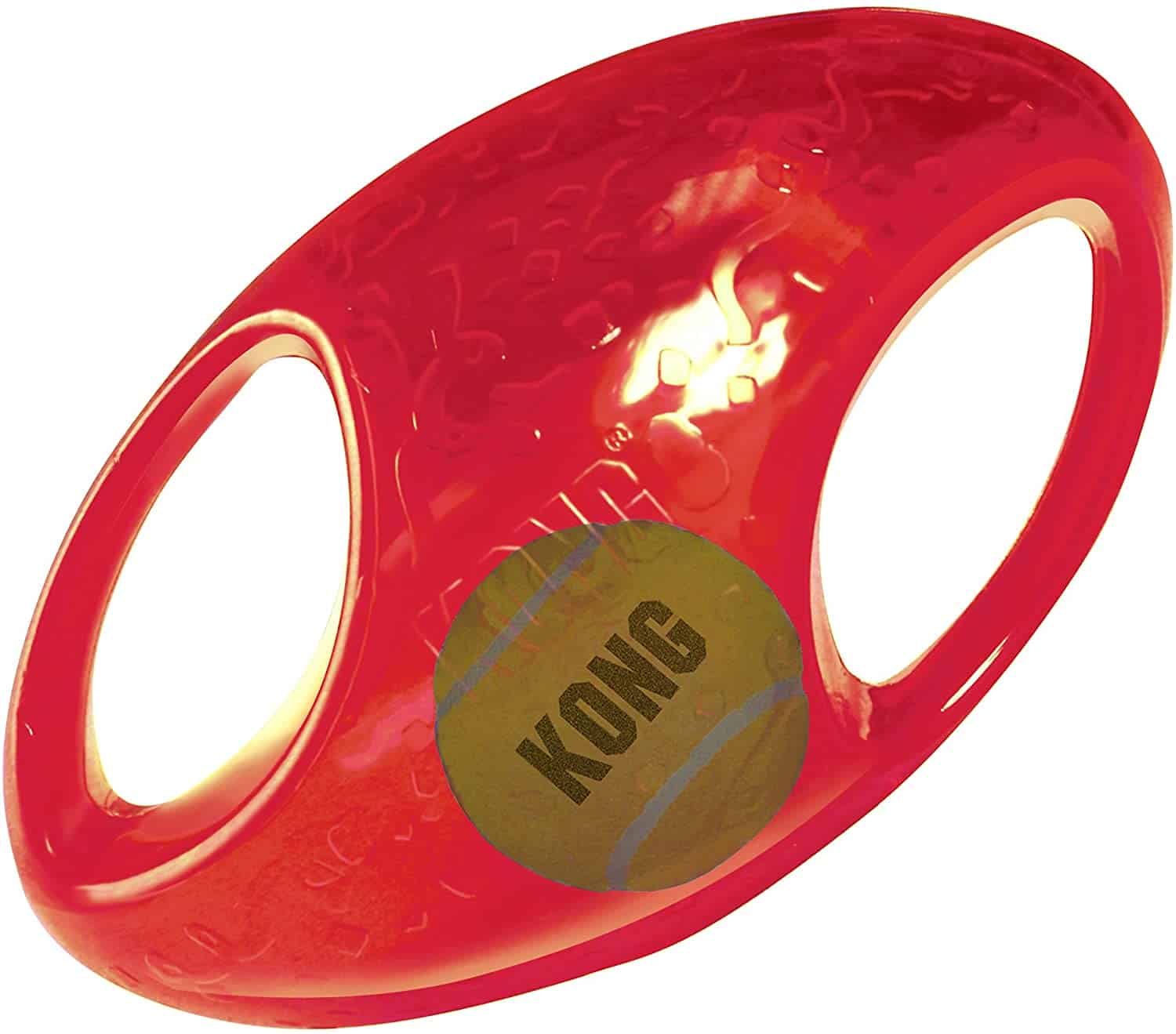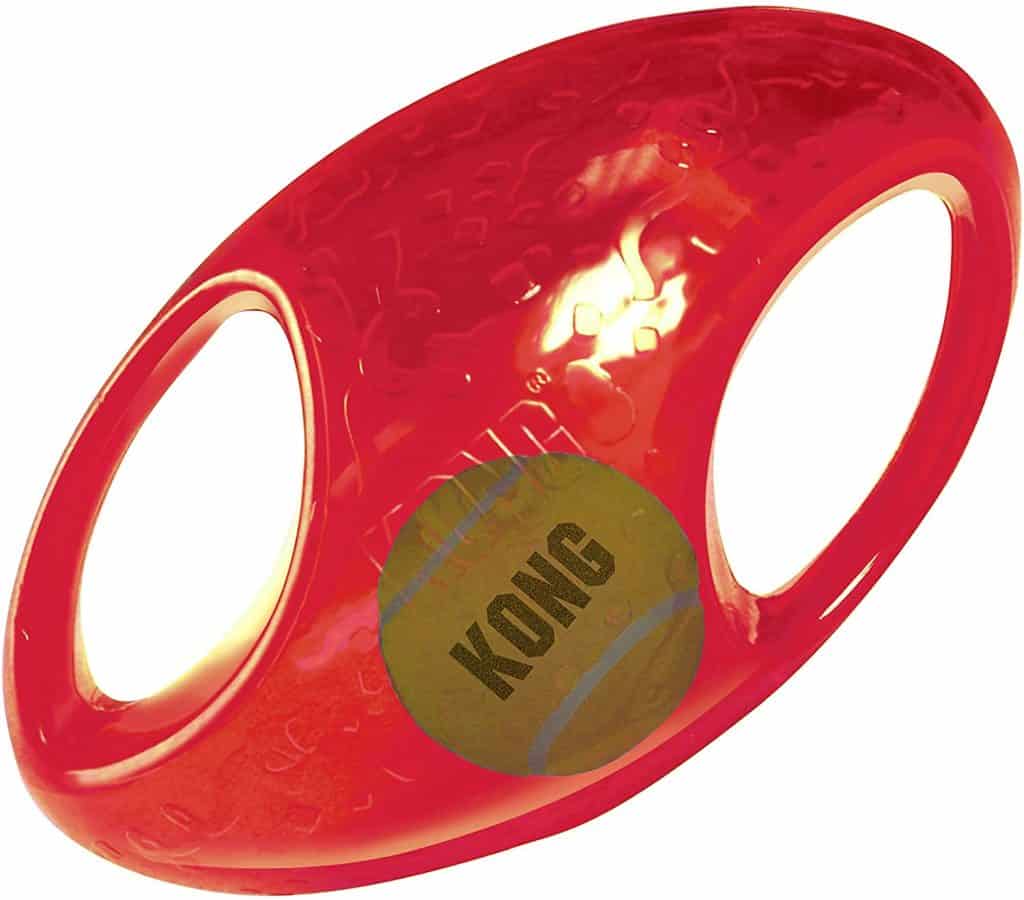 Another Kong toy, this one's the opposite, as far as shape is concerned. The oblong shell on the outside comes with two very grippable surfaces, with a ball inside that moves freely in the toy. Available in multiple sizes and color combinations, this is a great choice for very high energy pets who love shaking their toys like rattles. As an added plus- it squeaks!
The loud squeaking makes it a very good choice for dogs who enjoy the noise, but if your dog gets anxious or nervous around high pitched squeaky toys, it's better to give this one a miss. Also, the Kong Football toy comes in an assortment of sizes, and it's recommended to choose one that will survive your dog. This is because dogs with very strong jaws or those who chew very hard sometimes bite right through the outer plastic shell, in their quest to get to the tennis ball inside. Otherwise, this is a very entertaining toy!
Pros
Variety of different colours
Quite durable
Cons
Loud squeaking (not for everyone)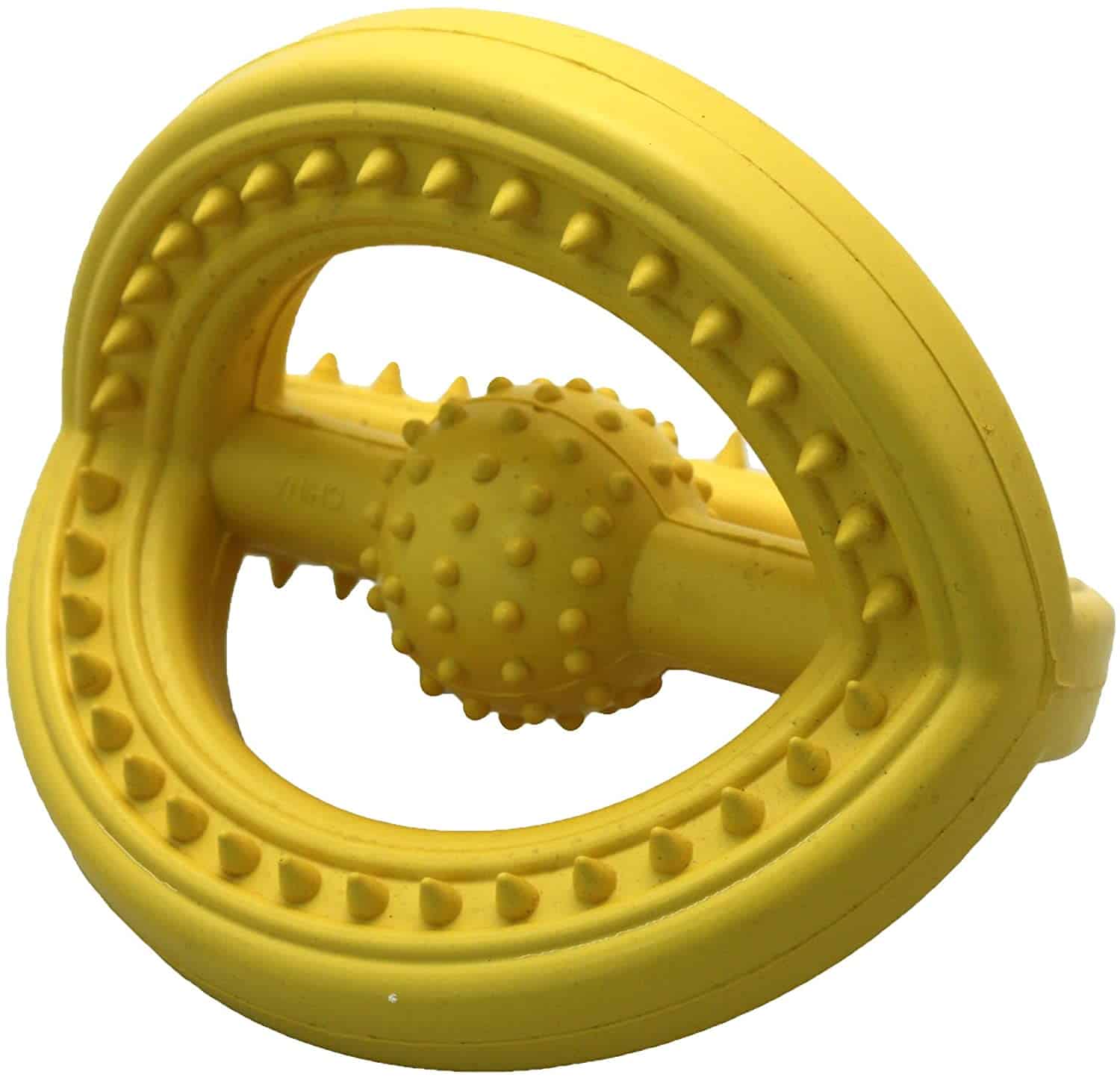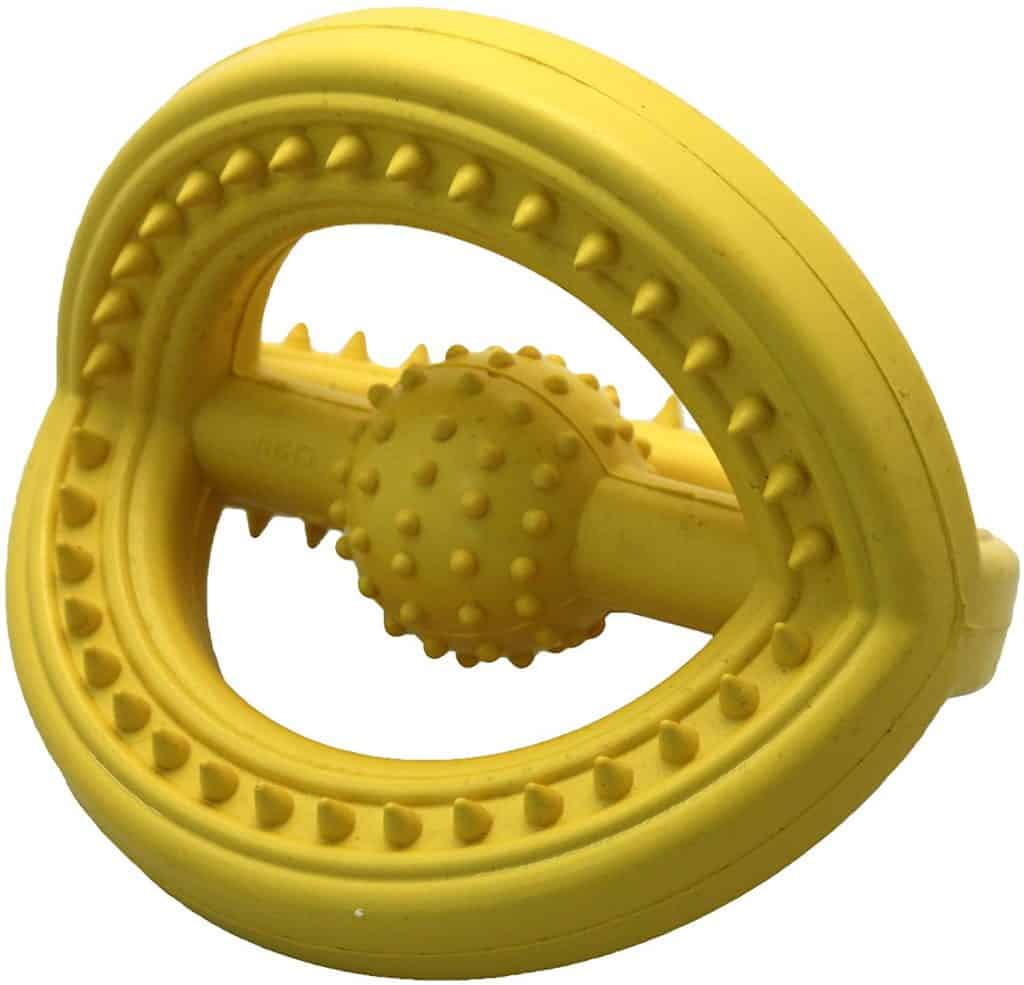 This large, pretzel-shaped ball is a lifesaver for people whose dogs love wrestling with their chew toys. Whether your pooch is fond of playing tug of war with you, or simply getting all worked up playing by himself, this is the perfect chew toy for him to attack and attempt to destroy. It's terrific for playing fetch with too, because of how bouncy it is.
Happy Pet Tough Toy Frame Balls are made from solid natural rubber and completely chew-safe for dogs. Being solid, it affords your dog that many more happy gnawing hours, with a variegated textured surface with soft nubbins of rubber all along the frame. Even for the smarter dogs who go at their biting with strategy, can only get a few pieces off after determined gnashing on those areas. The material is hard enough to endure, and soft enough to accommodate, their bite force and not hurt their teeth and gums. The result? A chew toy that survives and entertains your dogs with no interruptions- or sore gums!
Pros
Durable and long lasting
Nice design
Related Posts –