Oral health is an essential aspect of general dog care. Recent studies by Veterinary Dentistry specialists indicate that over 80 % of dogs suffer from gum diseases at an early stage of three years old.
This is detrimental to their holistic health considering the fact that dogs use their teeth for more than just chewing; they use them to explore their surroundings and play too.
Whilst professional brushing of dog's teeth ensures an effective reduction of plaque build-up from the teeth, very few dog owners manage to keep up with such schedules.
A more effective aid, therefore, is needed to help in maintaining a dog's oral hygiene. To this effect, dog dental chews have been proven to significantly reduce plaque build-up on the teeth.
They are also important in freshening up your dog's breath and keeping their gums healthy.
After testing and using a plethora of the dog chews for teeth, the following are the best dental chews in the UK that I would recommend;
Quick Top 3
Preview
Best Choice
Great Value
Title
Pedigree DentaStix Daily Dental Chews
Greenies Dental Chews Teenie Treats
Whimzees Natural Dental Chews
Best Choice
Preview
Title
Pedigree DentaStix Daily Dental Chews
Preview
Title
Greenies Dental Chews Teenie Treats
Great Value
Preview
Title
Whimzees Natural Dental Chews
Best Dog Dental Chews – Our Top 7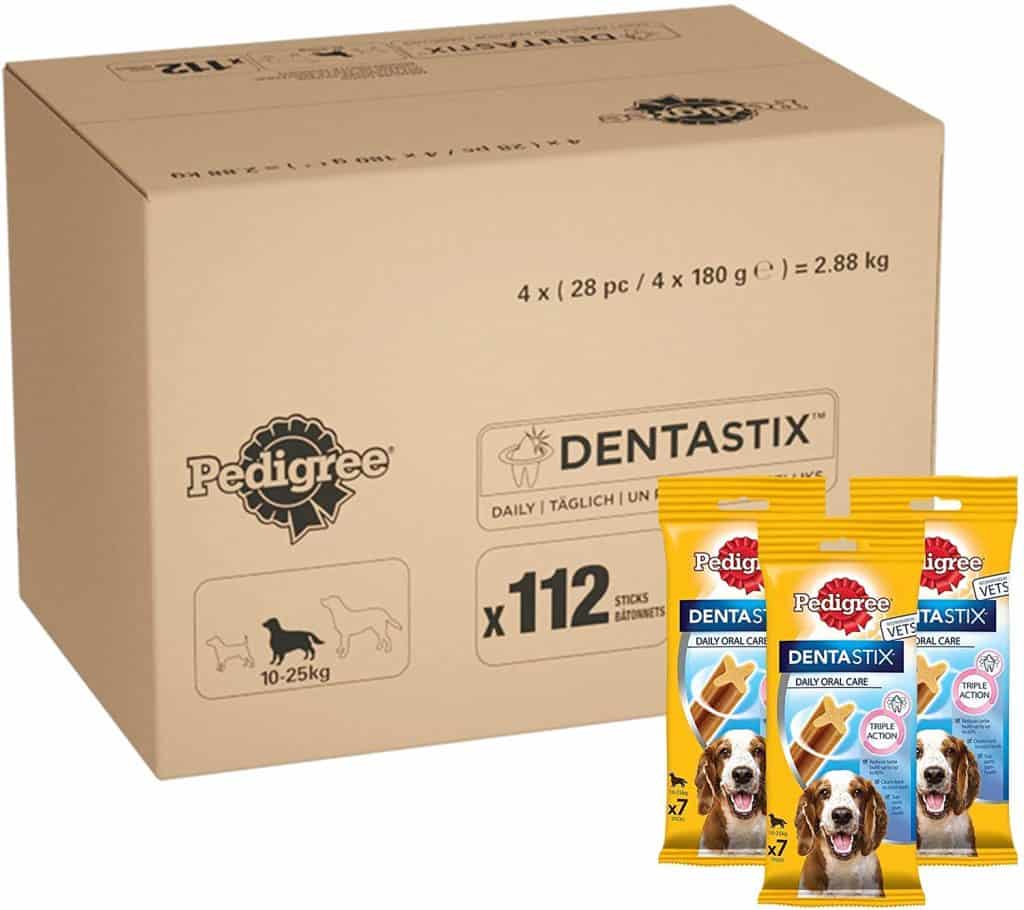 It has been scientifically proven that, when chewed on a daily basis, Pedigree DentaStix dental stick can reduce tartar and plaque build-up up to 80%. These X-shaped chews are designed in a way that dogs could chew them for a significantly longer period for better results.
This 180g Pedigree DentaStix pack of 112 sticks has worked perfectly for my dogs. It has, apparently, been rated as one of the best dental chews package for some of the reasons that I also experienced. They include;
• Expertise in Development
Pedigree chews are designed and developed with expert support from nutritionists and vets from The Waltham Centre for Pet and Nutrition.
The Waltham Centre focuses on developing products that will meet the nutritional needs of pets. Vets and scientists here have assisted Pedigree in coming up with chew gums that reduce and avert gum problems.
• Special Texture
Pedigree DentaStix chews are effective because of their texture that is gently abrasive. This means that the texture is hard enough for a crunchy bite and soft enough for the dog's teeth to sink into for an effective clean.
After several weeks of using them, I noticed that plaque on my dogs' teeth was reducing at a good rate.
• Active Ingredients
First of all, Pedigree chews are sugar-free with low fat content. They also have a special blend of animal derivatives, Eucalyptus oil, and extracted Green Tea which gives dogs a fresh breathe.
My dogs now have fresh breath and I can literally enjoy their kisses. Meat, cereals, vegetable derivatives, and some minerals such as Sodium Tripolyphosphate are also components used in making Pedigree DentaStix chews.
Generally, Pedigree DentaStix chews are tasty and are free from artificial flavours and colours. They are packaged in multiple and single packs and are sold in different sizes to ensure that they are sufficient for dogs of different ages.
Pros
Active and useful ingredients
Effectively stops bad breathe
Special texture to clean teeth
No bad breathe
Best Puppy Dental Chews
For an effective clean and a healthy mouth, I recommend that you use Greenies Dental Chews on a daily basis. Greenies Chews are available in four sizes; Large, Regular, Petite, and Teenie. For efficiency, it is important that dog owners purchase the right size. The smaller sizes are ideal dental sticks for puppies.
Greenies Teenie Treats are recommended for dogs that weigh between 2 to 7kgs. These treats guarantee 80 % healthier gums and fresh breath. They are some of the best vet recommended dog chews for the following benefits;
• Chewy Texture
Greenies Chews are great enhancers of natural chewing because of their chewy texture. My dogs seem to enjoy every single bite of Greenies Chews. As a result, build-up tartar and plaque has efficiently been eliminated from their teeth.
• Solubility
Greenies Chews are designed and developed using highly soluble ingredients. They are, therefore, easily broken down for easy digestion.
In case dogs swallow large chunks of the chews, there is no need to worry since the chews will quickly dissolve in the stomach for easy digestion.
The first time I fed my dogs with these chews, one of them happened to swallow a large piece that got me worried. The dog was, however, not harmed at all.
• Natural Ingredients
Greenies Chews are made using natural ingredients such as taurine, chlorophyll, minerals, and vitamins which result in a tasty dental chew.
The tastiness of these chews is what makes my dogs love them. This ensures that dogs get a healthy mouth as they enjoy every bite of these chews. Additionally, Greenies Chews have low fat content, which I found very healthy for my dogs.
Greenies Chews Teenie Treats are scientifically proven to have a significant clean-up and reduction of plaque and tartar from dog's teeth resulting in holistic oral health.
Pros
Natural ingredients
Tasty
Healthy
Scientifically backed
Long Lasting Dog Chews
These are vegetarian daily treats for dogs that guarantee an efficient reduction of plaque and tartar build-up of up to 80%.
They are designed in unique structures and shapes that make the chews last three times longer. The longer my dogs chewed on these dental chews, the more plaque was eliminated from their teeth as well.
Made of natural vegetable fibres, Whimzees Dental Chews are beneficial to dogs in the following ways;
• Unique Shapes
In addition to an enhanced chewing longevity, Whimzees' unique shapes enhance efficient removal of plaque and tartar from hard-to-reach areas. With such shapes, my dogs are able to hold the chews between their paws comfortably as they chew on them.
• Stimulation of Blood Flow
Whimzees Chews are structured with grooves that help in stimulating blood flow as dogs chew. This helps keep gums healthy.
• Natural Ingredients
Whimzees chews are sugar-free. They are also free from artificial flavours and gluten. They are made of malt extract which helps in improving dogs' muscle tones and the strength of their bones. Other ingredients such as Yeast, Cellulose, Glycerine, and Potato starch also contribute to a dog's oral health.
These chews have been efficient on my dogs, especially because I ensure that I pick the right sizes for the right dogs as well as monitor them as they chew.
Pros
Sugar free
No artificial flavours
Stimulated blood flow (good for gums)
Dentalife Medium Chews are developed by specialists at Purina; a Pet-care company that develops pet foods based on the unique preferences and needs of specific pets. Dentalife chews have worked well on my dogs since I feed them on a daily basis. Dentalife Medium chews are made for dogs whose weight range from 12 to 25kg.
Dentalife chews are VOHC accepted. Veterinary Oral Health Council (VOHC) acceptance implies that the chews are confirmed after some rigorous tests. Like most of the other Purina's Dentalife chews, the Medium chews have a variety of benefits such as follows;
• Scientifically Proven
Dentalife dental chews have been tested and scientifically proven to have the ability to reduce tartar and plaque build-up up to an average percentage of 57%. After using them for several months, I have noticed that my dogs' gums and teeth are healthier and stronger than before.
• Chewy and Porous Texture
The porous texture of Dentalife dental chews allows dogs' teeth to sink into the pores of the chews facilitating a quick removal of plaque in between their teeth. Areas that seemed hard to reach as I brushed my dogs teeth are now easily cleaned up by the chews.
• Nutritious Ingredients
Dentalife chews are made of corn flour and wheat flour, yeast, glycerol, minerals, and other animal derivatives which strengthen dogs' teeth and bones. They are sugar-free and they contain low contents of fat. Dentalife chews do not have added artificial colours or flavours.
Downside of Dentalife Medium Dental Chew
They are slightly thick making it a bit hard to break the chews into small chunks.
Pros
No artificial flavours
Proven to remove plaque
Nutritious ingredients
Cons
Slightly hard to break down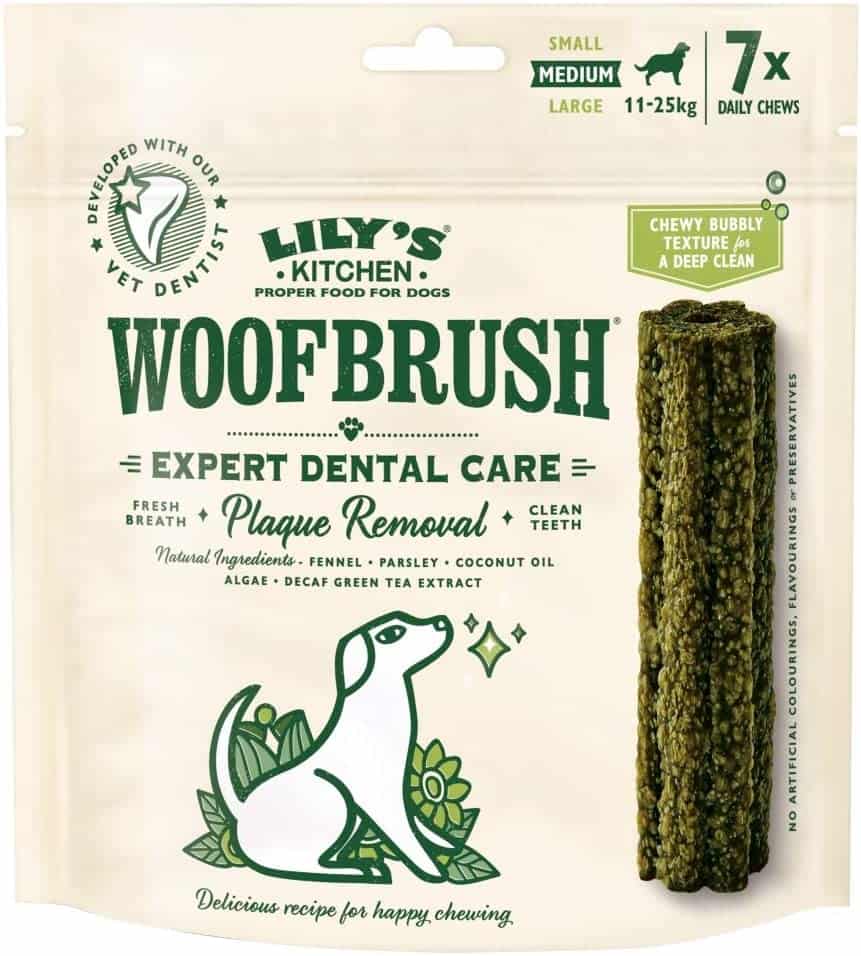 Woofbrush dental chews are unique in their structure and benefits. They have been made to be eaten daily by your dog. Developed by experts, Woofbrush chews have features that ensure dogs get a clean mouth and fresh breath. Some of these features include the following;
• Natural Ingredients
Woofbrush chews are made of natural ingredients such as animal derivatives, especially chicken that makes them delicious. Other ingredients include potato flour, yeast, and coconut oil.
They are free from added sugar and flavours. Additionally, Woofbrush chews do not have artificial colouring. My dogs love these chews for their sweet smell. When served, Woofbrush chews produce attractive aroma since real meat and vegetables are used in their recipes.
• Chewy and Spongey Texture
In addition to their good taste, Woofbrush chews have a chewy and bubbly texture. My dogs seem to have fun with the sponginess of these chews. The spongy texture enables the dogs to comfortably chew the dental chews as they get an efficient clean on their teeth. Plaque and tartar are easily removed due to the nature of Woofbrush chews' texture.
• Vet Certified
One of the reasons why I went for these chews is the Vet accreditation on the chews. In addition to being developed in support of a vet dentist, Woofbrush chews are made using a recipe that is Vet approved. They are made to improve oral health and control weight without harming the stomach.
Downsides of Woofbrush Daily Dental Chews
Woofbrush dental chews are good for all dogs but they should be served to dogs with caution as per the given instructions since they pose a number of downsides. Some of the downsides I noticed include;
• Prone to choking
Woofbrush dental chews are easily broken down into pieces. Dogs can easily swallow these pieces whole. I would, therefore, recommend that dogs be supervised when feeding on these chews.
Pros
Vet certified
Natural ingredients
Effective at cleaning
Cons
Prone to swallowing whole
Lifelong Dental sticks have two different sizes as one is ideal for larger dogs and the other is smaller in size and therefore better for smaller breeds. The larger one contains six sticks whereas the small size has eight inside and they are both in the flavour chicken.
Containing 18.5% protein, 2.7% fat content, 19% moisture, 6% inorganic matter, 2.3% crude fibre, and 268 kcal of energy per 100g, there's a good balance here.
Added kelp and fruit are a great source of vitamins and minerals, particularly the citrus extracts that are rich in bioflavonoids and apple being an incredible source of natural antioxidants.
Plus, their recipe is grain free, so if you happen to have a dog that is allergic this is a good option.
There are no added sugars or preservatives, as only good stuff can be found such as inulin which normally comes from chicory root and is a prebiotic that promotes the development of healthy intestinal microflora.
Although we've seen some other dental chews in this list that have some unique shapes, the generic shape of these ones by Lifelong get the job done and reduce the formation of dental plaque. They should be fed to our dog once a day to make any difference though.
These chews have been specially designed to be of a soft consistency and texture so that even dogs with sensitive gums can enjoy them.
Not that I have tasted them myself, but considering that it took my dog just a few minutes to devour one of these chews shows that they must taste good!
Pros
Ideal for dogs with sensitive gums
Great taste
Nutritiously balanced
Low in fat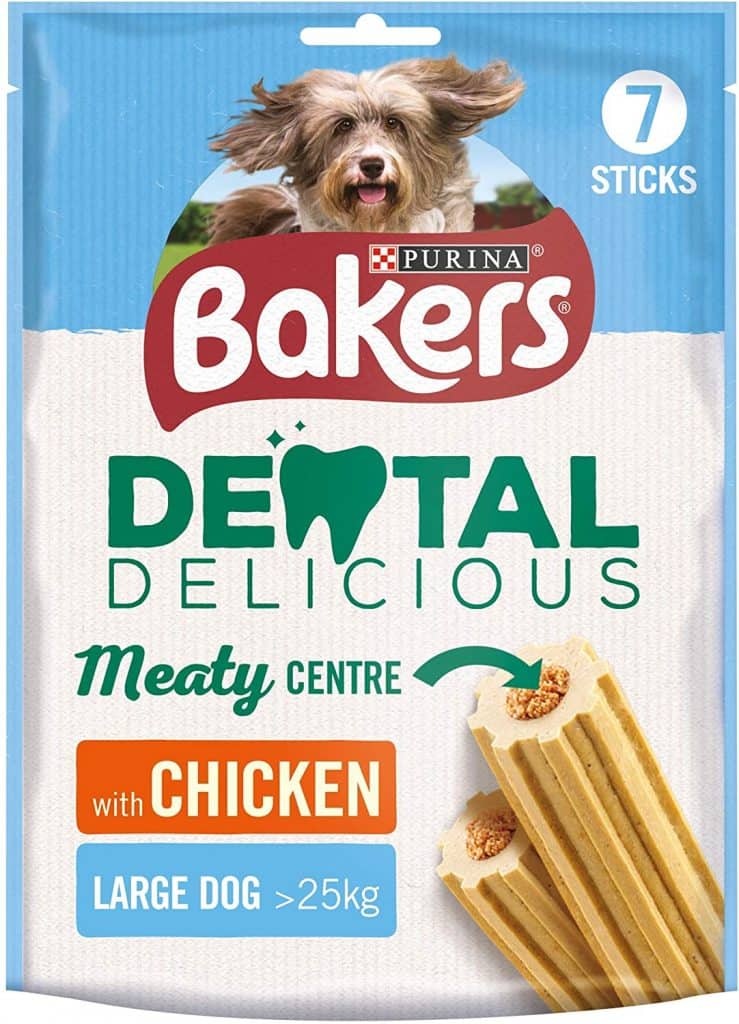 Bakers dog chews and called delicious for a good reason. You can opt for the flavour chicken or beef, and they have two sizes that come in a pack of seven sticks, one of which is suitable for medium sized dogs that weigh 10 to 25kg, or large dogs that are over 25kg. No matter which size dog you have it is recommended to give your dog no more than one stick a day.
Dogs go nuts because of the delicious meaty centre; it smells amazing and grabs their attention so that they keep chewing until they reach the middle and devour it all. The outer layer is specially shaped to help keep teeth clean, gums healthy, and reduce the build up of tartar.
The recipe is composed of cereals, glycerol, 10% meat and animal derivatives with a minimum of 4% being chicken or beef, minerals, sorbitol, vegetable protein extracts, and oils and fats. There are no added artificial colours but what there is included are vitamins A and D3.
Overall, there is 13.5% protein, 3.7% fat content, 8.1% crude ash, 0.7% crude fibres, 19% moisture, which is a good balance.
You can also find calcium iodate anhydrous, manganous sulphate monohydrate, zinc sulphate monohydrate, sodium selenite, and antioxidants.
Manganese is crucial for dogs to produce energy, make essential fatty acids, and metabolize protein and carbohydrates. It plays a big role in the health and maintenance of bone and cartilage in joints.
Zinc is another important one as it helps our dogs to have healthy skin and soft, shiny fur whilst also boosting their immune system and thyroid function.
Pros
Delicious meaty centre that dogs love
Healthy ingredients
Great for medium and large dogs
Related posts –