Choosing what food to feed our puppies is actually a really important decision. During this young stage of their lives, when they are still developing and growing, there are certain vitamins and minerals which are vital for a puppy's diet. This is the reason I have created this review of some of the best dog food for puppies in the UK.
Some dogs have intolerances or just sensitive stomachs, which is why in this list you will find a mix with some hypoallergenic and gluten free puppy kibble included here.
Quick Top 3
Preview
Best Choice
Best Kibbles
Title
Eukanuba Chicken Puppy Food
Harringtons Turkey & Rice Puppy Food
Autarky Hypoallergenic Chicken & Rice Puppy Food
Best Choice
Preview
Title
Eukanuba Chicken Puppy Food
Preview
Title
Harringtons Turkey & Rice Puppy Food
Best Kibbles
Preview
Title
Autarky Hypoallergenic Chicken & Rice Puppy Food
Best Puppy Foods – Top 10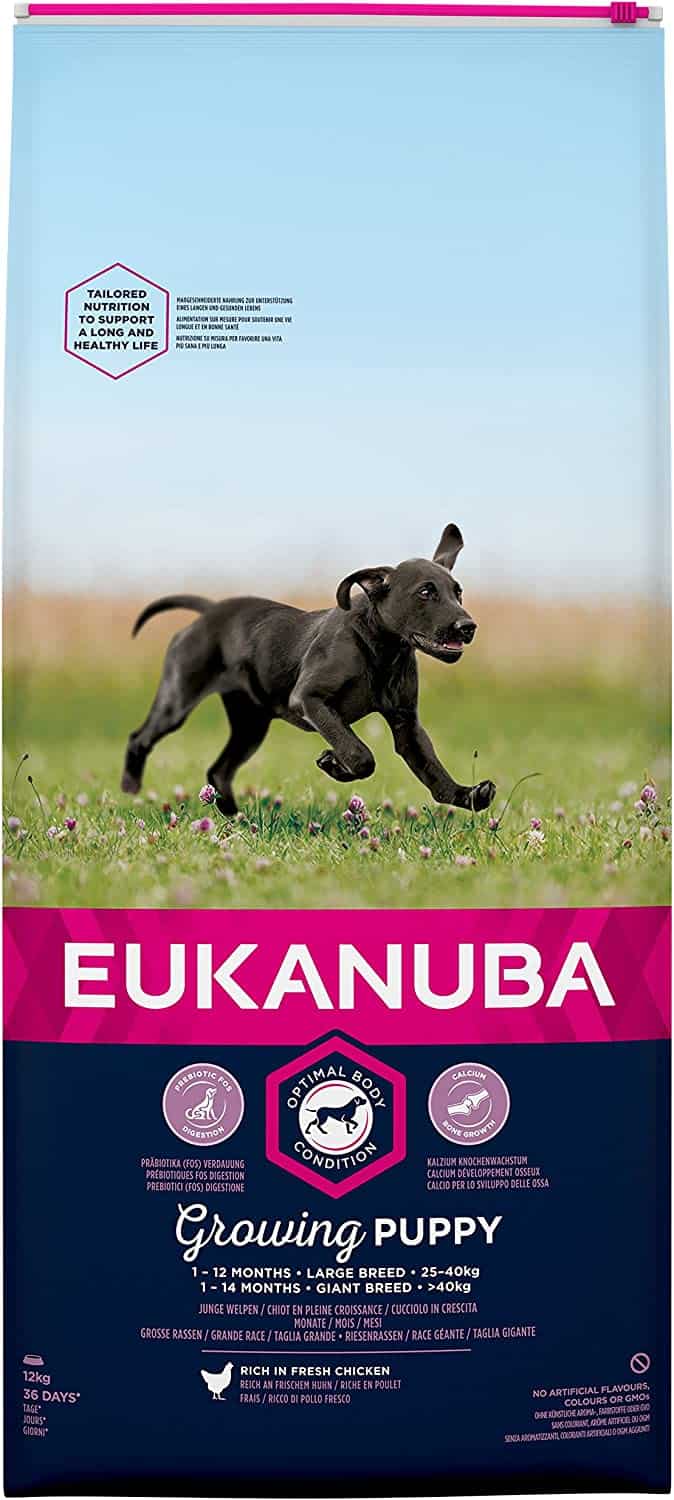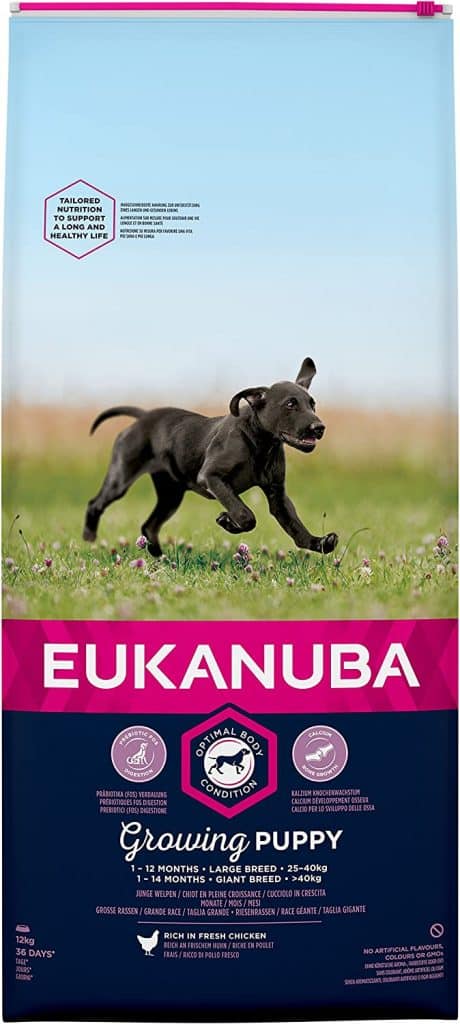 What is the best puppy food in the UK? Well this one from Eukanuba is my favourite. Eukanuba's Dry Puppy Food is rich in Fresh Chicken, and available in bags of 3kg or 12kg. It's ideal and tailored for puppies of a large breed.
Chicken is the number one protein source, and it's a natural source of glucosamine and chondroitin sulphate.
You can also find Omega-3 and Omega-6 fatty acids in the recipe. These two have so many benefits for our puppies: they support brain development, benefit the immune system, boost the health of their heart and kidneys, improves their skin and coat, and can even reduce anxiety and depression.
It has an improved formula which is for optimal body conditions and healthy digestion.
The kibble is hexagon-shaped for improved palatability. The size and shape can be very important for our puppies. We want kibble which is of a small size for them, but not too small. This is because if the kibble is too small, puppies are at risk of not chewing their food properly.
Hexagon-shaped kibble helps to remove the plaque from puppy's teeth. It also contains DentaDefence, which also helps reduce the tartar build-up and to maintain strong, clean teeth and healthy gums.
There's also Vitamin A, D3, and E. These vitamins are vital for our puppy's growth because they help to develop healthy eyes and good vision, as well as cell function, and general growth. They also improve muscular function and cardiovascular health, boost their immune system and help maintain a healthy and shiny coat.
In the recipe there is also maize, sorghum and wheat, which are grains and they are great sources of carbohydrates and essential fatty acids for our puppies. Of course, if you happen to have a puppy with some intolerances or allergies then you're going to want to look into a hypoallergenic recipe instead.
This dry food for puppies is developed alongside vets, and it's also great for our puppy's joints, keeping them strong and healthy.
Personally, I love a brand that not only cares about our dogs but also the environment. At least 25% of Eukanuba's factory's energy is generated from their own wind turbine.
Pros
Plenty of vitamins and minerals
Hexagon-shaped kibble
Developed with vets
Tailored for puppies of large breeds
Best Dry Puppy Food in the UK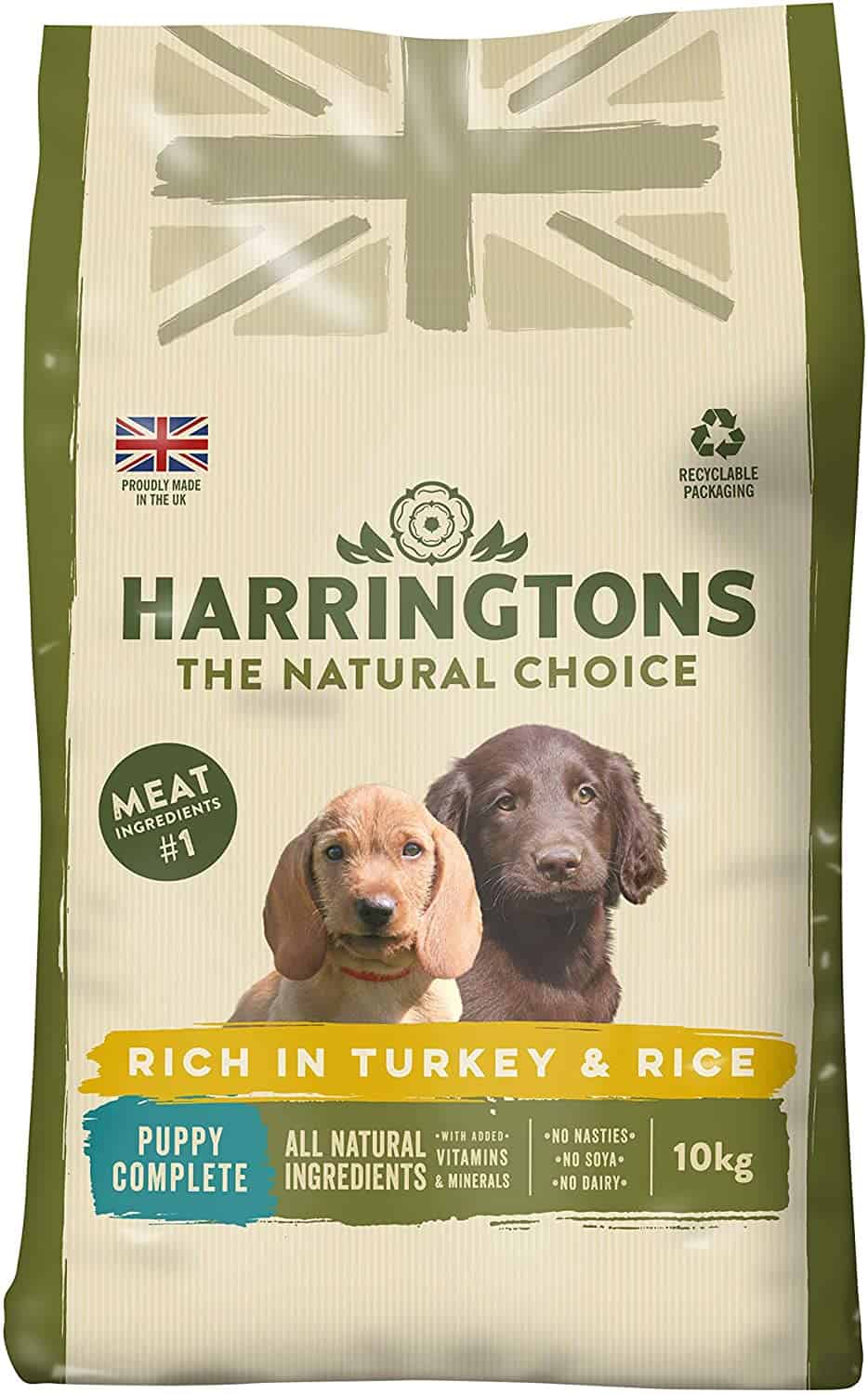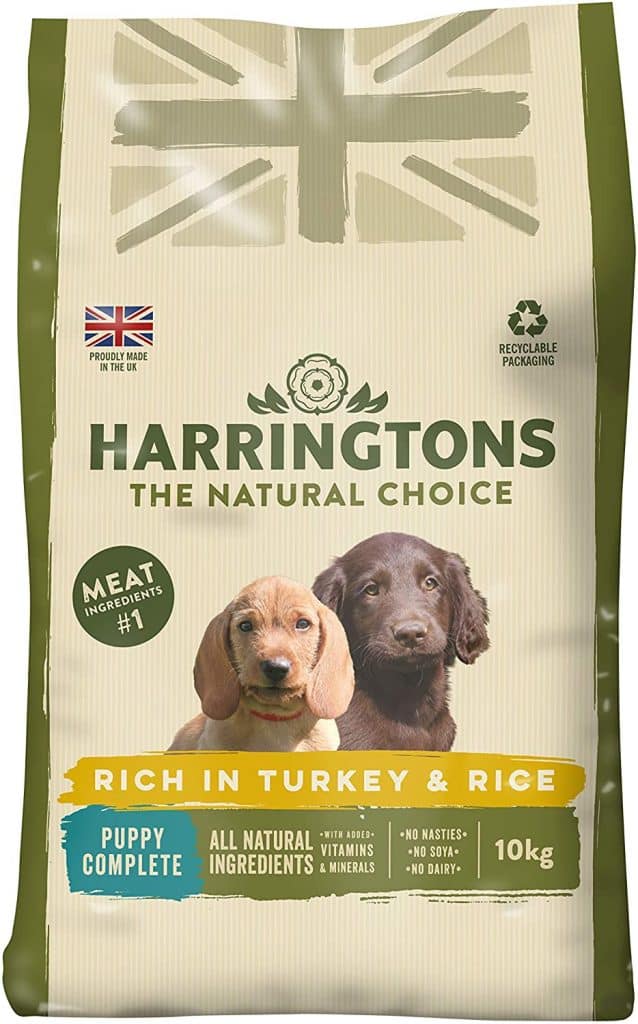 Dry Puppy Food is one of the best puppy food brands, and is available in bags of 2kg or 10kg, in the flavour Turkey and Rice.
There are no artificial colours or flavours, dairy, soya, or added wheat included in their recipe.
What they do have though in their recipe are citrus antioxidants, nutrient rich kelp, Omega-6 and Omega-3 fatty acids, and yucca extract.
Citrus antioxidants are for a healthy immune system.
Omega-3 and Omega-6 essential fatty acids improve the health of puppy's skin and coat.
Kelp is very good for our puppies because: it helps reduce dental plaque and tartar build-up, contains a rich natural source of salts and minerals, reduces itchiness and skin conditions, is high in iron and calcium, and contains natural amino acids.
Yucca extract also supports joint health.
In addition, there's added yeast because it helps support healthy digestion.
Harrington's factories can be located in North Yorkshire, so that you know the product is home-grown, and their very affordable prices make it almost impossible to resist.
In the recipe Turkey Meal consists of 20%, and there is 15% rice. The food is also enriched with Vitamins A and E.
The puppies that I fed this to have beautifully glossy coats, plenty of energy and seem to be happy, content and healthy. Before switching to Harringtons, I couldn't figure out why some of them had digestion problems and loose bowel movements, and it must have been the previous food because there have been no issues since changing to Harringtons. It's very obvious to me that the puppies absolute love, and prefer, this food. This is easily one of the best dry foods for puppies out there right now.
Pros
No artificial colours or flavours
Dairy, wheat and soya free
Lots of vitamins and minerals
Supports healthy joints and digestion
Cons
Some puppies don't like it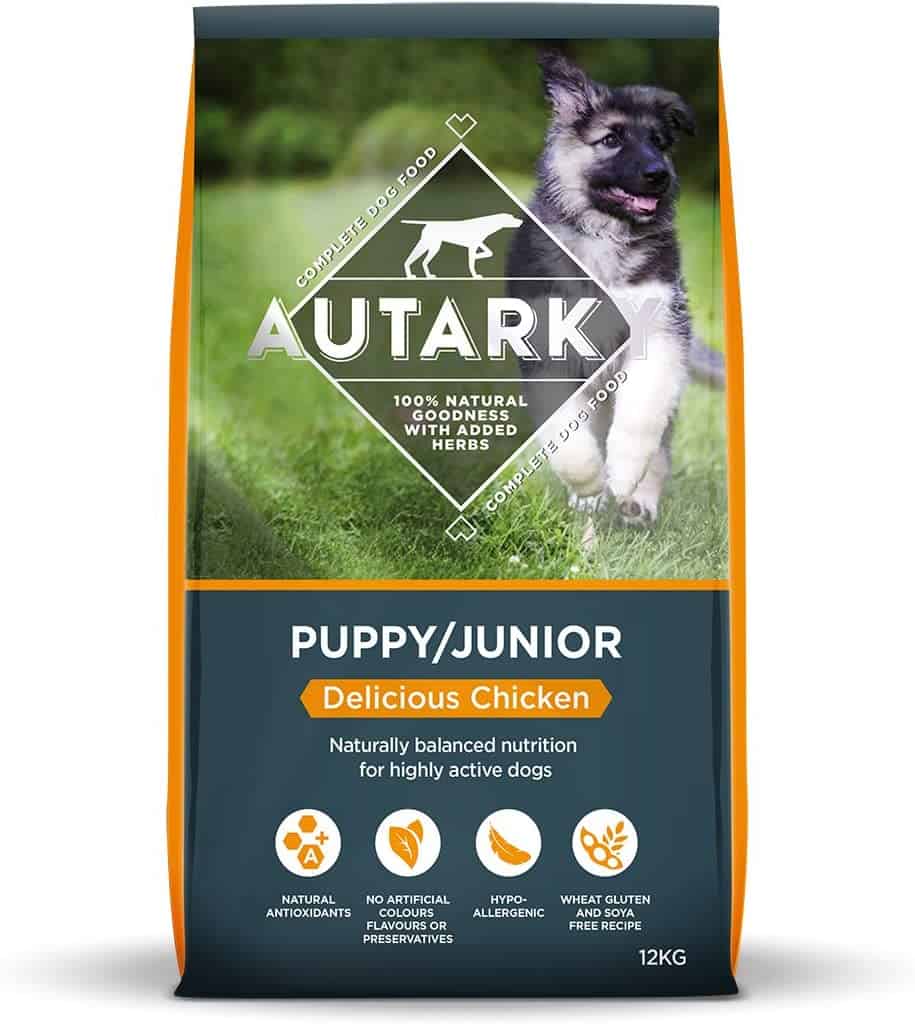 Autarky Puppy Food is Hypoallergenic, comes in the flavour Chicken and Rice, and is available in bags of 6kg or 12kg.
This is one of the best puppy foods for so many reasons.
The kibble is especially designed to be a smaller size for puppies because they have small mouths which makes it the best puppy kibble.
In the recipe, Chicken meat meal consists of 35%, and rice is 5%. Tasty chicken provides high quality protein and is balanced to supply plenty of nutrition and moderate energy levels which encourage puppy's steady growth. It's also irresistible for puppies.
28% of the recipe is protein, and 17% is Fat content.
It includes Vitamin E, fatty acids, and taurine which support neural development and learning, while the antioxidants and herbs are to protect your puppy's immune system, and prebiotics to promote digestive health.
There's salmon oil in the recipe, which is an excellent way to augment our puppy's diet because it's rich in Omega-6 and Omega-3 fatty acids – which, as we already know, have many benefits.
Plenty of the other ingredients are very beneficial as well, such as: nettle, yucca, blackcurrant, kale, beetroot, rosemary, seaweed, rosehip, thyme, ginger, aloe vera, and so on.
The above ingredients are extremely useful because they contain Vitamins C, E, and A, Calcium, iron, potassium, fiber, and antioxidants. Also, they are ideal for dog's with intolerances or skin irritations, and can produce healthier, thicker, and shinier coats.
This diet is wheat gluten and soya free, which also makes it is ideal for dogs that suffer from sensitive stomachs or itchy skin.
This recipe is specially formulated by one of Britain's leading canine nutritionists, ensuring that our puppies are being given everything that they need in order to stay active and healthy.
No artificial colours, flavours, or preservatives are added to this recipe. The kibble in every bag is protected by natural antioxidants so that it stays fresh and tasty. This is easily one of the best foods for puppies.
Pros
Small sized kibble for puppies
No artificial colours, flavours or preservatives
Wheat gluten and soya free
Lots of vitamins and minerals
Cons
Causes flatulence in some dogs
Best Wet Puppy Food in the UK
NatureDiet Puppy Wet Food is available in a package of 18 x 390g, and in the flavour Chicken and Lamb. There's also a grain free option, for those dogs with intolerances and/or sensitive stomachs. It's suitable for puppies of all breeds from 4 weeks to 12 months old.
It's even appropriate for lactating mothers who require a high calorie and protein diet.
The recipe is gently steam cooked with a little bit of water, prepared with ethically sourced premium British chicken, lamb, rice, carrots and potatoes, and these ingredients provide your puppy with all of the protein and nutrients that are needed for healthy growth and development, making it one of the best wet puppy food in the UK.
This hypoallergenic recipe consists of 60% chicken, 10% rice, and carrots make up 6%.
It also includes dried egg because it gives an extra boost of nutritious protein, making Naturediet the ideal and complete meal to feed our puppies.
You can also find that it's carefully balanced with added Vitamins A and D3, as well as plenty of other minerals which are great for a boost in the immune system.
There are no artificial ingredients or preservatives included in this recipe, ensuring that it is a high-quality, natural, nourishing, and an easily digested diet.
Even the fussiest of eaters, take my pups for example, will adore this wet puppy food by Naturediet. Although, I did realise that my puppy actually prefers to have this wet food mixed with some dry, so definitely keep an eye out and see what your dog's personal preferences are.
Pros
Suitable for all breeds
Free from artificial ingredients or preservatives
Nourishing and easily digested
Excellent ingredients
Loved by all dogs
Cons
A little bit pricey for the amount
Gilbertson & Page Dr John Puppy food comes in chicken flavour and has balanced nutrition that makes it perfect for puppies of working and sporting breeds.
The recipe contains 27% protein, 15% fat content, 7.5% crude ash and 2.5% crude fibre. There's 30% chicken, beet pulp, yucca extract, linseed, as well as wholegrain cereals, a blend of omega 3 and 6 fatty acids, and plenty more nutrition.
Added salmon oil is what has those omega fatty acids that provide support to cognitive development and learning ability – two of the most crucial things for a growing pup. Prebiotics and dietary fibre aid digestion, boost healthy growth, body, and immune system.
There are also Vitamins A, D3, and E that have a multitude of benefits.
No artificial colours, flavours, sugars, or anything are added. It's great for puppies weaning and upwards.
When introducing this food to your pup, you should do it gradually as a porridge. Add one part of the food and three parts warm water, let it soak before blending it to a porridge consistency. Small amounts should be offered to your puppy throughout the day, about 4-6 times, for a period of 15-20 months while slowly tweaking the ratios.
A feeding guide can be found which shows you that, for example, a small dog that weighs less than 10kg such as a Jack Russell Terrier, should eat between 200 and 250g when they are 2-4 months old, 250-275g at 4-6 months, and when they're 6-8 months they need to eat anywhere between 275 to 200g.
Pros
Nutritious ingredients
Great for working/sporting breed puppies
Good chicken amount (30%)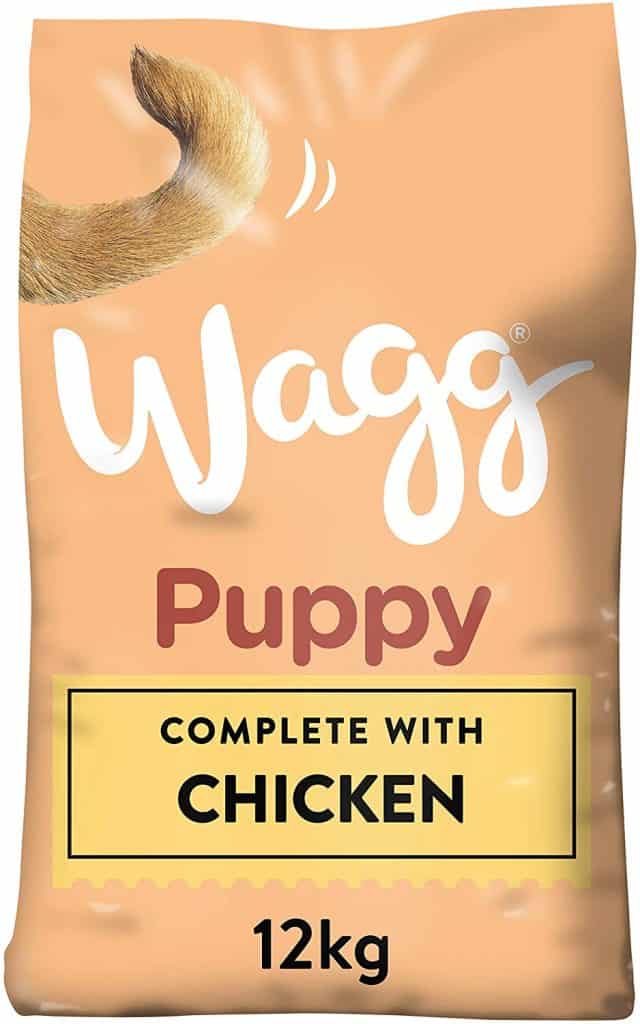 Wagg puppy dry food comes in the flavour chicken and in bags of sizes 2kg or 12kg. It's suitable for puppies 4 weeks onwards, of any breed, during and after weaning.
To give puppies the best start in life, the recipe is packed full of nutritious ingredients. There's added omega 3 which supports health and development, citrus extracts and nucleotides for a strong immune system, and prebiotic MOS to support the population of healthy bacteria in the stomach. Yucca extract also helps reduce bad odours from flatulence, and there's no added sugar or artificial flavours or colours.
28% of the recipe is protein, 11% fat content, 3% crude fibre, and 8.5% is crude ash. From the ingredients, 28.5% is cereals, meat, and animal derivates – 4% of which is chicken. There are also vegetable protein extracts, oils and fats, cranberry extract, marigold extract, etc.
Vitamins A, D3, E, and C as well as zinc, manganese, antioxidants, and more have been added.
The cranberry extract is added because it has high levels of antioxidants that help with boosting your dog's immunity and reduce inflammation. Vitamin A is an essential fat-soluble vitamin that supports bone growth, vision, immune response, and cellular differentiation – all extremely important things for a growing dog.
D vitamins are an essential nutrient that helps a dog's body regulate the balance and retention of phosphorus and calcium, while vitamin E is crucial for defence against oxidative damage and is important for fat metabolism and cell function.
Vitamin C, another important antioxidant, targets potentially harmful free radicals in the body and helps reduce inflammation.
In total, there's 335 Kcal per 100g of calories.
When feeding pups from 4 weeks, you should do it according to their appetite alongside their mother's milk. Introduce it as a porridge, by mixing the dry food with warm water.
Keep in mind that large and extra-large breed puppies have a slow and steady growth and reaching adult size can take longer for them.
Pros
Nutritious ingredients
Suitable for all breeds
Good meat amount
This next one on our list is wet food by Butcher's for puppies of all breeds. It's available in a pack of 150g or 400g and has all the nutrients a puppy could ever need.
Absolutely no artificial colours or preservatives have been added to this British and Irish farmed recipe. Butcher's state that they only work with suppliers that they know and trust, so that the ingredients are pure goodness.
What's great about this one is that there are no grains or bulkers – it's grain free and naturally gluten free as well so that even dogs with intolerances can still enjoy it.
There are three flavours: turkey, chicken, and beef. The turkey contains 20% turkey, 10% beef, the chicken is 45% chicken and 10% beef, while the beef one is 35% chicken and 20% beef. They all have 1% salmon oil, prebiotic, parsley, rosehip, chicory, mint, and minerals.
Included vitamins are A and D3 as well as minerals such as zinc, manganese, iodine, etc.
Calcium is important for bones and proteins for muscle development. The parsley contains vitamin C and A, both antioxidants with multiple benefits. Such benefits include supporting the immune system, promoting good vision, and assisting organ function.
Rosehip is included because it contains compounds that have anti-inflammatory properties, which is great for dogs with allergies and/or itchy and dry skin.
Chicory is another prebiotic with a multitude of nutrition, and mint flavours the food and freshens your dog's breath meanwhile boosting wellness.
In total, it contains 8% protein, 0.2% crude fibre, 6% fat content, 2% crude ash, 82% moisture, and 0.2% calcium.
Omega-3 and -6 fatty acids as well as the added prebiotics promote healthy gut bacteria, boost natural immunity, and provide healthy skin with a shiny coat.
There's a daily feeding guide on the packaging so that you know how much to feed your puppy depending on the age and whether they're a toy, small, or medium sized breed.
If you're mixing it with dry food, you should add 150g of this wet food with 35g of the dry food of your choice.
Pros
Grain free
Three flavours
Wet food
Great ingredients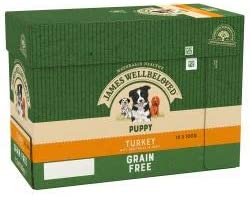 James Wellbeloved puppy good comes in two flavours; turkey or lamb with vegetables. Both are grain free so they're ideal for puppies with intolerances – they won't be able to resist the tasty chunks in delicious gravy. Even the fussiest of puppies will dig in!
The lamb consists of 27.7% lamb, pea starch, pea protein, dried carrots, dried potatoes, dried peas, sugar beet pulp, calcium, sodium, dextrose, sunflower oil, linseed oil, alfalfa, seaweed, fish oil, tomato powder, manganese, etc.
The turkey recipe includes 25% turkey meal, 14.8% brown rice, naked oats, 14.3% white rice, pea protein, 7.5% turkey fat, whole linseed, 2.9% turkey gravy, sugar beet pulp, alfalfa meal, pea fibre, seaweed, sodium, fish oil, chicory extract, calcium, yucca extract, green tea, etc.
The kibble is of a smaller size so that it is better for puppies without any risk of choking.
No artificial flavours or preservatives have been added.
Added omega 3 and 6 fatty acids are crucial for a puppy's development. Omega 3 aids in proper brain and eye development and improves cognitive function while omega 6 are involved with cell function and cell membrane structure which is important for growth, immune function, as well as the health of your pup's skin and coat.
Fatty acids are a type of fat, so it's safe to say that this diet is high in both fat and protein which is good for a puppy. High levels of protein benefit the growth of lean muscle, improves skin and coat health, and boosts the immune system. As for fat, puppies need as much as they can get, since they are so active.
Yucca extract is added to help reduce the odour of your pet's stool, and aids in making sure it's solid.
Due to the size of the portions, I wouldn't recommend buying this one if you have more than one puppy, otherwise you will be buying it very often.
Pros
Grain free and suitable for intolerant puppies
Tastes great – ideal for fussy eaters
Good ingredients
Smaller sized kibble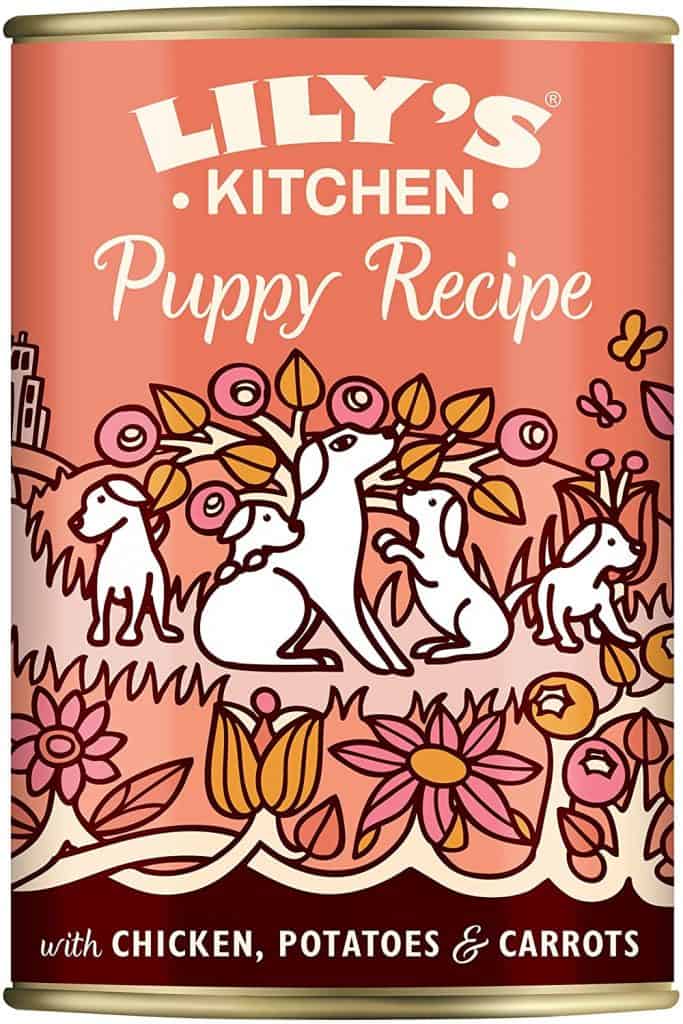 The chicken puppy wet food is specifically made for puppies under 1 year old.
In the ingredients, you can find a meaningful portion of chicken, along with a plethora of organic vegetables. There's also an excellent selection of herbs that have all been included for particular reasons that are beneficial to your pup. For example, celery seeds and aniseed have been added for improved digestion and to support liver function.
The important thing to note about the ingredients is that everything has been added with quality in mind and with some direct reason why it has been included, usually for some health benefit or to make sure your dog is generally well nourished. Certain things, such as all of the food included being organic, are definitely nice bonuses worth mentioning.
Another benefit of this dog food is that it's suitable for puppies with sensitive stomachs. Unlike some other dog food that can often be stuffed with poor quality ingredients and additives, there is none of that to be seen with this dog food. At the end of the day, our dogs are meant to be eating meat, so when a dog food is only composed of mixed meal and such, it is certainly not the best we can offer our dogs.
Also, on top of everything being clean, you have added ingredients as I mentioned before which naturally aid digestion which is ideal for dogs with sensitive stomachs.
Overall, it has 10.6% crude protein, 0.5% crude fibre, 5.1% crude fat, 80% moisture, and 2% crude ash.
A whopping 67% of it is composed of fresh chicken, with 2% being potatoes and 1% carrots. You can also find salmon oil, rosehips, marigold petals, cleavers, seaweed, alfalfa, milk thistle, dandelion root, and burdock root.
When it comes to vitamins and minerals there's a generous amount, including vitamins D3 and E, zinc, copper, manganese, iodine, etc.
One final thing worth noting is that there are no grains in this food. For some dogs and owners, this is a good thing so I thought I would mention it.
From my own experience with my dog, there is nothing but positives with this puppy food!
Pros
Good for energy levels
No bad breath
Easy on digestion
Variety of different options
All organic
Cons
Few dogs don't like it (rare)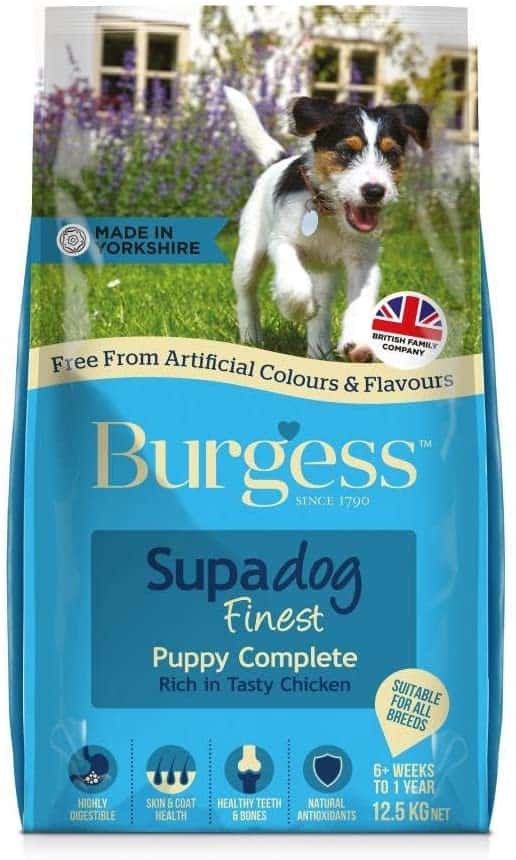 Burgess puppy chicken dog food comes in a bag of 12.5kg and is for dogs of all breeds from 6 weeks to a year old.
There are no artificial colours or flavours and the kibble is of a smaller size for smaller mouths and teeth.
In the ingredients, you can find wheat, 18% poultry meat meal, maize, fish meal, 6% poultry fat, maize gluten, dried egg, beet pulp, linseed, brewer's yeast, wheat feed, etc.
In total, 29% is crude protein, 14% is fat content, 3% crude fibre, and 7% crude ash. Added vitamins include A, D3, and E with minerals such as calcium, zinc, etc.
Calcium is great for your puppy's growing teeth and bones and the natural antioxidants help boost and develop the immune system.
It is highly digestible and great for healthy skin and a shiny coat.
There are nutritious cereals and vegetables, and although the meat is locally sourced, there's very little actual meat included since it's meat meal and I'm not keen on that.
Pros
Small sized kibble
Good for health and development
Vitamins and minerals
Cons
Very little meat in the ingredients
Related Posts –