Your dog's health is of utmost priority. Finding the right food for your individual pet can be troublesome, to say the least, and too often we don't know what goes into wet dog food brands.
That's why I've decided to go ahead and review a number of different products. All of the following companies have been vetted and tested over time. If you prioritize your dog's health more than anything, you've come to the right place. Below, you can read all about the best wet dog food on the market.
Quick Top 3
Preview
Best Choice
Well Priced
Title
Pooch & Mutt - Complete Wet Dog Food
Lily's Kitchen Grain Free Multipack Wet Dog Food
Barking Heads Wet Dog Food - Bowl Lickin' Chicken
Best Choice
Preview
Title
Pooch & Mutt - Complete Wet Dog Food
Preview
Title
Lily's Kitchen Grain Free Multipack Wet Dog Food
Well Priced
Preview
Title
Barking Heads Wet Dog Food - Bowl Lickin' Chicken
Best Wet Dog Food – Our Top 5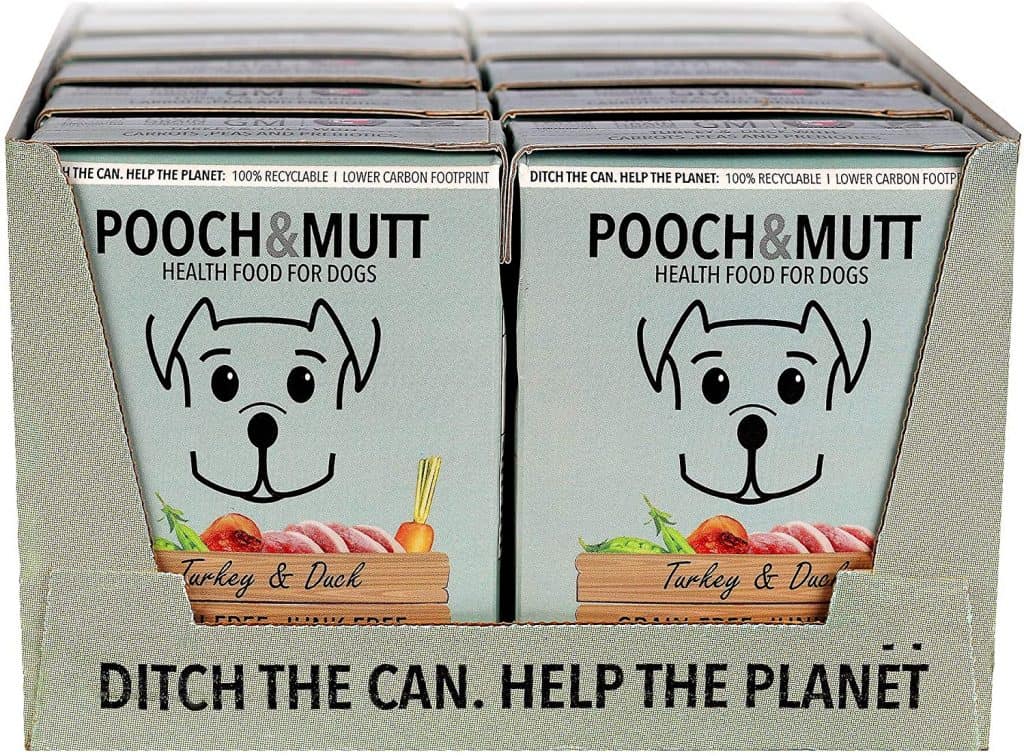 Our first choice is a solid alternative to conventional dog foods. This is because it is completely natural and is a grain free approach to providing your dog with solid nutrition. Not only this, but it helps manage health and digestive issues that are common among dogs with intolerances to specific ingredients.
Dogs can suffer from any number of allergies and health issues when it comes to their food. For grain-intolerant dogs, this is an ideal match. My favourite part of this product is that the brand is transparent about ingredients. The ingredients are easy to identify and the additives revolve around vitamins to ensure that your dog is in optimal health.
When I searched through the product list, it goes without saying that I was pretty much impressed with the way the brand has considered overall health, and I was immediately inclined to buy this brand.
Pooch & Mutt provided me with a complete, grain free, wet food alternative to the majority of brands I am able to find in my local pet stores. After trying this food, I recognized an immediate change in my dog and his stool. There are several flavours to choose from, including:
1. Chicken, pumpkin, and pea
2. Turkey and duck
3. Chicken and beef
4. Turkey and chicken
Let's take a look at the incredible ingredients featured in each of the different flavours.
Chicken, pumpkin, and pea is composed of 60% fresh chicken, 5% pumpkin, 1% green peas, 1% carrots, seaweed and yucca extract, as well as prebiotics and several beneficial vitamins and minerals which I'll mention later as they are featured in all flavours.
There's 11% crude protein in total, 7.3% crude fat, 0.2% crude fibre, 4% inorganic matter, and 79% moisture. Each pack has 398 Kcal of energy in it.
Pumpkin is rich in nutrients and low in calories, making it an ideal additive. The high levels of potassium help with metabolism and blood pressure regulation and the vitamins in it (A & C) support vision and overall immune health.
Turkey and duck features 45% fresh turkey, 20% fresh duck, 3% green peas, 1% carrots, as well as the same extracts, vitamins, and minerals. This one has 10.25% crude protein, 10% crude fat, 0.2% crude fibre, 4% inorganic matter, 69% moisture, and 582 Kcal per pack.
Peas are high in vitamins A, B, C, and K, making them a great source and dietary fibre. They support the production of red blood cells and metabolic function, while also helping metabolise carbs.
Chicken and beef contains 36.7% chicken, 15% beef, 2.5$ carrots, 1.5% dried potato, 1.7% carrot, and 0.8% broccoli, as well as dried algae, sea buckthorn, etc. There's 8.6% crude protein, 8.2% crude fat, 2.7% inorganic matter, 1.1% crude fibre, 77.8% moisture, and 396 Kcal a pack.
Lastly, turkey and chicken consists of 26% fresh turkey, 21% fresh chicken, salmon oil, dried vegetables (carrot, broccoli, potato), 0.25% dried blueberries, 0.25% dried apple, 0.25% dried papaya, etc. Overall, there's 8% crude protein, 7% crude fat, 0.5% crude fibre, 2.5% inorganic matter, 78% moisture, and 430 Kcal in each pack.
This recipe features apples and blueberries which are incredibly good for your dog. Apple supports a dog's gastrointestinal health because it's high in beneficial fibres such as pectin. Plus, it has high levels of antioxidants which boost the immune system and the vitamin C it contains helps with joint health.
Meanwhile, blueberries are low in calories and extremely rich in antioxidants. The high levels of potassium and vitamin C help reduce inflammation, protect against cell damage, and have been proven to lower the risk of heart disease.
I don't think I've ever seen so many vitamins in one dog food; you can find vitamin A, B1, B2, B3, B5, B6, B8, B9, B12, D3, and E, and some of the added minerals are copper, iron, manganese, zinc, and potassium.
Yucca is featured in all of the recipes because it has the potential to reduce inflammation and swelling in a dog's digestive tract. Plus, it's high in vitamins A, B, and C, and potassium, calcium, and iron which are soothing on the intestines.
Pros
Grain free
Great for nutrition
Added vitamins for optimal health
Plenty of varieties
Healthiest Wet Dog Food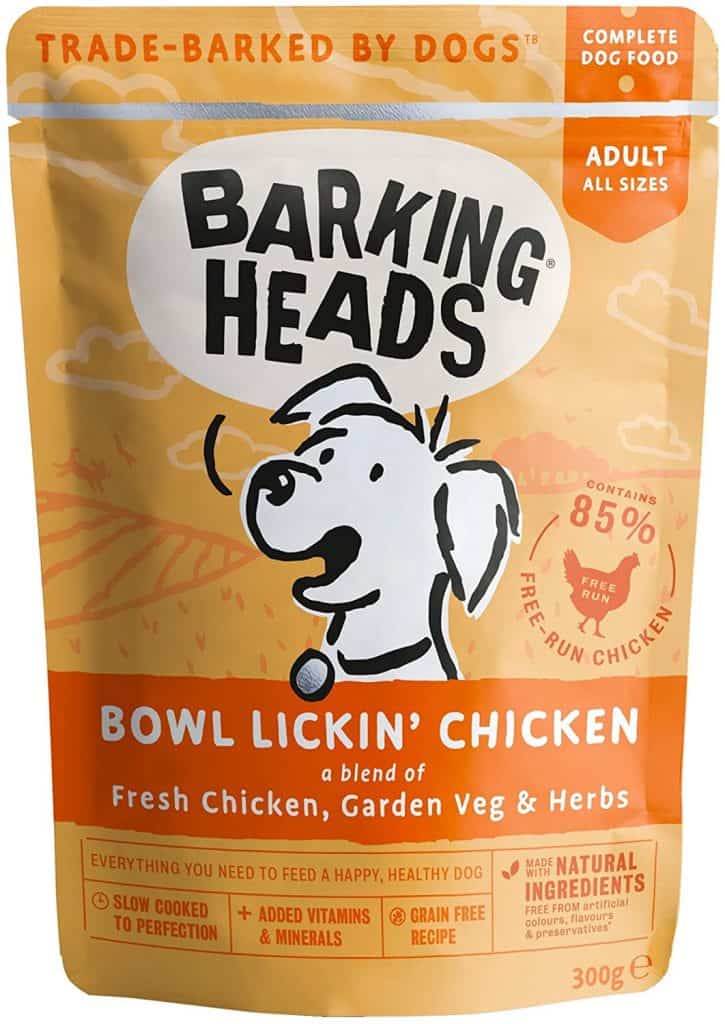 Having food that provides your dog with all the nutrients they need is vital. Like humans, pets need a balance between various vitamins and minerals. This wet dog food has a mixture of meat and vegetables to ensure that all of these nutrients are packed into their food. To replace grain in the food, this company uses sweet potatoes instead.
Barking Heads has created a dog food that appeals to every dog and pet owner. There is a feeding guide on the back of the pack to make sure you're feeding your dog the right amount of food.
This food, itself, is slow cooked. This quality sets the brand apart from many others in the wet dog food market because high temperatures damage critical nutrients and so your dog isn't able to utilize them. So, by slow cooking the food instead you ensure both nutritional value as well as good taste.
You can expect to get the product in the following flavours or formats:
Beef
Chicken
Lamb
Puppy
Reduced Calories and Fat
Multipack
Salmon
Senior
Turkey
Because there are so many flavours and formats to attend to the needs of different dogs, both old and young, there is sure to be something for your dog's needs. The price of this food should also be taken into account because it is relatively inexpensive for the thought and attention that is put into producing this food.
Pros
Relatively inexpensive
Many varieties available
Great nutritional value
This dog food can be found at a number of different locations, including pet stores, convenience stores, and vet offices. If you're looking for something that provides you with a budget-friendly wet dog food and all the nutrients you could ask for, this is the solution for you and your dog.
There are many options when it comes to flavour, including:
Chicken
Chicken with liver
Chicken with tripe
Fish
Lamb
Turkey
I appreciated this quality because my dog has quite a few intolerances and is picky when it comes to taste. It's worth knowing, for those of us who have a preference for it, that this dog food is packaged in BPA free packages. For those who look for ways to keep their dogs healthy beyond the food itself, this may be ideal for you.
The ingredients in this wet dog food are 90% meat and 10% minerals. While there are plenty of vegan-friendly dog foods on the market, these pets generally do need meat, so I did appreciate the high portion of meat in the food.
This dog food also doesn't have any artificial sugars or preservatives, which was a hard feature to find in different dog foods. For those who are also looking for something that is low in carbs, this dog food contains brown rice which is packed with nutrients and is low in carbs.
Pros
No artificial sugars or preservatives
High meat content
High quality ingredients
100% natural ingredients
When it comes to the food you give your dog, you should always go for something that is high in quality. If you wouldn't feed your family something that is low in nutrients and that doesn't benefit their quality of life, you likely want to maintain the same attitude with your dog.
The healthier a dog is, the more likely it is to live a longer life. This wet dog food is made with three different recipes, all of which provide your dog with optimal nutrients and health.
This food is made entirely of fresh food, including meat, vegetables, and herbs. For my dog, this is the best pet food we have tried to date because it's hypoallergenic. When my dog has an allergic reaction to food, he gets itchy skin, diarrhoea, etc. As such, it was incredibly important that I find a dog food that suits the needs of my dog.
Lily's Kitchen provides you with the impression that they legitimately care about your pet and its needs. Like some of the others on my list, this product is grain-free.
The company only uses the highest-quality meat possible. As such, you don't need to worry about having meat meal, bone meal, or rendered meat in your dog's food. Lower quality meat like these can cause digestion problems and will reduce the overall health of your dog.
If you like to freeze your dog food, this product can be frozen without a problem. You should note, however, that frozen food can change the nutritional value of the food itself so this shouldn't be done to the same food you're feeding your dog for each meal.
Freezing wet dog food can be useful for those who put food in dog toys. This can be a fun treat for your dog; I know my dog loves it!
When it comes to how this wet dog food can improve, it should be noted that this can be a pretty expensive dog food in the long run. When you buy the food, you can buy it in a pack of six. While the price is high for the quantity of food you receive, nothing can beat the overall quality and care that goes into this food.
There are also fewer options regarding recipes and flavours when you choose Lily's Kitchen. There are only three recipes with this dog food, so if your dog is a picky eater, it might be difficult to find something that appeases his or her taste buds. Since there are less flavours to choose from, the company can focus more on creating recipes that promote your dog's health.
Overall, I appreciated the thought and the intention that went behind Lily's Kitchen's wet dog food. While trying this food, my dog's health was at its best and he had no bowel or stomach irritation.
Pros
Great for sensitive stomachs
Excellent quality
High quality meats
Hypoallergenic
Like most, I've seen Pedigree sold in nearly every convenience store or pet shop that I have been to. After hearing both good and bad comments, I figured it was about time that I give Pedigree Pouches Mixed Selection Gravy a try.
My dog's taste buds are just as picky as his stomach, so I wasn't sure if he would like this flavour or this food at first. Luckily, he began to chow down after just one bite.
I really appreciated that, with this food, Pedigree has provided a complete, balanced diet for dogs. Each ingredient provides my dog with the nutrition he needs.
Both the zinc and the sunflower oil have omega-6, which will help in making his coat lustrous and soft. Omega-6 will also help to fight off any dermal problems, whether it's scratchy, dry, or flaky skin.
This dog food also contains calcium to ensure that your dog's bones remain strong and healthy. Also, the vitamin E present in the dog food helps to improve the immunity system. This provides peace of mind in knowing that your dog's health is being taken into account.
Pros
Good for fussy eaters
Added goodies like omega 6
Great for long term dog health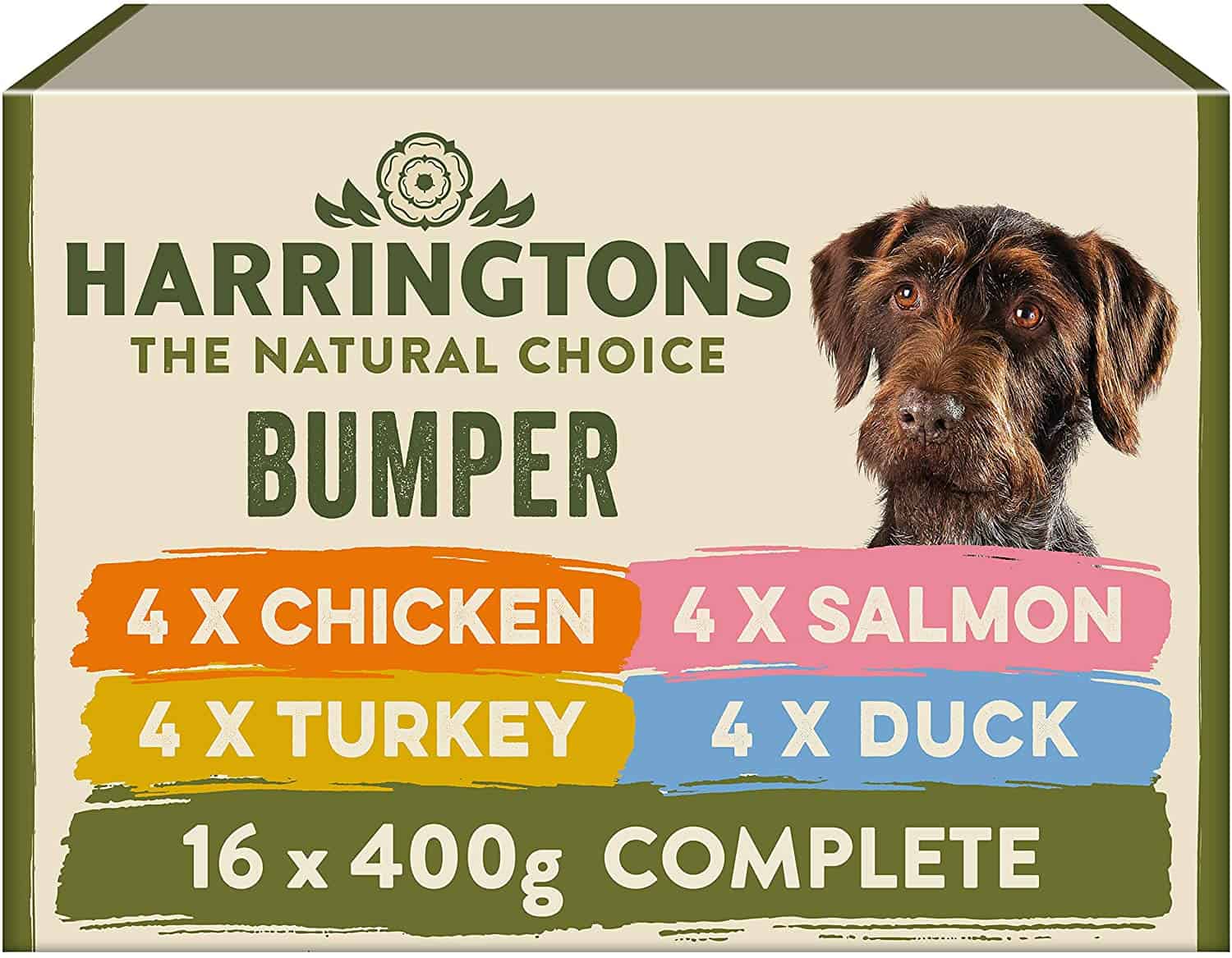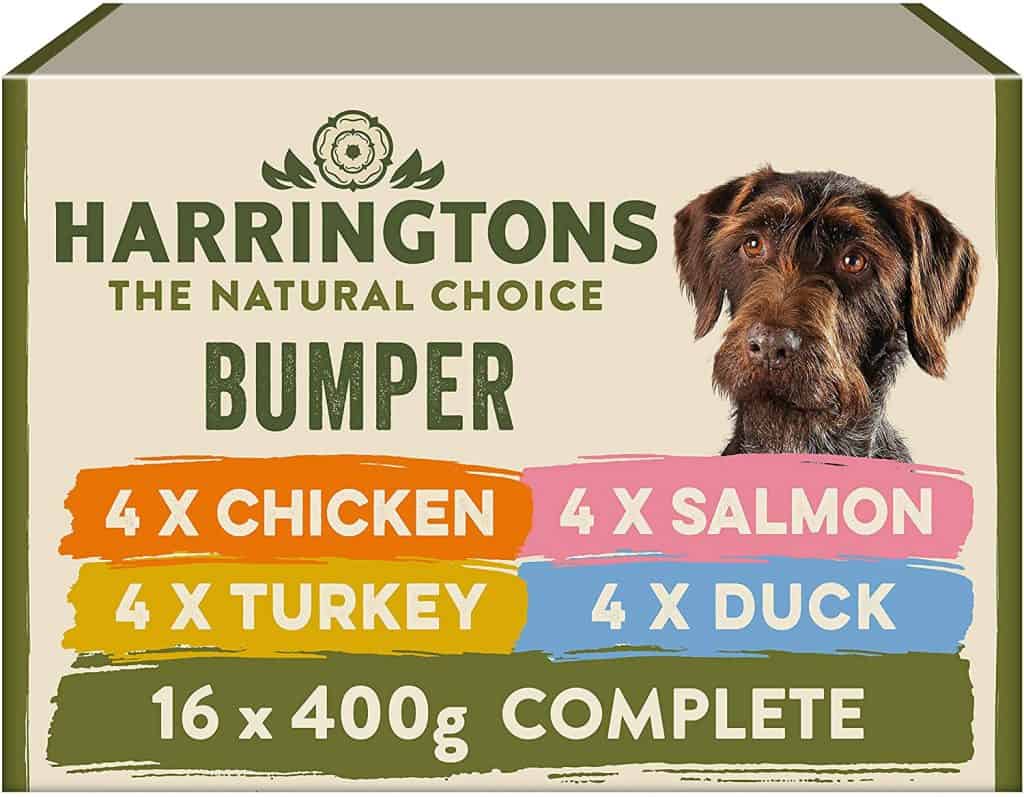 Harringtons grain free comes in a variety of flavours; the mixed pack including chicken, salmon, duck and turkey which also come in a variety of sizes such as packs of 6, 16, 24, and 48. If you happen to know your dog's preferences, you can opt for the mixed meaty pack which only has beef, lamb, and chicken, or just chicken/turkey/duck/salmon and potato, or mixed poultry which just has turkey and chicken.
They're suitable for adult dogs of any breed and are especially good for those with sensitive digestion since it is grain free.
In the ingredients, you can find that green lipped mussel is added, which is a natural support that can aid the management of arthritis in dogs. There's also a rich source of included omega fats, as well as included glucosamine and chondroitin are great for joint support as well.
Some other all natural ingredients included are rosehips that provide vitamin C and promotes joint health, the general well-being of active and ageing dogs, reduce potentially harmful free radicals, reduce inflammation, improve energy, and support the immune system.
Green tea is rich in natural antioxidants which can aid digestive health, reduce cholesterol and high blood pressure, and even promotes fresher breath.
As expected, there are no artificial flavours, colours, or preservatives so you don't need to worry about that.
Pros
Multiple flavours & packs available
All natural
Grain free and great for sensitive tummies
Lots of beneficial nutrients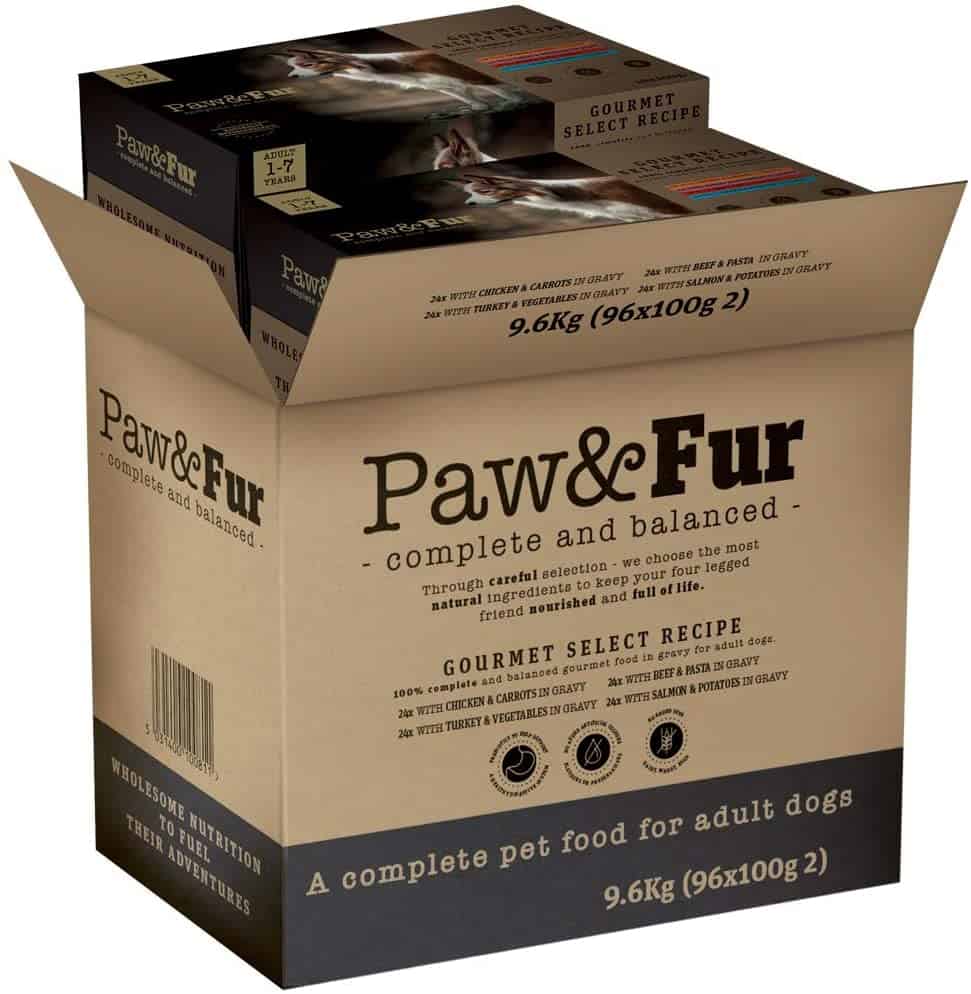 For dogs that love wet food that is soaked in gravy, this is a great choice. This pack comes as 96 x 100g and is suitable for all breeds between the ages of 1-7. The available flavours are chicken and carrots, turkey and vegetables, beef, and salmon and potatoes which are all in yummy gravy.
In all of the flavours, the meat takes up 4% with about 5.15% being vegetables – such as carrots, chicory, peas, or potatoes, depending on the flavour.
As for protein, fibre, fat, etc.; 8% makes up crude protein, with 0.5% being crude fibre, 6% crude fat, 0.3% calcium, and 8.1% moisture.
There are no artificial flavours, colours, preservatives or any added wheat, dairy, soya, or pork. What it does have added in the ingredients is all good stuff such as prebiotics to aid digestion, calcium for strong and healthy bones, added vitamin E and minerals to boost immunity, and omega 3 and 6 fatty acids that ensure a soft and shiny coat.
There's also phosphorus and vitamin D3, which are more essential nutrients. Phosphorus, like calcium, is a major component of bones, and vitamin D3 regulates the balance of both calcium and phosphorus.
With a naturally hypoallergenic recipe, it is completely safe for dogs with allergies to consume without any problems.
Pros
Hypoallergenic
In gravy
Several flavours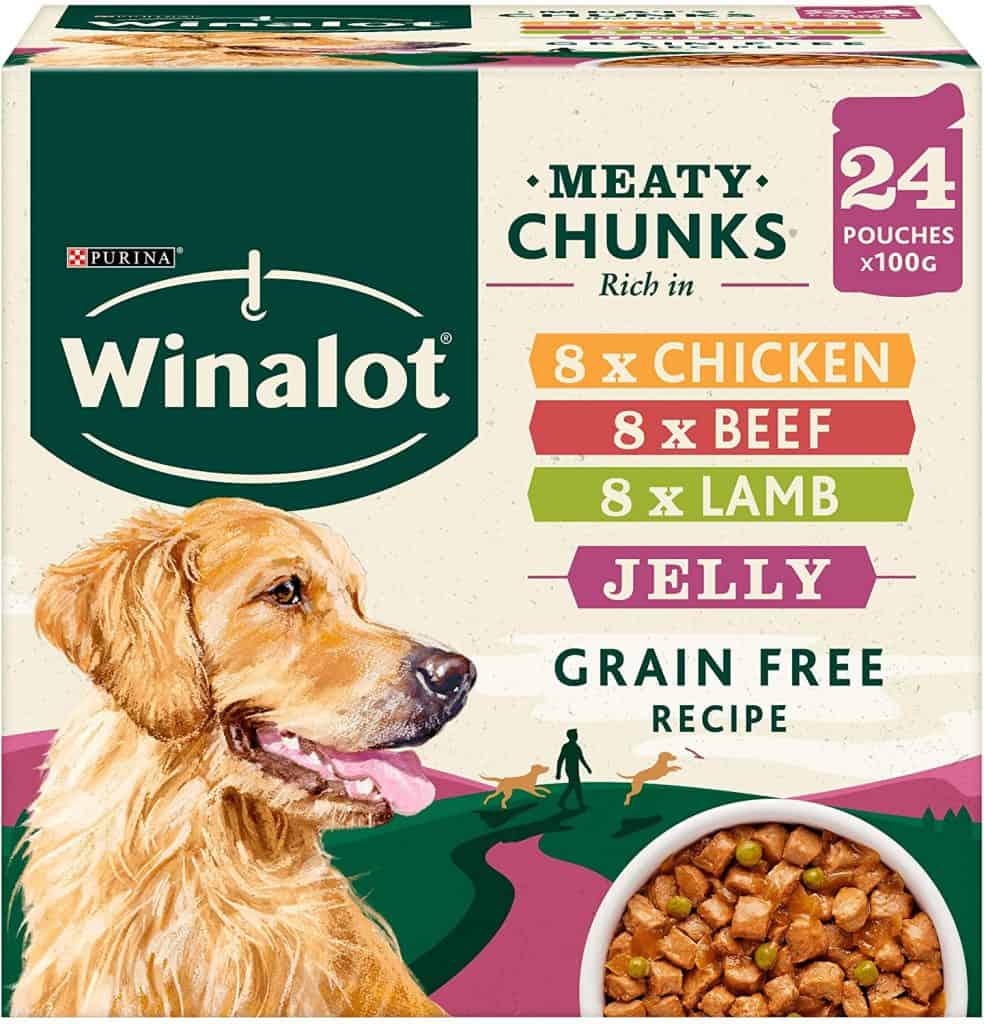 Winalot wet food is mixed in jelly and comes in a pack of 24 pouches in the flavours chicken, beef, and lamb. Like most of the other products in this list, it is also grain free and thus suitable for dogs with sensitive tummies. For each flavour, 14% of it makes up the meat, and it shows because dogs go nuts for the smell and taste of these meaty chunks.
It's great for adult dogs of all breeds, promotes a shiny coat and healthy skin thanks to the added vegetables, and includes essential vitamins and minerals such as vitamins A and D3, iron, copper, and zinc in the recipe.
Vitamin A is an essential vitamin that supports vision, reproduction, bones, and immune response in dogs, and iron plays an important role by carrying oxygen throughout the body so that the cells can produce energy – it's also crucial for enzymes in a dog's body to function normally.
Copper also helps with the formation of bones, connective tissue, and the protective covering of nerves. It also helps the body to absorb iron, and zinc is also important for enzymes, proteins, hormones, and the immune system.
Crude fibre makes up 0.1%, crude ash 2.1%, fat content 4.5%, protein 8.5%, and moisture being 83%.
Pros
14% meat
Grain free
In jelly
Lots of vitamins and minerals
Summary
Your dog's health is likely one of the most important aspects of your life as a pet owner. That's because your pet can suffer from any number of health issues and too often, these health issues can be associated with your pet's diet.
That's why it's important to find the right foods for your dog's individual needs. When it comes to your pet's health, it's vital that you find companies that know there is no one-size-fits-all solution regarding pet food.
That's why I made this list of my favourite wet dog foods, all of which will provide your pet with optimal health. Lily's Kitchen, for example, focuses primarily on creating recipes that benefit your dog's health.
Related Posts –
Best Dog Food for Sensitive Stomachs