We all know that every responsible dog owner wants to provide only the best care and nutrition for his/her dog. From the moment you brought a puppy home, you probably found yourself in a dilemma what would be the best food you are going to feed them.
It's true that there are many choices, however, not every food fits every dog's digestive system.
Since there are many dog breeds with sensitive digestive systems and the tendency to develop a food allergy, vets usually recommend choosing a hypoallergenic dog diet that is free of by-products, excessive carbohydrates, artificial colours, and fats.
It's highly important to choose the food that is rich in Omega 3, Omega 6 fatty acids and different antioxidants because they leave dozens of beneficial effects on your four-legged friend's skin. Therefore, I want to present you with 10 best hypoallergenic dog foods that are also the best dog foods for allergies.
Quick Top Recommendations
Preview
Best Choice
Great Value
Title
Royal Canin Dog Food Hypoallergenic Small Dog Canin Dog Food
Harrington's Grain Free Hypoallergenic Chicken and Sweet Potato
Burgess Sensitive Hypoallergenic Dog Food
Best Choice
Preview
Title
Royal Canin Dog Food Hypoallergenic Small Dog Canin Dog Food
Preview
Title
Harrington's Grain Free Hypoallergenic Chicken and Sweet Potato
Great Value
Preview
Title
Burgess Sensitive Hypoallergenic Dog Food
Best Hypoallergenic Dog Foods – Our Top 10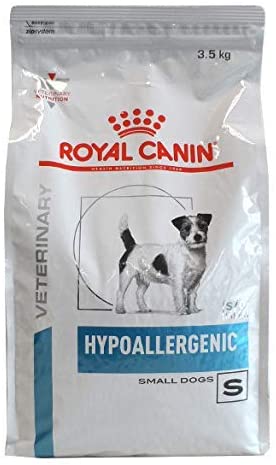 Royal Canin Hypoallergenic Dog food is specially created for small dog breeds whose weight doesn't exceed 10 kg. It's suitable for dogs with a tendency to skin rashes, seborrhea, itchiness, and hair loss triggered by different food ingredients. Other symptoms that are caused by food intolerances are a dog constantly licking their paws, having teary eyes, blisters, diarrhoea, vomiting and a dog's nervousness.
This type of hypoallergenic dog food diet is carefully formulated with an exclusive mix of nutrients that are rich in amino acids and other key ingredients such as zeolite and prebiotics. Amino acids help your dog's coat to look healthy and shiny while prebiotics and zeolite reduce the likelihood of vomiting and diarrhoea. They are also great for preventing a pooch from experiencing painful and uncomfortable stomach gasses.
Besides overly needed amino acids, Royal Canin Hypoallergenic dog food is rich in Omega 3 and Omega 6 fatty acids as well. EPA and DHA fatty acids provide several benefits to your dog's body. While Omega 3 fatty acids are essential during early dog's development, Omega 6 fatty acids are a key factor for normal growth, as well as the health of their immune system and skin and coat. Another great fact is that this type of food contains a marigold extract that is famous for its skin healing effect.
I must admit that I found myself in a dilemma to try feeding my dog with this diet because they use hydrolyzed soy protein as their first ingredient. However, because it's been hydrolyzed, it's completely safe and hypoallergenic for use. It actually didn't cause any side effects.
Pros
Carefully formulated recipe
All great ingredients added
No potential side effects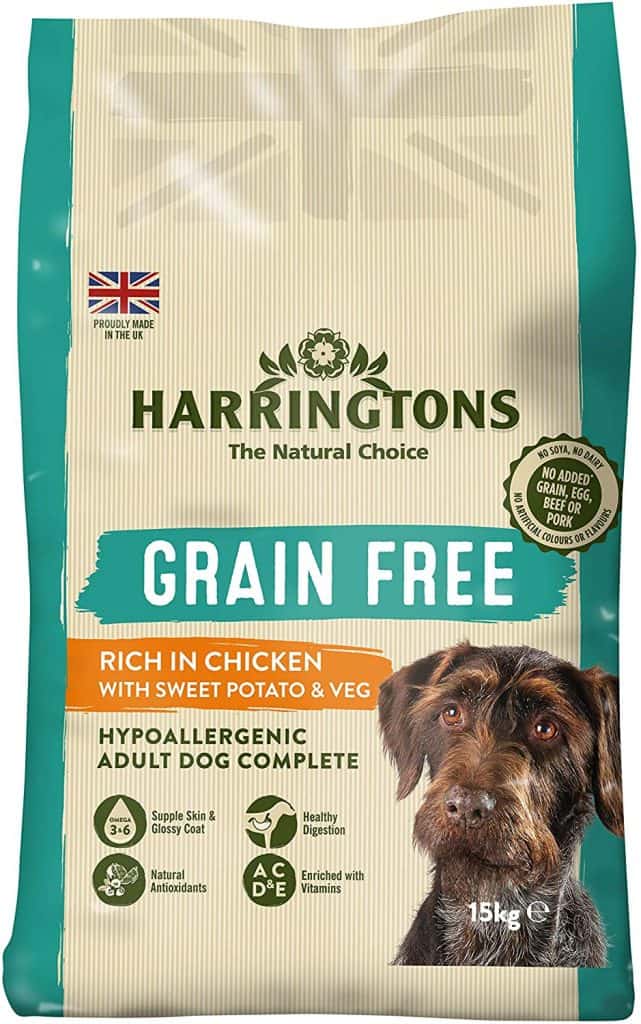 In case you own an adult dog that is naturally prone to developing a skin allergy caused by food, I highly recommend that you try Harrington's Grain Free Chicken and Sweet Potato food as it is considered to be one of the best hypoallergenic dog foods on the market.
It's suitable not only for dog breeds with allergies but also for those that are prone to experiencing stomach flatulence. The food contains real chicken meat as the first ingredient and is free of by-products and grains. Instead of using grains, Harrington's dog food brand uses a blend of white and sweet potato.
Another great fact is that this type of diet contains a blend of FOS (Fructooligosaccharide) and MOS (Mannan – oligosaccharide) that are becoming more and more popular in dog foods. They are famously known as probiotics that encourage the growth of 'friendly bacteria' in dogs' digestive systems. FOS and MOS naturally occur in different plants such as banana, artichoke, and asparagus and help your dog's belly become more efficient and active.
Besides previously mentioned ingredients, Harrington's Grain Free diet contains Spirulina and Beet pulp as well. Spirulina is a great source of amino acids, vitamins, minerals and proteins that improve the elasticity of the skin. On the other hand, Beet pulp supports stool quality and digestive transit.
So, you can be certain that by giving your dog Harrington's Grain free Chicken and Sweet Potato, you are doing them a world of good for their body.
Pros
Great for dogs with skin allergies
Loved by dogs
Well thought out ingredients
Reasonable price
Limited Ingredient Dog Food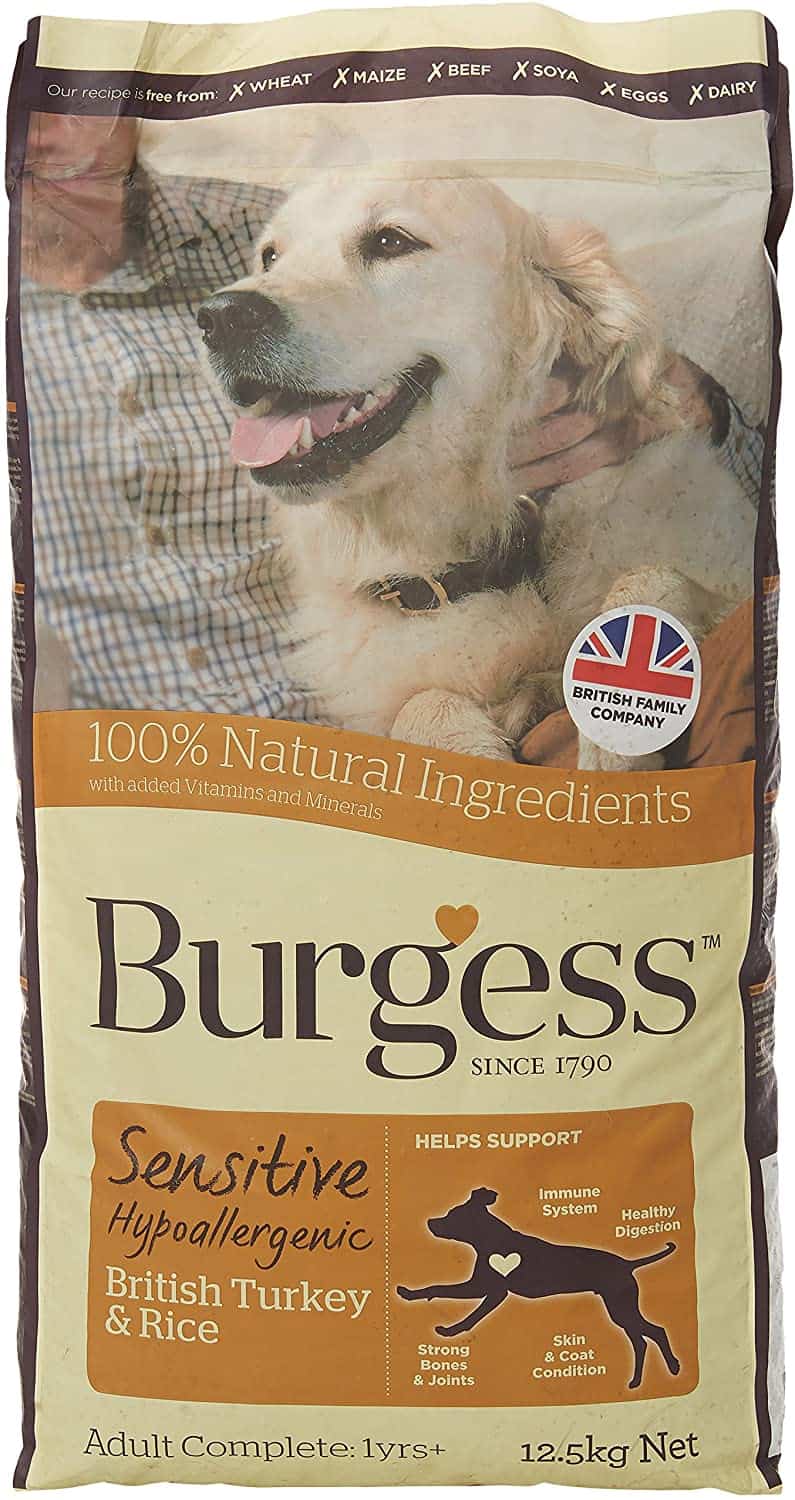 As a dog owner of a breed that is naturally predisposed to suffer from allergies, you probably became familiar with all the beneficial ingredients that may help your dog's sensitive skin and stomach. Since diarrhoea can be one of the symptoms of food intolerance, Burgess Dog food brand decided to make a dog food rich in rice and meat.
Sometimes, choosing traditional and well-known home ingredients might work best for everyone's tummy, right? Turkey meat mixed with boiled rice is famous for the beneficial effect they leave on a dog's runny stools and upset stomach. Another great fact is that the product is free of wheat and soy that often present the biggest culprits for a dog's skin type of allergy. That's why Burgess Dog food brand uses simple and natural ingredients that have become enriched with Omega 3 fatty acids.
In case your pooch experiences bad odour stools, I am sure that this type of food may help him/her because of the Yucca and Beet Pulp included. Another great factor is that it's also suitable for dogs that suffer from painful joints and arthritis because of the added calcium. It's a rich source of antioxidants and amino acids that supports both a healthy heart and good skin.
Overall, this product definitely presents one of the best hypoallergenic dog food brands that comes both at a great price and with several useful nutrients. It not only leaves a beneficial effect on your dog's upset stomach but also on his/her skin. Since this type of diet is free of artificial colours, preservatives and artificial flavour, you can be sure it will improve and solve your dog's itchy skin and upset belly.
Pros
Great price
Good included nutrition
Good for pooches with stool problems
Settles upset stomach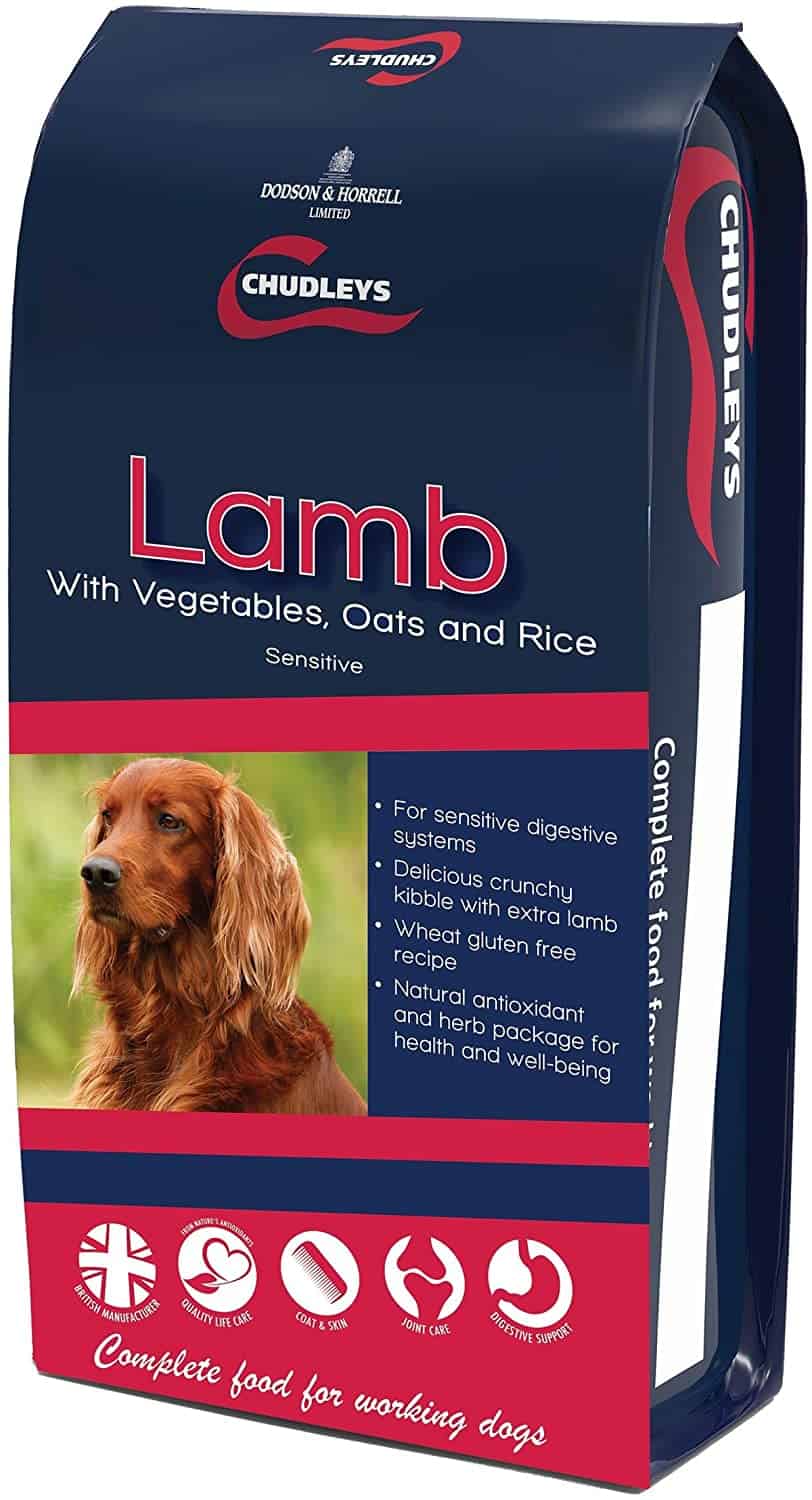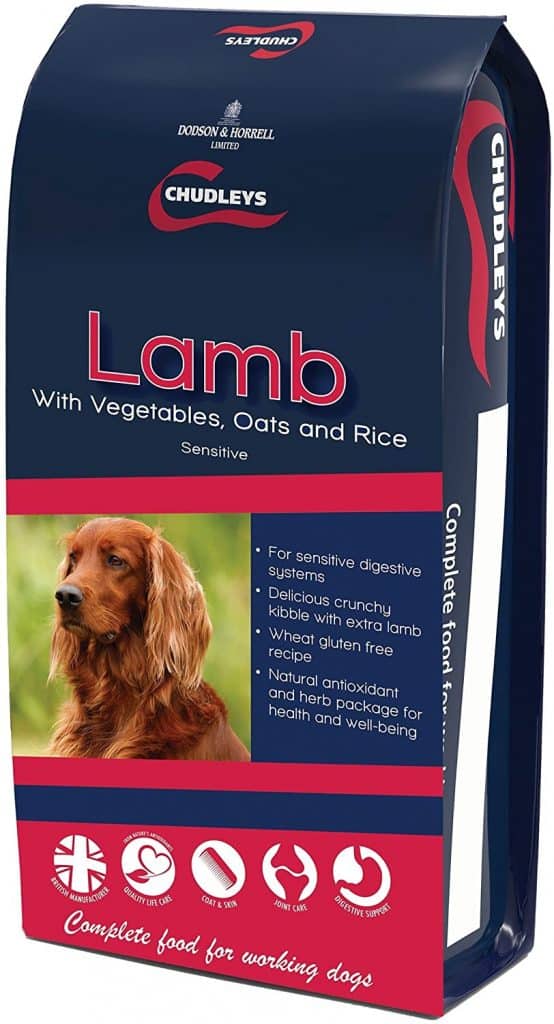 Chudley's dog food brand offers a specially formulated Hypoallergenic food for working dog breeds. Since it contains 12% of fats and 26% of proteins, this type of dog's food is evidently both a smart and healthy choice.
The diet is rich in lamb meat, oats, vegetables, and rice which support a dog's sensitive digestive system and health of the skin. Chudley's recipe is free of wheat, eggs and soy that often cause itchy skin, flatulence and runny stools.
It's a great pick for greedy eaters that require high-quality protein food to feed their energy level. Since it's not rich in calories, it's also good for dogs that are prone to obesity. Note that obesity can cause several other health issues such as diabetes, and high blood pressure as well.
The carnitine included helps utilise fat reserves for energy and help support weight management while the blend of fibres provides your four-legged friend with that 'full stomach' feeling so that they don't overeat.
Another detail is that this formula contains antioxidants such as blackcurrant, spinach, pomegranate, and beetroot that are low in calories but at the same time leave a long-lasting beneficial effect on your pet's coat.
Crude ash comes in 6% which means the food contains a great source of minerals such as calcium, phosphorus, and magnesium. These three ingredients are great for keeping your pet's muscles and bones in good shape.
Pros
Effectively supports a dogs digestive system
Good source for minerals
Good choice for overweight dogs
Natural ingredients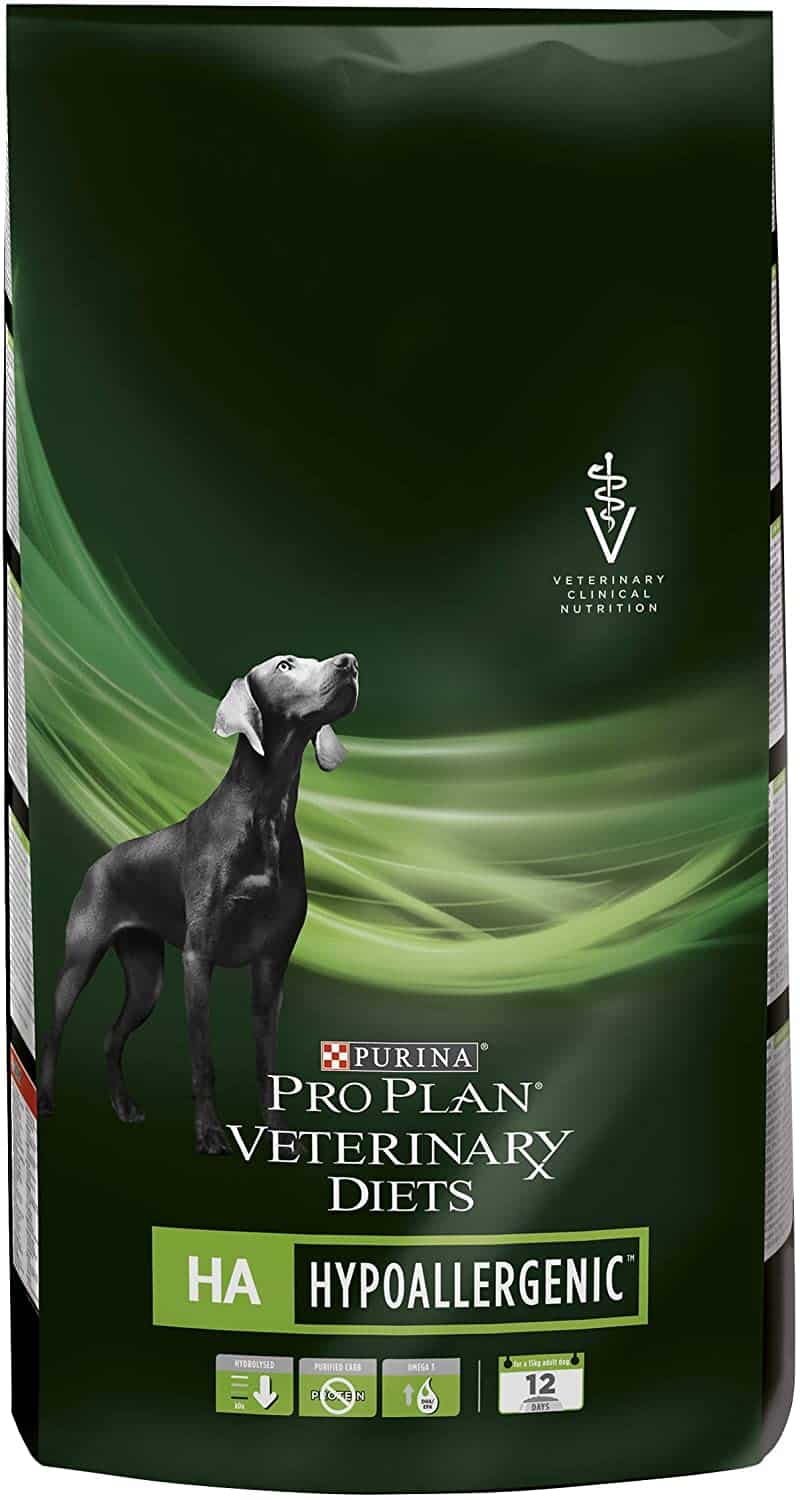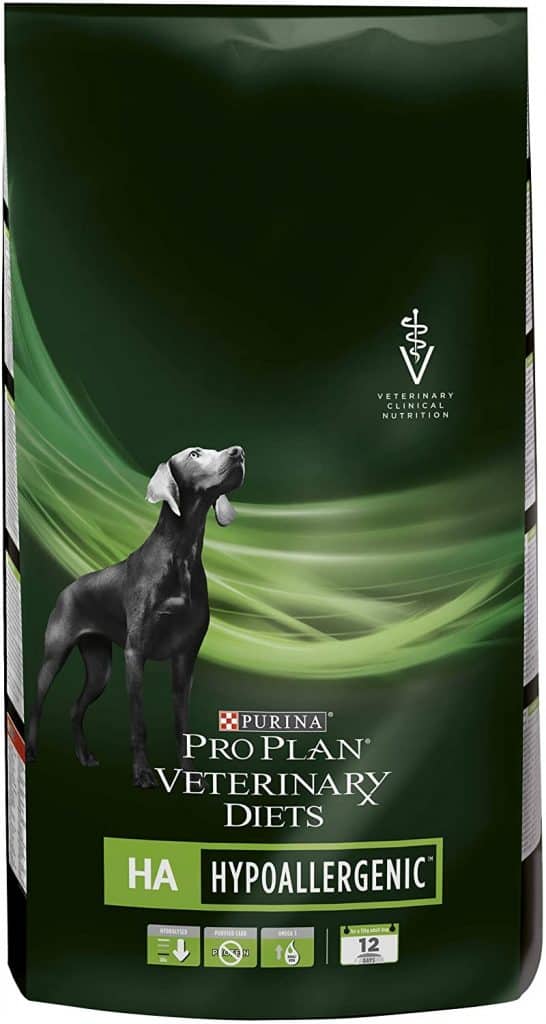 PURINA PRO PLAN VETERINARY DIETS Canine HA Hypoallergenic food is a carefully tailored recipe for dogs of all ages that are prone to skin allergies and upset stomachs. It contains a purified carbohydrate source and a single protein source that has been hydrolyzed into small components in order to prevent a dog from developing allergies.
The ingredients might confuse you because you'll find soy proteins and maize starch that are considered to be two of the biggest food allergens. However, both of them have been hydrolyzed, which means that the allergens have been 'removed', so to speak.
This type of diet is scientifically tested and made by a team of nutritionists, veterinarians, and food scientists. The good thing is that it's also rich in Omega 3 and 6 fatty acids that minimize skin inflammations. On the other hand, the only possible bad thing about buying Purina Pro Plan Veterinary Diet may be the price.
Since it is quite expensive, you'll need to spend a significant amount of money on your dog's diet. Another not so thrilling fact is the bad odour that will engulf you from the moment you open the bag. The kibble is coloured in white and doesn't seem attractive at first sight. Therefore, it only depends on your dog's nose whether he/she will like both the smell and taste.
I also have to mention that Pro Plan Veterinary Diet should be used only under your vet's supervision. Since it's considered for the best elimination diet trial, it's not recommended to feed your pet with any other food – not even with treats. In that way, you will be able to discover if your pooch became intolerant to meat proteins, grains and other widespread dog food ingredients.
Overall, this type of dog food maybe doesn't look like a classic kibble but certainly does the job.
Pros
Ideal for for super sensitive dogs digestion systems
Best for elimination diet trial (with vets supervision ideally)
Nice added ingredients like Omega 3
Lily's Kitchen dry dog food is available in a variety of different flavours and sizes. They offer Chicken & Duck, Lovely Lamb, Organic Chicken & Vegetable, Senior Salmon and Trout, Venison & Duck, and Puppy Chicken and Salmon. The bag sizes vary from 1kg, 2.5kg, 7kg, 12kg and 14kg.
The Chicken & Duck contains 31% freshly made chicken and 7% duck, Lovely Lamb has 32% lamb, and Organic Chicken & Vegetable is made with 29% fresh chicken.
Senior Salmon and Trout has 44% freshly prepared meat: 13% salmon, 13% trout, and 18% turkey. The recipe for this dry dog food is specially formulated for senior dogs.
Venison & Duck consists of 35% freshly prepared meat: 13% venison, 12% duck and 9% salmon.
Puppy Chicken and Salmon is made with 24% chicken, 7% chicken liver, and 7% salmon. It is designed specifically for puppies from 8 months up to 14 months old.
All of the dry dog food by Lily's Kitchen is naturally low in fat with added glucosamine and chondroitin to help ensure good bone and joint support, prebiotics for healthy digestion, and essential nutrients to boost our dog's immune system.
The adult dry food can be fed to dogs of any breed from 4 months onwards, so it is completely safe for young dogs to consume. All of their food is grain free, packed full of fruits, vegetables, and botanical herbs, and is nutritionally complete. There are no derivatives, preservatives or fillers – all the ingredients in these recipes are natural and healthy.
This dog food is always made with freshly prepared meat and offal, and meat meal, rendered meat, or fillers are never used. This is extremely important as it ensures that the food is of excellent quality.
There's salmon oil (in all except from Lovely Lamb) which is a great source of Omega 3 fatty acids that help keep your dog's coat soft and shiny, as well as boosting the health of your dog's heart and brain.
Also, as a sort of bonus, they only use eco packaging, showing that they care about the planet as much as they care about our dogs.
Lastly, but most importantly, if you happen to have a dog with bad gas, this dry dog food will help with that.
Pros
Freshly prepared meat
Very nutritious
Several flavours and sizes
No fillers or preservatives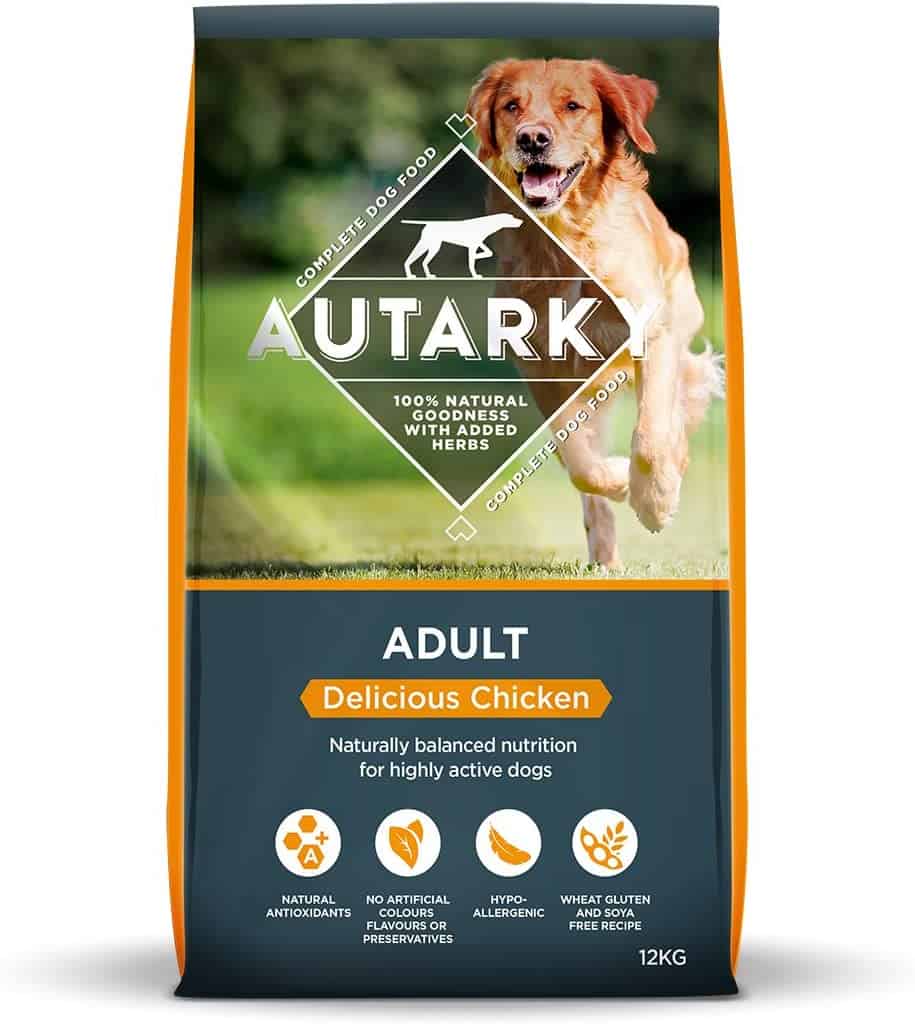 This Autarky dry food comes in the flavour chicken and rice, and in bag sizes of 6kg and 12kg. Since the recipe is hypoallergenic, it's wheat gluten and soya free, which is why this diet is great for active dogs who have sensitive stomachs.
It's also packed full of high levels of essential fatty acids and B vitamins, which are great for healthy skin and coat and boost your dog's sense of scent, and it doesn't contain any artificial colours, flavours, or preservatives.
Containing 20% protein and 12% fat, this diet is designed to keep our dog's energy at a maintained level throughout the day, and the included prebiotics are what support digestive health.
Taurine and Carnitine help keep a healthy heart and boost stamina, and added herbs and natural antioxidants support the immune system. The natural antioxidants also help to keep the kibble fresh and tasty.
Autarky's dry food is formulated by one of Britain's leading canine nutritionists, ensuring that it is nutritionally balanced and of excellent quality. It's suitable for dogs of any age.
In the recipe, you can find maize, poultry meal (minimum of 25% chicken), rice (minimum 5%), chicken fat, full fat linseed, prairie meal, alfalfa, peas, yeast, carrot, seaweed, aloe vera, and lots of other great ingredients.
Maize is a very useful ingredient, and it's rarely associated with allergies in dogs. It's such a useful cereal because it's rich in carbohydrates and essential fatty acids, providing energy, dietary fibre, cell membrane function, and skin and coat health.
Linseeds, more commonly known as flaxseeds, are loaded with omega 3 and omega 6 fatty acids, fibre, and protein. Protein also provides energy as well as keeping the immune system strong, and fibre is essential for a dog's digestive health.
Prairie meal has a very special amino acid profile, which is great for muscle support and maintaining a nice and shiny coat colour.
Pros
Hypoallergenic
Lots of natural and beneficial ingredients
Great for active dogs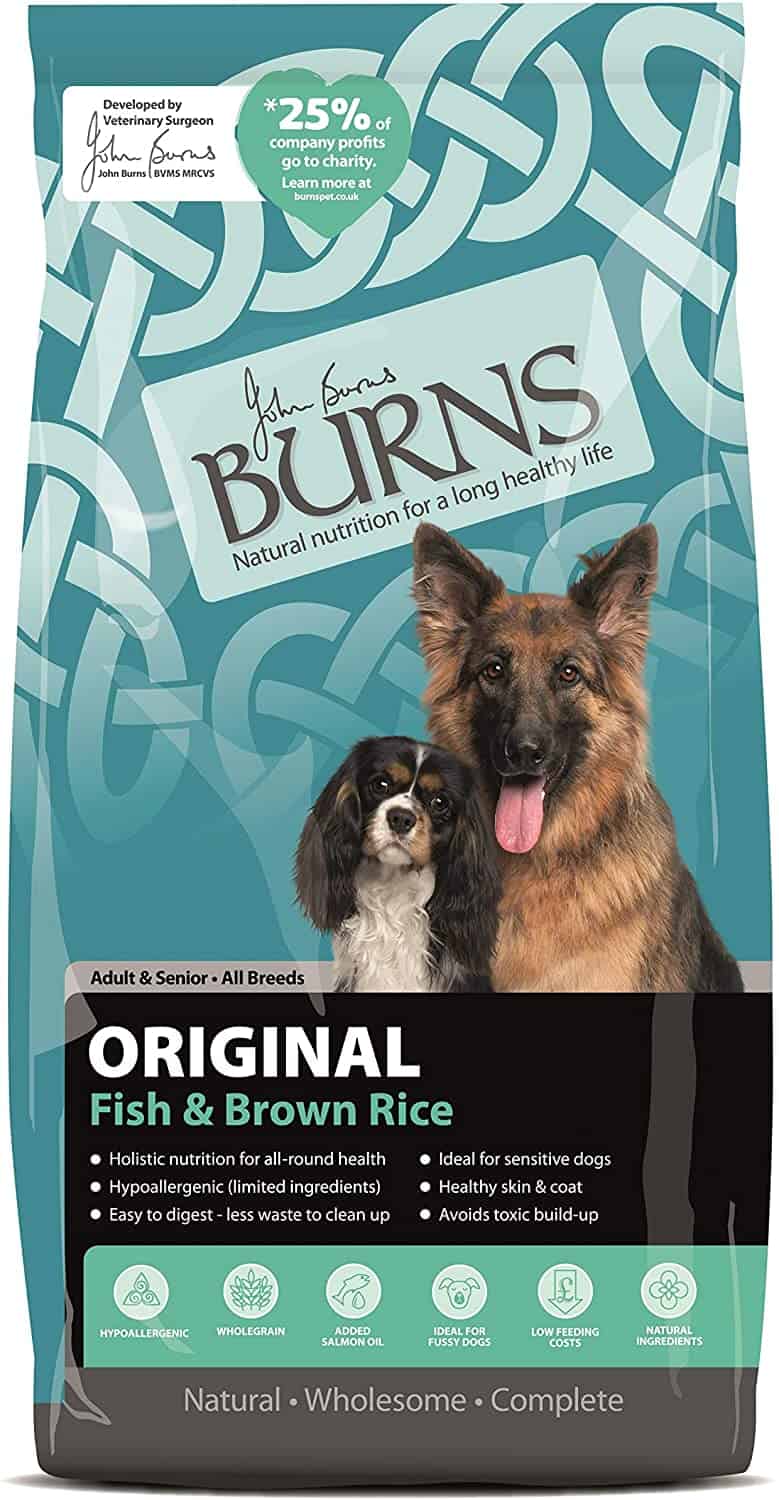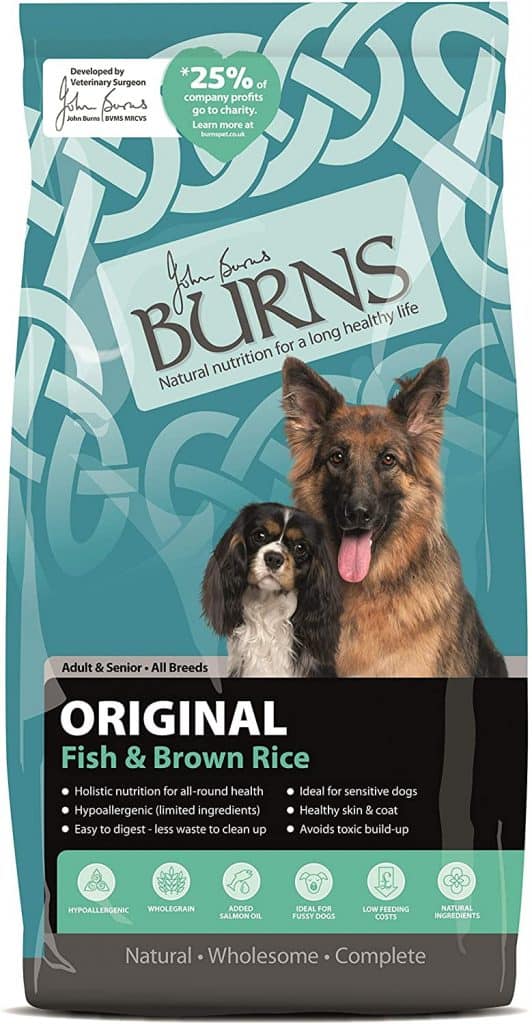 Burns fish and brown rice hypoallergenic dry food is available in bags of 2kg, 6kg, or 12kg and was developed by veterinary surgeon John Burns in 1993. A whole 25% of the company's profits go to charity, which just goes to show that the brand isn't just in it for the money.
Sold at a decent price, it's ideal for fussy and sensitive dogs thanks to its natural ingredients, wholegrain, and added salmon oil. Not only is it easy for dogs to digest, but it also prevents toxic build up and boosts the health of your dog's skin and coat.
This was even the best dry complete food winner of the 2021 your dog product award.
Make sure to introduce your dog to this kibble gradually over a 10–14-day period, mixing a proportion of it with their former diet for a smooth transition without any upset stomachs.
Adult dogs should receive roughly 10g per 1kg of their body weight a day, and seniors need 8g per 1kg of their body weight each day. This can vary depending on how active your dog is. Also, if your dog is overweight, base the amount on their target weight rather than their actual weight.
There's 61% brown rice, 20% fish meal, oats, peas, salmon oil, sunflower oil, seaweed, and minerals.
It contains a percentage of 18.5 Crude Protein, Crude Fat being at 7.5%, 2.5% Crude Fibre, and 6.5% Crude Ash. There's also copper, sodium, calcium, phosphorus, magnesium, potassium, omega-3 and omega-6 fatty acids, Vitamin A, D3, E, antioxidants, and a couple of other great ingredients.
You may be wondering about the benefits of some of the ingredients mentioned. Well, to start with, fish oil is one of the absolute best supplements that can be added to a dog's diet because it supports the health of their heart, enables a shiny and silky coat, reduces or eliminates itchy and flaky skin, and helps relieve allergies and joint pain. The other oil, sunflower oil, also helps with your dog's skin and fur as well as promoting energy, healthy immune system and heart, and organ function.
Seaweed is another excellent ingredient since it contains so many vitamins and amino acids, and omega-3 fatty acids can help treat arthritis and kidney disease, while omega-6 fatty acids are essential for normal immune function and skin and coat health.
The kibble does have a bit of a strong smell, so I can see some dogs turning their noses away because of it but in my case, it really helped my dog with his stomach problems.
Pros
Ideal for sensitive dogs
Many natural and healthy ingredients
Affordable
Cons
Not all dogs like it because of the strong smell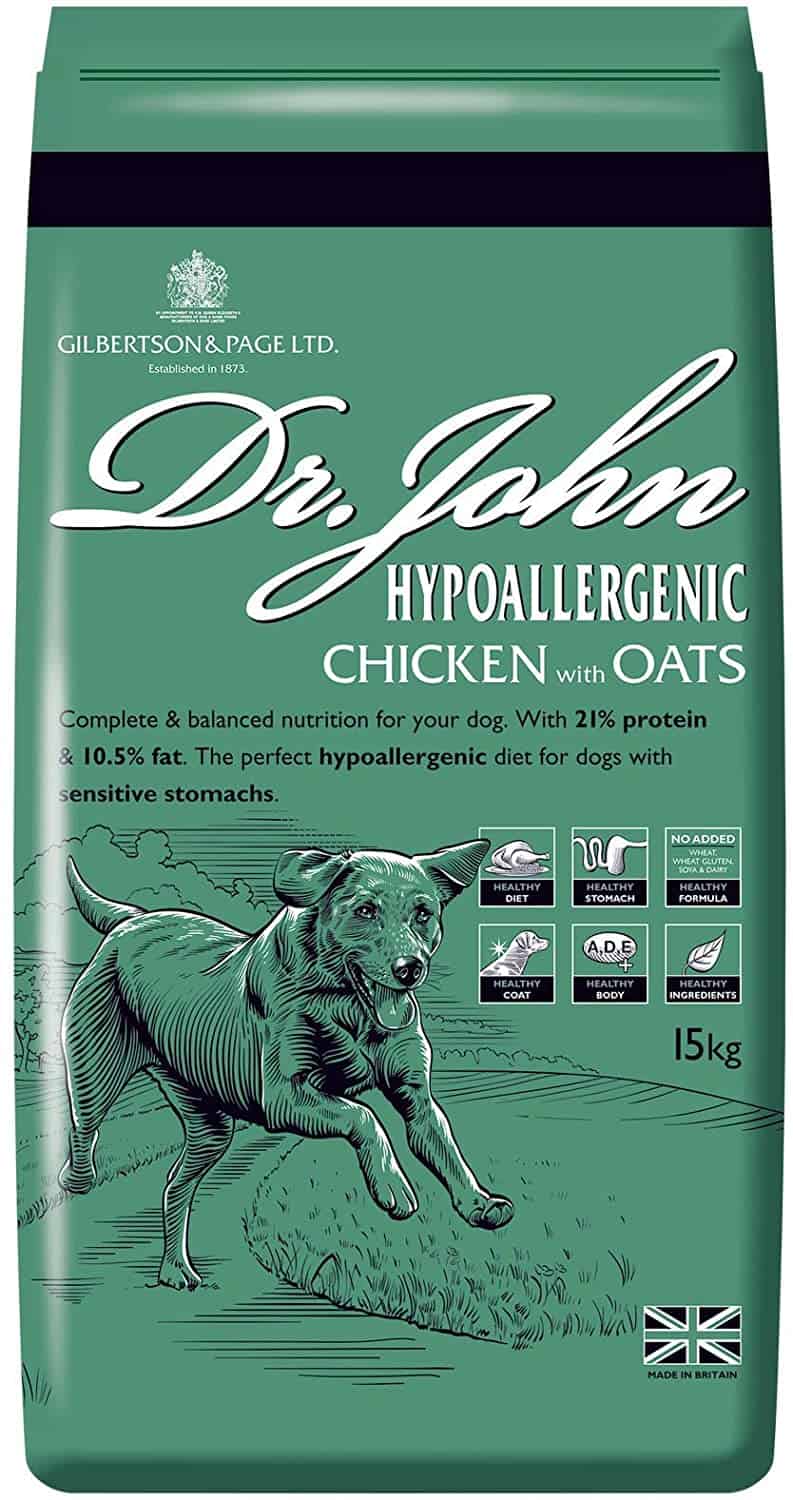 Dr John Hypoallergenic food comes in three different flavours: chicken and oats (15kg), lamb and rice (15kg), and chicken and potato (12.5kg).
The chicken and oats recipe contains 21% protein, 10.5% fat, 6% Crude Ash, and 3% Crude Fibre. As for the actual ingredients, 26% is chicken, 4% oats, barley, vegetables (4% of which are peas), linseed, yucca extract, maize, as well as added vitamins A, D3, and E. The wholegrain oats and barley are what really aid digestion and linseed has a lot of benefits such as improving kidney function, maintaining healthy skin and coat, lowering blood pressure, and more.
The chicken and potato contain 33% chicken, 15% sweet potato, 11% white potato, 8% peas, beet pulp, alfalfa, and mixed herbs such as sage, oregano, mint, rosemary, ginger, etc. Of which 25% is protein, 10.5% fat content, 7.25% Crude Ash, and 2.6% Crude Fibre.
For the third flavour, 26% is lamb and 10% is rice, resulting in 21% of it being protein, 10.5% fat, 9% Crude Ash, and 3% Crude Fibre. Other ingredients include barley, beet pulp, 4% peas, yucca extract, and more good stuff.
All of the formulas are natural, providing a healthy stomach and digestion. Plus, additional essential oils are added which boost the health of your dog's skin and coat, keeping it shiny and in good condition.
All of the added vitamins are essential nutrients or essential fat-soluble vitamins that have multiple benefits to each of them. Vitamin A supports vision, bone growth, reproduction, as well as the immune system – antioxidants also boost the latter as well, whereas vitamin E is good for your dog's muscles, heart, liver, nerve cells, skin, and coat.
There's no added wheat, wheat gluten, soya or dairy, artificial colours, flavours, or sugars making these recipes ideal for dogs with sensitive stomachs and difficulty digesting wheat.
The kibble is of a good size, ensuring that your dog chews properly before swallowing which also helps with their digestion.
Make sure to introduce your dog to this food gradually at the start; it can be fed to them with some water or gravy if your dog prefers it.
What's really great is that this hypoallergenic dog food is suitable for all breeds, whether they are small, medium, large, or giant! There's even a feeding guide provided.
The only possible downside is that it doesn't seem to help with smelly flatulence, or at least in my case it didn't but that's not a big deal for me personally.
Pros
Healthy formula
Single protein source
Lots of beneficial ingredients
Large kibble
Cons
Doesn't help with smelly flatulence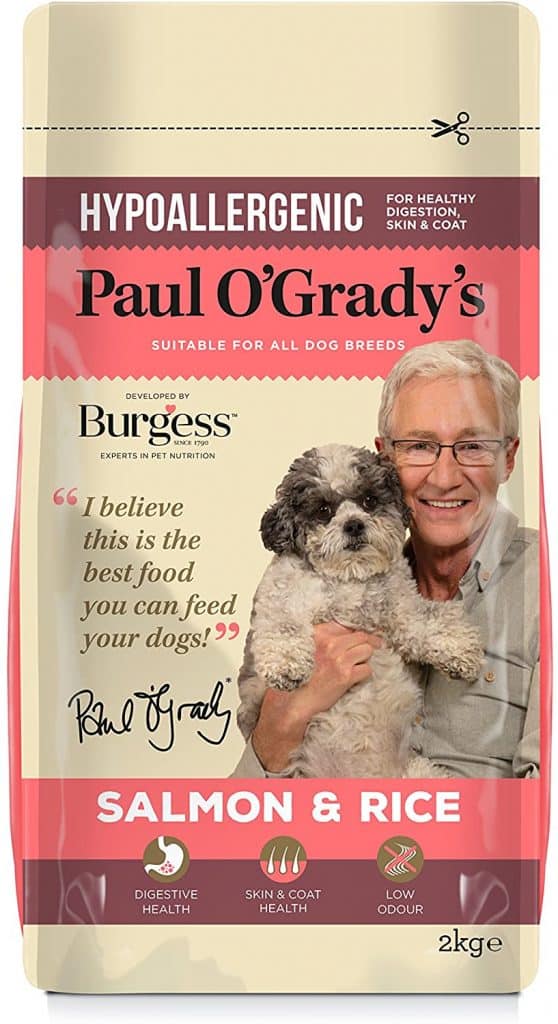 Paul O'Grady salmon & rice hypoallergenic dog food comes in bags of 2kg or 12.5kg and is suitable for all breeds. Developed by Burgess in 1790, it's not too expensive but neither is it cheap.
With its simple recipe, it is sure to be gentle on the stomach and the prebiotics promote healthy digestions. No wheat, maize, beef, soya, eggs, or dairy are included to ensure no allergic reactions.
It really is great for sensitive stomachs, and you can find a feeding guide to help you determine how much you should be feeding your dog a day depending on their weight.
Formulated to support friendly bacteria in your dog's gut, with fish oil for healthy skin and coat, and the yucca extract helps with stool formation while simultaneously reducing bad odours. It's fortified with calcium and vitamin D for the health and strength of joints and bones.
The added omega fatty acids also help with your dog's fur and skin, so you don't have to worry about it itching and flaking anymore.
There's a minimum of 26% rice and salmon, poultry meal and fat, 5% beet pulp, chicken gravy, 1% fish oil, lucerne extract, lignocellulose, yucca, Fructo-oligosaccharide, and minerals. That amounts to 20% Crude Protein, 10% Crude Fats & oils, 2.2% Crude Fibre, and 6% Crude Ash.
You can also find Vitamins A, E, and D3 as well as minerals like copper, iron, taurine, zinc, iodine, selenium, and manganese.
Pros
Natural and beneficial ingredients
Helps with stool formation and bad odours
Promotes skin and coat health
Great for all breeds
Related Posts –
Best Dog Foods for Sensitive Stomach