It's a very recognisable image, most commonly from typical police and bad guy squads in movies- a group of men with a huge, snarling dog straining on a chain, growling through his muzzle. Instant association that we make? Muzzled dog = angry, vicious dog. When the reality is actually far from it.
Muzzles get a bad rep for this very reason. The fact of the matter is that muzzles can and should be a regular part of every dog's training. They are extremely useful devices that help us and our dogs navigate situations that could otherwise be detrimental. Instead, they're more commonly used as punishments, or dogs are forced into them, traumatizing them for life. But with a good muzzle and some patience, you can have your dog if not looking forward to being muzzled, at least not requiring a wrestling match of the exercise each time.
It's imperative that you pay attention to the shape and fit of the muzzle. Dog snouts are very sensitive, even though they seem to run face-first into a lot of things. Here are the best dog muzzles UK markets have right now, to make your selection a lot easier!
Preview
Best Choice
Durable Option
Title
CRAZYBOY Silicone Basket Dog Muzzle
HiujingSport JeonbiuPet Adjustable Dog Muzzle
Best Choice
Preview
Title
CRAZYBOY Silicone Basket Dog Muzzle
Preview
Durable Option
Preview
Title
HiujingSport JeonbiuPet Adjustable Dog Muzzle
Best Dog Muzzles – Our Top 5
Best Dog Muzzle for Biting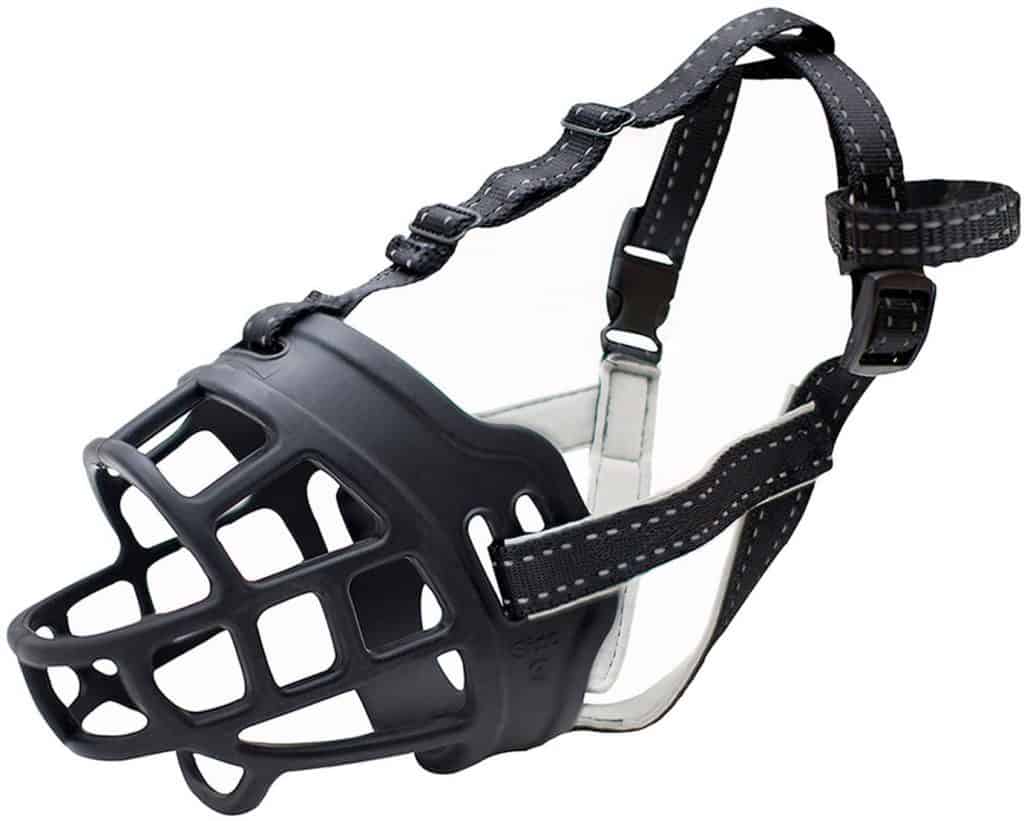 Made for dogs who share its name and otherwise. CRAZYBOY silicone basket muzzles are the best kind of muzzle a dog can ever have. Although it looks very elaborate, it's actually quite a simple and comfortable construction made of soft and durable material, that's lightweight enough to not weigh down on a dog's snout. The frame is made of silicone and encircles the dog's mouth without boxing it in, with a collar loop, too. So the jaws are sufficiently restrained, but your dog can breathe freely, pant, and drink water without restriction.
These muzzles come in black or red and three sizes [2, 3, 4, & 5]. Size 2 has a length of 3.1 inches and measures at 8.3-9.8 inches at the snout, whereas the next size up is 3.5 inches in length and 9.8-11 inches at the snout. Size 4 has measurements of 3.9 inches x 11-13.3 inches, and the largest size is 4.3 inches x 13.4-15 inches.
The silicone rubber framework attaches around your dog's head by means of an adjustable strap, that can be lengthened or shortened as necessary, to provide a snug but comfortable fit. Wearing a soft muzzle allows your dog to play unconcerned of injury, which is an issue with hard muzzles, which can bruise on bumping. Once the muzzle is on, you have no issues with your dog biting, or snapping, or eating any garbage it comes across. It's also a great idea to muzzle your dog while he's getting his shots, or if he's around aggressive dogs that could provoke him to bite.
The advantage of the CRAZYBOY silicone basket muzzle is how much it can be adjusted. So whether you have a narrow-faced hound or a wide-jowled Rottie, this is the muzzle for him!
Pros
Easily adjusted
Allows dogs to breathe, pant and drink water
Silicon material and that has soft outer but strong structure
Best Dog Muzzle for Barking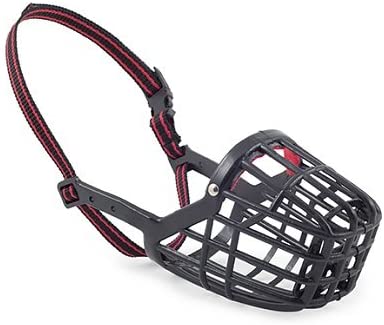 A different type of muzzle from the CRAZYBOY, the Ancol plastic muzzle is a basket style muzzle for completely enclosing the dog's jaws. It's a very strong muzzle, made of durable plastic, and ideal for dogs who are aggressive and require adequately tough restraints on their jaws.
This very affordable muzzle comes in a wide variety of sizes ranging from 1 to 9. The first size has measurements of 14cm around the muzzle and 6.5cm in length, the third at 18 x 8.5cm, size 4 is 20 x 7.5cm, size 5 has measurements of 22 x 8.5cm, 6 being 25 x 9.5cm, the seventh size is 28 x 9.5cm, size 8 is 30 x 10.5cm, and the last size is 32 x 10.5cm.
The basket of the muzzle is made of pre-moulded plastic and holds its shape even if the dog attempts to open his jaws wide inside it. However it's also recommended that you get the right size to ensure that the fit is right, for which purpose it comes in a variety of sizes, the best to fit your dog. It still leaves plenty of space for a dog to pant freely through, or to drink water, and isn't tight enough to get itchy or uncomfortable for your pooch. It will however allow plenty of space for him to breathe, pant, and drink water with no restrictions.
The Ancol muzzle's mouthpiece straps into place with a collar-like tie, that goes around the dog's head. It holds the muzzle in place very effectively, so you don't have to worry at all about your dog deciding to make a quick meal out of whatever muck he sticks his nose into. Plus, the price is extremely low for the quality. This is definitely a muzzle to have at home.
Pros
Variety of sizes available
Plenty of space for drinking water & panting
Great quality
Low price
Best Dog Muzzle that Allows Drinking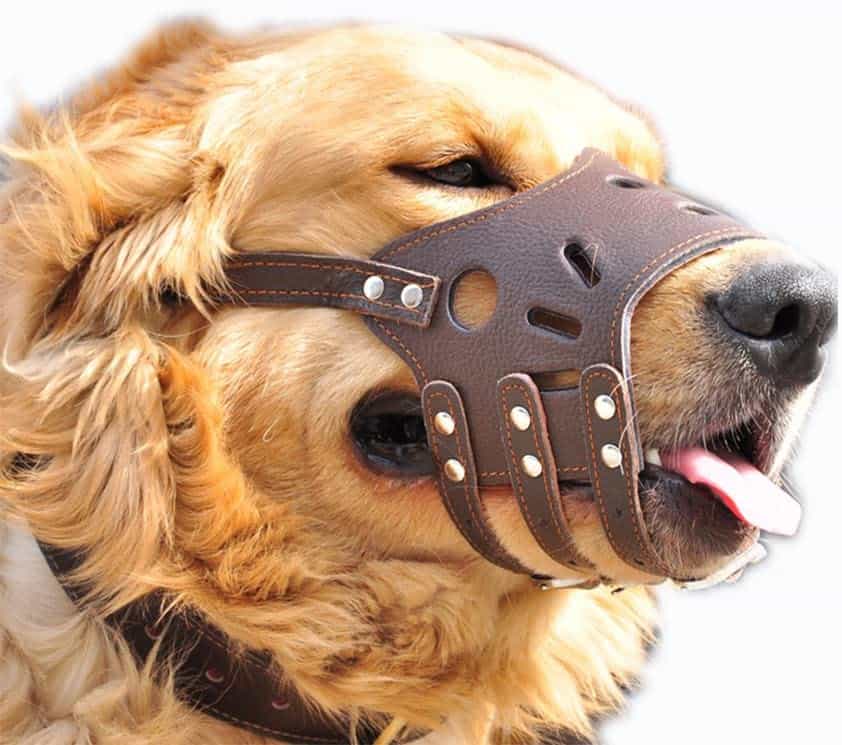 A wide-strapped muzzle not unlike a bridle (without the bit, naturally), the HiujingSport JeonbiuPet Adjustable Dog Muzzle is a glove-like muzzle made of soft, textured leather, that wraps around the jaws of the dog wearing it, effectively restricting the opening range. The leather of the material is firm enough to hold its shape, while simultaneously being soft enough to not rub against the snout and cause any bumps and scrapes.
This one comes in the size Medium, which has the following measurements: 7.5 – 8.7 inches at the tip of the snout, 9.1 – 10.6 inches at the middle of the snout, 7.9 – 16.9 inches for the head girth, and 3.1 inches in length.
The breathable holes that it has help prevent your dog from feeling uncomfortable when wearing it, and a three-buckle design at the jaw ensures plenty of adjustability as well as extra security that it won't get loose and come off. The buckle at the neck is also adjustable.
The PU leather is guaranteed to be durable and therefore long-lasting, so you don't have to worry about that.
Apart from the leather, the HiujingSport JeonbiuPet muzzle has soft fabric as well, and straps that allow plenty of space for breathing, drinking water, and comfortable opening and closing of the jaws minimally. What it won't allow is your dog going facefirst through every bit of found trash, and then chomping his way through it. It also helps train out excessive biting behaviour.
Not to mention, it looks incredibly stylish the whole time, too. The muzzle is very elegantly but solidly shaped and is efficient without looking bulky on any dog. It works very well for medium to large dogs and can be adjusted to fit their faces as required. It's best to buy a size that fits closest to your dog's measurements. If you're not looking for a hard-shelled muzzle, this is a very good option for you!
Pros
Durable, soft leather
Comfortable
Easily adjustable for the perfect fit
Cons
Not the ideal size of smaller dogs
Dog Muzzle to Stop Eating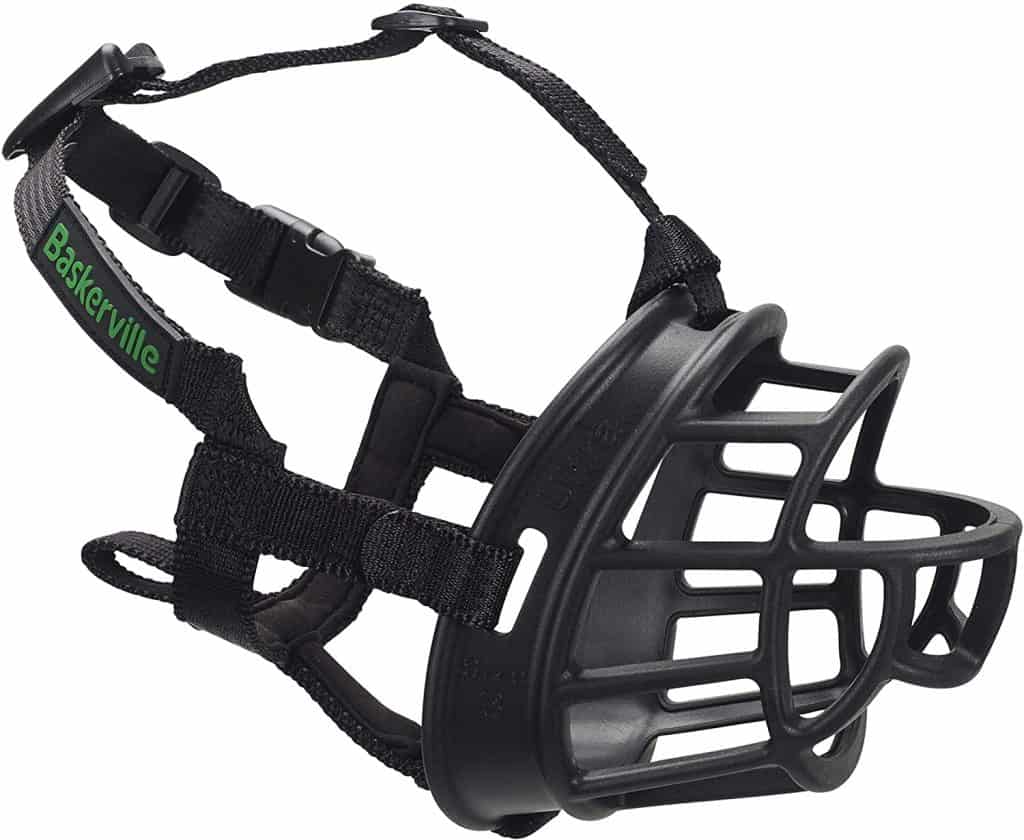 While the name is immediately evocative of the infamous Hound of the same name, this muzzle is a little something for every dog. Claiming top end safety, security, and comfort for a heavily reduced price, the Baskerville Ultra Muzzle definitely looks ultra-strong.
There are six sizes available ranging from 1 – 6. The first and smallest size has measurements of 2 inches in length and a width of 8.5 inches making it a great choice for Maltese and Yorkshire Terriers, size 2 is 2.25 inches x 10.25 inches which is suitable for Mini Poodles and Border Terriers, the third size is great for Border Collies, Cocker Spaniels, Standard Poodles, and other similarly sized breeds with dimensions of 2.75 inches x 11 inches. Size 4 has a length of 3 inches and a width of 12.5 inches, very fitting for Dalmatians, Huskies, and Pointers, size 5 is 3.75 x 14.24 inches which should fit Boxers, Retrievers, and Doberman Pinschers, and the largest size 6 fits Rottweilers, Great Danes, and Bull Mastiffs very well with measurements of 4 inches x 16.5 inches.
Special ergonomically designed straps hold a firm basket muzzle in place, with fastenings in two places, plus a loop to attach to a collar with. There's even an optional overhead strap, in case your dog needs the extra fastening. The webbing itself has wide holes that allow easy air circulation and permit drinking, but the real USP is that the frame can be moulded to a certain extent to fit your dog's jaw shape, after immersing in hot water and applying pressure. This allows to accommodate for the quirks that some pooches have.
What's more, this muzzle allows dogs to be fed through one of the gaps in the webbing on top- but will still prevent them from eating garbage on their own. However, if you have a Mastiff or Bull Terrier type breed with a very wide jawline, this muzzle may be too narrow even after the heat treatment. If not, then this is an excellent choice!
Pros
Muzzle can be moulded using hot water to shape the muzzle for the perfect fit
Secure fit
Cons
Maybe too narrow for a dog with a wide jaw like a bull terrier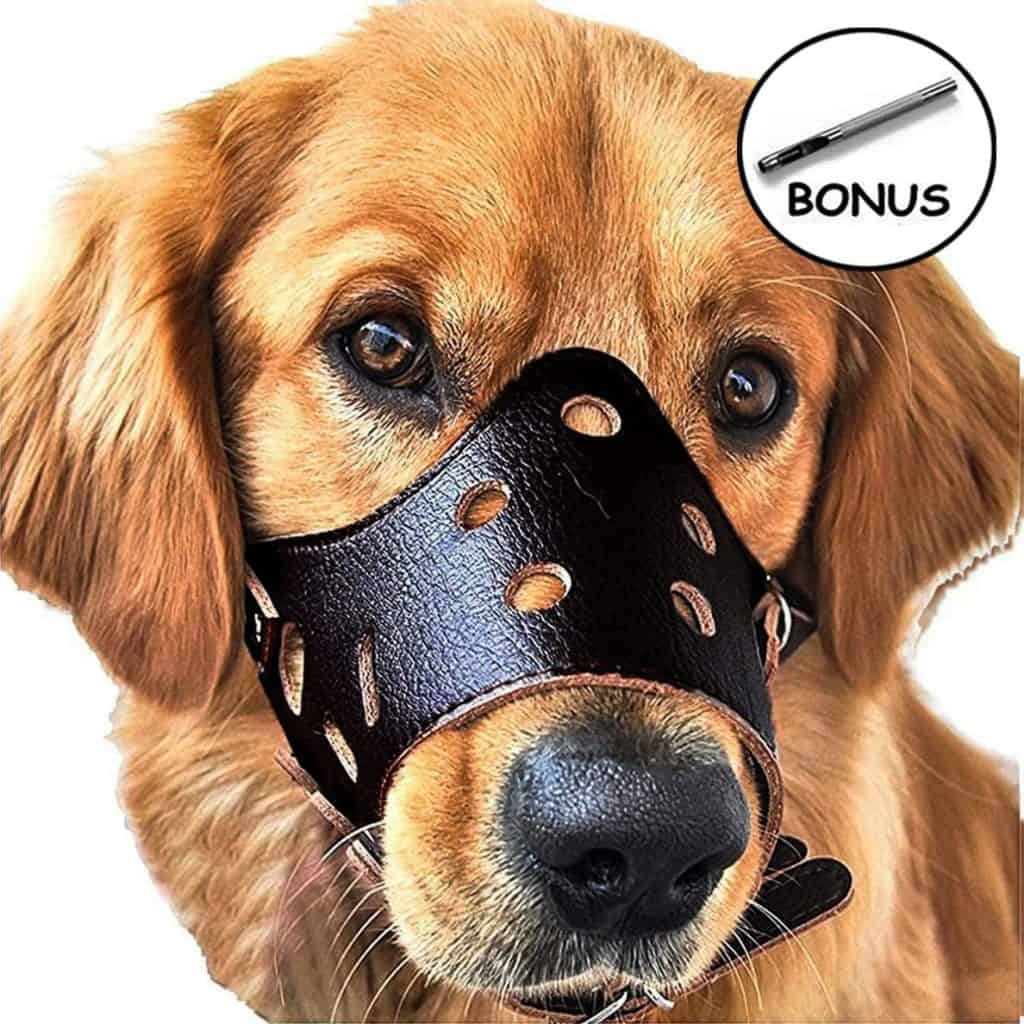 The JUNMO muzzle is the most simplistic one on our list right at the first glance. Instead of straps and buckles, it has a tubular piece of leather that holds the dog's mouth closed and in place. It's more open in the front than its predecessors, but also tighter, in that it does not allow chewing movements or enough mouth opening for drinking water.
Sizes range from small to extra large, the small measuring at 5.5 – 7.5 inches at the tip of the snout, 7.1 – 8.66 inches at the middle of the snout, and 11.8 – 14.2 inches around the neck. The medium size is 7.1 – 8.66 inches at the tip, 9.06 – 10.63 inches at the middle, and 12.2 – 15.35 inches neck, large is 8.66 – 11 x 11.42 – 13.4 x 14.17 – 17.7 inches, and the extra large has measurements of 11.4-13.4 x 13-16.14 x 16.14-18.5 inches. With an anti-slip design and breathable holes all around this muzzle ensure comfort, as well as a collar attachment for extra safety.
The entire muzzle piece of the JUNMO is very lightweight and very adjustable. It can even be trimmed to fit short snouted dogs. Comfort is a major advantage with the JUNMO muzzle. However, it's a better option for people looking to temporarily stop their dog from fidgeting with their wounds during the healing period, or for short term use. The material prevents it from being very durable, and is a little too tight to be left on for extended periods of time. But if you're in the market for a muzzle your dog will need only for a little while, definitely take this into consideration!
Pros
Durable
Lightweight
Adjustable
Ideal if you want a tighter more restricted fit
Cons
Not really for long term use but better to stop dog from playing with a wound etc.
This mesh and nylon muzzle by HEELE comes in a variety of sizes, including small, medium, large, and extra large so that you can select the perfect size no matter the breed of your hound. There are even four colours to choose from, making it feel a bit more personalized – you can choose from black, orange, red, or grey.
The snout circumferences for the sizes are as follows; small is 4.7-6 inches, the medium is 5.5-7.8 inches, large is 7-9.4 inches, and extra large is 8.6-11 inches.
Thanks to the variety of sizes, it doesn't matter if you've got a Greyhound with a narrow snout, or a larger nosed dog such as English Cocker Spaniels.
Made with a reinforced knit for durability, non-sticky Velcro for ease of use, and a long-lasting lock-on buckle.
Not to mention that it's at a very affordable price, especially since it is so durable. The interior of this muzzle has extra soft padding to ensure comfort, even while panting or drinking, and minimizing restraint or injury.
It's adjustable at the snout and neck strap and has an easy to fit design, making it perfect for vet visits, grooming, socializing, or travelling.
To put this muzzle on your dog, simply open the Velcro, place it over your dog's mouth and find the most comfortable angle for your dog, then close the Velcro and adjust the other straps over your dog's head. Secure the muzzle on by buckling it.
If it's your dog's first time wearing a muzzle, I recommend introducing it to them gradually. Let them wear it for a short time to start with, around five or ten minutes, and don't forget to include positive reinforcement by giving treats so that your dog doesn't associate muzzles with anything negative.
Pros
Breathable mesh
Variety of sizes & colours
Adjustable
Comfortable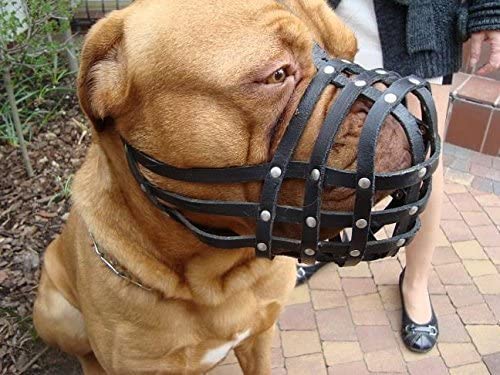 Ideal for Boxers, Bullmastiffs, Dogue de Bordeaux and other dogs that have larger snouts. This one is a little bit pricey, in comparison to the other options in this list, but it is more durable and long-lasting than plastic or nylon muzzles since it's made from 100% safe natural leather.
It comes in three colours, brown, black, and beige, and three sizes: DB1, DB2, and DB3. The DB1 size is the equivalent of a small, with a length of 3.3 inches and a circumference of 15.7 inches. The DB2 medium size has a circumference of 7.7 inches and a length of 17.3 inches, whereas the largest size DB3 is 3.8 inches in length and 18.1 inches in circumference.
The length is the distance from the tip of the nose to just under their eyes and the circumference should be measured at the widest point of the snout below the eyes.
It's great for discouraging your dog from biting, chewing, and eating unwanted things, and is very breathable since it's more like a 'gate' guard around their mouth. Plus, it provides plenty of space allowing your dog to stick their tongue out and pant without feeling restricted in any way.
There's only one place you can adjust the muzzle from, and that's the metal buckle that secures the whole thing on. This means it is a bit limiting, and wouldn't work for smaller dogs or ones with long, narrow snouts.
Pros
Metal buckle
Breathable
Durable leather
Cons
Dogs can't drink with it
Not as adjustable as other options
Only for larger snouts
The Baskerville dog muzzle by Company of Animals Store is brown, made of lightweight plastic, and comes in a huge variety of different sizes. The sizes range from 1-16, and there is a size chart for reference but I've included a few of them here to give you an idea.
Size 1 is 1.5 inches in length and 7 inches width, the 4th size is 2 inches in length and has a width of 8.5 inches, size 8 has a width of 12.5 inches and a length of 3 inches, whereas the 10th size is 3.5 inches in length and a width of 14.25 inches. Always consider about half an inch of space between the nose and the muzzle itself when taking measurements.
The measurements for the width are taken around the widest part of a dog's muzzle, just below the eyes, and the length is the distance from the tip of the nose to just below the eyes.
It has a classic box design which is particularly ideal for long nosed breeds such as greyhounds, but thanks to the wide variety of sizes you can find one to fit even if your dog has a shorter snout.
There's a small amount of padding on the nose for comfort and dogs can easily pant, eat treats, and supposedly drink while wearing it. I use the word 'supposedly' because my dog didn't find it easy to do so, but I know of dogs that manage just fine so it really depends.
It's quick and simple to put on and secure; all you need to do is place it over your dog's snout and secure the singular buckle behind the ears.
This Baskerville muzzle also comes with a removable safety guard, just in case extra prevention is necessary. It is good for vet visits, grooming sessions, protecting wounds, socializing and preventing scavenging, but I wouldn't recommend it for long-term use.
First of all, not all dogs like it most likely because of the hard plastic material and mischievous dogs can easily find a way to break it and get it off.
Pros
Many sizes
Good for long and narrow snouts
Removable safety guard
Cons
Not all dogs like it
Plastic is flimsy and hard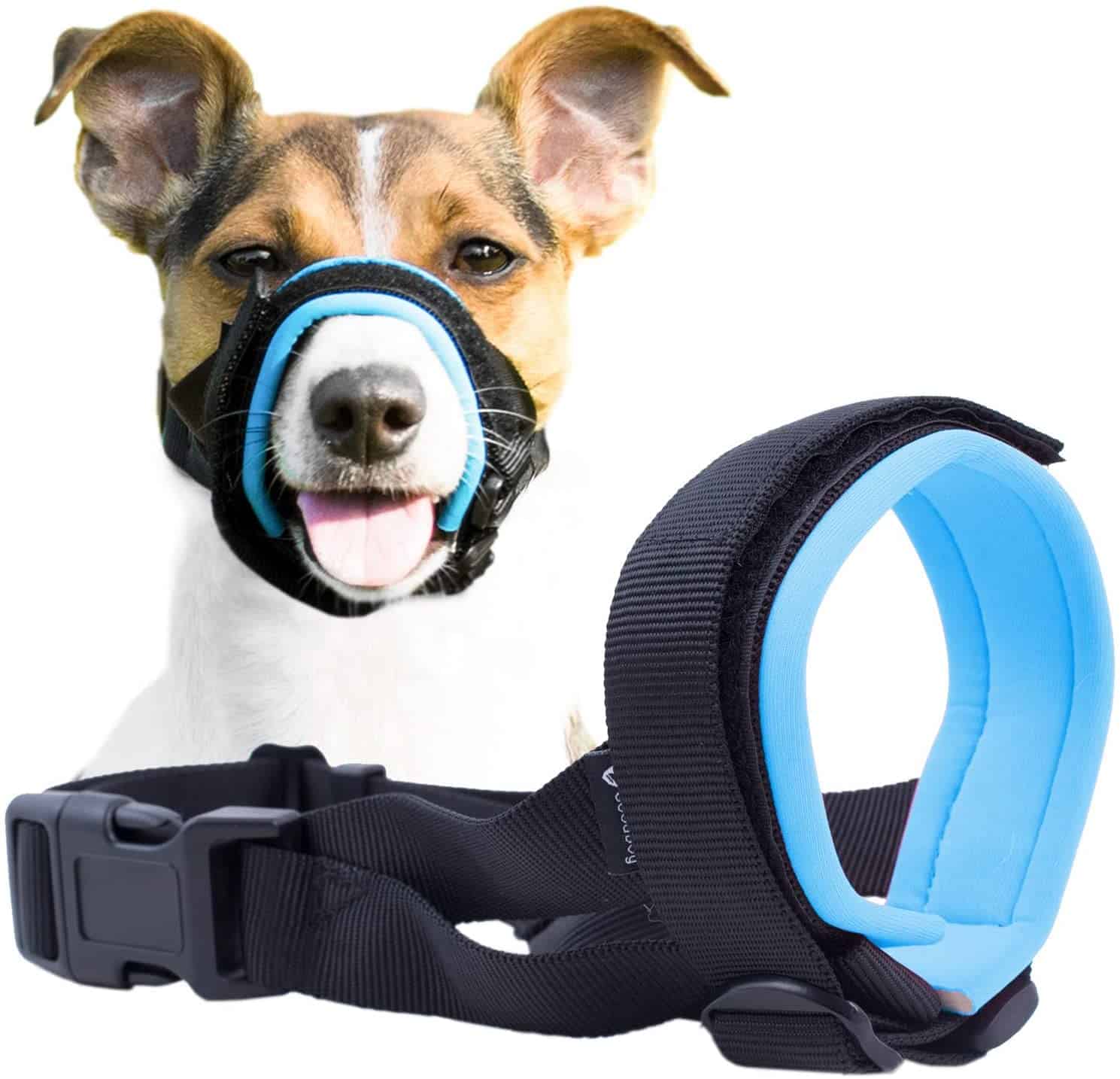 The gentle muzzle guard is exactly that as it's made of soft neoprene padding that won't cause chafing or hot spots. It's available in the colours blue, pink, or black and comes in sizes small, medium, large, and extra large.
The measurements for a small are 17-22cm around the snout and 25-33cm for the neck, while a medium is 2-30cm snout and 30-45cm neck, the large size's measurements around the snout are 27-38cm and 33-53cm around the neck, whilst the largest size measures at 33-43cm for the snout and 40-66cm at the neck.
Snout measurements should be taken at the widest part, usually below the eyes, and the neck should be measured going behind the ears.
This muzzle easily fits Golden Retrievers, Nova Scotias, Australian Shepherds, mixed breeds, and more. Even though it has adjustable sliders that don't loosen over time, it's just not suitable for toy breeds with short noses.
Dogs can easily eat, drink, and pant while wearing it.
It even comes with a collar that attaches to the muzzle to keep it in place, which also has durable buckles as well as a hook and loop for a lead. Any excess strap length can be secured with a hook and loop fastener.
Pros
Soft neoprene padding
Comes with a collar
Durable
Dogs can drink with it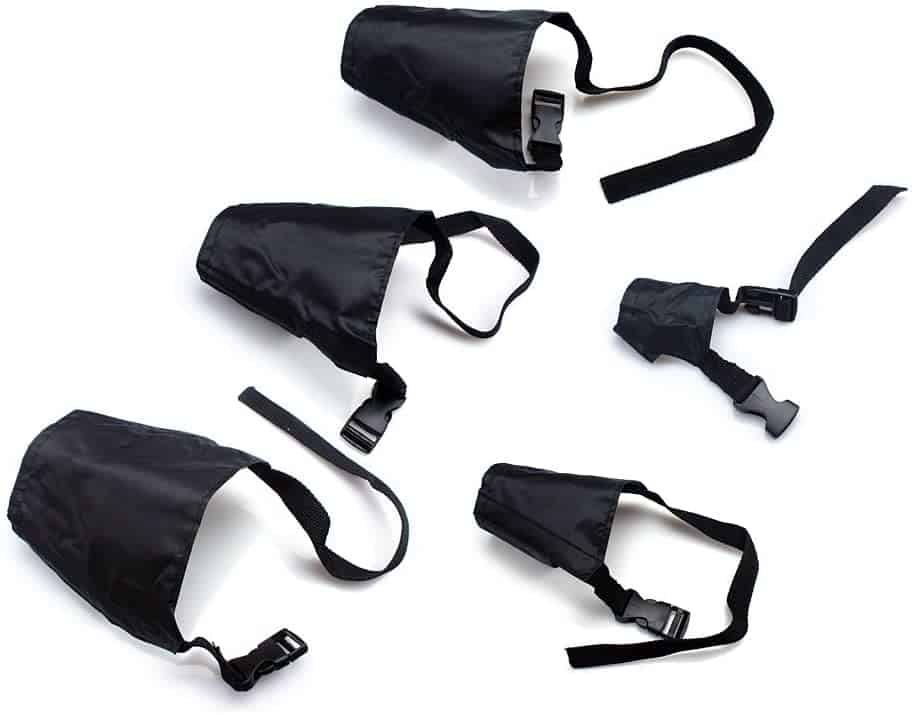 The last one on our list is actually a pack of 5 black muzzles that come in different sizes and are made from nylon fabric and waterproof oxford cloth with an adjustable strap, Velcro fasteners and a quick release plastic buckle.
You get a small, medium, large, extra large, and extra extra large. The small measures at 5.9 inches at the snout and 3.9-10.6 inches around the neck, the medium is 7.1 inches at the mouth and 3.9-13.4 inches around the neck, the large is 8.7 inches by 3.9-13.4 inches, extra large is 11.4 inches by 3.9-15inches and the largest XXL size is 12.6 inches by 15 inches.
The snout measurements are taken at the base which is normally the widest part.
These muzzles prevent biting, barking, and chewing but they do not allow the dog to drink water while wearing one. Plus, they're unfortunately not very durable as dogs can easily find ways to chew through them.
Pros
Pack of 5 different sizes
Adjustable
Easy to put on
Cons
Low quality material
Dogs can't drink water with it on
Not durable
Related Posts –