Quick snapshot – "Long terms users of this dog food report very healthy and long living dogs that not only have amazing and beautiful coats but have a lot of energy and stamina."
If you are on the market for a new dog food, I am sure you are aware there are a plethora of choices out there.
Sometimes making a buying decision can be quite a task because of all the options available to you.
Here at DogDesires we have tested a host of different dog foods to provide you with the best insight and overview. Today on the menu is an option from CSJ Food.
This review is made up from both our own testing and research from the market and other long-term users of this particular dog food to give you the best and most complete review and feedback of the food as possible. Now let me explain about this CSJ Dog Food sometimes called CSJK9 (CSJ K9).
I have picked out one dog food in particular to review before going through them in general because this one is especially interesting.
This is a totally natural product made from Irish Seaweed & Parsley. It comes in a 200g pouch and should last around 16 months if given to an average sized dog. Included with the pouch is a 0.5ml scoop, as you're only meant to sprinkle a tiny amount onto your dog's dinner. Considering how long it can last, it is incredibly cheap!
Plus, it really works. No matter how badly stained your dog's teeth are, or how terribly their breath stinks, this herbal blend will sort it all right out. In my case, my dog hates having his teeth brushed, so this was a perfect solution for us! Even my vet was astonished because I had previously been told that my dog seriously needed his teeth to be cleaned but it's not an issue anymore.
It even smells great to us humans, let alone our dogs – they love it, most likely because it both smells and tastes natural and good.
Pros
Lasts long
Inexpensive
Gets rid of bad breath
Lifts stains from teeth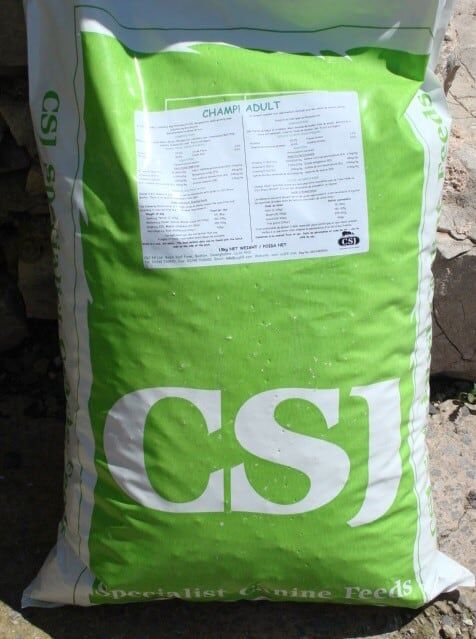 Now, when looking at CSJ dog food as a whole, the first thing that comes to mind is that it is quite reasonably priced which sometimes can be misleading. Every so often, people assume that if something is at a lower price the ingredients must be of lower quality, but this often isn't true as is the case with this food.
This dog food from CSJ is a dry dog food that is made up of a host of ingredients.
Its list of ingredients are as follows – composition wheat, beef and lamb meal, chicken fat, chicken liver, unmolassed beet pulp, alfalfa, salmon oil, salt & yucca schidigera.
As can be seen from the list of ingredients they offer a nice mixture of different proteins with some nice little extras like the salmon oil for a great boost of nutritional value. There is also a good balance of fat content (10%), protein (20%), calcium (2%), phosphorus (1.3%), sodium (0.17%) along with some fiber (3.0%).
Yucca is an excellent thing to add to any dog food because it is high in multiple vitamins (A, B, &C) and contains phosphorus, calcium, potassium, iron, manganese, and copper which help make the food very smooth to the intestines, aiding digestion. It also helps to reduce any swelling, inflammation, and pain of a dog's digestive tract.
Alfalfa helps balance overly acidic urine which can cause irritation and other issues, and it has trace minerals and enzymes that also help digestion, improve appetite and eliminate gas problems.
Calcium and phosphorus are both important in a dog's diet because calcium contributes to healthy bone and teeth maintenance, proper muscle function, a strong heart, as well as a healthy nervous system. Phosphorus is a major component of bone and it helps with muscle contractions and motor functions.
Sodium is also important for the maintenance of nerves and muscle cell function, as it prevents cells from dehydrating or swelling.
Also included is a nice mixture of crude ash at a decent 9%. Which, if you didn't know, is a simple a way to say the level of minerals & vitamins in the food contents. To name just a few of the included nutrients in the mixture, they are vitamin A, vitamin D, vitamin E, selenite, etc.
In terms of overall balance, the food sits roughly around average in most of the categories such as for protein, fat, fibre, etc. The only exception to this is the carbs which are above average when compared with other dog foods.
This dog food is aimed at dogs that are between 12 months old and 7 years old. So, if you have an older dog or a new born puppy you should consider an alternative option for now.
Now that I have covered the basic facts about the dog food let me go through my thoughts based on my usage and other long terms users of this dog food.
Long terms users of this dog food report very healthy and long living dogs that not only have amazing and beautiful coats but have a lot of energy and stamina.
In terms of food enjoyment dogs really love this food. They completely lap it up and clearly enjoy it in every sense. If you have a fussy eater of a dog this food should be a suitable choice as it is likely to break that barrier.
Another thing I want to mention is that most owners report solid and consistent poo with a lot of dog owners switching to this dog food to get that advantage. It seems like this pattern is the predominant one for this dog food. Though please do keep in mind that every dog is different and of course there is no guarantee as would be the same with your dog.
Pros
Perfect for health and longevity
Brilliant balance of ingredients and nutrients
Good for fussy eaters
Conclusion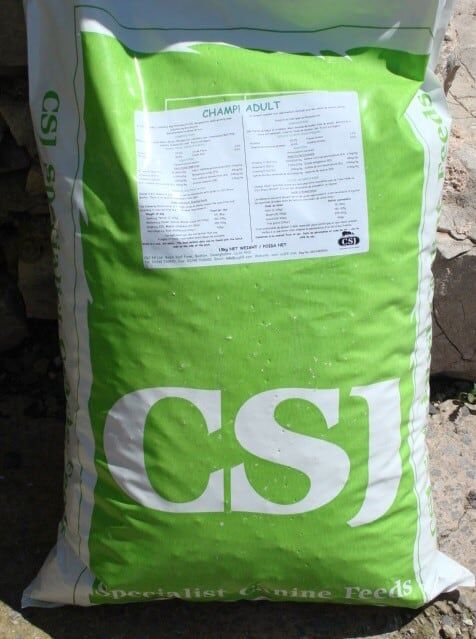 Overall CSJ Champ food is a great option that offers a nice balance of nutrients for your dog at a reasonable price point. It keeps your dog healthy and happy for today and the future to come and that definitely is an important thing to remember.
I can easily recommend this CSJ Dog food and I recommend that you pick up some for your dog as soon as possible!
Related Articles –
Best Dog Foods for Sensitive Stomach