With the seasons turning, almost every single one of us has packed the summer clothes away for this year, and brought the warm and cozy clothes out. Unfortunately, the same option doesn't exist for our dogs.
Although dogs manage small temperature swings very well, they need to be bundled up as well, when the temperature really drops. This holds true especially for smaller or lightly furred dog breeds, who have no natural adaptation against this weather.
This is where Equafleece UK suits come into play. It's the best way to make sure that your dog is not exposed to extreme temperatures without adequate protection. Read through the Equafleece dog suit reviews below, to choose the right one for your precious pooch.
Preview
Best Choice
Great All-Rounder
Title
Hotterdog Fleece Jumper Grape/Green
Best Choice
Preview
Preview
Great All-Rounder
Preview
Title
Hotterdog Fleece Jumper Grape/Green
Equafleece Suit – Best Option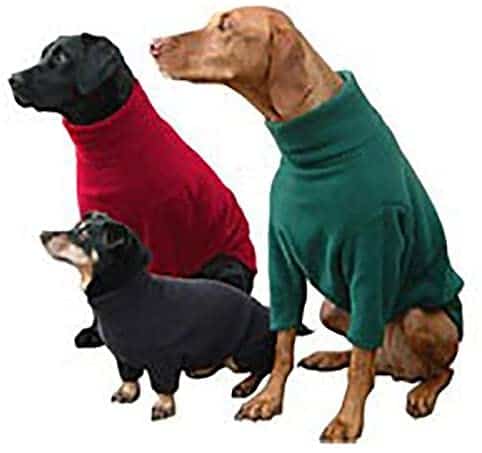 As the name says, the Hotterdog fleece jumper is a lightweight yet warm jumper for dogs who need a little extra coverage in colder weather. The Hotterdog jumper is made from a strong waterproof material and gives your dog coverage from neck to tail, with no gaps at all.
Unlike doggy blankets or wraps, the Hotterdog jumper is essentially like a shirt for your dog. This gives it the advantage of not having any belts or straps, that could chafe against his skin. This also helps avoid any pressure point injuries. Which often happen with jumpers or fleeces that have to be strapped on.
The coverage also means that your dog's chest, belly, and shoulders are all well protected from rain and cold wind. In fact, your dog stays dry neck to tail, even if you take him for walks in the rain.
And this doesn't mean that your dog has to lumber a heavy coat around. The fleece is lightweight and flexible enough that your dog has complete mobility and no restriction in freedom of movement.
It's also not only suited for walks and play dates. The Hotterdog fleece jumper can comfortably be worn for long periods of time, with no issues at all. In fact, it can even be worn for drying gun dogs.
The logic behind this, is that the fabric of the jumper actively wicks moisture away from the body and to the outside air. At the same time, it permits no moisture to enter the jumper's surface.
This one way action makes it perfect for dogs who are a little damp. Not to mention, it also preserves body heat, so there is no loss of precious body heat either, when it's really cold outside.
Easy to use, easy to wear, and easy to wash! This Equafleece dog suit is perfect for a doggy who won't let a little bad weather get in the way of play!
Pros
Lightweight, breathable, comfortable material.
Full coverage for your dog
Waterproof on the outside against rain but conserves body heat.
Cons
Fabric is not stretchy, so sizing should be done well.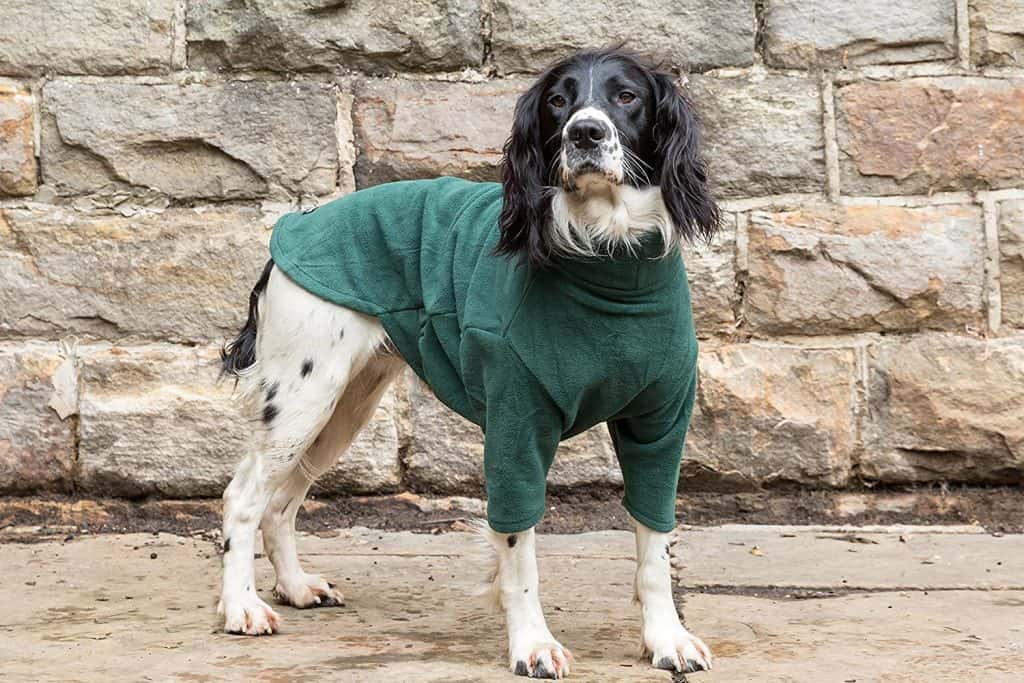 Similar to the first dog fleece option, this Equafleece variant offers some specific design and function options.
This fleece jumper is a slightly more stretchy and roomier design, which is more comfortable for wider set dogs. The fabric is a sturdy but light material that allows moisture to wick away from your dog's skin, but not into the jumper.
This makes it rather ideal to let your dog dry off in, after a bath, even. The roominess means that your dog has no restriction of movement and can run and play just as he would without the jumper on.
Additionally, this jumper also has slightly more extended coverage, coming down to over your dog's behind. This helps trap air closer to your dog and keeps him much cozier, than say, in a jumper that only covers his waist.
Also, similar to the first variant, this Equafleece suit also has a loose but form fitting design that allows no pressure to fall on your dog's pressure points. This means no chafing, no irritation, no itching or callus formation. Just a happy, dry, warm dog, who can carry on with his mischief, come rain or storm!
Pros
Similarly lightweight and waterproof
Offers more coverage
Wide neckline makes it easier to put on
Cons
A little training is required to get the dog to put it on, if he's not used to jumpers.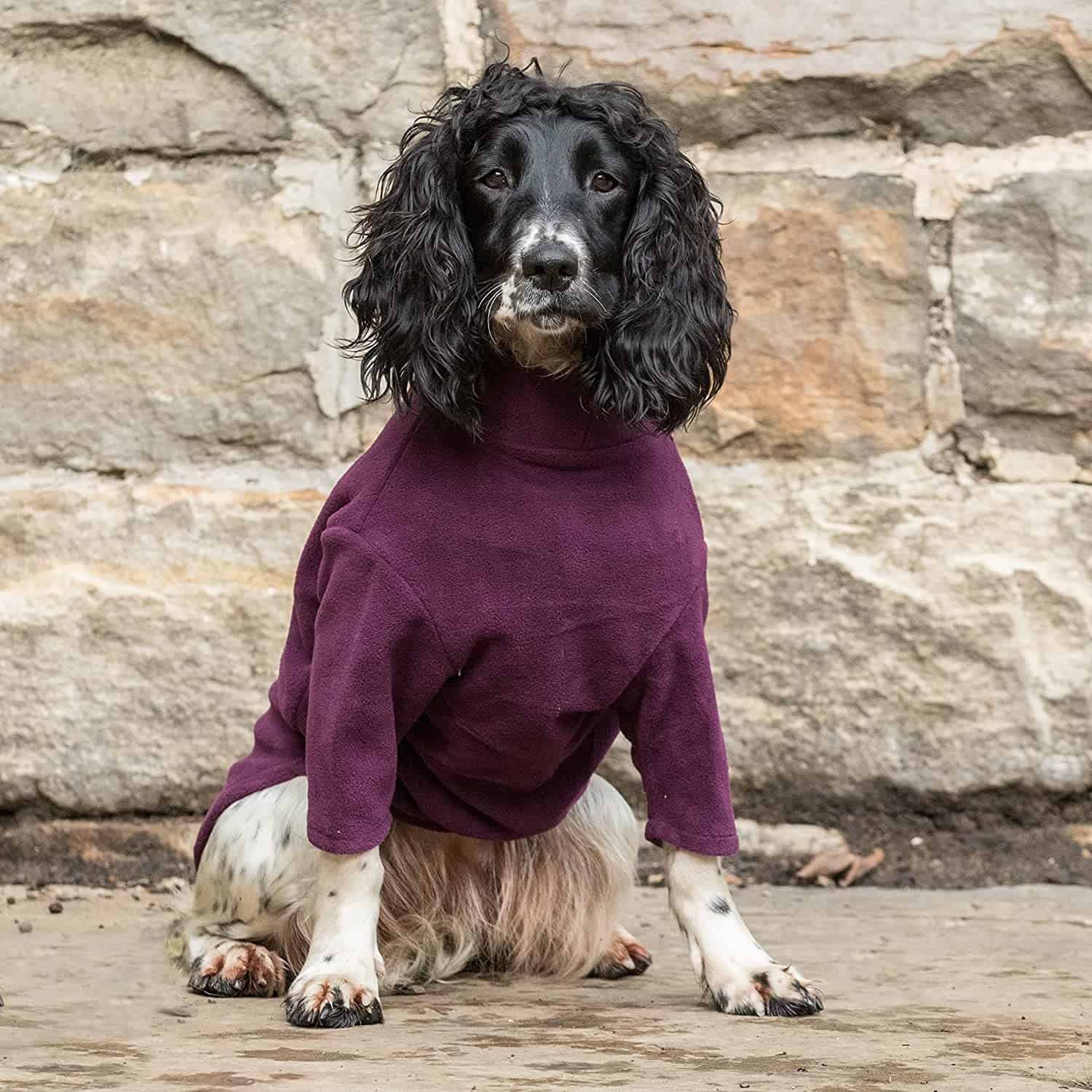 An extremely stylish variant, this Equafleece jumper is for a dog about town!
This dog fleece jumper comes with a pop of colour for every dog. The fleece is similarly treated, lightweight and cozy on the inside, while thick and waterproof on the outside. The major difference here is the style, and the colour.
This Equafleece variant offers you the option of having your dog dressed in a classy bottle green or cheery grape colour, instead of the duller options on the market. At the same time, it keeps your dog well protected from the cold, whether that means rain, cold wind, nippy outside temperatures, or all of these things combined.
It's also a great way to make sure that your dog is well bundled up after a bath. Instead of a dog towel or chasing your dog around, trying to get him to dry off, simply putting him in the Equafleece will make sure that he dries off without being exposed to the cold.
The material is similarly one way permeable, in that it allows moisture out of the jumper, but not into. Unless when you're washing it. Then you can simply toss it into the machine and hang it out to quickly dry.
The Hotterdog fleece jumper does not lose its shape with use, or its consistency. It's thin enough to not make your dog fidgety, but thick enough to keep him toasty warm even in a smattering of rain.
Plus, as this jumper is tailored specifically for dogs, there aren't many problems getting dogs to put it on, even dogs who don't like wearing other jumpers. If you're looking for a one stop rain winter jumper for your dog, this one is definitely for you.
Pros
Extra suited for dogs in design and flexibility
Keeps your dog warm and dry even in the rain
Easy to wash, sturdy fabric that holds its shape through long term use.
Cons
Sizing should be done carefully as the fabric does not have a lot of 'give'
Wide hem can be a problem for very short dogs.