Whether your dog is a giant who dwarfs you, or a small pocket friendly size, the inclined plane proves itself to be your best friend when dealing with man's best friend. Taking your dog with you to the park, to the vet, or simply for a ride, is part and parcel of owning a dog.
Unfortunately, this doesn't translate into good news for your back, if your dog belongs to the former category. Getting a medium or larger sized dog into a car can be a huge problem. Dogs don't always get into car as cooperatively as they can. And sometimes even when they can, they need assistance or some encouragement (read pleading and prodding).
The same applies to smaller dogs, too. Picking them up and loading them in or letting them out each time can get to be a huge chore. So, what do you do when you want to eliminate this particularly irksome activity? The answer is simple: get a dog ramp for your car. Below is our 5 Best Dog Ramps for Cars.
Preview
Best Choice
Cheap Option
Title
PetSafe Solvit Telescopic Dog Ramp
Solvit PetSafe Triscope Pet Ramp
Pet Gear Tri-fold Pet Ramp
Best Choice
Preview
Title
PetSafe Solvit Telescopic Dog Ramp
Preview
Title
Solvit PetSafe Triscope Pet Ramp
Cheap Option
Preview
Title
Pet Gear Tri-fold Pet Ramp
Dog Ramp for Cars – Our Top 5
The PetSafe Solvit Ramp is a cleverly constructed car ramp for dogs, being simultaneously lightly built but made for much greater things. The ramp itself is very lightweight at only 5.89kg, making it easy to carry around and transport easy peezy. For pet owners who are active themselves and love taking their dogs with them wherever they roam, this is the perfect tool to have in the car.
The PetSafe ramp itself can support dogs weighing up to 180 kg at once, which is quite a significant load, especially taking the ramp's own weight into account. It's covered in a stable, slip proof surfacing that makes sure your dog will never slip on it and clamber all around on it with no discomfort whatsoever.
The ramp is solidly built, durable, and lined with a textured surface cover, that gives your dog a good firm grip while climbing on it. This enables your dog to support himself and stay stable even when there is water or rain on the ramp. So, if you're planning a trip to the park where there's plenty of mud waiting for your dog, neither of you will have a problem while heading back home.
This is a very important point for dog owners who have senior citizen pets. Older dogs can injure themselves easier than younger dogs, and their joints are much more fragile. Even if they are very old and have somewhat restricted mobility, the lining of the ramp gives them a grip that makes it much easier for them to climb up and out with lesser effort involved.
In addition, the telescopic ramp is lined by raised rails that help guide your dog into the car. The ramp itself can be adjusted between 99cm to 182.88 cm in length, is 43.18 cm wide and 10.47 cm high. The material is thick and durable, so it takes a long and rough use despite its lightweight build. This is because the design is a mix of aluminium and plastic that allows flexibility and durability, both.
Plus, it definitely pays for itself over time, because it is almost indefatigable, even over long term use. So if you're looking for a long term solution for your dogs, this is the ramp for you.
Pros
Well built
Textured surface for grip
Can handle a big load (up to 180kg)
Easy to slide out and use
Dog Ramp for 4×4 – Top Choice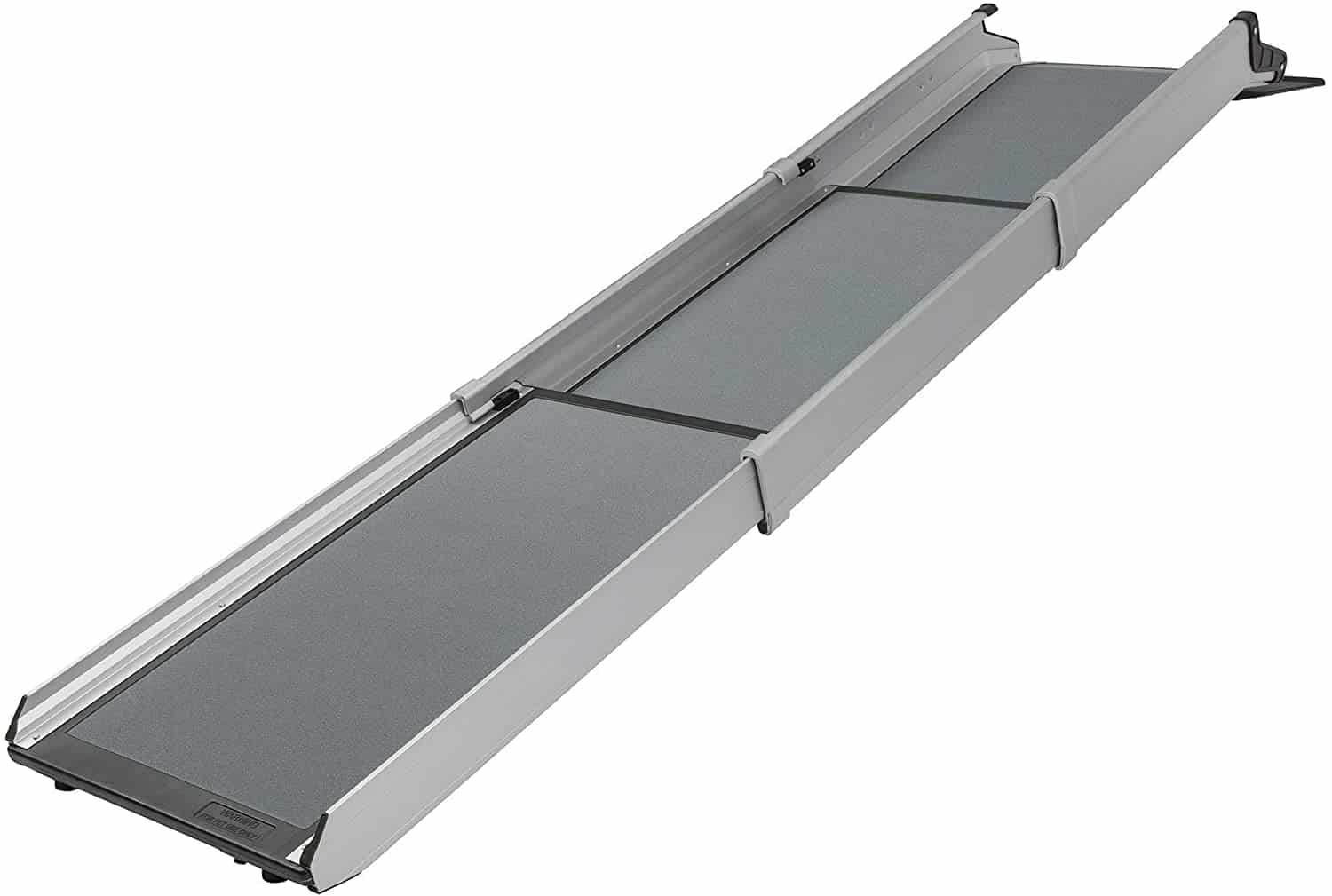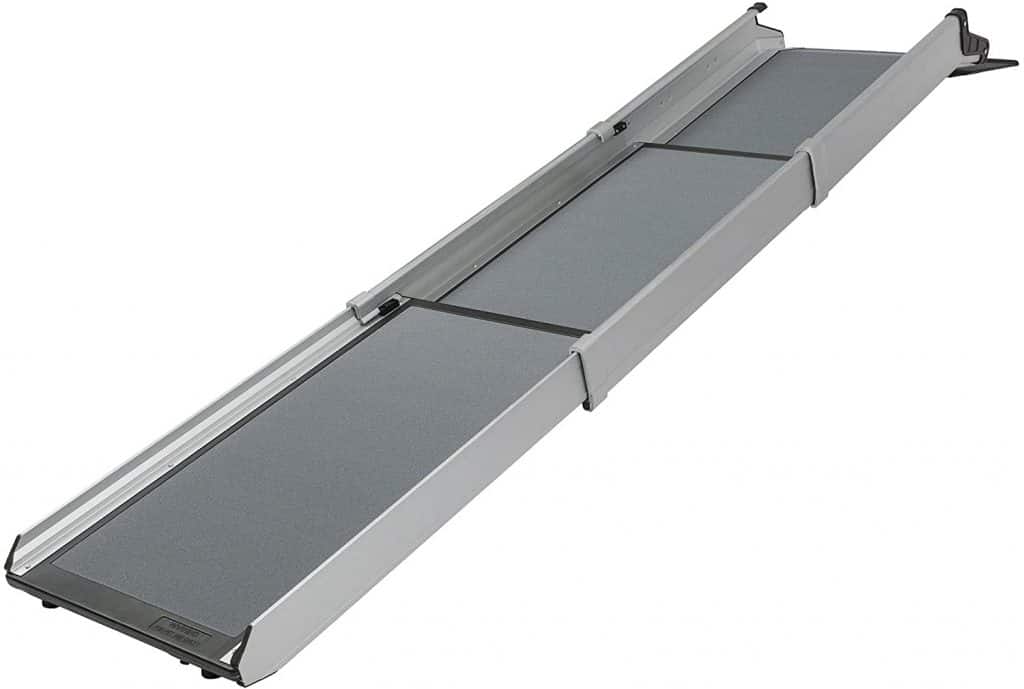 A specialized ramp, the Solvit PetSafe Triscope ramp is designed to be suited particularly for older dogs. Senior dogs need much more stable constructs than younger dogs, which is where the Solvit ramp rises to the occasion.
Tailored to be easy to carry and set up, the ramp itself weighs only 6.35 g. While that is not as light as the other design, it more than makes up for the difference in weight with the difference in support and stability for senior dogs.
In comparison to the telescopic ramp, the Triscope ramp is about 30% shorter than the standard design. This makes it 30% smaller when closed, making it easier to carry and pack away. This is why it suitable for very active pet owners as well, or for pet owners with restricted storage space.
But despite the difference in size, the ramp can easily manage dogs weighing up to 135 kg (and more!). And the textured walking surface makes sure that even the largest dogs stay safe while on the ramp. The textured surface is high traction and provides and extra strong grip for their paws, making sure that they don't slip. So, if you have a dog who is a senior citizen pooch, or has limited mobility or restricted movement for any reason, this ramp should stand out to you.
Especially when you consider the lining on either side by guide rails, for dogs who need a little coaxing, or even only in the beginning in the training phase. The ramp itself is 67 cm long and 40.64 cm wide, standing at a height on 14.61 cm. It is very easy to set up to its full extent, making it a snap easy addition to your wanderings with your pooch.
Pros
Portable and easy to carry
Can manage dog in weight up to 135kg
Great stability
Folding Dog Ramp for Car – Great Choice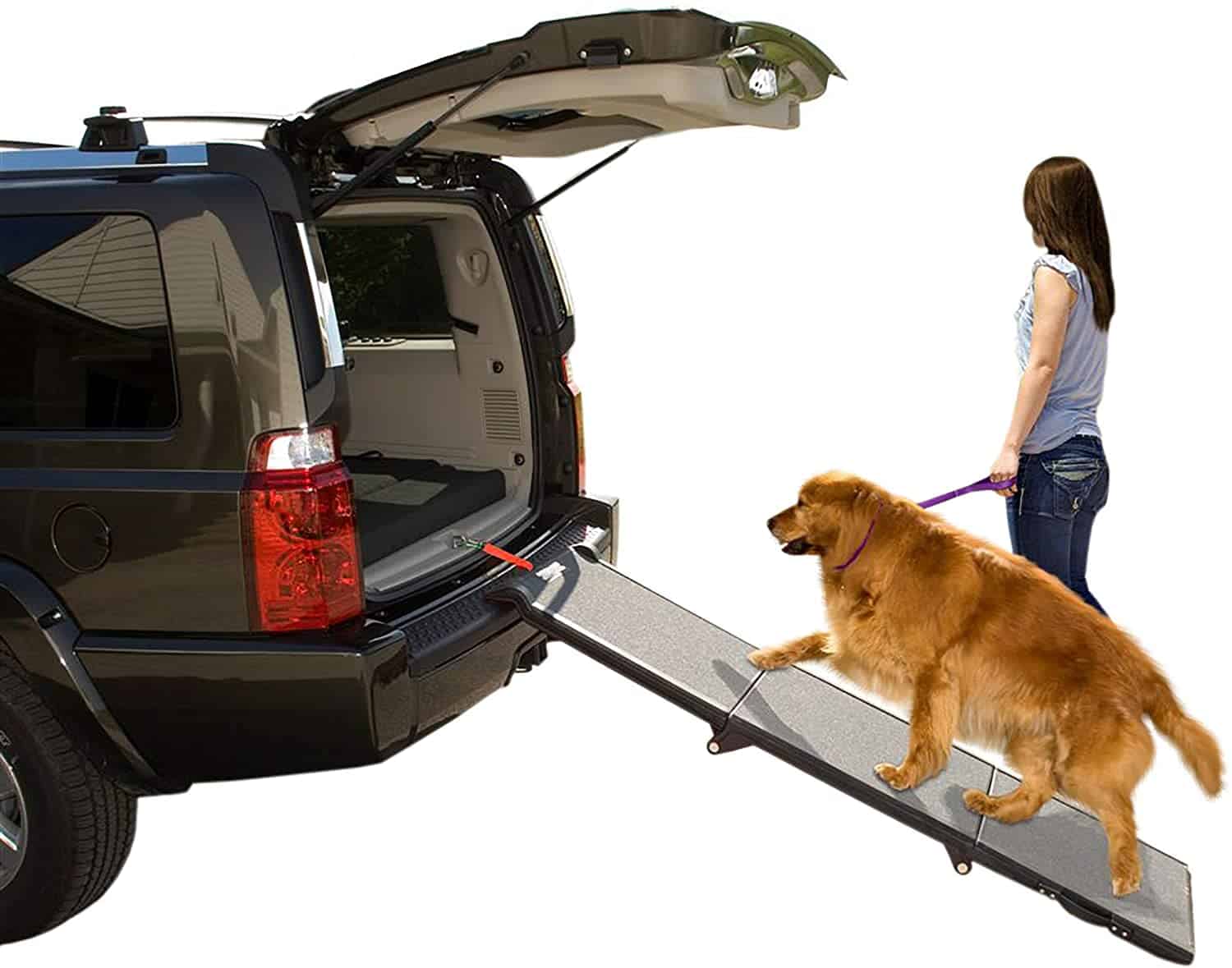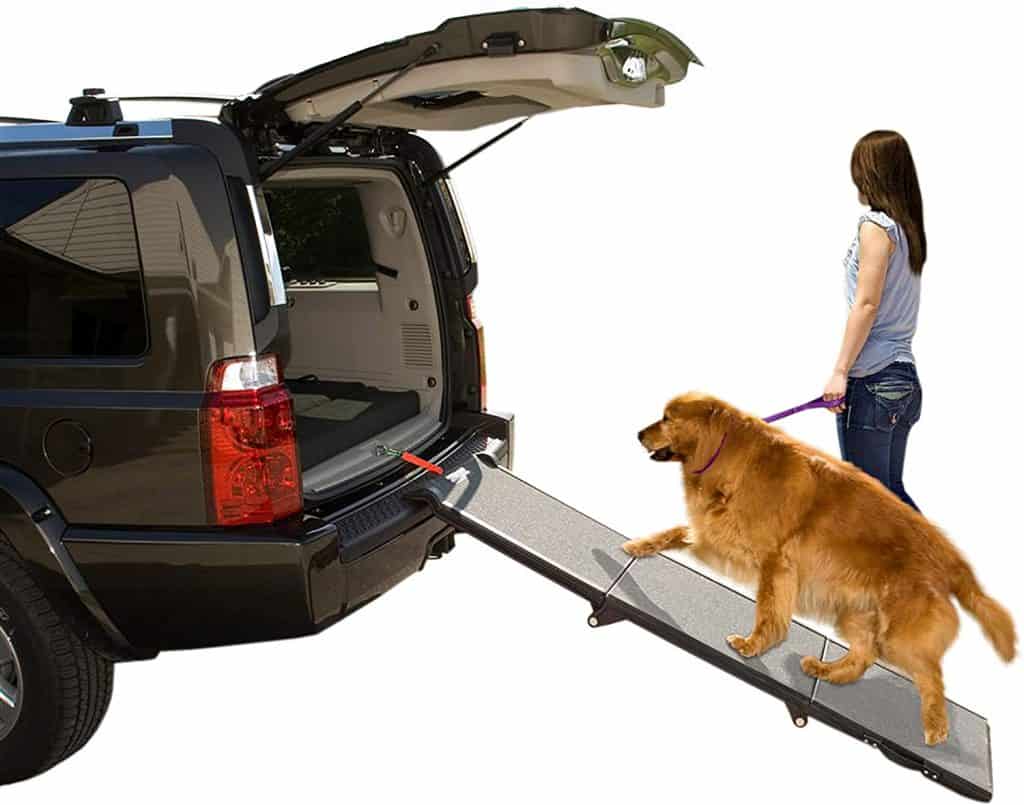 The PetGear Ramp is a lightweight ramp that lends itself to a huge variety of uses, whether you have a big hound, a small pupper who is still learning the ropes, or an older dog who needs a little extra help.
The ramp is made of a plastic polymer, which boosts the design to be easy to clean and easy to put away. Being trifold, the frame of the ramp can be folded up and down in a jiffy with no problems whatsoever. Plus, the bottom of the ramp has extra rubber lining strips that anchor it firmly on the ground and make sure that your pet won't slip even on the slipperiest of days.
Depending on what your requirements are, with Pet Gear you have an entire range of options at your disposal. In addition to having a sturdy base ramp, you can choose to have a variant that has reflective markings, for people who love to take their dogs camping or on the road with them, or simply appreciate having the safety option.
Or if you have a dog who needs a little extra support and help while climbing up, you can pick a ramp that has a carpeted surface. This gives their nails a little extra grip to mobilize with. And when you have a larger sized dog, you can always pick out a free sized ramp that can support its own weight without extra fixings required. This is particularly suited for heavier and large framed dogs who may wobble on lightweight ramps.
The surface of the ramp too has treads marked on it for additional grip while on the ramp. This gives your pets a surer climb up and down, with no slips and no scares for you or them. And, when everything is done, you can simply fold it down flat and put it away, no issues at all.
A small disadvantage is that there are no guard rails on this ramp, which makes it hard to get dogs to cooperate on it when they aren't already used to ramps. But if you have a dog who isn't rowdy or fussy, this is a perfectly good choice for you.
Pros
Slip proof design and build
Folds up nicely when not in use
Easy and simple to use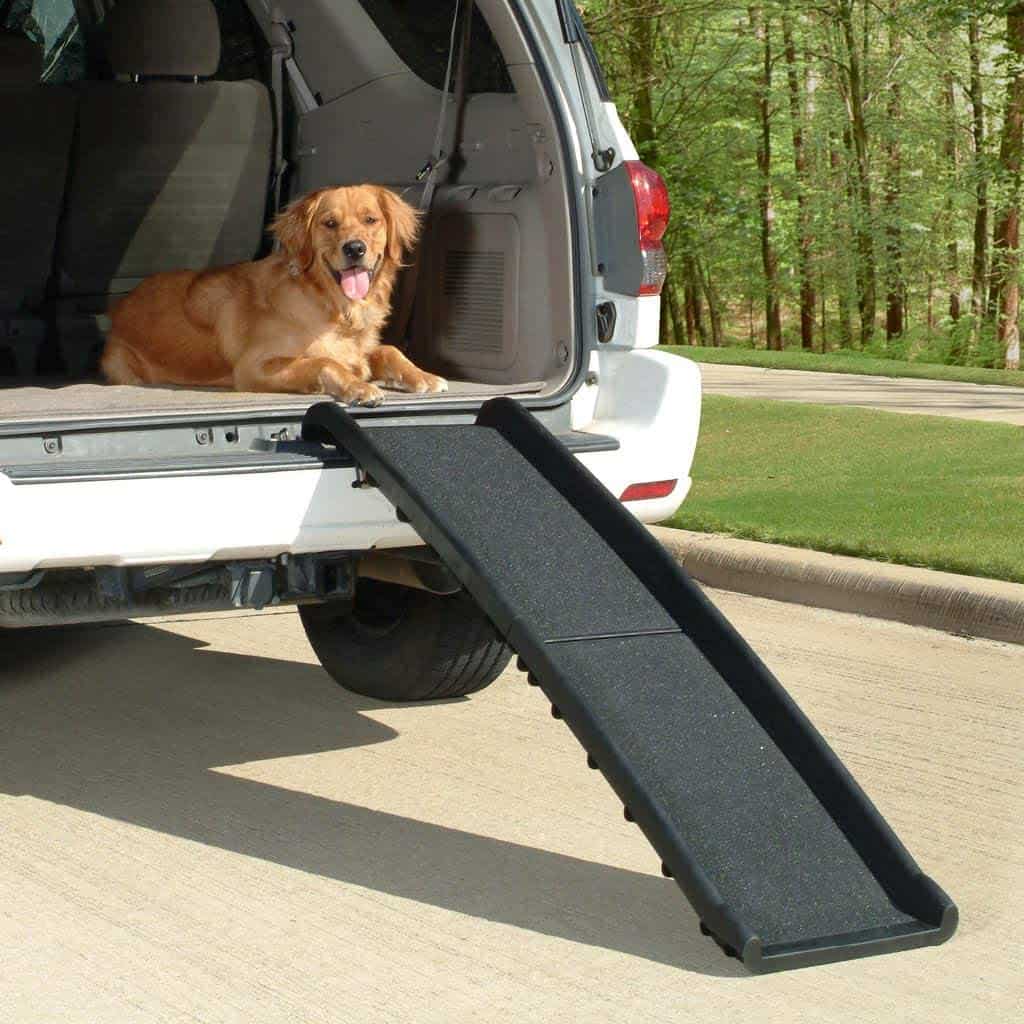 Another super convenient and easy to use variant from PetSafe the Ultralite Bi-fold pet ramp is a quick set up, quick away model that can simply be doubled over or folded out as the occasion requires.
Weighing in at only 4.35kg, the ramp can support up to 90 kg of doggy weight. This means that multiple pooches can go stampeding up and down the ramp with no worries as to its safety.
Despite being so lightweight and compact, the ramp is very solidly built and designed to fit in well with very active pet families just as easily as ones who go out plus pet occasionally. And, being so snugly made, it's a very good alternative to big and cumbersome pet stairs that take forever to set up- and to clean!
The ramp has an anti-slip grip surface, that makes sure your pet won't slip or stumble on it. It aligns with their footpads and nails and gives them a better hold. This makes it a good consideration for people whose dogs have mobility issues as well.
The ramp is a full length at a whopping 157.48 cm in length and 40.64 cm in width. When not extended, the ramp is 80 cm long, which is an easily stashable length. And it is super user friendly to handle.
However, if your dog is on the larger side, such as a St. Bernard or a Newfoundland, then a sturdier and thicker ramp may be a better option. But if you have a smaller dog, you should seriously consider buying this ramp for your dog.
Pros
Quick set up
Lightweight
Use easy to use and handle
Cons
If you have a big dog like a St Bernard this ramp may be a little less structurally sound than other options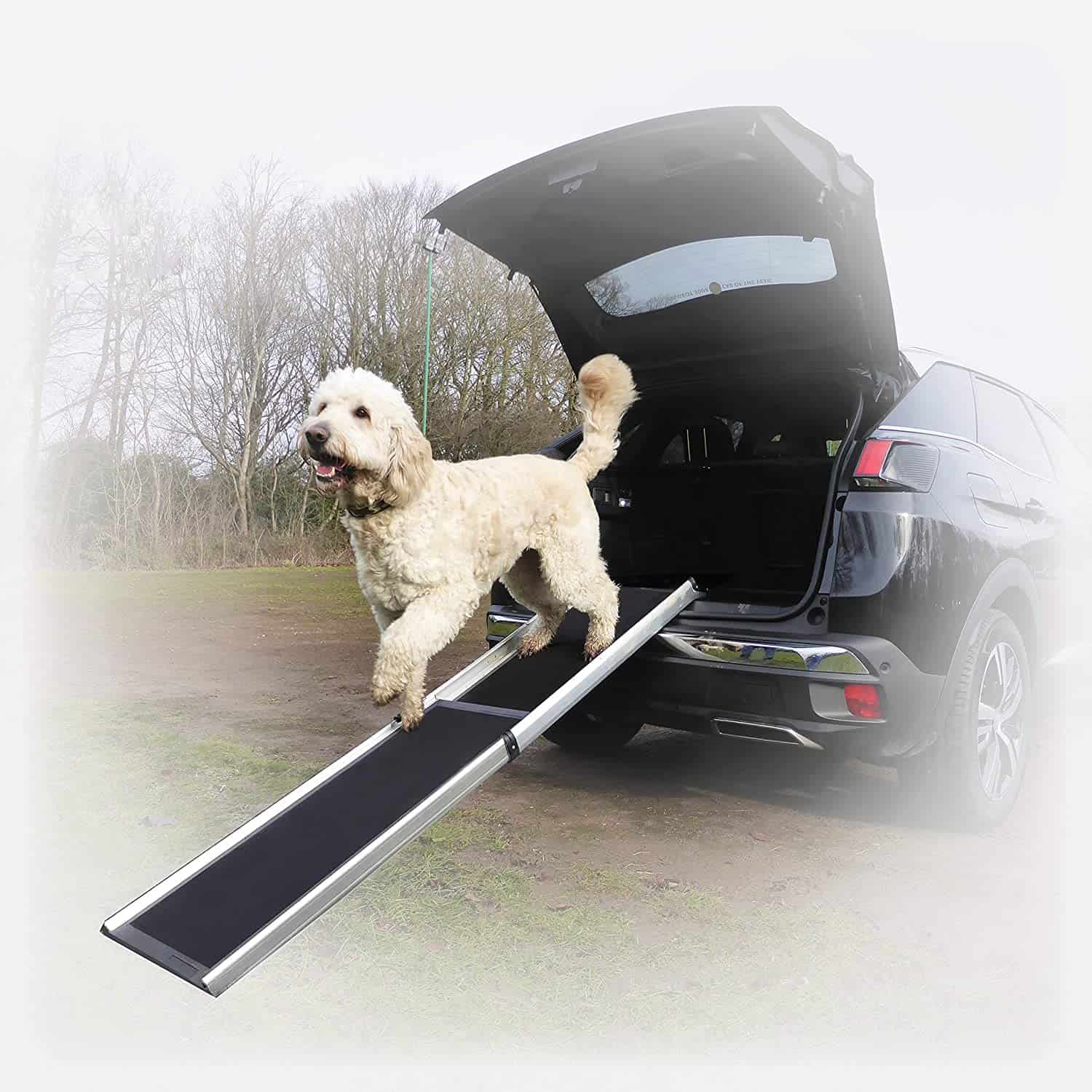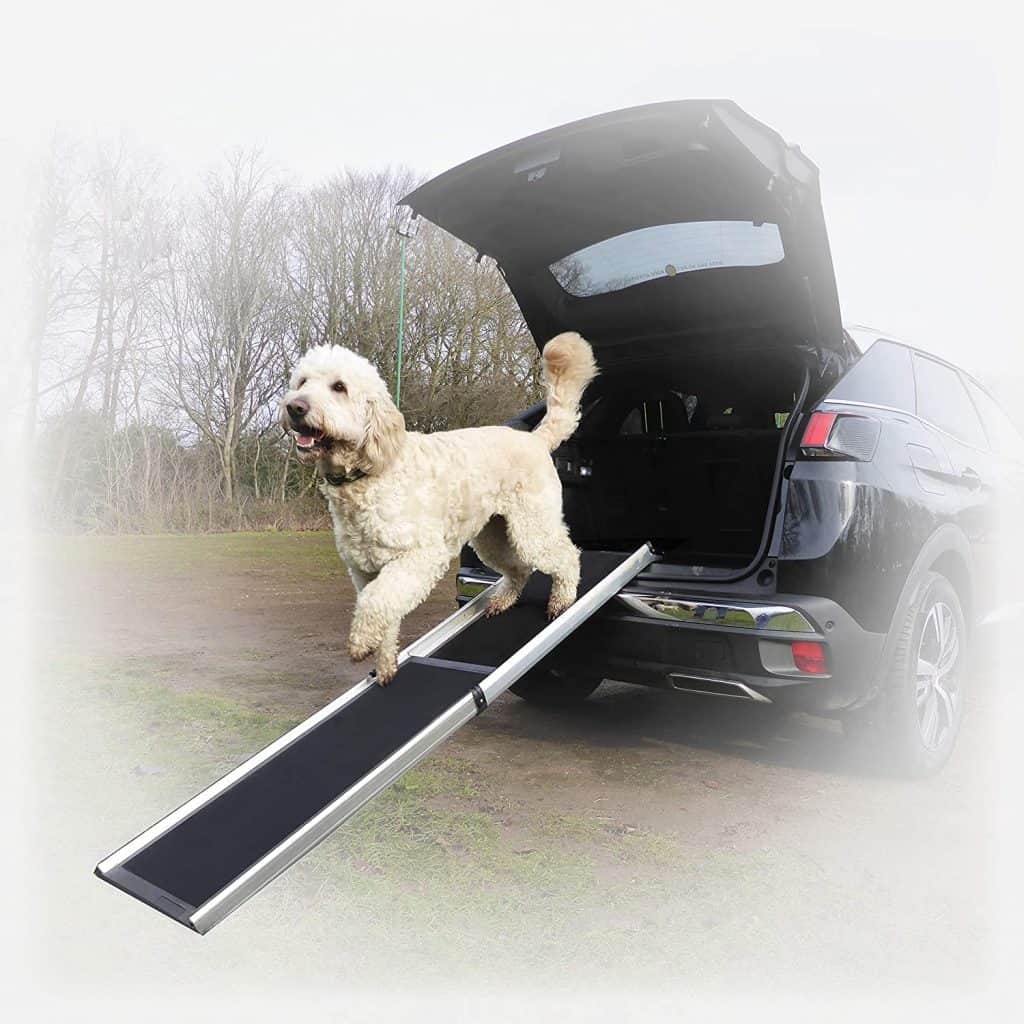 The Hewitt & Blue Car Ramp for dogs is a superbly useful tool when it comes to solving your dog loading problem. Especially suited for large dogs, the Hewitt ramp is a heavy duty construct, but not heavy itself. The design is simple and lightweight, weighing in only at 6.3 kg. However, it can easily manage dogs as colossal as 110kg on the scale.
The ramp itself is fully adjustable. So, whether you have an SUV or a small Mini, or both, the ramp can be set up just as comfortably for either. The ramp can be fixed to almost any boot height for your dogs. And it can really be fixed.
The ramp has a Suregrip surface, that ensures that even on the rainiest of days, your ramp won't slip, and your dog has a safe and sturdy climb into your car. It is thick enough to solidly articulated with your car's boot, and the angled edge makes sure that it will never slip off the edge.
Plus, the width is just perfect- it won't crowd your car, and it won't crowd your dog into feeling jostled into the car, either. With just a little familiarization, your dog will jump up at the opportunity of getting on the ramp and off on an adventure!
The ramp itself is made of a solid material with premium grade composites and is backed with a five-year warranty as well. The design is particularly good for owners with large dogs- and for the large dogs, obviously. Additionally, it also has reinforced aluminium rails, to guide your dog into the car. Plus, it's very stable without being very wide. So, it isn't cumbersome to install, but still broad enough to allow full security.
The ramp can be pulled from 99cm to 182 cm depending on how long you want it, with no extra effort involved and in a few seconds. This becomes extra useful when it's damp or rainy outside, and your dog is covered in mud- but you aren't yet!
It's not only for your comfort though. The fact that your dog has to jump in and out of your car is fairly straining on his joints, especially if your dog is on the larger or heftier side. The ramp saves your dog the constant wear and tear on his weight bearing joints and keeps him healthier and fitter, as a result.
Pros
5 year warranty
Premium build quality
Lightweight
Fully adjustable
Related Posts –