My dogs love playing fetch more than anything, but it can be quite a handful! Sometimes I just don't have enough energy to match my dog's. That's why getting him an automatic ball launching machine has been a life saver.
It's really important to challenge our dogs and have them learn something new every now and then. Even if your dog already knows how to play fetch, it's always a good time to learn something new, like playing fetch with an automatic ball launcher. So, to help you find the perfect fit for your dog, I have compiled this list of the best automatic ball launchers for dogs in the UK.
Quick Top 3
Preview
Best Choice
Affordable Option
Title
PetSafe Automatic Ball Launcher
iDogmate Automatic Ball Launcher
All For Paws Automatic Ball Thrower
Best Choice
Preview
Title
PetSafe Automatic Ball Launcher
Preview
Title
iDogmate Automatic Ball Launcher
Affordable Option
Preview
Title
All For Paws Automatic Ball Thrower
Automatic Ball Launcher for Dog in the UK – Top 5
This Automatic ball thrower for dogs by PetSafe is my absolute favourite, and my dog loves it as much as I do.
There are so many brilliant features to this one. Firstly, it has a handle where you can carry it from so that it is really easy to take it with you wherever you go. This is especially convenient because it is actually better to use outside.
It has two types of settings for launching balls: 9 different distance settings, and 6 ball angle settings. This makes it perfect for using it both indoors and outdoors. It is also water-resistant, so you have nothing to worry about when taking it out with you.
It shoots standard sized tennis balls between 2.5 to 9 metres, and up to a 45-degree angle.
You can easily teach your dog to play fetch on his own by using this product. To give you a place to start, have your dog drop the ball in your hand while holding it over the opening so that your dog can learn to drop the ball there.
The motion sensor at the front reaches 7 feet, which is for protection and to ensure the safety of both you and your dog.
This ball throwing machine for dogs will automatically go into rest mode after 15-minutes so that your dog gets the necessary downtime needed, and so that both your dog and the machine don't get overworked.
It can hold up to three standard-sized tennis balls that are 6.67cm in diameter.
Batteries are required, and there is also a 2-year manufacturer's warranty with this PetSafe dog fetch machine.
Suitable for all dog breeds, so long as they are able to pick up a tennis ball so that they can drop it into the throwing machine – which is pretty much every dog of any size.
If you do choose to purchase the PetSafe automatic ball launcher, you will also receive two tennis balls, a power cord, and an AC adaptor. When using it indoors, if you choose to do so, you can just hook it up with the cord and for outdoor use – that is why it comes with the batteries.
When the throwing machine launches balls, it is a little bit loud but my dog has no problems with it so it is not an issue. If you have a rather timid dog, this may be an issue for you though.
Pros
Portable and very easy to take with you
Several different settings for ball throwing
Great for both indoors and outdoors
Automatic rest mode
Cons
Little bit loud when it throws balls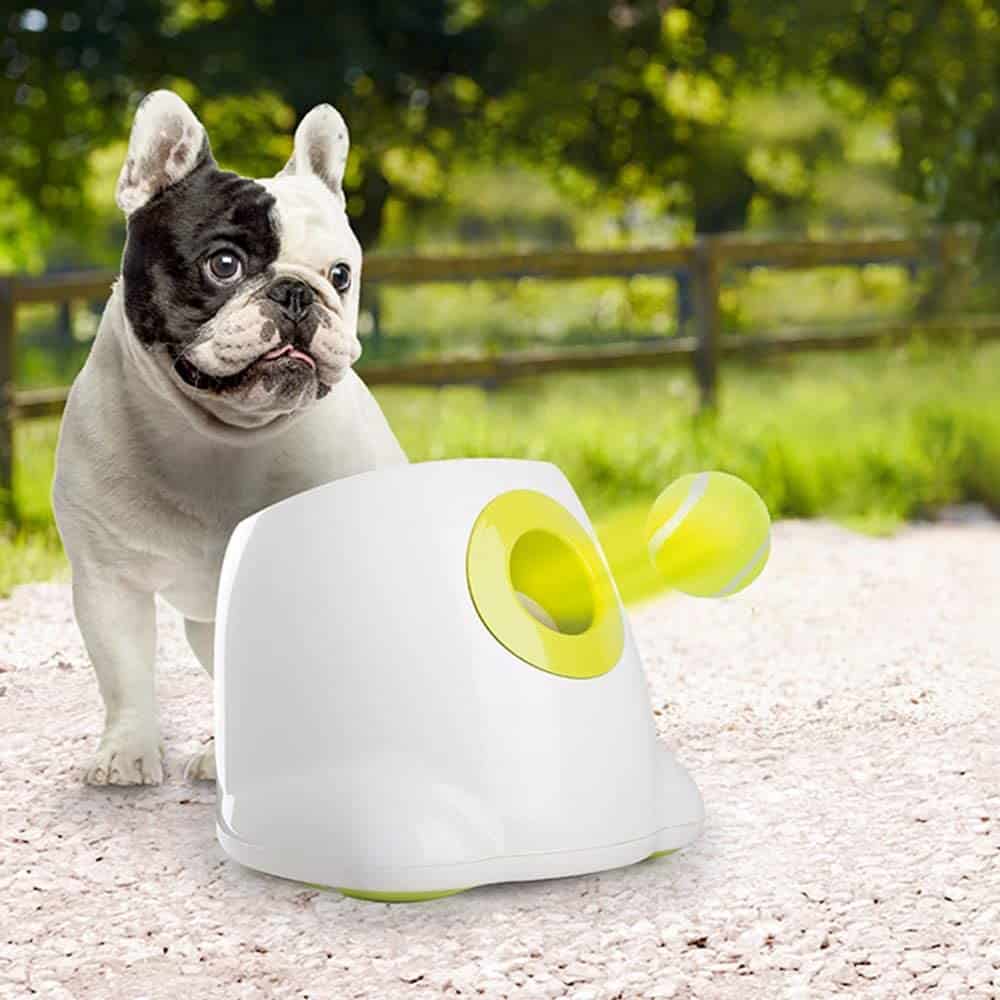 The AllForPaws Automatic Ball Thrower is a great way to challenge our dogs by teaching them to play fetch. Even for dogs that know the trick already, they will have to learn something new, which is playing with the throwing machine rather than with you.
Due to the size of this automatic ball launcher, and seeing that it is a Mini version, it is excellent for the smaller breeds of dogs. It does work for most medium sized dogs too, and it is ideal for puppies!
It comes with three mini tennis balls with diameters of 2.0 inches and they are non-abrasive, so they are safe for your dog's teeth.
There are three distance settings: 10ft, 20ft, or 30ft, and batteries are required. Thanks to the range, it can be used outdoors as well as indoors.
It comes with three standard tennis balls, and there is a money-back guarantee if you are not satisfied. This dog ball launcher is also very affordable.
To turn the machine on or off you have to hold the button for three seconds. When it is on, if you click once, twice, or three times that is how you can shift between the different ball throwing distances. The thrower machine will scan for a ball every 10 seconds, and if there is a ball inside it will be launched.
Although some dogs, like mine, might be skeptical about the dog fetch machine, but this is only at first as they should quickly move on from that and easily learn how to use the ball throwing machine to play fetch. The only problem that I could find when using this product was that it would seemingly turn itself off randomly sometimes. It could just be the one I happened the get, as this doesn't seem to be a common problem amongst other dog owners who have one.
Pros
Great for puppies
Three different distance settings
Can be used indoors and outdoors
Very reasonably priced
Cons
Turns itself off sporadically
The iDogmate mini automatic ball thrower is specially made for smaller dogs that are less than 15kg. It works with 1.5-inch mini rubber balls. If you have a larger dog, you're better off choosing a launcher that is capable of throwing bigger balls at a further distance.
It comes in the nice and simple colour white with some bright green, making it easy to spot no matter where you put it, and the size and shape of this throwing machine are ideal because it cannot be easily overturned. This is thanks to the sleek curves that cause it to have such a sturdy frame, so your dog can't easily tip it over. What's even better about this one is that, if your dog does tip it over – which is likely to happen – this launcher is very durable and will still be fully functional so it can handle a fall.
The large funnel at the top is so that it is convenient for your dog to drop the ball into the machine. This also helps avoid balls from getting stuck inside when damp or wet. Inside, it works with a pair of spinning wheels that spin until they reach the desired speed. As soon as a ball is dropped in and it comes into contact with the wheels, it gets launched immediately.
When preparing to launch a ball, it does make a high-pitch whining but that's it and, even indoors, it is minimal disturbance.
You can choose between four distances: 10ft, 20ft, 25ft, or 30ft, and you can adjust the distance by using the remote controller or by just clicking the machine directly. I find that having a remote for it is really great because I don't have to stay bending or squatting so often every time when I just want to adjust the settings.
There are two handles on both sides of the launcher so relocating this one is a breeze. At the back, you can find an on/off switch as well as a power switch. The on/off one is for those who want to use the rechargeable batteries. It may seem confusing at first, but it becomes very easy to distinguish the two.
Most ball launchers require 6 C-type batteries, which aren't cheap, but this one comes with rechargeable lithium-ion batteries that have the capability to launch over 1,700 balls with a single full charge. So, you won't be changing batteries very often with this one, saving you a good deal of money in the long run.
The battery and variety of different distances make it ideal to be used both outdoors or indoors. This automatic dog ball launcher is a little bit pricier than the previous product, and although it comes with three small balls they don't last very long, and it can be difficult to find balls of a similar size to get more.
Pros
Four different distance settings
Mini – perfect for smaller dogs
Remote control included
Rechargeable battery
Cons
Included balls don't last long
More costly than others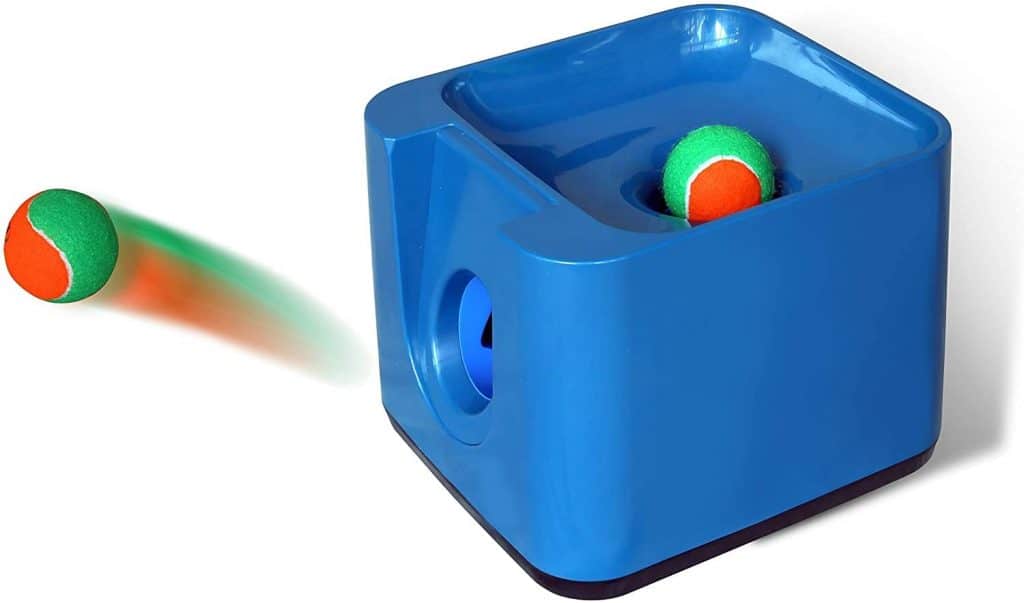 Here we have another product by iDogmate, this time it is for larger tennis balls and therefore great for any medium or large dog.
It does come with a remote control that is easy and simple to use, so there is no need to bend over and/or squat each time. New technology stops the ball from ever getting stuck while providing a maximum shooting distance.
Besides the device itself and its charger, you also get two 2.5 felted tennis balls that are bright green and red, making them easy to spot and retrieve at all times. They are made of 20% wool with a natural white rubber in and, more importantly, they are specially made for dogs so they are non-abrasive on their teeth.
It has a rechargeable Li-ion battery that supports up to 1000 launches once fully charged. The battery doesn't deteriorate over time and an auto turn off feature helps with this longevity whilst saving power.
Balls can be thrown at a distance of 10, 20, 30, or 40ft. On the device, there are indicators with numbers 1, 2, and 3 with lights – 1 for 10ft, 2 for 20ft, and the third for both 30ft and 40ft. There's also a random setting, in which all three of the lights would be on – this setting is great because it keeps your pup guessing what is coming next, making it more interactive and fun for both you and your dog.
Pros
4 distance settings
Random distance setting – more interactive and fun
Remote control
Rechargeable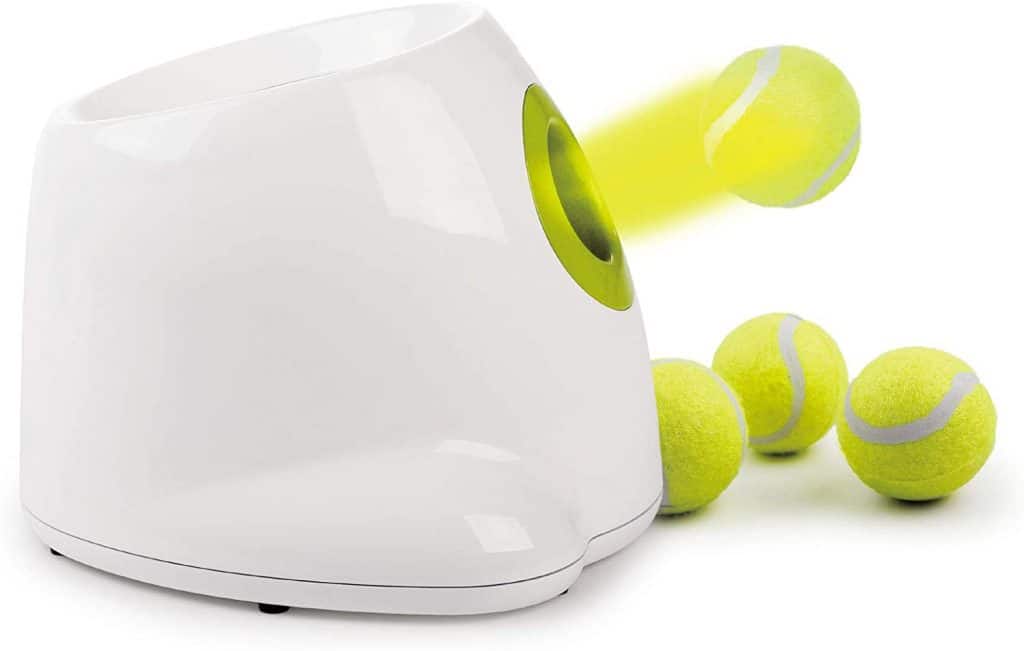 The Pet Prime Store automatic ball launcher has dimensions of 30 x 29 x 24 cm, weighs 2.16kg, and comes in the colour white making it easier to locate.
There are three different shooting ranges (10-30ft), but do keep in mind that the more you use a ball, and the dirtier and wetter it gets, it becomes heavy and so the range gets smaller. Always make sure you place the ball in well otherwise it can get stuck.
It comes with three standard 1.85 inch tennis balls and the launcher works with 6 batteries (not included) or with an AC adapter, which is included. Due to the size of the balls it can handle, it's not ideal for very big dogs as they can easily accidentally swallow the balls.
You may have some trouble if you try using any other balls other than the ones provided, which is quite a downside if you're anything like me – balls get lost from time to time and need to be replaced. At least, you can find and purchase more balls from them directly but I still prefer a more versatile launcher.
To set up this launcher, you need to start by opening the battery cover at the bottom and connect the two wires together. Then, push the power on/off button to turn it on and select a distance between 10ft, 20ft, or 30ft. Adjust the launcher's direction, put the balls in the chamber, and you are good to go.
To turn it off, hold that power on/off button for three seconds. You'll know it's off because the light goes out.
It does only launch balls every 10 seconds, which is fine but I do wish the timing was a bit more sporadic. Plus, a remote control would have been nice.
Pros
Three distance ranges
Good for outdoor and indoor use
Good for small-medium dogs
Cons
No remote
Not good for large dogs
Only accepts 1.85 inch tennis balls
Related Posts –