We have tried all of Fifi Beaumonts dog food and found that two in particular are our favourites.
Namely, the Superfood & Beef dog food as well as the grain free chicken with sweet potato and herbs, which are for adult dogs, and both recipes have very yummy, nutritious ingredients.
Read on to find out more about what ingredients are included and their numerous benefits from both options – I'm sure you'll come to agree with us that they definitely are worth trying.
Our first choice has 5 selected superfoods, 65% premium beef, pre-biotics that support digestion, and naturally occurring collagen to improve mobility which is particularly great for dogs with arthritis.
This beef flavour is available in bags of 2kg or 12kg, giving you two options to choose from depending on you and your dog's needs.
Ingredients
35% of the premium beef is freshly prepped, 24% of it is dried beef, and the remaining 6% is beef fat. This recipe also consists of sweet potatoes, beans, beet pulp, a dried blend of 5 superfoods (carrot, green beans, cauliflower, tomato, & courgette), added Omega 3 essential fatty acids, several vitamins, olive extract, glucosamine, Fructooligosaccharides, Chondroitin Sulphate, Methylsulfonylmethane, and minerals such as calcium.
38% of it is crude protein, with 16% crude fat, 3.5% crude fibre, as well as 8% for both crude ash and moisture.
Benefits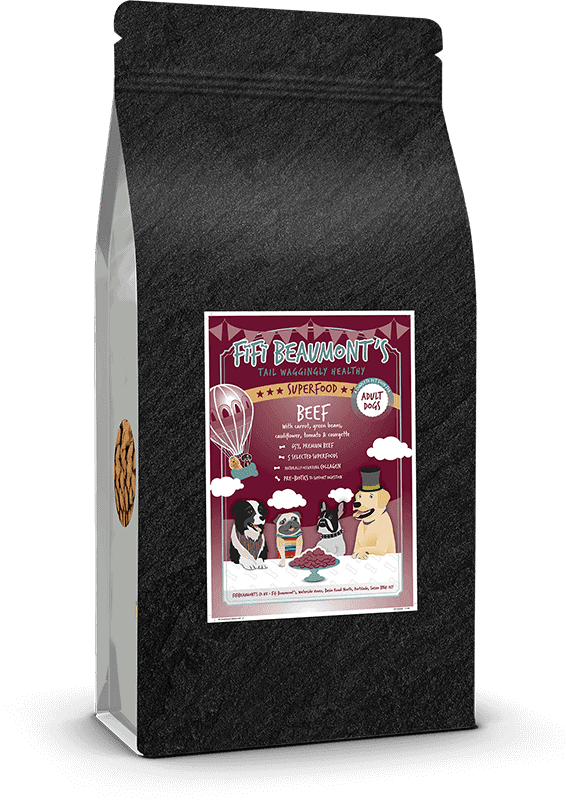 All of the ingredients have lots of benefits for your dog, but let's focus on the 5 superfoods chosen for this recipe.
Carrot is a great source of vitamin A which supports vision, immune response, cellular differentiation, and more.
Green beans have iron, an essential mineral for dogs that helps with carrying oxygen throughout their body in order to produce energy.
Cauliflower is high in vitamin C an important antioxidant that helps reduce inflammation and rids your dog's body of any potentially harmful free radicals, and folate which ensures cell growth.
Tomato is great for dietary fibre and healthy digestion, and courgette which is a good source of potassium, vitamin C, and folic acid – important for bones, muscles, immune system, and vision.
Lastly, courgette is also a great source of vitamin C, potassium, folate, beta-carotene, and calcium. They are essential for strong, healthy bones and the functioning of your dog's immune system, vision, nerves, and muscles.
The large number of antioxidants that can be found in courgettes protect the body from free radicals, which are unstable molecules that can cause harm to your dog's DNA in the long run, speeding the ageing process.
Since courgettes have a lot of water in them, this lessens constipation as it softens the stool, so your dog won't have any problems going toilet either.
The grain free chicken is freshly prepared, with 55% premium chicken, added omega 3 supplements, and pre-biotics to support a happy tummy.
This flavour is available in bags of 2kg, 6kg, and 12kg, giving you even more choice than our previous option. No matter whether you have a small, medium, or large dog, one of these options can accommodate you.
Ingredients
31% of the chicken is freshly prepared, 21% of it is dried chicken, and the remaining 3% is chicken stock. There's also 26% sweet potato, 6% peas, potato, beet pulp, linseed, omega 3 supplement, vitamins, vegetable stock, basil, marjoram, oregano, sage, thyme, parsley, FOS, MOS, and minerals like calcium and phosphorus.
27% is crude protein, 14% is crude fat, 4% crude fibre, 7.5% crude ash, 8% moisture, 2.3% Omega 6, 1.3% omega 3, 1.4% calcium, and 1% phosphorus.
Benefits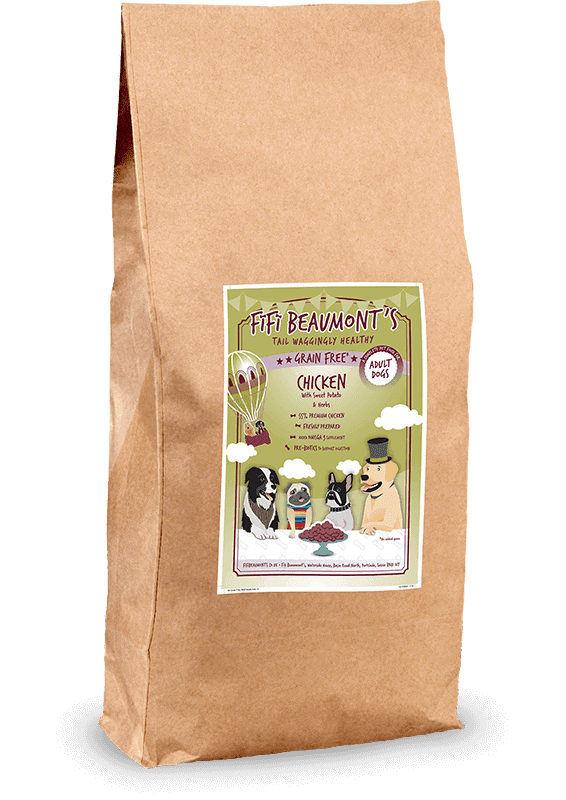 The special mix of herbs has been added due to the large amount of beneficial vitamins and antioxidants they contain.
Not to mention that chicken is an excellent source of lean protein and amino acids. That, combined with tasty sweet potato creates a carb that can be easily digested and transformed into energy. Plus, it's the perfect alternative to grains and is high in B vitamins.
Oregano is a medicinal herb that can cleanse your dog's body from toxins thanks to its antibacterial, antifungal, and antiviral properties. It can also reduce swelling and inflammation and improve joint movement.
Sage contains a ton of vitamins and minerals such as Vitamins A, E, K, calcium, magnesium, potassium, zinc, etc. making it highly nutritious. The high amount of fiber also supports digestion and ease bloating.
Thyme also has a lot of vitamins (A, C, & K) that boost the immune system and that are essential for strong, healthy bones.
Conclusion
Both recipes have plenty of nutritious ingredients that provide a lot of benefits for our dogs.
Another thing worth mentioning that is valid for both flavours, is that the kibble is of a good shape and size for adult dogs. They aren't too small or too large, so that your dog can't just gobble them up too quickly without even chewing properly first. Plus, if I found the smell of the kibble appealing, imagine how my dogs must have felt!
My dogs usually have some issues with digestion, gas, bloating, and their stool, but they didn't have any issues at all with these flavours from Fifi Beaumonts and they were clearly the favourites.
Related Posts –