Going for walks with your dog can be the best way to relax after a long day at work. But only if the walk doesn't become the reason for a massive clean up session every day. Going for a walk in rainy weather or after a recent rain can become a huge muddy mess. Especially if your legs are well protected by boots, but there are four more legs that are not.
Tracking mud and dirt back home can be avoided by the simple expedient of getting your dog boots too. It's not just for your convenience, though. It's also protective for your dog. These days, wellies made for dogs fit very well and are no longer the plastic bag-like creations of yore. They are snug covers for your dog's feet that make sure his paws aren't constantly in the damp, as well as protecting his soft underfoot pads from any sharp objects in your path, that could otherwise hurt him.
Keeping that in mind, here are some of the best Wellies for dogs in the market these days. And you can be sure, these boots are made for walking.
Table could not be displayed.
Wellies for Dogs – Our Top 5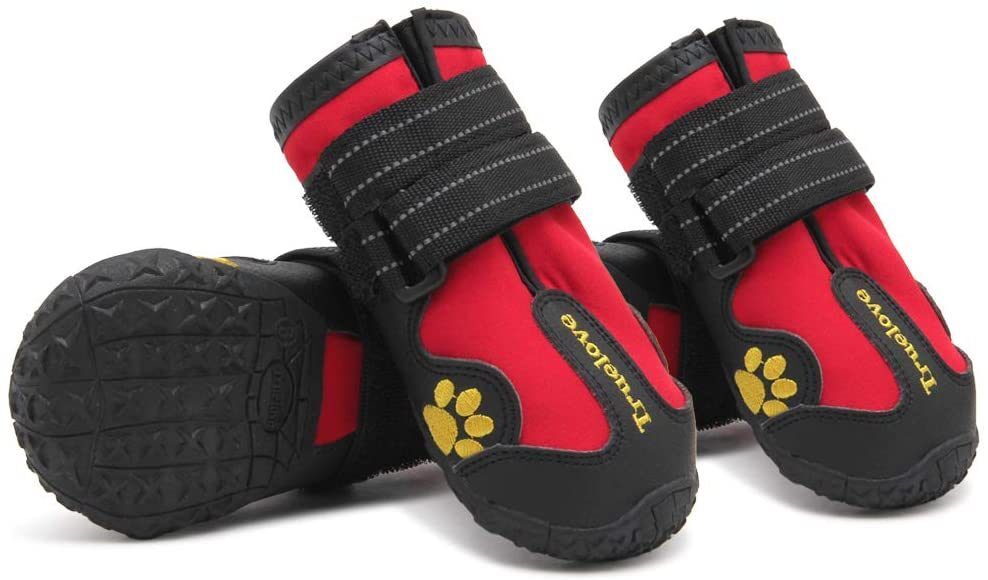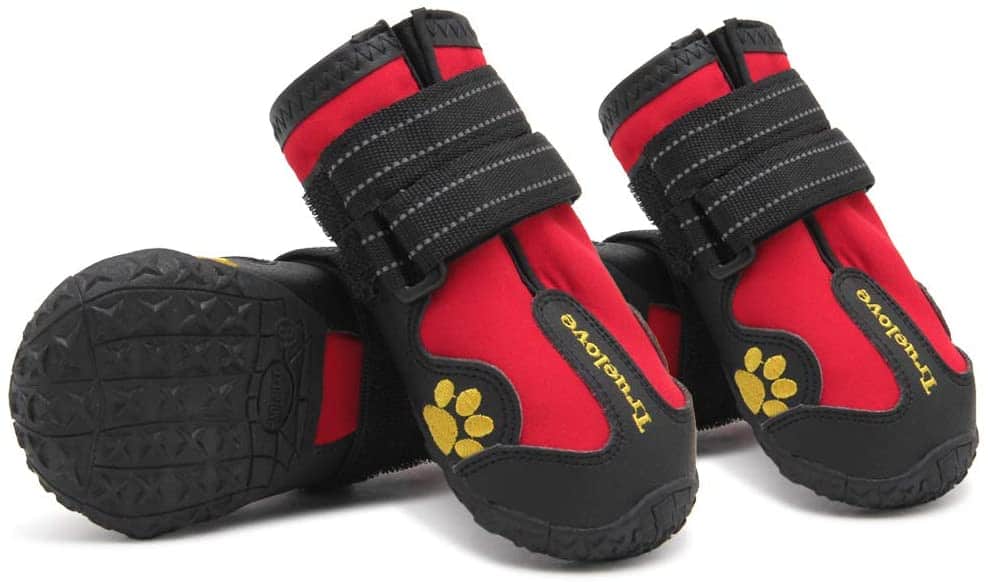 A set of dog wellies with a twist, the MOKCCI boots come with a special feature. Although also made of rubber, these wellies are lined with a thick layer of buttery soft lining. This makes the boots not only waterproof, but even cold weather proof.
This is a huge advantage for pet owners in countries like UK, where rain is a steady feature in the weather for most of the year, but is also very frequent in the colder months. It can be the cause a lot of health problems for dogs just as easily as for humans, if they are exposed to the damp and cold simultaneously. Even when they have long hair, dogs' feets can be very exposed in such conditions. Over time, this means a lot of joint aches and mobility issues for your dog as he gets older.
All these can be avoided with the use of boots that have a warm lining, like the MOKCCI boots. The fleece lining keeps your dog's paws snug and cozy. Even when it's not cold outside, the lining will be a good cushioning. All the while, the rubber boots and rubber sole make the boots completely waterproof.
The rubber sole is embossed with a design and also made to be anti-skid, so that your dog can't possibly slip while wearing these, even while walking over very slick surfaces. Despite being made with a good grip though, the boots are soft and comfortable and will not strain your dog's paws.
The tops of the boots are sealed with knitted elastic cuffs that make sure no rain blows in or seeps into the boots from the opening. This keeps them completely warm and dry, plus, it keeps the heat trapped inside for maximum coziness.
The perfect gift for pupper owners, these boots are easy to put on, easy to adjust (with an awesome velcro strap), and easy to slide off and put away. If you're looking for an all round convenient boot for your dog, this is an option you should look twice at.
Pros
Waterproof
Great for cold weather
Comfortable
The bulky big brother in our list of dog wellies, the Royalcare protective dog boots are a heavy duty alternative to the more lightweight boots on our list. But fear not! What they lack in lightness of build, they definitely don't in comfort or versatility of use.
The Royalcare waterproof dog shoes are super tough boots, with a thick exterior that protects against sharp rocks, pebbles, thorns etc. that could hurt the soft pads on your dog's paws. The tough surface also protects against reagents left outside to melt snow, salt, slush, and keeps their feet safe from debris and grit that could get trapped between their toes or in their fur.
The upper part of the boot is just as protective even when not as thick. Both layers keep rain and snow out and keep the body heat conserved, giving your dog warm and snug feet, even in the dead of winter.
The rest of the Royalcare boots are made of a breathable fabric that allows good ventilation without being fully open to the elements. The breathable nature of the fabric makes it very comfortable for your dog, making it ideal for long walks or people living in areas where the weather is prone to fluctuations.
The Royalcare boot are just as adaptable for walks, strolls, runs, long hikes, traveling, as well as for dogs who have to spend a lot of time on hardwood floors, which can strain their feet. The design takes a dog's paw shape into consideration, and the wellies are so ergonomically designed to put the minimum amount of stress on their footpads and joints.
This is one of the reasons these boots come so highly recommended by vets. The boots can be made to fit tighter with a velcro strap that closes them around your dog's foot shape. They are very adjustable, so they can be made to fit almost any foot shape very closely. Once fastened, you don't have to worry about them coming undone again. The velcro strap has an additional two long straps that wind around to the right length that you need.
Plus, these boots aren't just serviceable, but also cute. They have a sweet little embroidered cover, which adds to their softness quotient. If you make sure to measure your dog's paws before you order these boots, there is simply no going wrong with them.
Pros
Durable and good quality
Ergonomic
Very cute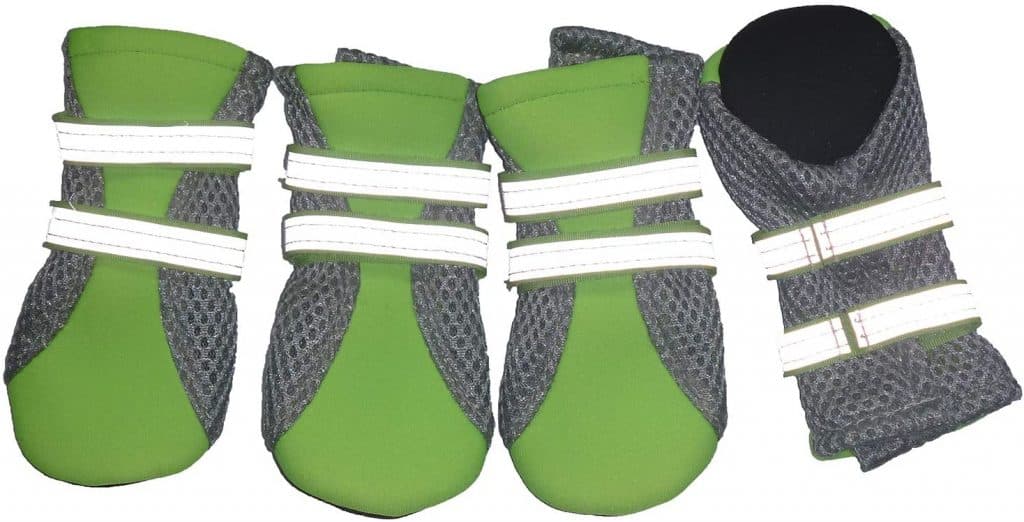 A little different from the other boots on our list, the wellies from Vibrant Fellow are made of neoprene and double layered mesh fabric and are a lot softer than the firmly molded rubber boots before them. However, they lack none of the security.
The boots have a sturdy upper section, that keeps dirt and debris out, while still allowing good air circulation. This means the damp and rain stay out, but there is enough air circulating to make sure that no odours are retained. This is helped even more by the breathable fabric and mesh design.
But that doesn't mean that the boots are open to the elements. The Vibrant Fellow boots are sturdy with skid-proof and waterproof soles, as well as flexible enough for your dog to be able to walk and run in them with equal ease. And of course, loll on the grass where he will.
The design puts the opening at the back ankle, so the boots can be simply slipped on. Your dog can wear them for walks, strolls, out during playtime, while traveling, even on long hikes. The boots also have two reflective straps, so there is an added measure of security if you take him out at night.
While these boots are very useful for casual use, they are not made for places which receive large quantities of rain. As in, they are not suited for use in standing water or prolonged water exposure, or in places with deep mud or sand. But if you are looking for casual use boots for your dog, these boots are worth considering.
Pros
Waterproof soles
Reflective
Good air circulation
Cons
Not completely waterproof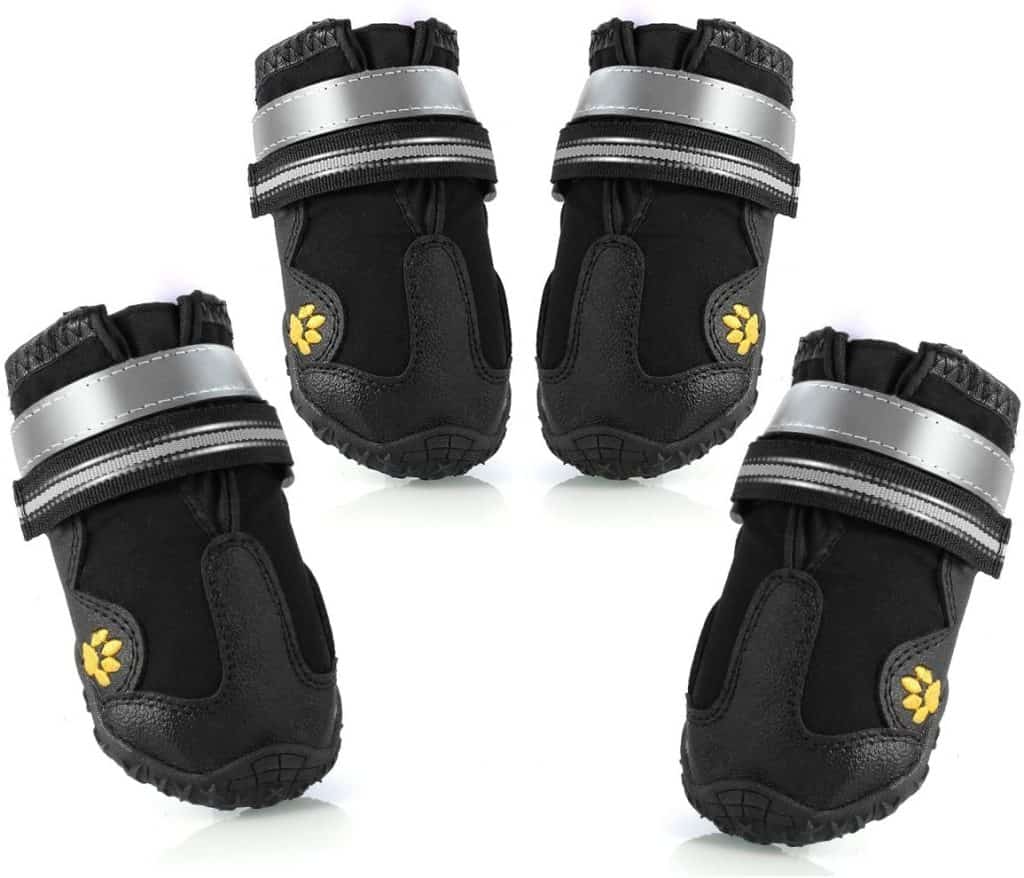 One more option for dog owners looking for a good pair of wellies, these adorable little embroidered boots are suited for almost any dog breed.
Simultaneously fashionable and durable, the Petyoung boots are made from high quality fabrics and wear-resistant materials. They keep your pet looking well-kept even while he's determinedly marching through as much mud as he can find. These boots are specifically designed for being worn for long periods of time without putting strain on your dog's paws.
The boots are both skid proof as well as water resistant, which makes them flexible for use in multiple weather conditions. They make for a warm and comfortable fit, with two adjustable straps that bind the shoe in place on your dog's paws.
Additionally, the straps also have reflective tape, which makes them easy to spot in limited light, such as at night, when you have to take your dog out for any reason. And since the straps are also bite-proof, there is no chance of them coming off if your dog decides to go to work on them. (For puppy owners, this is a very big advantage!)
However, one thing to note is that these boots can't be used in areas with a lot of standing water or sand, as they are only water resistant and not waterproof. The base of the boots has microperformations, which can easily allow water to seep in, if they are submerged for any amount of time. The same applies for sandy terrain, such as at the beach.
Another problem can be that these boots are not designed for very regular use. The soles are not as durable as those of daily wear boots. So, if you're looking for boots your dog can use more frequently, it may be good to consider the other options on our list. But for infrequent use, these boots do very well.
Pros
Reflective
Skidproof
Adjustment for the perfect fit
Cons
Not completely waterproof
Not too durable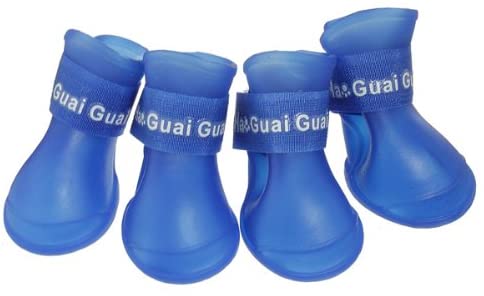 The cutest little boots for your dog, the Doggie Style boots are adorable enough to outshine any children's boots on the market- but obviously, not cuter than your dog. Made of 100% waterproof silicon, the boots are an almost seamless wrap for your dog's feet, with a convenient velcro closure that you can adjust to fit your dog's feet better.
The soles of the boots have a special skidproof design, with tread patterns for extra grip. This makes sure you both can go walking in rain, snow, or tromping through mud in the aftermath of wet weather.
They're not just useful because they're waterproof, though. You can put the Doggie Style to use just as often in searing hot weather, when you want to make sure that your dog's paws won't get burned on the pavements. They're also good for walking over paths and roads that have recently been salted. Salt makes everything much more slippery, and the treads help get your dog walk without losing his balance on them.
While the boots will help you get over and through everything without having to reckon with a mess, the Doggie Style themselves are no issue to clean. They only need a quick rinse with water to get squeaky clean again, and you can just leave them out to air dry after that.
This is a super useful feature when you end up using the boots frequently. And is an added bonus for dog owners who have long haired dogs, with whom clean-up is a lot more complicated and long-winded.
The Doggie Style boots come in a wide range of sizes, so make sure to pick the right one for your dog for the closest, best fit. If you're looking for a one stop fix for your dog's walks, these are the wellies you should opt for.
Pros
Variety of sizes
Easy to clean
Fits well
Skidproof & waterproof
Cons
Not as nice a fit as other options
Not adjustable
Related Posts –