Your dog's security is of utmost importance. One of the best ways to keep your dog safe is to use a dog gate.
Dog gates are important tools that help you keep your pets secure by stopping them from going to parts of your home that may be unsafe for them. They are also useful for those who want to keep their homes safe from any damage their pets may cause.
If you are searching for a dog gate for your pet then this article will surely help you find the best one for you, your home, and your pet. Here are some of the best dog gates on the market.
Preview
Best Choice
Sturdy Option
Title
Unipaws 3 Panel 91cm Extra Tall Large Pet Gate
Venture Q-Fix Extra Tall Pressure Fit Pet Safety Gate
BabyDan Guard Me Auto Foldable Safety Guard
Best Choice
Preview
Title
Unipaws 3 Panel 91cm Extra Tall Large Pet Gate
Preview
Title
Venture Q-Fix Extra Tall Pressure Fit Pet Safety Gate
Sturdy Option
Preview
Title
BabyDan Guard Me Auto Foldable Safety Guard
Best Dog Gates – Our Top 5
UniPaws dog gate is equipped with two support feet and is made with rich, grey finish. The overall look of this dog gate will enhance the impression you're trying to provide with your home and will look best in a modern home design.
This dog gate is especially useful if you're trying to keep your dog out of specific areas. It is easy to install, and it ensures the safety of your home, as well as everything or everyone around it.
My first impression of this gate was that it's beautiful. Too often, I see friends and family with a dog gate that makes the room it's set up in look cheap or small.
I decided to buy this gate in espresso, but you can also get it in grey. It's a free-standing gate, which means that it can stand on its own. You don't have to attach it to doorways or walls. I appreciated the rubber pads features under the gate's feet, which ensure that your home doesn't get scratched or damage.
Upon ordering this product, I was skeptial. Fortunately, the dog gate proved practical. Panes can be moved both ways and it's easy to install it. I loved using this gate because it provided me with the opportunity to keep my dog out of the kitchen. Not only this, but the gate didn't fall on my dog, who is pretty big.
Overall, I would say that this is a solid and reliable product for families to enjoy. This is easily the best freestanding dog gate out there!
Pros
Easy to set up
Elegant
Free standing gate
Dog Gate for Stairs – Best Option
This extra tall pet gate is easy to install and can easily be mounted. This can be done as soon as you take it out from box, and it doesn't need any screwing or drilling. This gate fits in openings of 75-82cm. Its length can also be increased to 96 cm by using additional extensions.
Usually, pet gates fall when it comes to dogs that are large in size because the gate can easily be opened or broken due to their weight. This is usually the case for my dog. Although with this gate I was pleased to know that this gate is ideal for large dogs too and has a gap of about 5.7 cm between the bars.
I am really pleased with the way it can be installed so easily. It is quite sturdy and grips the wall without leaving any marks or damage. The gate is also held together by being secured by both the top and bottom of the door.
While my dog usually runs all over my carpet and gets hair everywhere, I was able to keep him away from the carpet. Not having to chase him around to get him off the carpet was a blessing.
If you have a dog who always eats your other pets' food, you can also use it to keep him out of the room when your other pets are eating. If your dog is anything like mine, this will save you heaps of money in pet food.
Pros
Easy to install
Easy to mount
Can be extended to fit in multiple doorways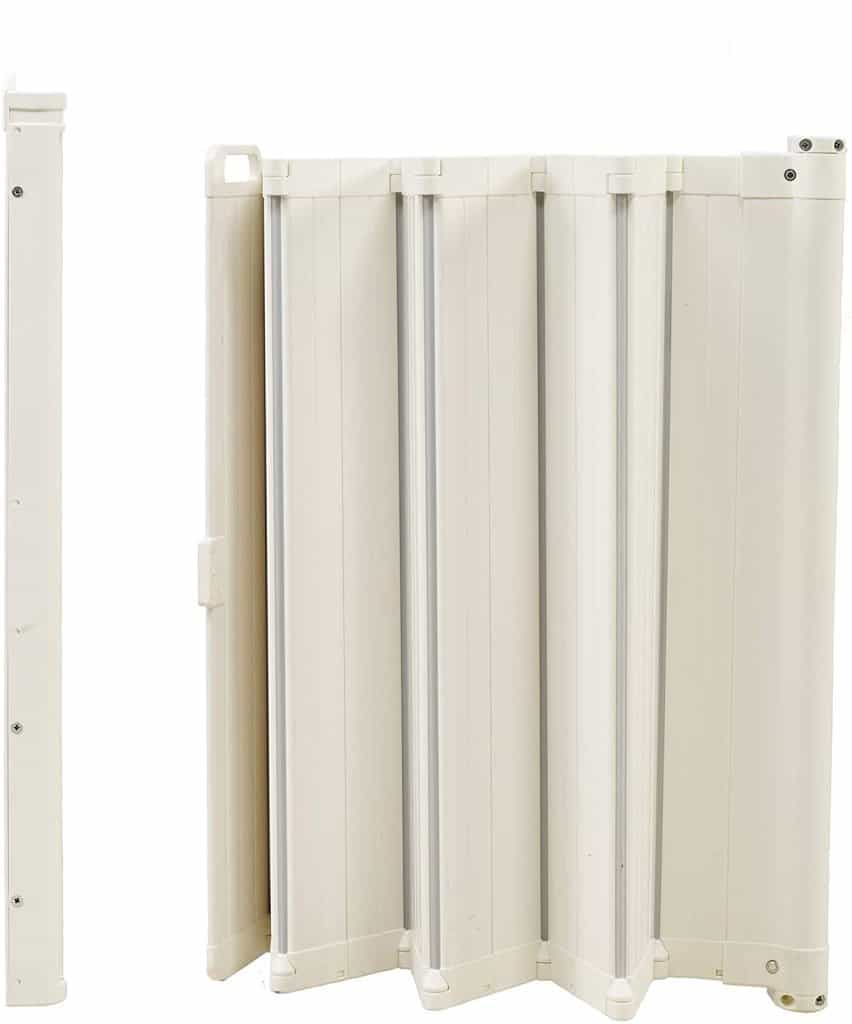 BabyDan Guard Me is an easy-to-fold safety, gate which will easily fold back when opened automatically. An adult can easily open this gate with one hand and can easily fit between doors.
Fittings can easily be mounted outside or inside of your door frame depending on where you need to fit it. It can be folded and, therefore, it is best for homes that are lacking in space or for individuals who want to avoid a cluttered home.
If you've owned a dog gate before, you know how annoying it is when you're trying to pass through it, and you can't open it with one hand. If you're holding something or if you're on the phone, this task becomes extremely difficult.
With this gate, I never had to worry about not being able to open it if I was carrying something in my other hand and as such, I was able to save myself from doing some acrobatic moves to climb over it.
The shipping process of this dog gate was great. It arrived on time and was well protected with packaging. This gate is less awkward than other products on the market and is more appealing than most.
Overall, this gate exceeded my expectations and I knew that I had to add it to my list.
When it comes to keeping my dog safe, I don't mess around. You might want to be aware, though, that smaller dogs may be able to fit in the spaces of the gate. This is definitely made for bigger dogs. My dog is medium-sized, and we didn't have any problems. The gate never fell over and it never broke down, which has happened with too many dog gates in the past.
Pros
Ideal for bigger dogs
Easy to open and close
Can be folded closed for compact storage when not needed
Sturdy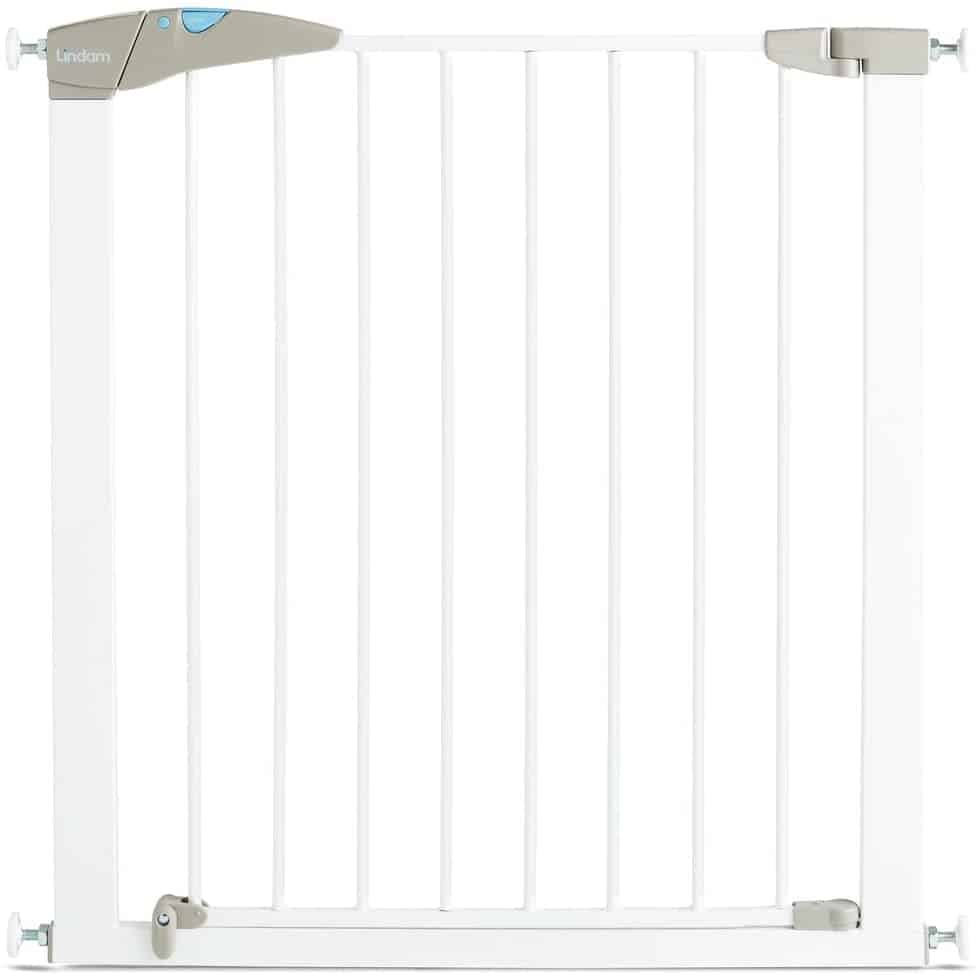 Lindam Sure Shut is a pressure-fit gate that doesn't require drilling and has an extra wide entry so that you can walk through it easily. It has gravity-based hinges, which allows the gate to close automatically behind you. These hinges make the process of using your dog gate all that much easier.
Like the name suggests, this is a completely secure gate. I don't like to spend a lot of time setting up my stuff or installing things on my wall. Out of everything, I think installing pet gates is my least favourite thing.
When I got this dog gate, it was easy to assemble it only take me literally 5 minutes. Not only this, but I didn't have to spend my time trying to figure out how to level this gate to have it installed on my wall. This gate is strong, and it isn't knocked over when my heavy dog tries to lean against it, which often happens when he wants some treats.
If you're someone who needs something that can be opened with a single hand, this might prove difficult for you. Of course, you should also make sure not to have adults lean against it. This can happen when they're trying to grab something from other side of the gate or if they're reaching in to pet your dog.
Keep in mind that this gate is built for a dog's weight and isn't built for a human's weight.
I also found that this gate was useful for smaller dogs. That's because the spaces in this gate are relatively small and as such, you don't need to worry about your dog's head getting stuck anywhere.
I've heard horror stories, as have many people, about dogs getting stuck in gates and I refuse to let this happen to my dog.
Pros
Gravity based – no need for drilling
Easy & fast installation
Does it's job well
Extra Tall Pet Gate – Good Choice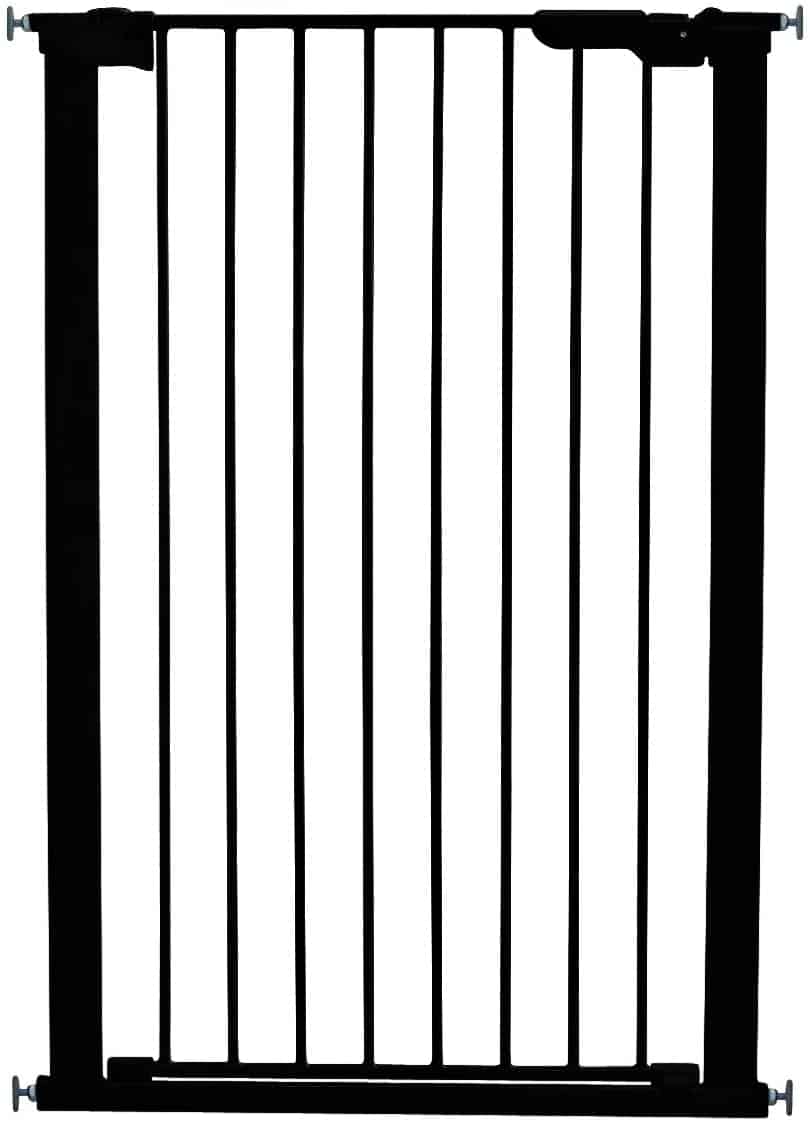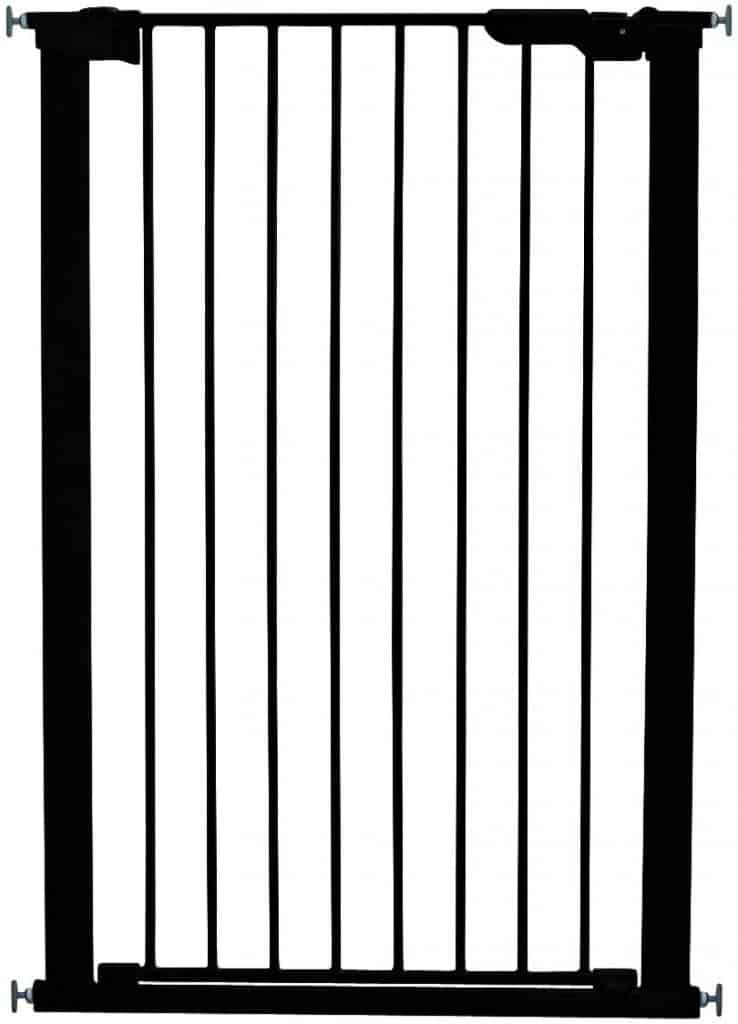 The name of this gate says a lot. For one thing, it's extra tall. This means that it's ideal for people who have big dogs that they need to keep in small spaces. Most would agree that dogs like Great Danes are extremely difficult to control and to keep in a single room. This is partly because the sheer height of these dogs.
If you have a tall dog, you've likely had the experience of buying a dog gate and simply having your dog jump over it. There's nothing worse than this waste of money.
If you're wondering about the technicalities and measurements of this dog gate, I have those too. This gate will fit door openings that range from 73 to 86 cm. It also stands at a height of 106 cm when it is extended.
Baby Dan has created a gate with a triple locking handle to ensure added security. The gate also opens in both directions to provide enhanced convenience. This is another gate that doesn't need to be mounted; rather, you can use it pretty much anywhere and at any time.
While I already mentioned that this gate is great for big dogs, I should probably mention that it's also great for energetic dogs. If you have a dog that likes to run and jump around a lot, there's nothing better than having something that can ensure they're safe and not getting into trouble.
The stairs to my basement run through my kitchen and I'm always paranoid because I have to watch to make sure my dog isn't falling down the stairs or that it's not sneaking up behind me to eat any food that falls on the ground.
Buying this dog gate allowed me to have more peace of mind because I set it up to ensure that my dog was either staying out of the kitchen or in the basement. I have a dog that's still being trained and as such, I'm always looking back and forth to make sure everyone, especially the dog, is okay. Because of how big this gate is, I never had to worry about my dog jumping over it.
This is also ideal if you have toddlers or children. For those who have dogs that get possessive around food, you can use this dog gate to either keep your kids or your dog out of the kitchen. This will keep everyone safe and happy.
You can also use Baby Dan's dog gate to keep two dogs away from each other. We all know the story of dogs who are fine until it comes time to eat. Then they growl at each other or become too aggressive because of their food. Instead, you can use this dog gate during feeding time. This will separate the dogs and will ensure that they aren't harassing each other during dinner.
The only complaint I have about this dog gate is that it is hard to open the door for the gate. The benefit of this is that your children won't be opening and closing the door all the time, after all, if adults have a hard time with these gates then children will as well. If you're holding something in your hand, you won't be able to open the gate at the same time.
For some, the difficulty of using this gate ensures that it is secure. For others, it means that this gate is tedious and too difficult to manage. I found that while this was hard to open, the benefits I got from it otherwise were too great to pass up.
BabyDan's gate is easy to set up, it's sturdy, and it ensures that everyone in my household, including my dog, are safe. The minor con associated with it is something I got used to very quickly. Upon trying it, I knew that I had this one to my list of best dog gates.
Cons
Little difficult to open/close at times
Related Posts –