Winter often means that walks with our dogs become less frequent. Unfortunately, having to stay home more often does not always mean that they are safer from catching things from the outside.
Fleas are a universal nuisance for our pets. Not only do they annoy our pets, but also put them at serious risk of flea and tick borne infections. Flea infestations, even without the chance of carried illnesses, can still have consequences like anemia, weakness, irritated skin, hair loss.
If unchecked, the fleas can multiply and spread to other animals and humans in the house as well, through shared bedding, seating areas, or shared living spaces. This is why if you suspect your dog has fleas, you need to counter it immediately with the right tools. Here is a list of the best dog flea shampoos in the UK, for you to pick from.
Preview
Best Choice
All Natural Option
Title
Animology Flea and Tick Dog Shampoo
Cooper and Grace Flea Shampoo For Dogs
The Healthy Dog Co. All Natural Flea Shampoo
Best Choice
Preview
Title
Animology Flea and Tick Dog Shampoo
Preview
Title
Cooper and Grace Flea Shampoo For Dogs
All Natural Option
Preview
Title
The Healthy Dog Co. All Natural Flea Shampoo
Most Effective Flea Treatment For Dogs UK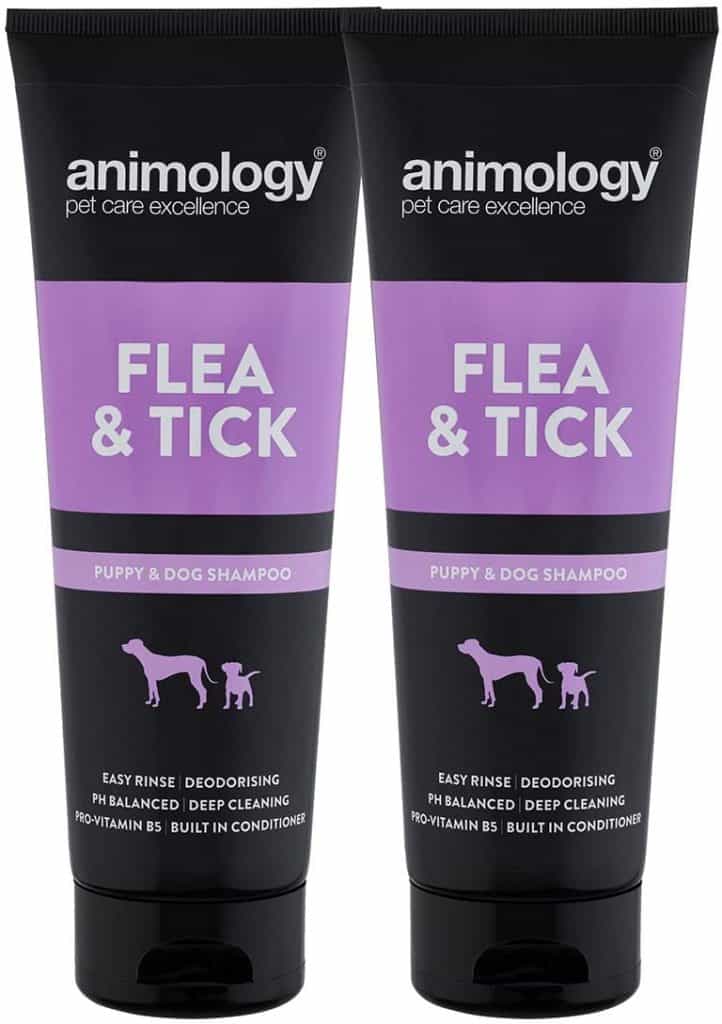 Here's a name anyone who has had to fight fleas before will recognise: Animology. The Animology Flea and Tick Dog shampoo is one of the most well known names in pet care. An extremely effective shampoo, it's efficacy is only offset by its formulation and other benefits.
A pure vegan shampoo, the Animology flea and tick shampoo has been known to defeat (defleat, heh heh) severe infestations even in cases where other shampoos simply have not been able to.
This has in part to do with its formulation. It contains organic Neem oil, which is a strong astringent and has significant anti-parasite action. It renders our dogs' skin and fur uninhabitable for blood sucking pests, and rids of them of the parasites.
It also has tea tree oil added, which doubles the astringent action. Tea tree oil helps with repairing and soothing inflamed and infected skin, especially over areas that have been ravaged by biting ticks and fleas. This provides relief to your dog while cleansing even the tender areas.
The shampoo also acts by providing deep cleansing action in every wash. It thoroughly removes all dirt and grease from your dog's fur, without resorting to harsh detergents that could irritate already sensitive skin.
It also washes the fleas out of your dog's fur, with a special easy rinse formulation that works quickly without working too abrasively. This further reduces the chance of irritation.
The shampoo also contains built in conditioners, that smoothen your dog's coat and keep it soft and tangle free. This reduces the chances of tangles building up, which are often nesting hotspots for parasites. Added Pro vitamin B6 nourishes both the skin and the roots of the hair follicles, giving your dog a thicker and more lustrous coat.
The shampoo is very mild and helps restore balance to your dog's coat. It's only mildly fragranced with a clean medicine smell, so there are no overpowering chemicals or smells that could annoy your dog.
And, since it's suited for dogs of all ages starting six weeks, you can use this for your dog even if he doesn't have fleas. It's a great option for dogs with sensitive skin, even without or after an infection.The Animology shampoo is a great little bottle to have on the shelf for your dog.
Pros
All natural and organic
Safe for most dogs
Essential oils like Neem are active ingredients
Helps nourish and support both skin and hair
Cons
Not ideal for dogs with very greasy fur
Best Dog Flea Shampoo UK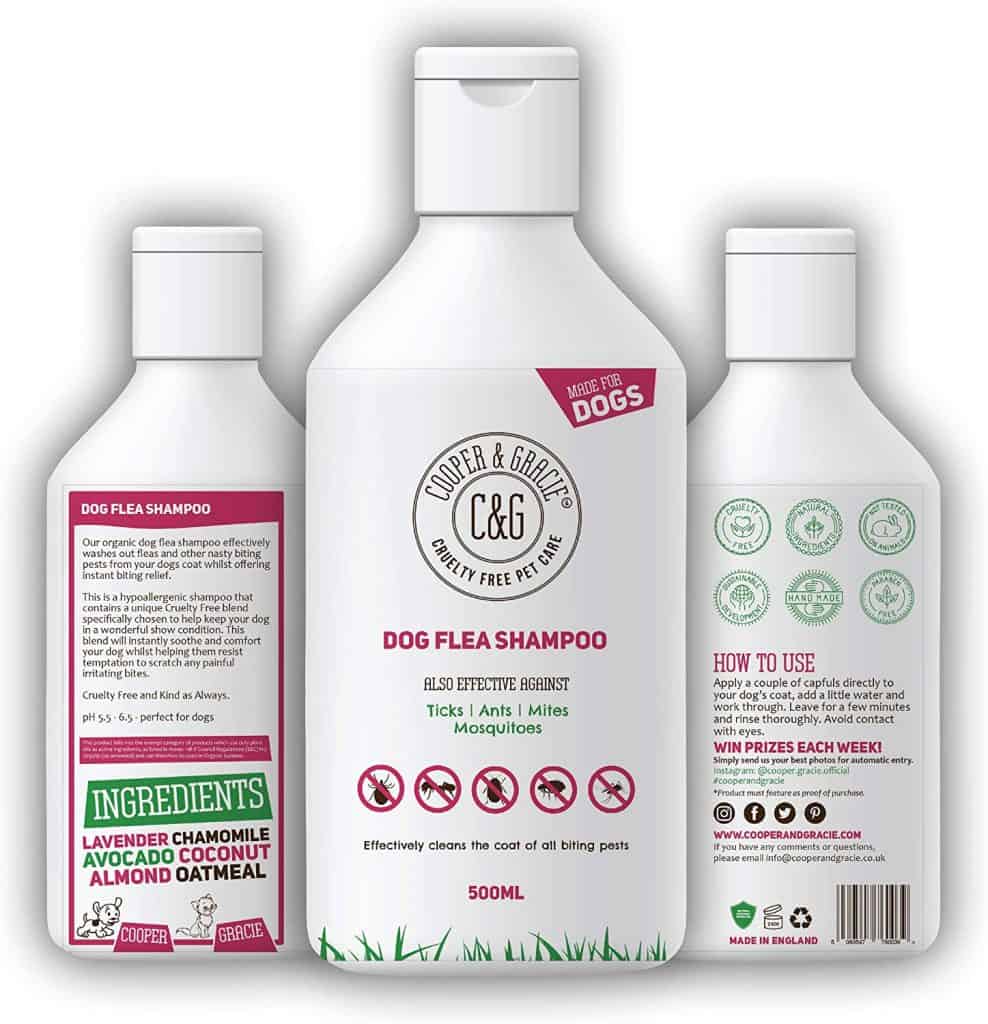 One of the best options for nature lovers, the Cooper and Grace Cruelty free dog shampoo is a special shampoo on all fronts. As the name states, the shampoo is proudly cruelty free and a completely vegan formulation.
The Cooper and Grace flea shampoo is a highly effective yet mild flea shampoo, ideal for dogs with sensitive skin. The shampoo uses a mix of pure and carefully extracted high quality natural essential oils, which are blended so as to preserve the therapeutic properties of each of them.
Bathing with this shampoo helps your dog experience immediate relief over itchy, scratchy, and inflamed skin, where insects and parasites have wreaked havoc. It also provides relief from constantly having to scratch and gnaw at irritated skin, which helps our worked up pets calm down.
The essential oils in the formulation also helps damaged skin repair itself, so that the healing process gets sped up. This helps cracked and itchy skin under your dog's coat scab over faster, and gives him a modicum of relief immediately as well. The soothing nature of the shampoo helps in recovery as well as repair, and helps establish a better defense system in your dog's skin.
The shampoo is so mild and safe, that it can be safely used for puppies as well. Since it contains no harmful added chemical preservatives or detergent solutions. It's extremely suited for young dogs, or even puppies, regardless of whether they have fleas.
The Cooper and Grace shampoo can be used for all dogs, whether or not they are currently suffering from an infestation. The compounds in it are specifically non irritant, and the absence of strong perfumes or fragrances means that your dog will always look forward to bathtime.
Plus, added vitamin E and natural conditioners promote the health of your dog's skin and coat, leaving him with a full, lustrous, soft, and tangle free coat. It not only looks good, but also promotes a healthy balance in your dog's skin.
The Vitamin E added also helps boost immunity by increasing the skin cells' integrity and defense mechanisms. Not to mention, it also naturally improves the quality of your dog's skin and fur.
The Cooper and Grace shampoo is also completely nontoxic, and contains no added detergent chemicals that make commercial shampoos lather up. This low lather formulation also means that it rinses out quickly and completely, washing only the dirty and grease in your dog's fur out, while sparing the natural oils produced in his skin.
Plus, it's also an antibacterial and anti-fungal shampoo. The only ones getting hurt will be the parasites and blood sucking ticks who get kicked out of your dog's fur (and they can definitely leave!). It's a win win all around!
Pros
Antibacterial and antifungal action
Nontoxic, all natural, and organic ingredients
Soothes inflamed and irritated skin, such as in bad infestations
Easy to work into and wash out of fur
Added vitamin E in formulation
Cons
Does not kill fleas completely, because of its gentle formulation.
Natural Flea Treatment For Dogs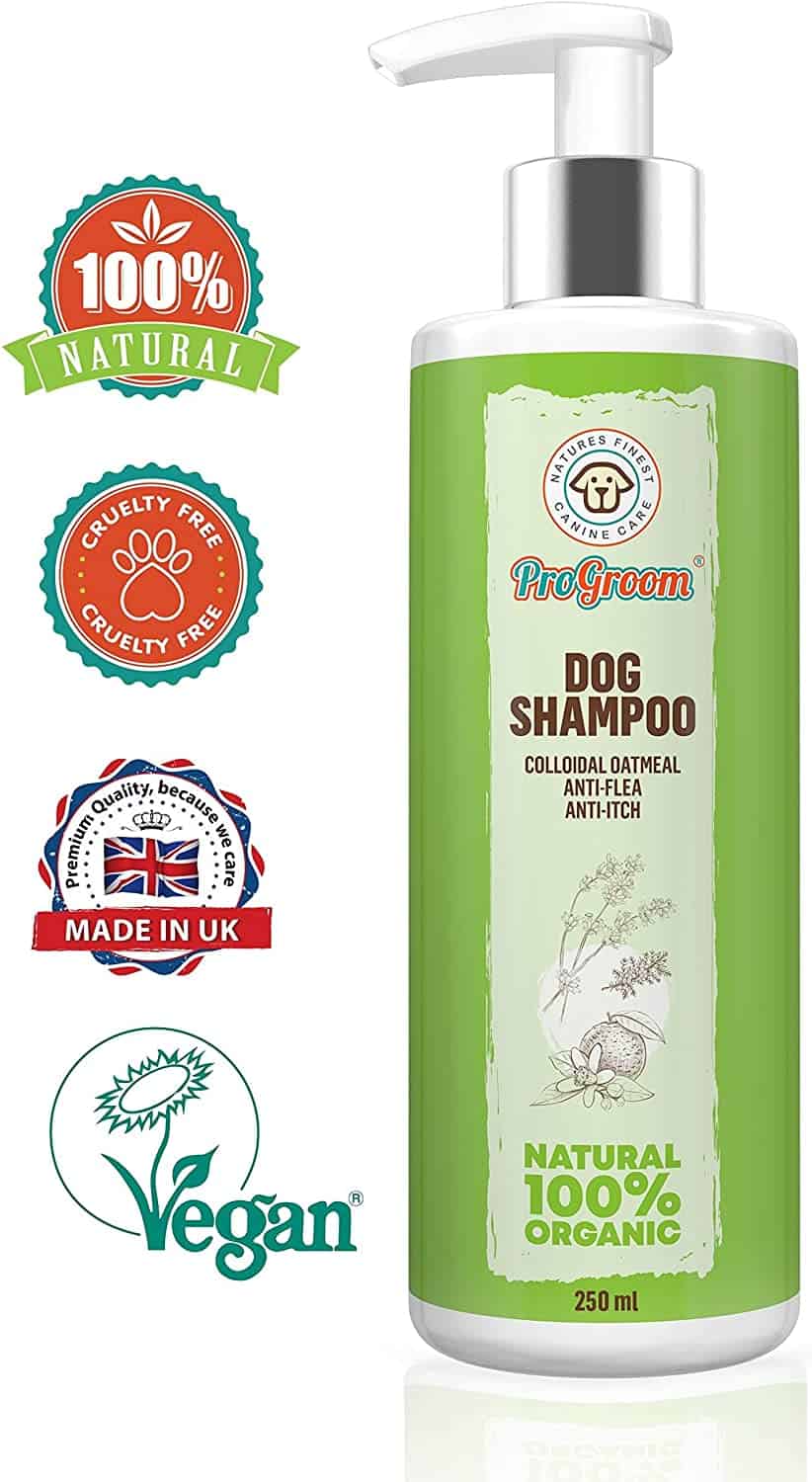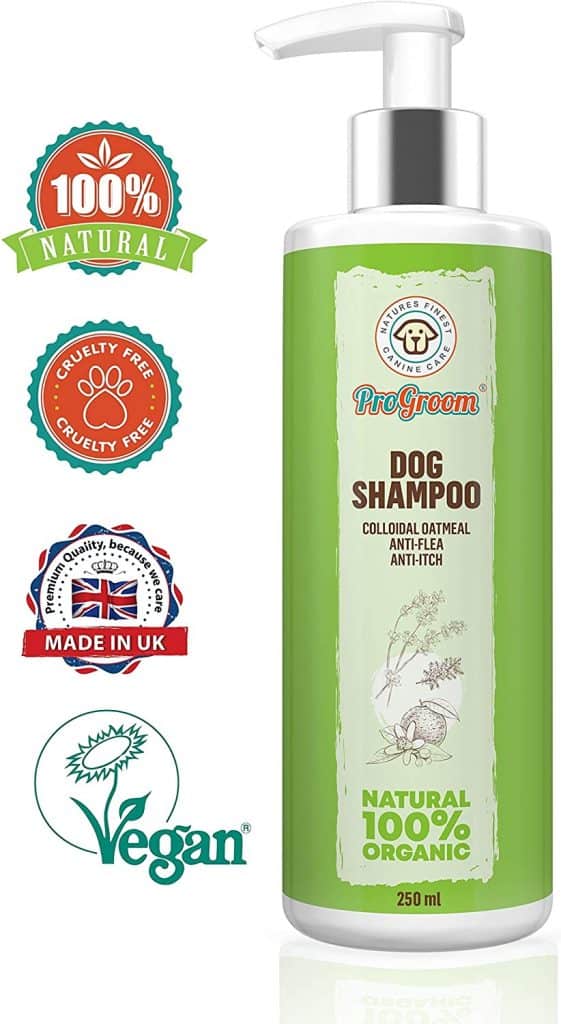 In case of pets who need a break from heavily chemical shampoos, or any pets, really, using an all natural formulation can go a long way. The ProGroom Natural oatmeal dog shampoo is a revolutionary way of treating flea infestations without letting harm come to your dog's skin.
The ProGroom shampoo uses a patented formulation made from colloidal oatmeal, that acts by increasing the oil and water binding capacities of the shampoo. It stimulates production of a protein called HIF1-1, that helps dog skin in repair and regeneration.
As a result, dogs who are bathed with this shampoo develop higher immunity against infections that can be introduced through the skin because of flea bites. At the same time, it also actively works against conditions like itchy, dry, flaky skin, hot spots in the coat as a result of constant irritation, allergies and sensitivities, doggy dandruff, and helps dogs with dry and dull coats. It's not just for dogs with dry skin, though. Dogs with excessively greasy coats benefit from it too.
The ProGroom shampoo also contains added natural essential oils, minerals, Omega 6 and 9 essential fatty acids, Pro vitamin B5, as well as aloe vera, which helps balance and soothe inflamed skin. There are also added antioxidants, which boost topical immunity.
The result is that your dog's skin has a better defence system against possible infections, as well as a bolstered response against pre-existing ones. Plus, his fur gets softer, smoother, glossier, and less prone to developing tangles and 'hot spots'
Dogs also develop a preference for this shampoo as a result of the calming effect it lends to bathtime. The ProGroom shampoo moisturizes their skin and coats, helps remove bad or musty odours, untangles knotted or tangled areas, and helps them look fresher and glossier, Naturally your dog won't see that, but he will definitely feel it.
It is so all-natural and organic, that it can also be used for puppies and dogs with very sensitive skin. It brings a natural balance to their skin and doesn't strip away the natural skin oils, like chemical based shampoos do. The Neel oil in the shampoo gives it an extra strong anti-parasite action against fleas, ticks, and lice, too.
Add to all that the fact that the ProGroom shampoo is made with ethical production standards, with cruelty free products, and you have an organic shampoo for your dog that provides you safety from fleas, with no added synthetic colours, fragrances, preservatives, alcohols, or greasy byproducts involved.
Pros
Highly effective flea shampoo
Suitable for puppies
Added conditioning effect
Mild formulation
Added tea tree oil action
Cons
Few dogs are hypersensitive
Best Flea Treatment For Dogs UK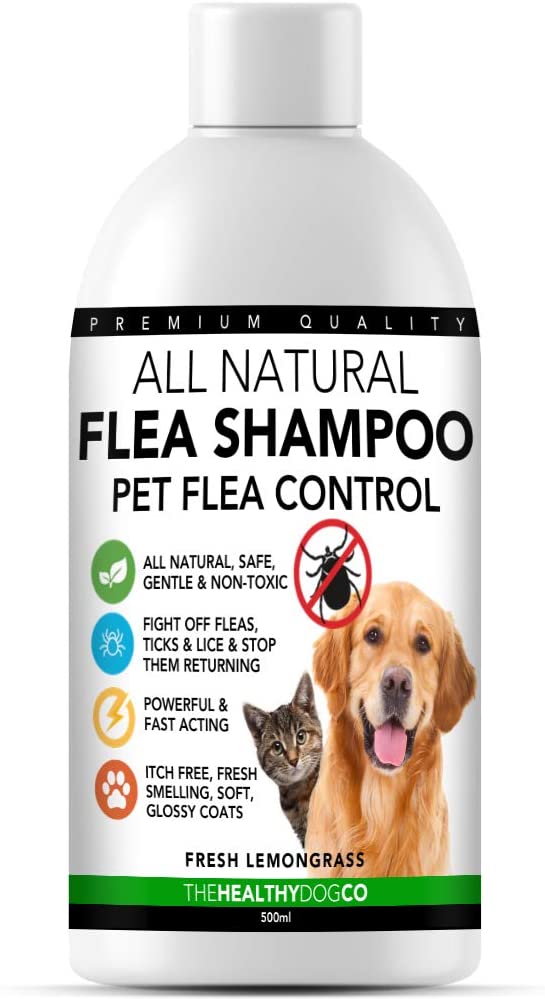 This amazing all natural formulation from The Healthy Dog, Co. is a dream combo-bomb of organic products. The shampoo itself is a mildly scented, chemical free mixture which helps keep your pets safe from flea, louse, and tick infestations, while giving him a thorough wash at the same time.
The Healthy Dog Co. shampoo works in two ways at once. It washes your dog's fur and skin out thoroughly, stripping away all deposits of grease or dirt that could have built up in the insect 'hot spots' in your pet's coat.
This reduces the chances of these insects being able to form colonies in your pet's skin, where they multiply and spread to your pet's body from. At the same time, this also forces the insects to 'leave' your dog, because this new and clean atmosphere is rendered inhabitable for them by the natural compounds in the shampoo.
So your pet is simultaneously rid of pests, while also being rendered inhabitable for them, It's a double punch for the parasites in one wash. But your pet won't feel any of this, because the shampoo is designed to be exceptionally mild on his skin.
So instead of a rough wash, your pet is left with a gentle bathing experience that leaves him soothed and calmed, with soft, luxurious, detangled fur, and looking glossy, shiny, and conditioned at the end.
The entire treatment is made of 100% natural, chemical free, and non toxic ingredients, so you never have to worry about your pet being exposed to harsh chemicals. Unlike most flea shampoos, that come with a poison control tag because of the toxic ingredients in them, the Healthy Dog Co flea shampoo is safe enough to do no harm even if accidentally ingested.
It's one of the best ways to rid your dog or fleas permanently, and make sure they stay away, too. At the same time, it helps damaged skin repair and regenerate itself, as well. It can also be used for other small pets, such as kittens and cats, hamsters, rabbits, etc.
One thing to remember, however, is that this shampoo doesn't necessarily kill fleas. Rather, it just reduces their number with use. So for more severe infestations, consider a stronger shampoo.
Pros
Mildly scented, completely organic
Appeals to cats as well as dogs
Very mild formulation
Works wonders on dogs with irritated skin
Cons
Allergic reactions are possible
Does not kill fleas, only slows them down
Has only mild repellent action
Best Flea Shampoo For Dogs
Another nature based formulation, the Bug Buster Neem Shampoo uses the antiseptic power of neem extracts as the mainstay of its action.
Neem is a well known herbal solution for infestations of many topical parasites. The Bug Buster shampoo puts this property to use and offers solid protection against fleas, ticks, mange, and lice. Regular washes help keep your dog safe from attacks from these bugs, while simultaneously ridding your dog of pre-existing infestations.
The shampoo is 100% all natural and biodegradable, and super safe for your precious pooch to use. Not only does it offer good cover against topical parasites, but also helps soothe itchy and inflamed skin, and reduce itchiness in all but the most severe of cases.
It also helps moisturize dry and damaged skin, and helps broken skin regenerate. It also helps in hair regrowth over areas that have lost fur because of parasites and itching. The effects aren't short term, either, but last between washes.
The Bug Buster shampoo will leave your dog looking soft and fluffy, and feeling soothed and comfortable. It's practically a spa treatment for dogs, with added anti-flea action.
However, one thing to be careful with is that some dogs do not tolerate Neem very well and can develop allergic reactions to it. So it's always advisable to do a test wash on a small area, before bathing your dog outright.
Also, even with dogs who tolerate it well, one should be careful to wash the shampoo out properly, because neem extracts can irritate the skin if left on too long. Otherwise, this is a great dog flea treatment shampoo, and even a good puppy flea treatment shampoo option.
Pros
Neem oil extracts have strong astringent actions
Better suited for dirtier dogs
Added conditioning action in shampoo
Cons
Contains more added chemicals
Washes don't automatically kill fleas
Allergic reactions are possible
Related Posts –