We all know just how strong dogs hearing can be, and this is evident by how quickly they come running at the sound of a rustling bag of food – actually, a rustling bag of… well, anything. Since they have such excellent hearing though, it's even more important that we take good care of their ears.
It's awfully common for dogs to suffer from excess earwax, just like us humans do, and ear infections. If it irritates us, I can't even begin to imagine how annoying it must be for our beloved dogs.
It can be insanely difficult to find the right ear drops for dogs though, and so with this list I hope to make it easier for all of the dog owners out there.
If your dog keeps shaking its head, or itching its ears, a little too often then this is the list for you. Here you can find the 5 best ear cleaners for dogs in the UK, which are natural and safe to use.
Preview
Best Choice
Great Value
Title
Pro Pooch Dog Ear Cleaner
Pets Purest Dog Ear Cleaner
Best Choice
Preview
Title
Pro Pooch Dog Ear Cleaner
Preview
Great Value
Preview
Title
Pets Purest Dog Ear Cleaner
Best Ear Drops for Dogs – Our Best 5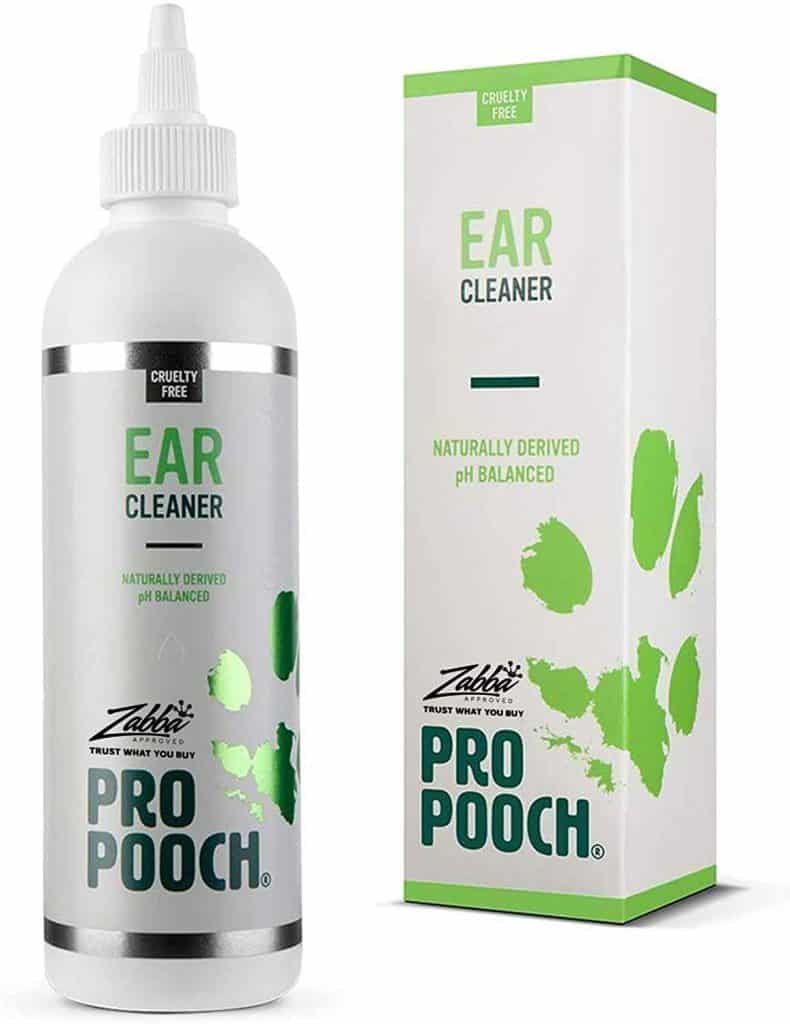 Our number 1 product has incredibly high ratings, extremely positive reviews, is a plant derived formula, and is great value for money. It's one of the best ear drops for dogs in the UK.
It's made from 100% natural ingredients, so no worries there. Completely non-toxic and safe, free from Alcohol, Silicones, Enzymes, Steroids, Hormones, Cortisones, Peroxides, Parabens and Chloroxylenol.
To top it all off, it's pH balanced to work with your dog's natural defences.
Almost every single customer review also praises how natural Pro Pooch's products are, especially after finding such difficulty to find products in the UK which don't contain toxic ingredients.
It can be used to maintain a healthy ear canal, which also helps avoid other issues such as mites and yeast.
Pro Pooch is a very trusted brand in the UK and is a BRC certified manufacturer.
Another nice thing worth noting is that Pro Pooch donate each year to assist dogs in need.
Personally, when I am searching for products for my beloved pets, the most important thing for me is that it's a natural product and is completely safe. All of the other facts, such as Pro Pooch donating a proportion of their profits to assist dogs in need, is an added plus.
There is also a lifetime guarantee, so if you are not happy with the product you can contact them for a refund.
Many of the people who have used this product have called it a 'miracle' because their dogs had been suffering for a long time with their ears, and despite vet visits the irritation remained persistent – until they used Pro Pooch Ear Cleaner.
After just three days there were visible differences – most importantly, a calmer and happier dog. It was clear that the drops soothed and healed the dogs ears.
Pros
100% Natural Ingredients
Simply Effective
Lifetime guarantee


Our second best dog ear cleaners are by Epi-Otic.
Epi-Otic Dog Ear Cleaner is very cost-efficient and is well liked amongst their customers.
It's a pH neutral, non-irritating, antibacterial and anti-yeast cleaner for dogs of all ages.
This product is an alcohol-free cleansing and drying solution. It can be used as an addition to medicated ear treatment, to help prevent infections, or just for routine cleaning.
Epi-Otic is designed to soften the excessive earwax, help remove dead tissue, disinfect and to neutralise any unpleasant smells.
It's very common for older dogs, of any breed or size, to begin having problems because of too much earwax. If gone untreated, this can also cause a bad smell and, of course, discomfort for our fur babies.
Dogs usually give us a hard time to apply any sort of treatment, and the older they are the more they normally protest, which is understandable. Personally my dog reacted well to it and this sentiment is also with other people who have used the product.
Pros
Effective at removing earwax
pH neutral
Anti-bacterial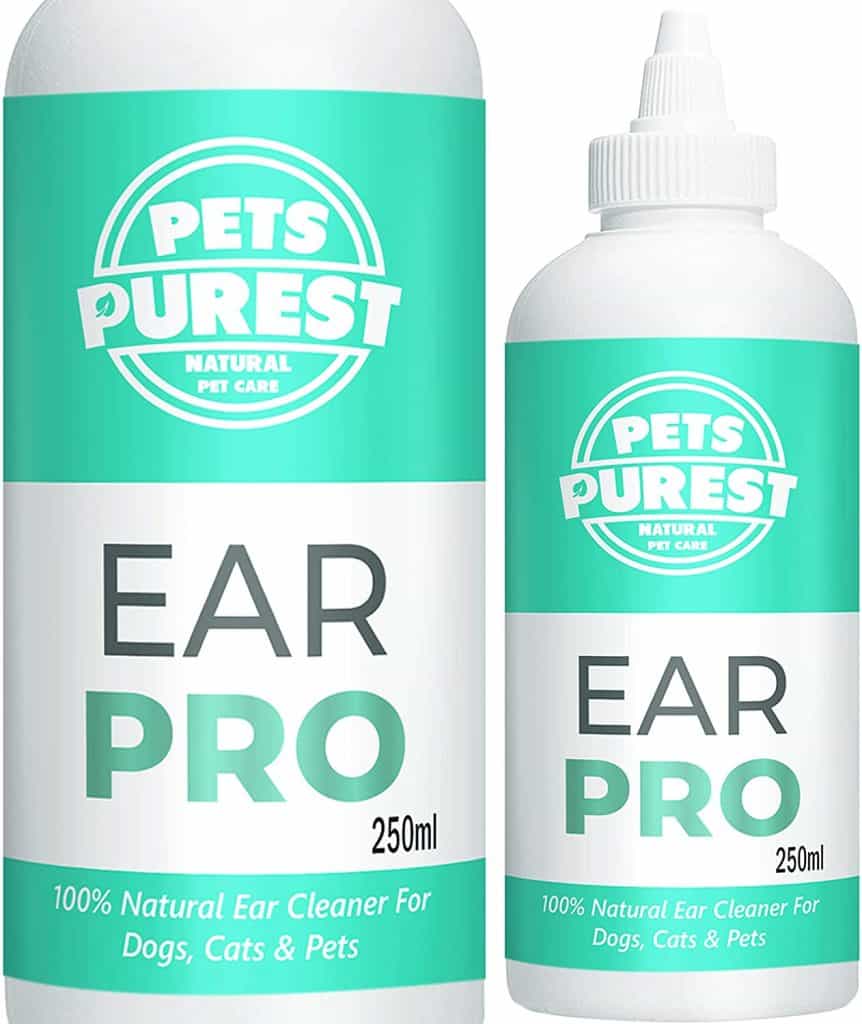 This 100% natural and cruelty free product will surely help your dog stop itching its ears or shaking its head, and help ease the bad smell from too much earwax.
This product is free from Parabens, Silicones, SLS, DEA, Enzymes, and other unnatural ingredients.
Pets Purest Ear Cleaner is very reasonably priced and affordable. It works with all breeds of dog, whether they are small, medium, or large, and of all ages.
Application is very easy, without extra hassle and mess free.
This product has impressed many me included. A friend of mine shared the struggle of trying several different ear cleaning products and several vet visits with her dog, to no avail.
Within the first use you can clearly see big changes.
In one particular case of mites infestation, and of course incredible irritation and discomfort for the dog (which included constantly clawing at its ears or rubbing them against furniture all of the time), but after just one single use that dog didn't touch its ears again.
For many customers Pets Purest Dog Ear Cleaner is a godsend, and both pet owner and dog were finally satisfied.
Pros
Easy application
Fast improvement
Well liked amongst customers
100% Natural


VetIQ Ear Cleaner is a gentle, non-toxic, and completely alcohol-free drops for dogs.
It contains the natural ingredient Neem oil for its antibacterial and antifungal properties, and also helps ward off a wide range of insects and parasites.
One of the most important things to note about this product is the soft and flexible applicator. Most ear drops would come with a hard-plastic nozzle, which could scratch your dog's ear if you're not careful.
With VetIQ Ear Cleaner, you don't have to worry about that anymore. This is particularly handy for pet owners with dogs who protest to treatment, because the dog's owner would have to be swift with the application.
Certain dog breeds, such as Spaniels for example, have very narrow ear canals. Because of this it's necessary to reach further down into the ear.
You won't have to worry about accidentally hurting your precious pooch by stabbing or scratching the inside of their ear with this applicator.
This solution softens the wax and breaks it up almost instantly and makes it easy to wipe away with some cotton or soft tissue.
VetIQ Ear Cleaner's unique formula can also help prevent any discolouration or staining of hair around the ears.
The only negative is that the solution can be quite oily, and that my dog's ears became greasy and caused an unpleasant smell due to not being able to wipe it away easily.
Pros
Gentle and effective solution
Soft and flexible applicator
Easy to use
Cons
Quite oily solution that can make dogs ears greasy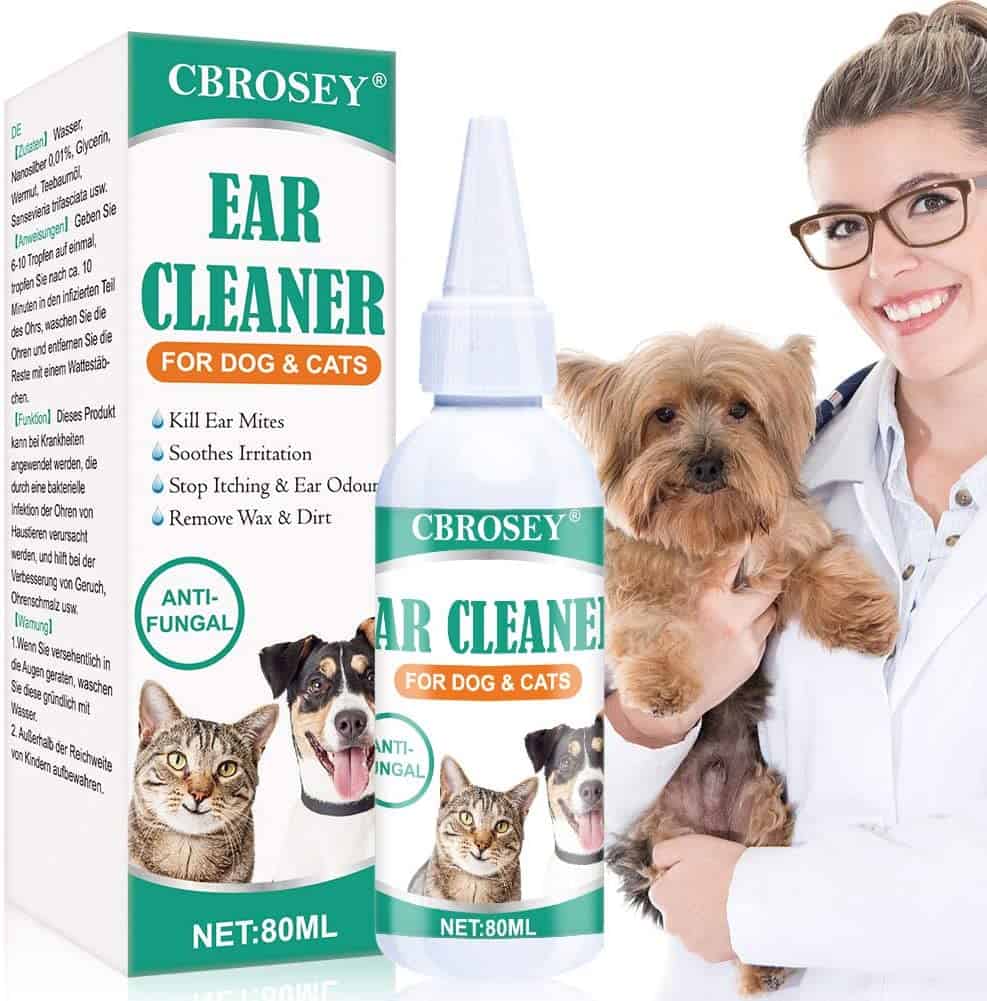 For our final product, this one seems particularly good at tackling bad odours.
OmegaPet is an award-winning brand, created and designed by veterinarians. This ear cleaner is FDA approved and 100% all-natural ingredients are used.
It is Sulphate, Phosphate, Preservative and cruelty free. It's also perfectly suitable for sensitive ears.
This product cleans, dries and deodorizes your dog's ear canal. It removes wax, dirt or grime, and other foreign materials instantly.
This is made from itch free substances, so it won't worsen your dog's ear condition. It also has a pointed nozzle, which helps make the application process easier and avoids spillages.
Similar to the products previously mentioned, customers whose dogs had been suffering quite badly for a long time were immediately relieved after a couple of days of using this product.
After using these ear drops you should immediately notice an improvement with the smell, as it has a cucumber melon scent.
In fact, the smell was almost like watermelon which I particularly enjoyed, and of course my dog became more relaxed and cheerful within minutes of use.
This solution absorbs very quickly and is very concentrated, which means that you won't have to use much of it at all – therefore you are getting more value for your money.
On a negative note, if you would like to purchase the larger quantity it is rather pricey, and according to some other owners it seemed to have a bad reaction to the solution, so it is important to be aware of this.
However, because of the fact that it's concentrated you shouldn't need to purchase the larger size in the first place, as the smaller one should suffice and last a while.
Pros
Great for quick relief
High concentrated solution that works
Lasts longer
Cons
Can be pricey when bought in larger amounts
Related Posts –